It's Sunday morning. I prepare a cardboard sign to make the hitch out of Ashland to the trail a little easier.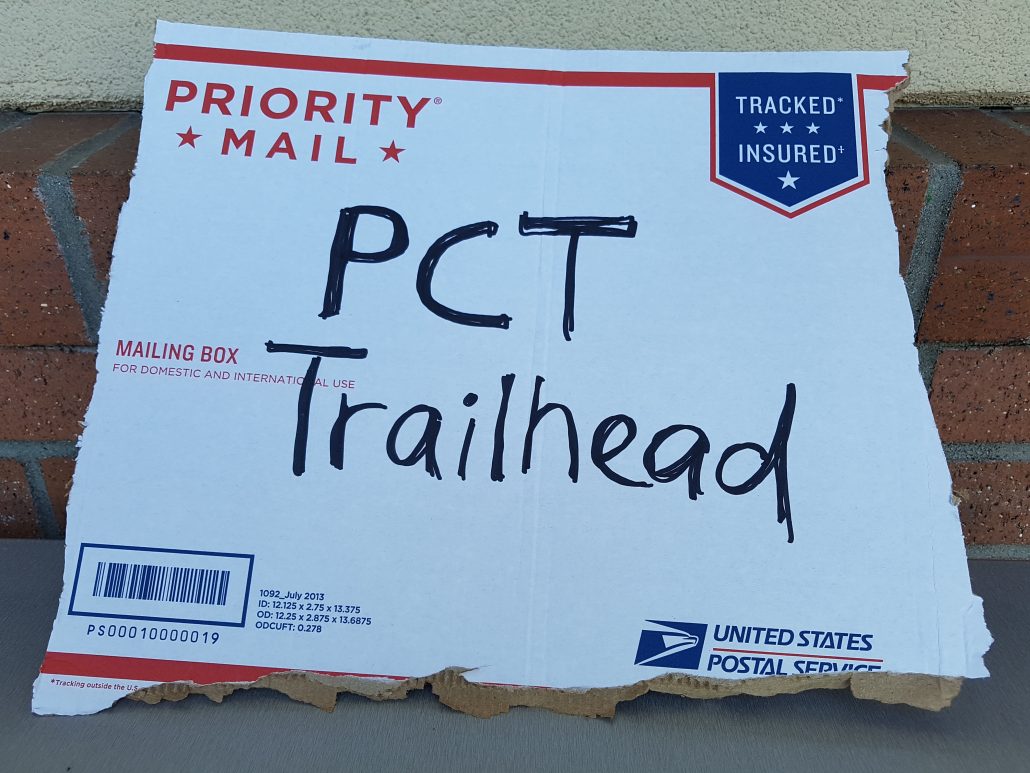 Outside a supermarket (yes they are open here on a Sunday!) we have one last coffee.
"You guys need a ride to the trail head?"
"Yes!! YES! We do! Awesome! Thanks guys!"
So they saw my sign and we don't even have to hitch!
Here we are, back on the trail again. We seem to be pretty slow though! We all are still exhausted.
We camp just after 12 miles! The spot is adorable though, right by a pond and with great view. The pine is so large, I can't even get it into my picture and have to crop the top off. Something I would normally not do in a picture!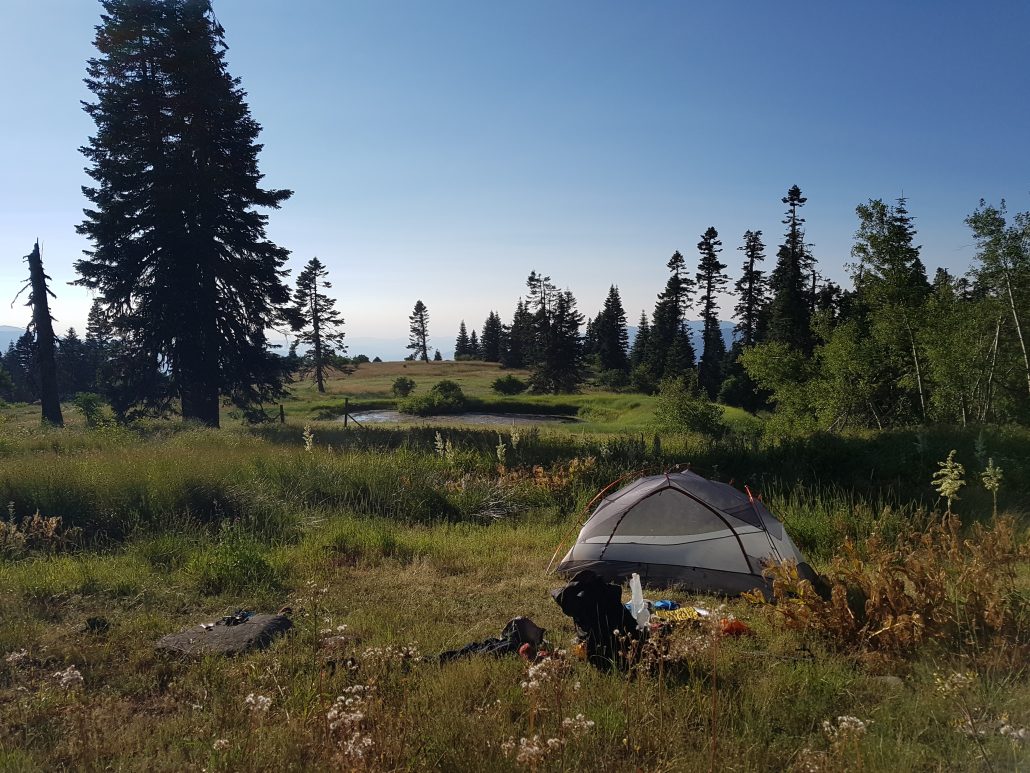 I am in my tent by 7pm!
"What on earth was that?!"
I wake up at 10 pm and hear a blood- curdling howl! Very very close by!
Aha, now these must be coyotes!
Never heard them before! Did not encounter a single Coyote guy on the trail so far, and now several at once, very close to me and Big Agnes!
Well, guess it's time for my earplugs to be plugged in!
We agreed last evening to leave camp at 6 am today.
I am all set at 6 am (I have improved my packing skills dramatically in the last few months. I can now go from "alarm clock to hike" in 45 minutes!)
Roadrunner an Swiss Miss are not ready yet, so we agree that I push on and meet them at Klum-Something Lake, (20 miles ahead), the latest.
I had hiked alone a few times in the last two weeks before, but I always knew that friends are behind not further than somewhat 20 to 30 mins. (Comforting!)
Today is different. I hike without knowing how far back my friends are.
I have a longer lunchbreak and fall asleep. They do not catch up, so I go ahead. Through these endless woods of Southern Oregon.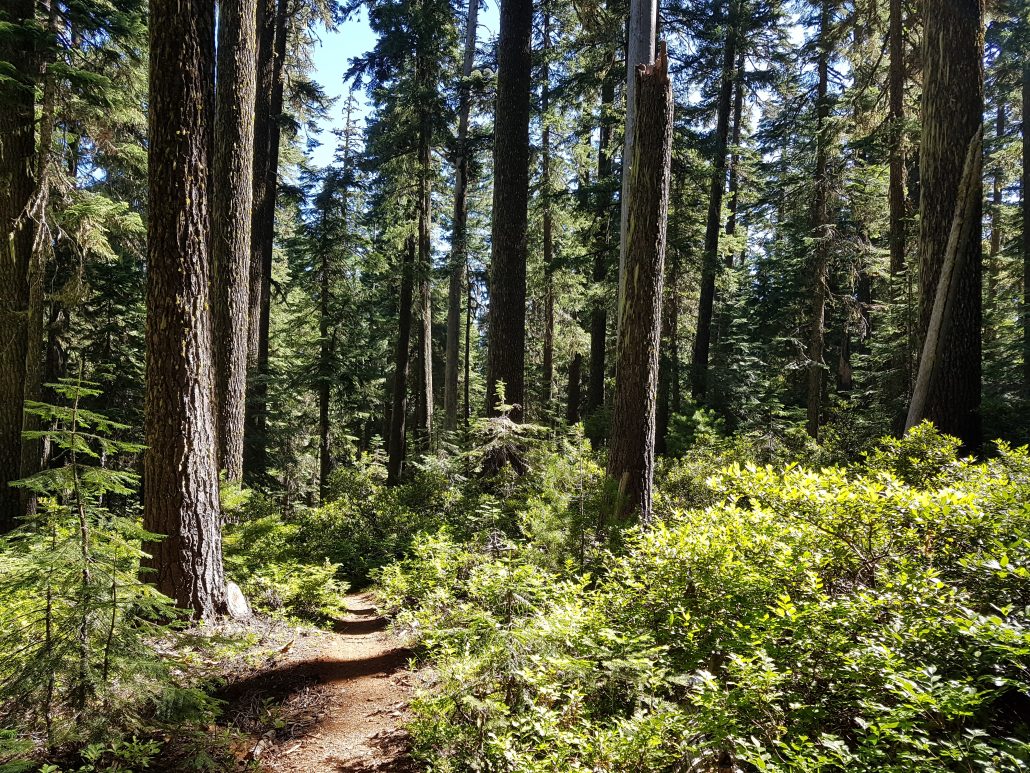 It seems I do pay a little more attention to noises while I am hiking by myself….
I arrive at the lake and decide right away that this place has bad vibes. I leave a message there for Swiss Miss and Roadrunner and hike on a mile.
I find a nice place to camp.
They guys don't show up, so I assume they stayed by the lake.
Two ladies are camping here too. They are 60 plus. Section Hikers. Doing somewhat 8 miles per day. They do Ashland to Crater Lake. Awesome ladies! I find out that one of them has cancer in a late stage and is actually taking Chemo treatment at the moment!
She thinks she is not going to life much longer, so she took up hiking last year, and wants to hike a bit of the PCT now.
Her friend goes with her and carries double the weight, as she herself can not carry that much.
Holy holy shit. I am so touched and impressed, I burst right out in tears (you know how I do this once in a while).
The two ladies carry A LOT of outdoor gear stuff. So much unnecessary weight! They even have chairs and a wind protector for the stove and things. It makes me cringe! I want to give them a "shakedown" (hiker slang for going through somebody else's backpack and helping (or perhaps urging!) to get rid of stuff which is not bare essential.
But I resist the urge. It's their trip and they did not ask for my advice.
They even do a bear hang! I would say that 98% of PCT hikers take their food into their tent at night..
But their bear bag hanging is great evening entertainment. We laugh so much.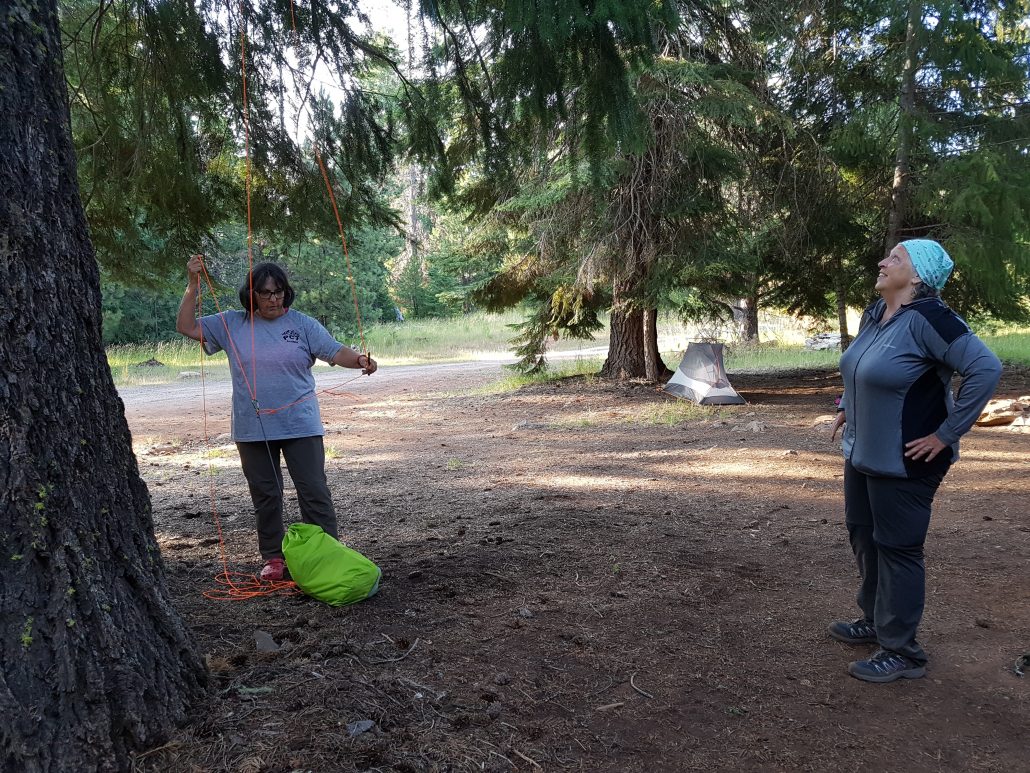 They both give me a big hug early in the morning as we say goodbye to each other.
My Swiss friends never show up and I am worried about them. We had agreed though that I should not wait, as they are a couple and if something happens, they have each other.
It's woods woods woods today. All woods. Endless woods. Hardly a view. I notice that there are so many different kinds of woods, even in the same wood. There are so many different vibes in these different woods.
It's simply awesome!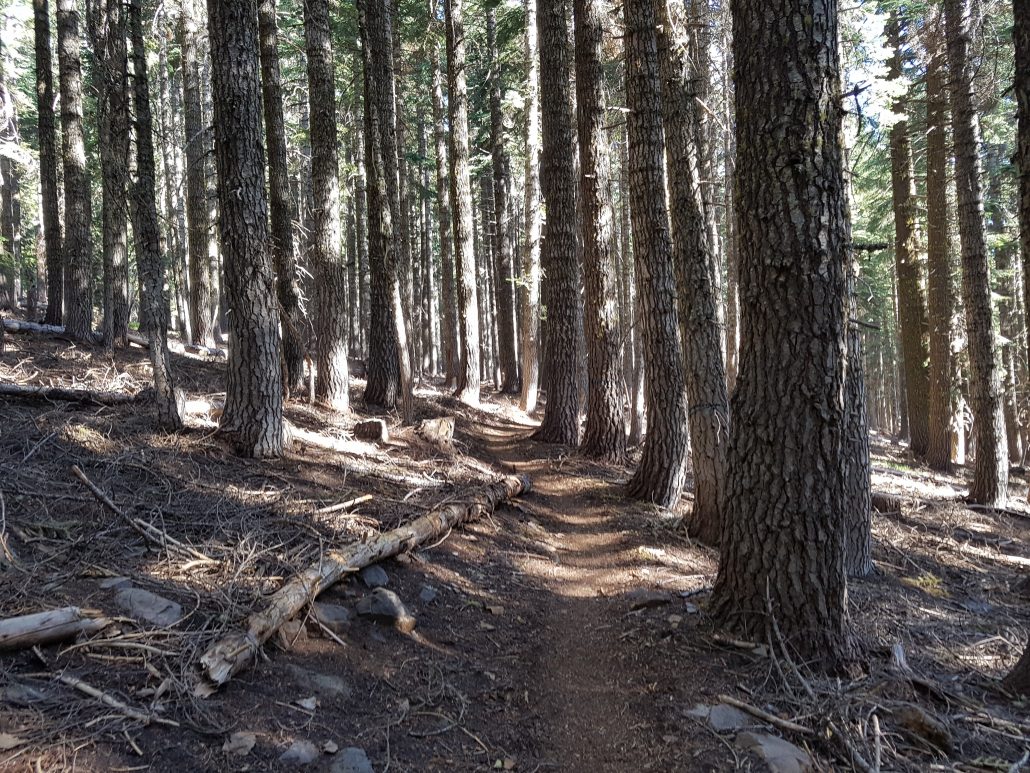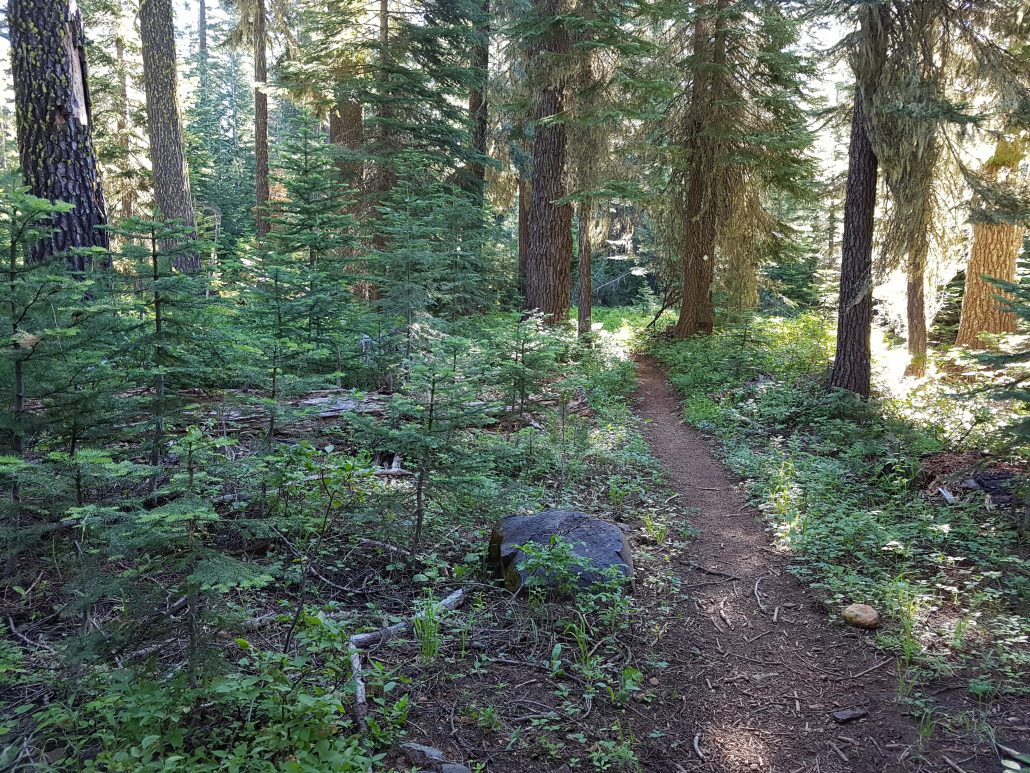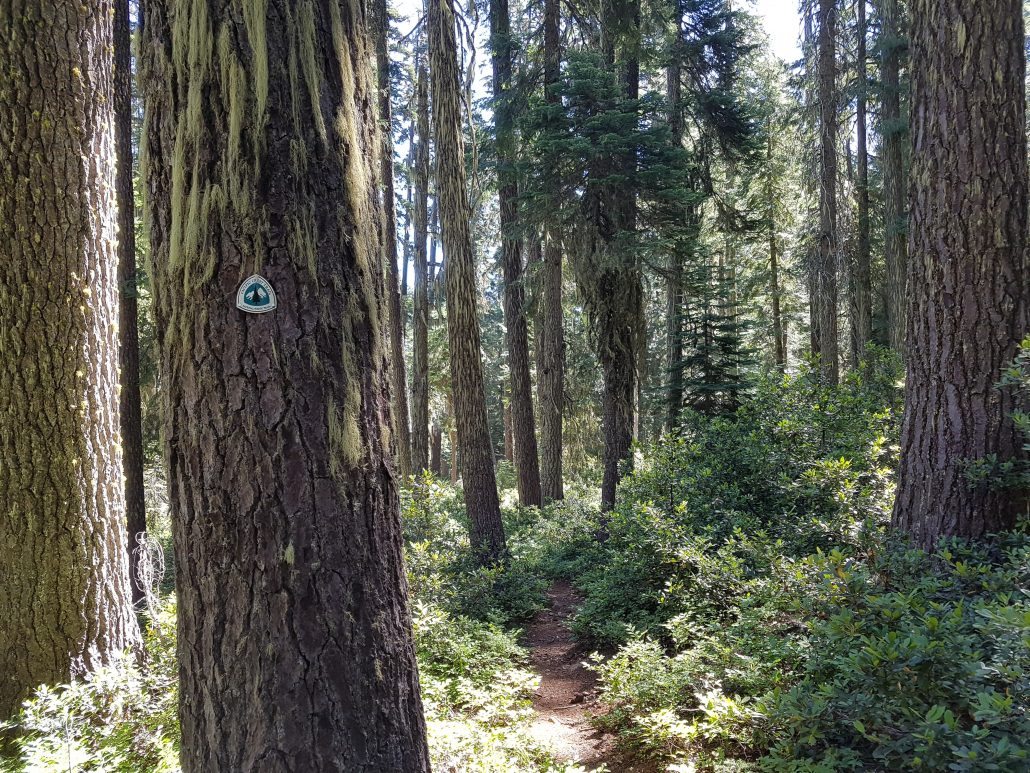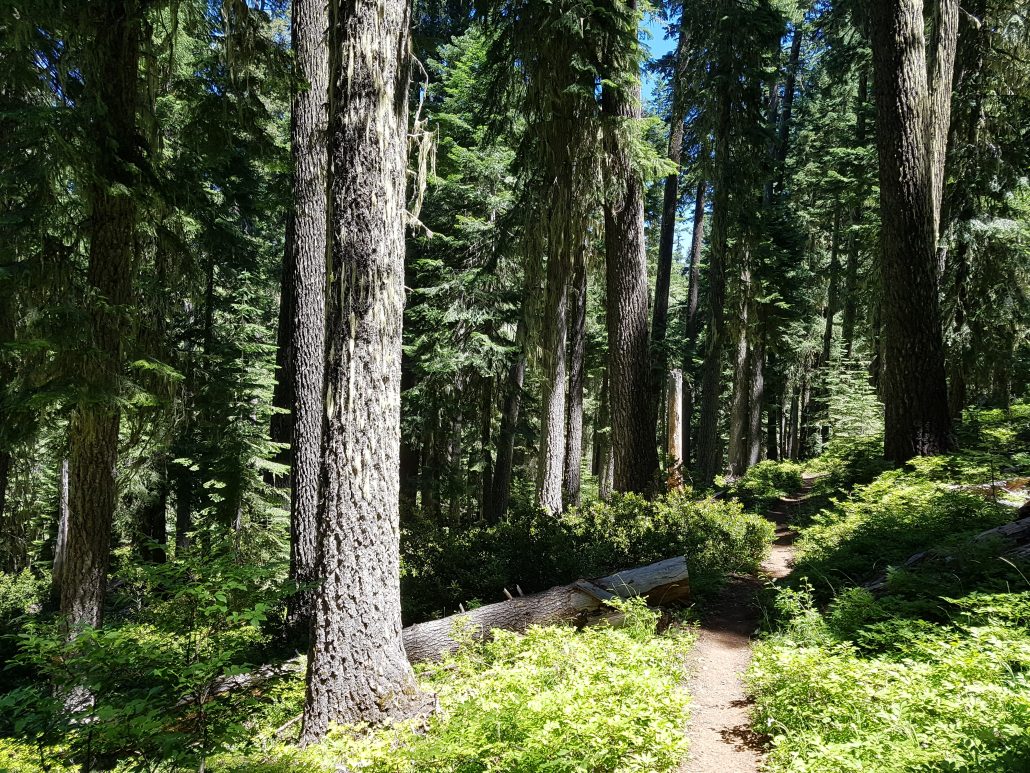 I don't see ANYBODY all day. I am enough bad-ass hiker by now to not be afraid.
Now what is this? All these rocks all of a sudden. This must be volcanic stuff. It's weird. There are rocks for a while, then no rocks, then rocks, no rocks. On and on for like two or three hours.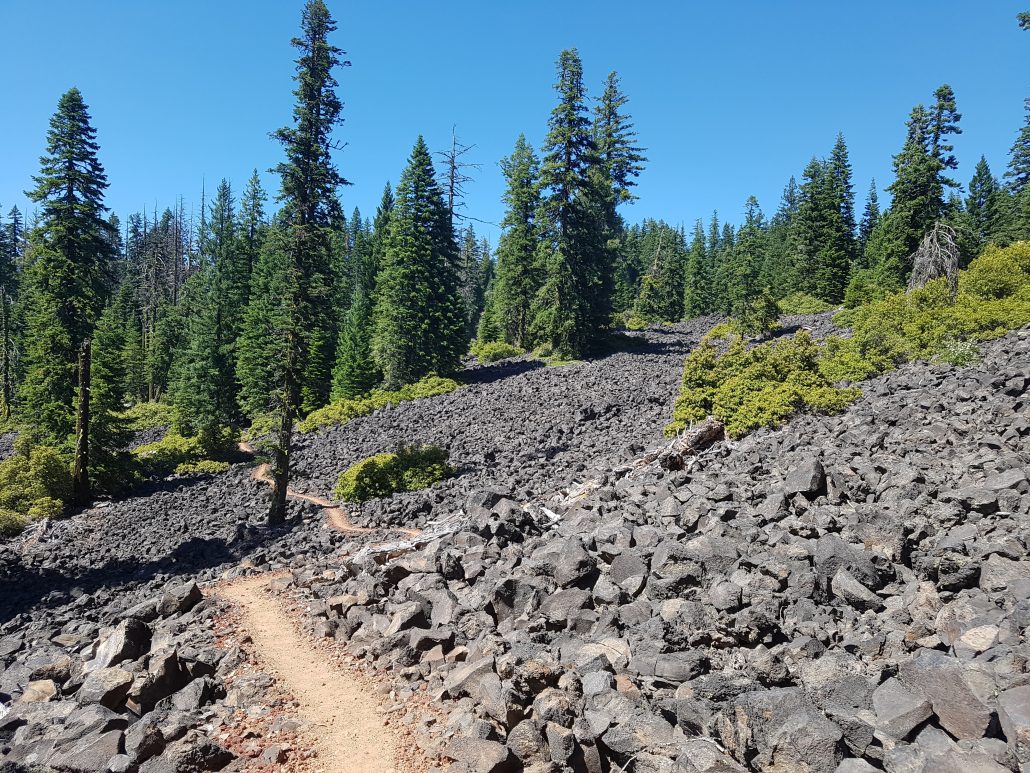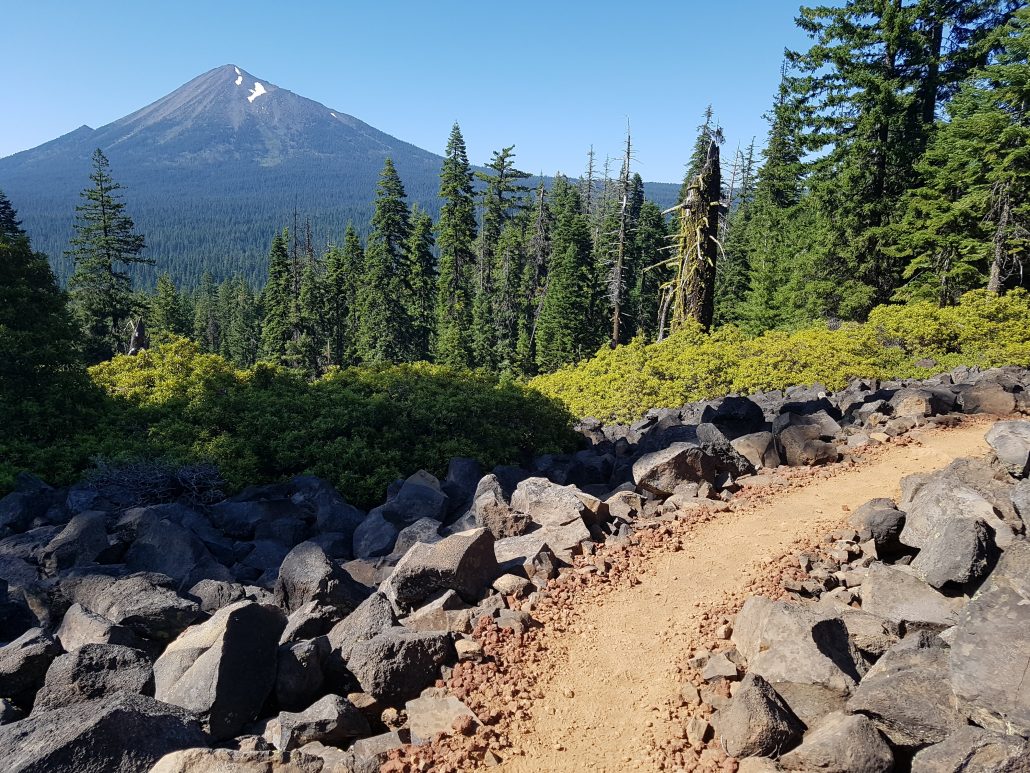 The rocks must have been spit out by a volcano, but how come they are so weirdly distributed?
I will google this once I have an Internet connection.
So I am tired, did 22 miles, but somehow I don't want to spend the night alone in the woods. I can spend the night alone when I have a view off a mountain, but the woods are different… All these noises!
So I dig out my willpower and press on to the Fishlake Resort. Another 3 miles. And on top of that, the resort is 2 miles off trail. So another 5 miles! I plan to hitch the off-PCT miles (as it would mean highway hiking).
I stick my thumb out! 5 cars later I get a ride!
"Thanks man!"
Here at Fishlake is a little restaurant! It is opened till 7pm. I make it here 5.50 pm!
Perfect!
PCT hikers can camp here for free! And it is super nice here, so I will do a zero tomorrow.
Just because I can.
And because I am in now hurry, as I am (hopefully!) going to meet Felix at Crater Lake in a week-ish. So I have plenty of time.
I get a text from Roadrunner. They turned back to Ashland as he had a lumbago attack! Poor guy! Seems they have to pause for a week!
"Gute Besserung Roadrunner!!"
For breakfast I have great company:
Tim, a section hiker, and Mr Chipmunk!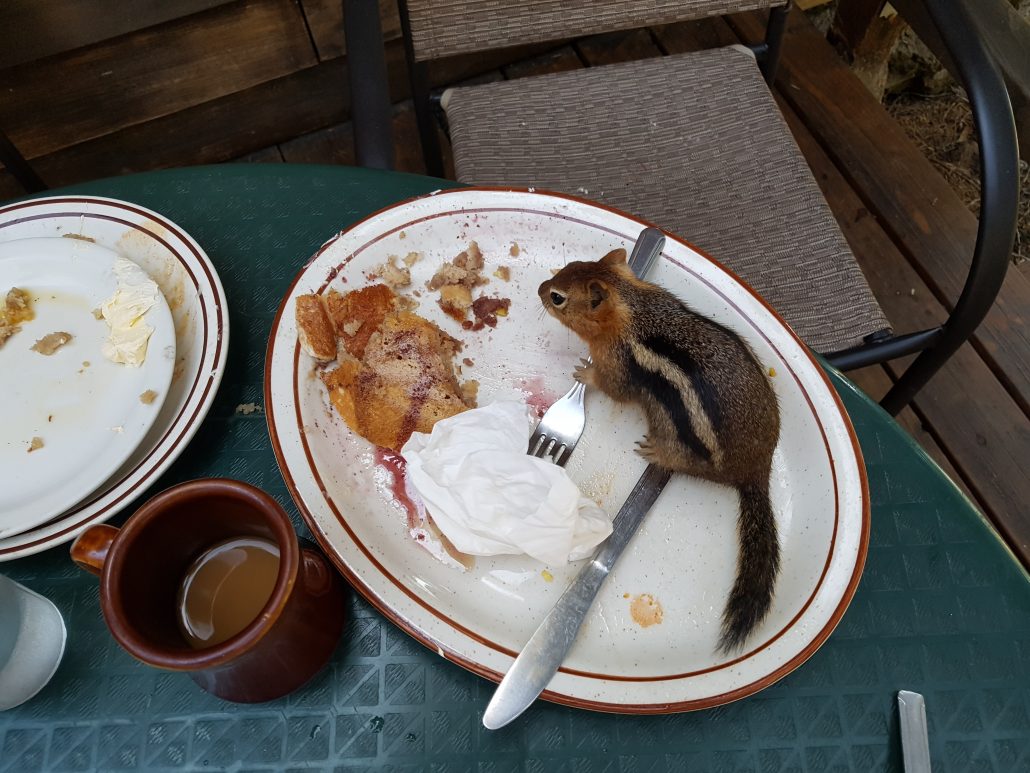 http://www.earlymorning.ch/wp-content/uploads/2017/07/20170718_093503.jpg
3024
4032
Heidi
http://www.earlymorning.ch/wp-content/uploads/2016/12/Heidi_Bronnimann_logo.jpg
Heidi
2017-07-20 02:43:39
2017-07-20 04:20:31
Alone In The Oregon Woods