Current Gear List
.
Gear I probably take on the Continental Divide Trail – CDT 2019
.
I am slowly starting to think about putting together my gear list for the CDT next year.
Luckily, this time, I have way more experience than on my last long distance hike, the PCT in 2017.
So this time, I actually have an idea how it is going to be like out there on the trail.
Having said this, I am pretty happy with my gear choices for the PCT, so I will carry most of it again, just with some (s)light amendments perhaps!
Don't I just love putting together a gear list for a planned long distance hike!!
..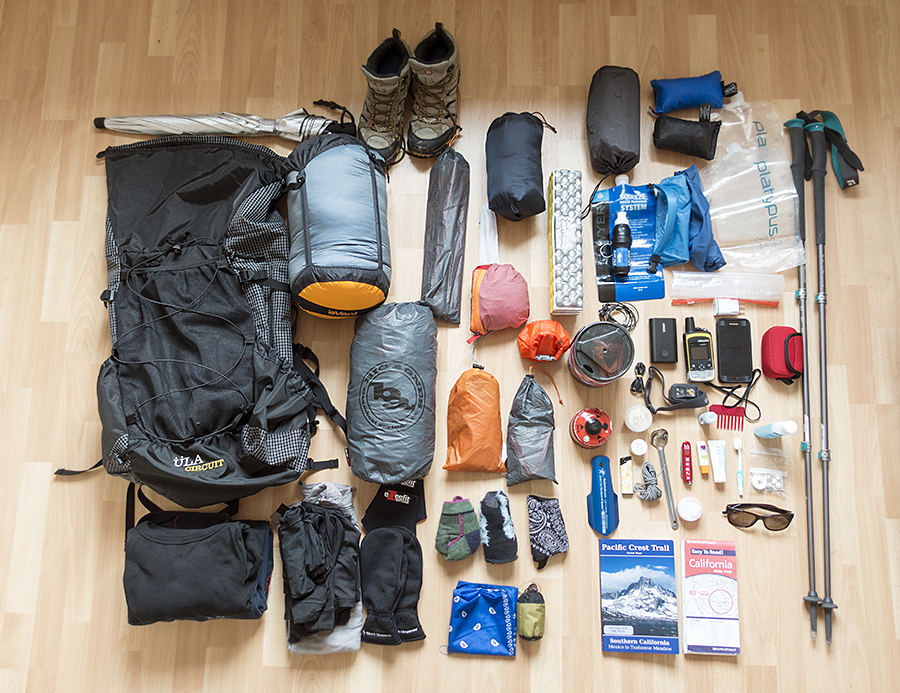 Tent:
Zpacks Duplex Ultralight Two Person Tent
Why I plan to take the Zpack Duplex
I changed my mind! Initially I wanted to go with the Big Agnes Copper Spur UL 1 again, but….
the Zpack is so very very much lighter! It is almost a no-brainer!
Look: Big Agnes 1162 grams, vs Zpack 539 grams (2lbs 9oz vs 19oz), that IS a huge difference!
The Zpack is set up with my two trekking poles, so that is a handy dual-purpose for the poles
Its a two person tent, that means I can take me backpack and boots inside every evening (big plus!)
The inside does not get wet while pitching the tent in rain, as it is a one-layer tent
It is 100% waterproof
It is cool ;-)
What's a bummer though:
Can't see the stars through it at night!! … But it has got two doors which can be left open all night for some air and view
Apparently, it does give me condensation if both doors are closed. Oh well, there is always a downside on every cool product.
Backpack:
ÜLA Circuit
Why I plan to take the ÜLA Circuit Backpack
It is kind of comfortable to wear, even when fully loaded
The material seems excellent quality. I threw that thing so often on the floor and it still looks like new!
It has these two awesome big pockets on the hip belt, into which I can store my phone and my daily snack ration. So I can nibble all day without having to put down the pack
It has two more big pouches on the sides to store water bottles in. That's also awesome, so I can reach for my water at all times while hiking. That's essential.
Sleeping Bag:
Marmot Helium
Why I plan to take the Marmot Helium Sleeping Bag:
Its warm and fluffy and cozy until -9°C (15F)
It's less than 1kg (2.2 lbs)
Did never smell bad (I did use a silk inlet though which I washed once-in-a-while
Mattress:
Therm-a-Rest Neo Air XLite
Why I plan to take the Therma-a-Rest Neo Air XLite
Its comfortable!
Its light
It isolates against the cold floor (though not enough on snow I have to say)
What's a bummer though:
Gets holes (if it can get holes, it will!)
I have to blow it up every night, even though I am in a near coma status
Boots:
Merrell Moab Mens Vent
Why I plan to take the Merrell Moab 2 Vent Mens
It was not their fault that I got huge blisters on the PCT
They are extremely pleasant hiking companions
They are durable
They are NOT waterproof – aka, they dry fast after being soaked
What's a bummer though:
Nothing. These boots rock!
Phone/Camera:
SAMSUNG Galaxy S9 PLUS
Why I plan to take the SAMSUNG Galaxy S9 PLUS
Had the Galaxy S7 on the PCT, and was super happy with it.
Image quality is amazing!
It is waterproof! That's super important to me while outdoors.
It is reliable, exactly what I need out there.
Large screen which is helpful when I read a map and use the GPS function.
What's a bummer though:
…. list to be continued!
I am working on this list – well, there is still plenty of time till April 2019!