Alright, lets do this. Let's try to get these last 80 miles done.
As always after town, we have to hike up a mountain first.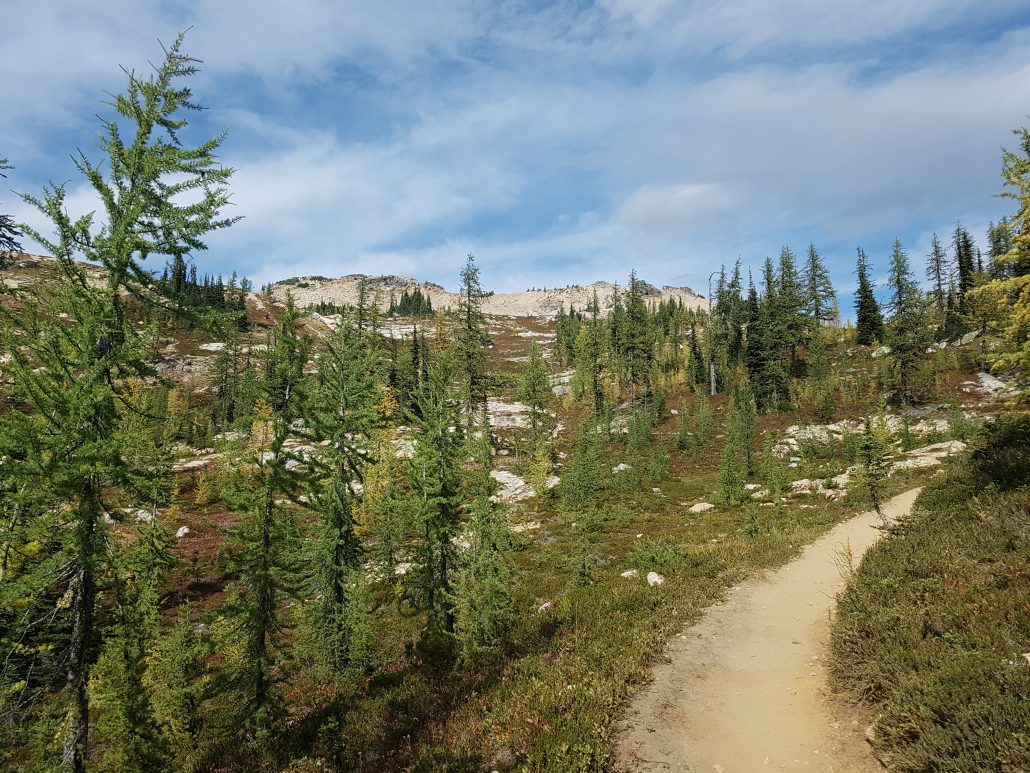 It feels different today though. It will be the last section. Oh my!
My PCT comes to an end.
That's a good thing, right? I want to make it to Canada, right?
The epic beauty of these last few miles makes it not much easier to prepare myself to let go.
Oh PCT!
But then, I guess I am ready to get done. I am tired. My body hurts. The nights are frosty and cold. I can not sleep well anymore because after laying for a few hours, at about 4 am, I get so bloody freezing cold.
Today, I am ahead of my family and hike on my own. It's a strange day. I see nobody all afternoon. It's just me, the path, and this vast beauty out here.
It's tremendous.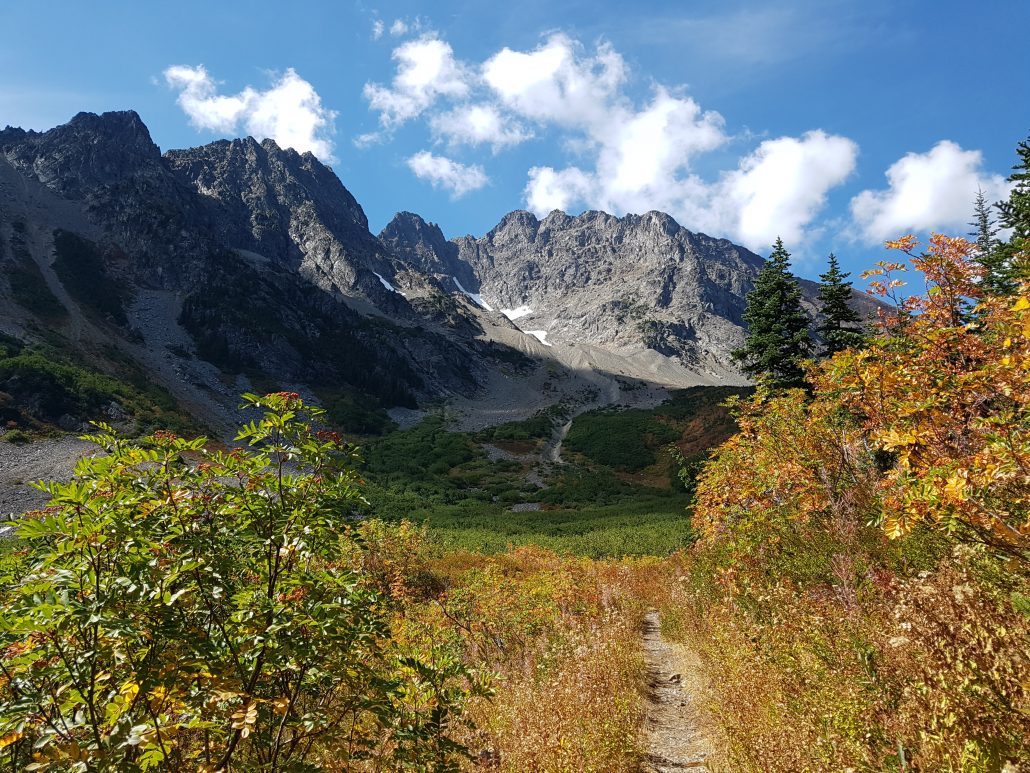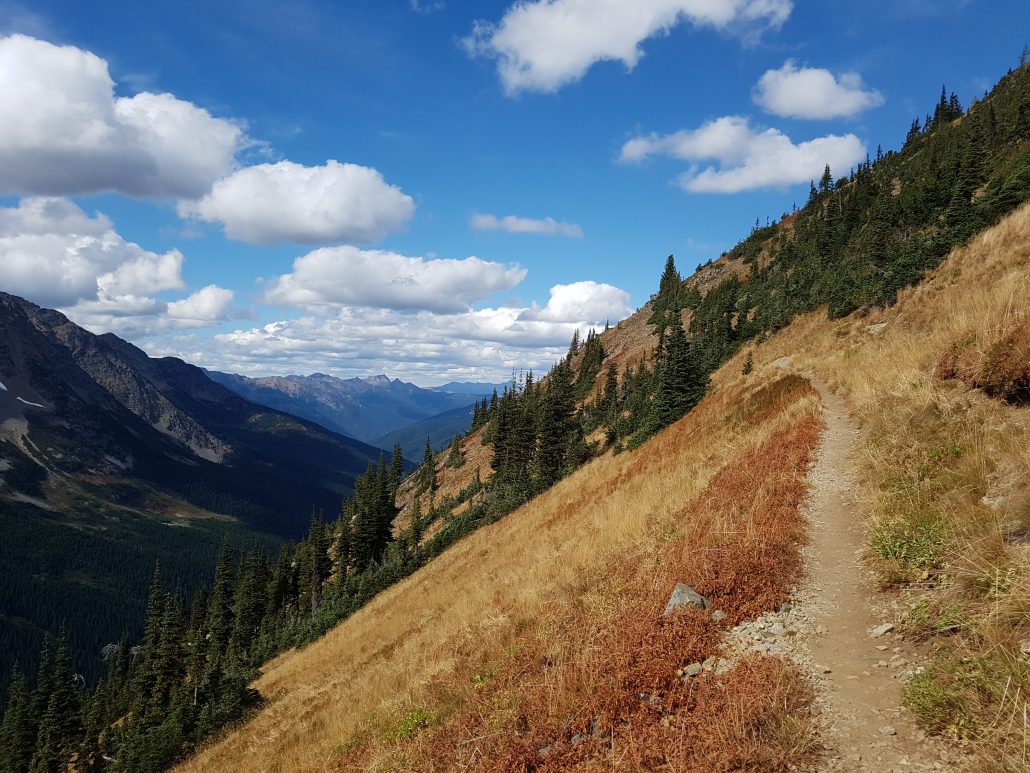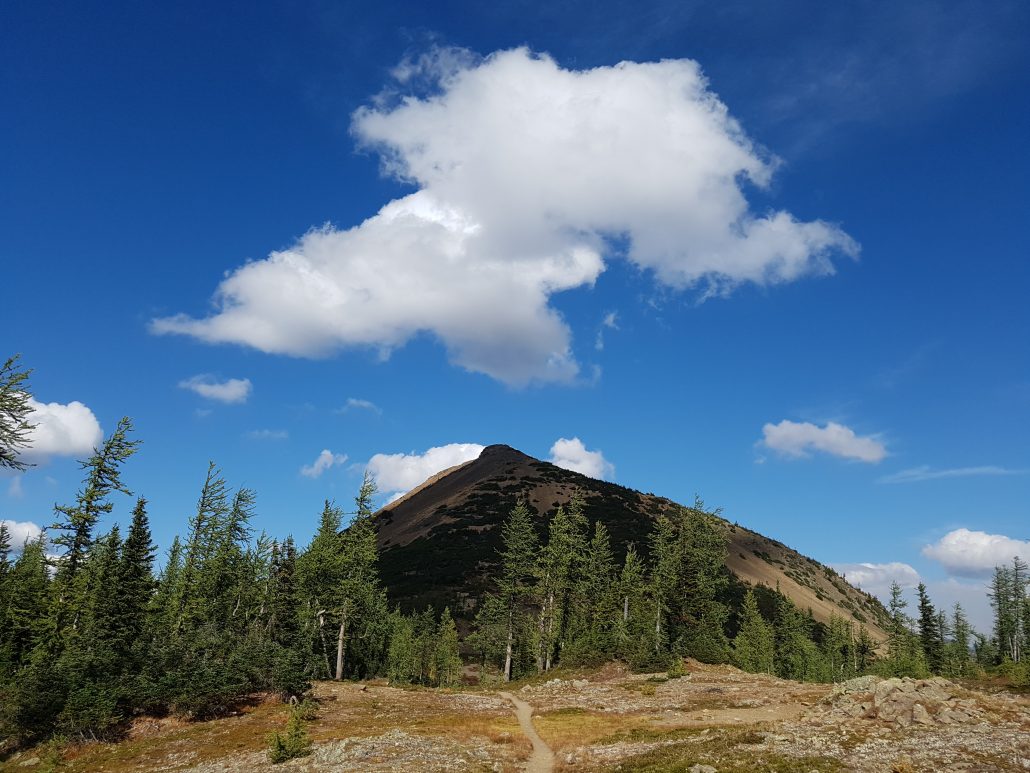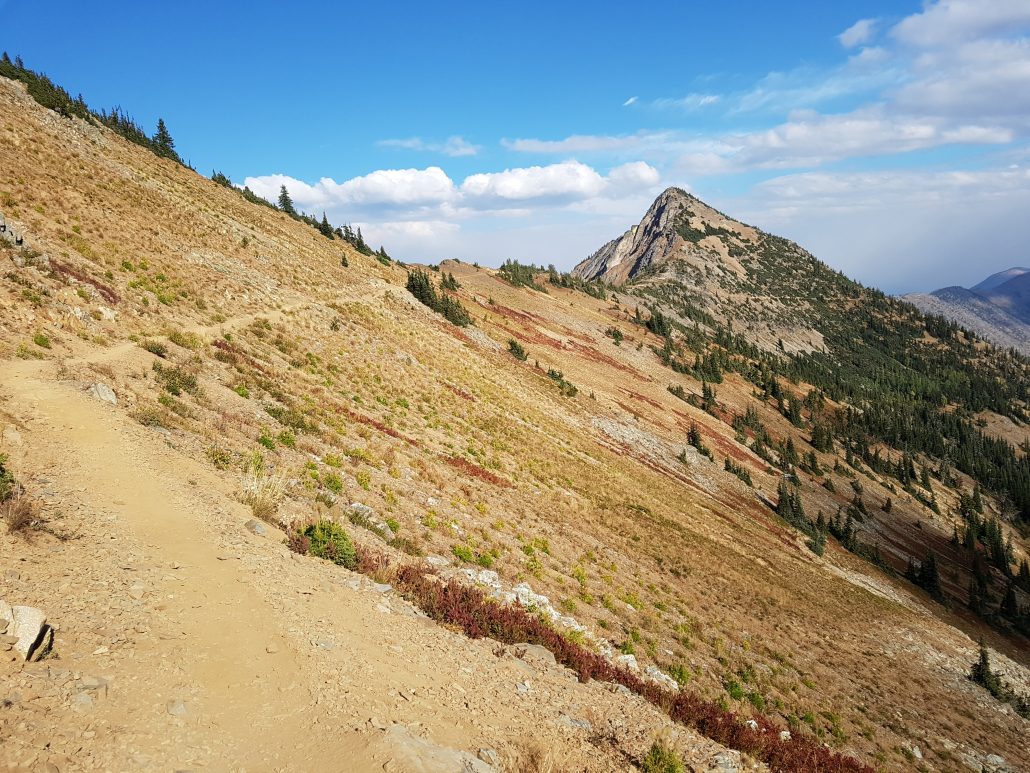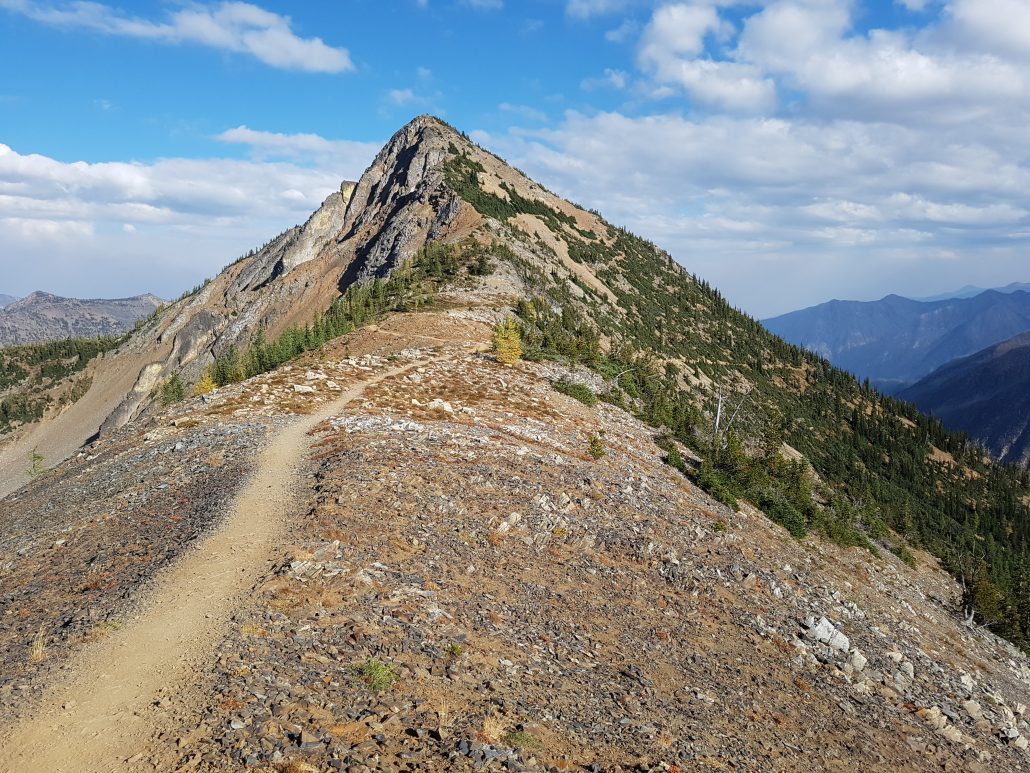 I am in deep thoughts all day.
We agreed to meet at Harts Pass.
That's where this last fire is supposed to wait for us. Again, all hiking trails are closed here, only the PCT remains open, marking the border of the fire closure.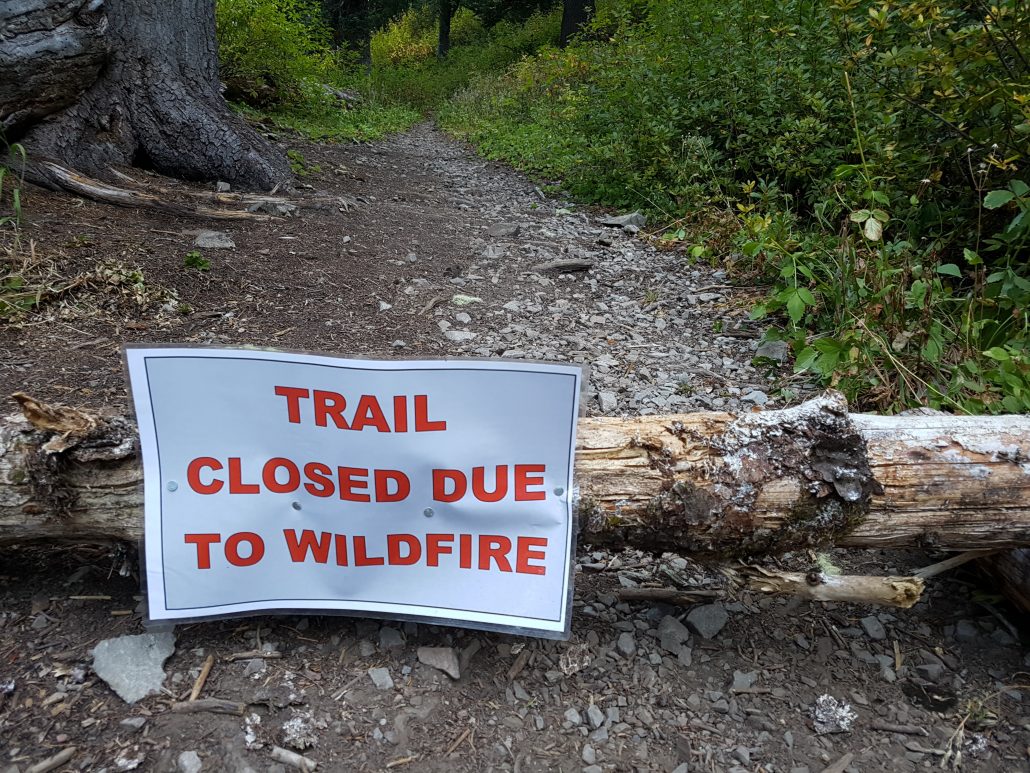 I arrive at about 6 pm. It's brutally cold and windy. I set up my tent and wait for the guys.
"I have bad news" says the Ranger Lady who just approached in her pickup.
"This road here will be closed in one hour. No hikers are allowed to walk on the road as of now. The PCT remains open though for now, but use caution".
Use caution?
What the hell is this supposed to mean?
I get nervous. In fact, I feel rather terrified. The road here is the last exit point in case something happens, and now they close it? It's super remote out here anyway. So if we walk into fire trouble, we can't use this exit but have to backtrack about 80 miles.
I am super restless. It gets dark and the guys have not arrived yet. Hope they are fine!!
I am totally stressed out.
Here they come!
I am relieved and feel better right away.
We discuss our options and decide to hike toward Canada fast now, before they eventually close the PCT!
We will try to make it to the border in two days instead of three.
So we hike out in the morning.
It's cold!
But oh man it is a beautiful morning!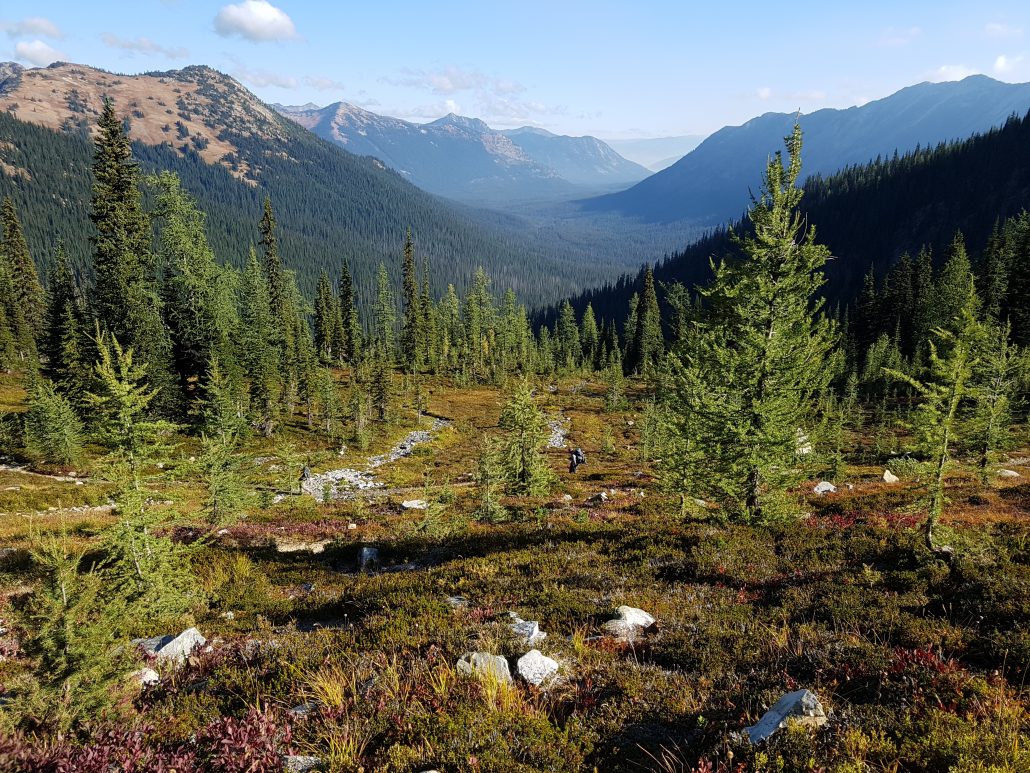 The PCT is so pretty (!) up here in this last Washington stretch! So many mountains to look at.
We see the smokey haze further up, but the wind is still in our favour.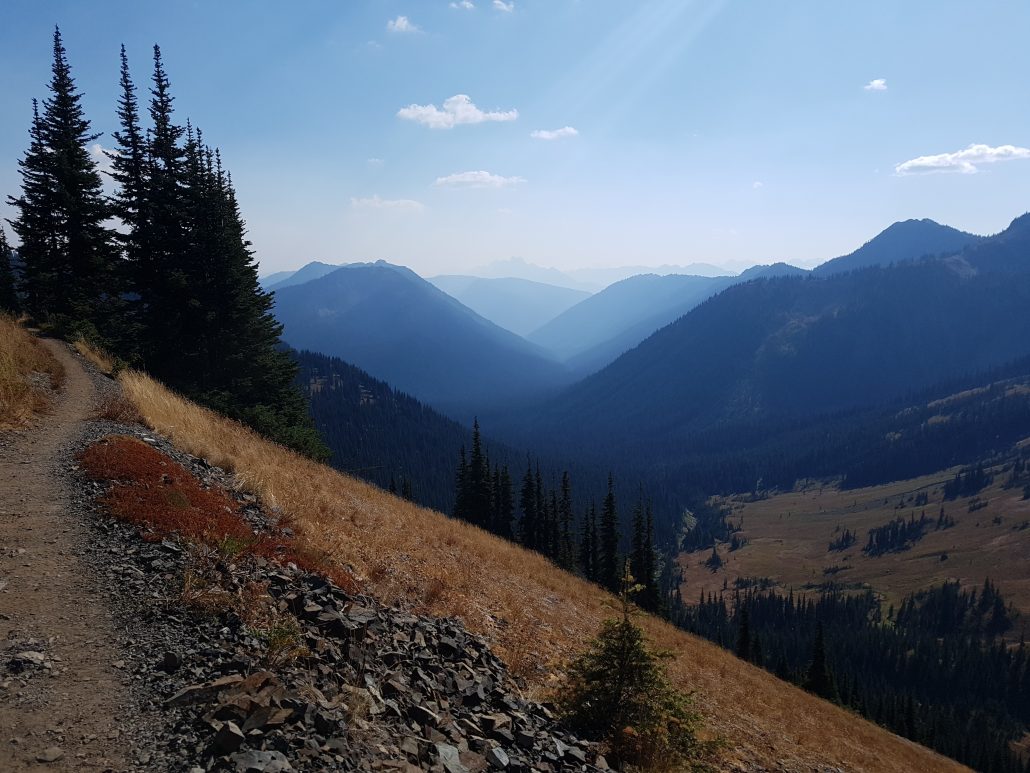 All is fine. I feel fine. Am not worried about the fire at all anymore.
Most things we do now we do for the last time…
Last climb up a mountain, last swim in a lake, last time putting up my Big Agnes. Last dinner in the woods….
I am sad but also rather exciting to be done soon. All at once.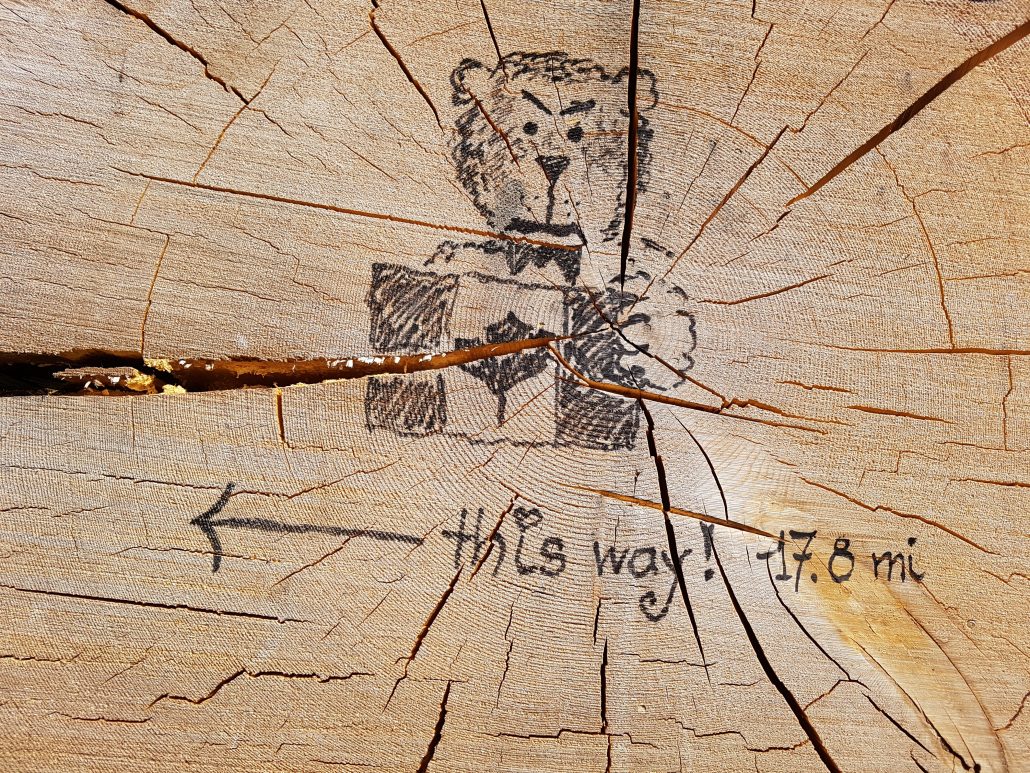 Tomorrow we will most probably reach the border!
We wake up, and approach the last 6 miles.
I am a little in front again, so I better wait for the guys at the last little creek, as I want to walk to the monument together with them. Here they come and sit down too.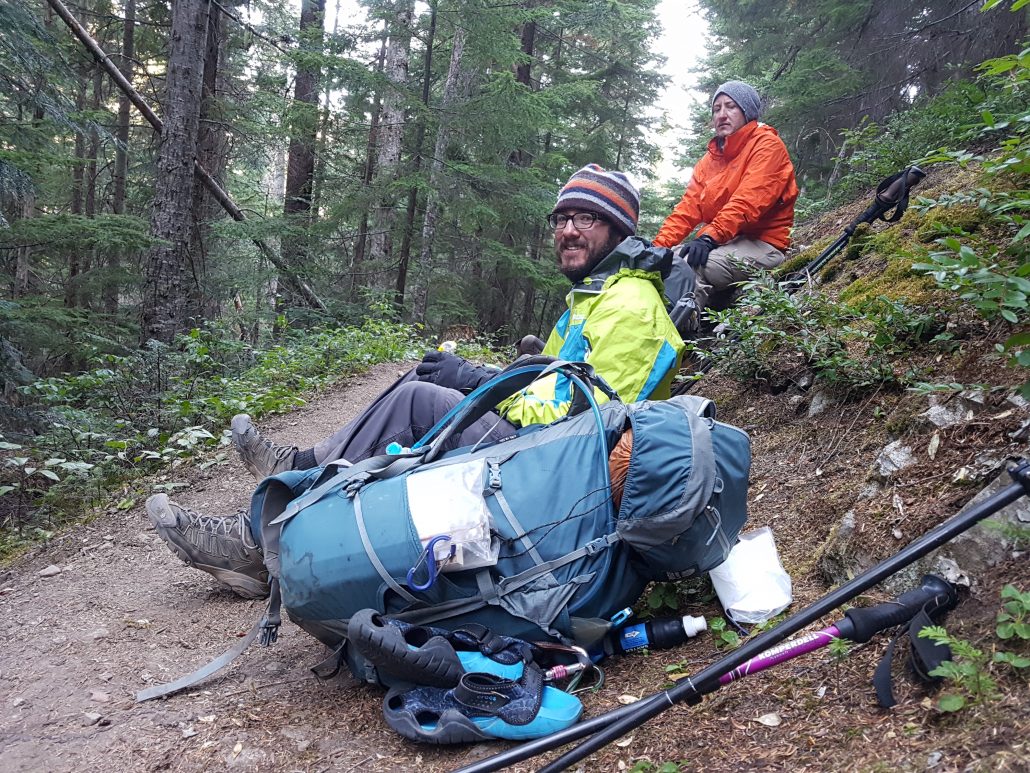 We look at the map, it's now only 0.9 miles….
We hike the last stretch and see the US/Canadian border! You can see it in the photo below, the line of clear cut trees on the left hand side marks the border!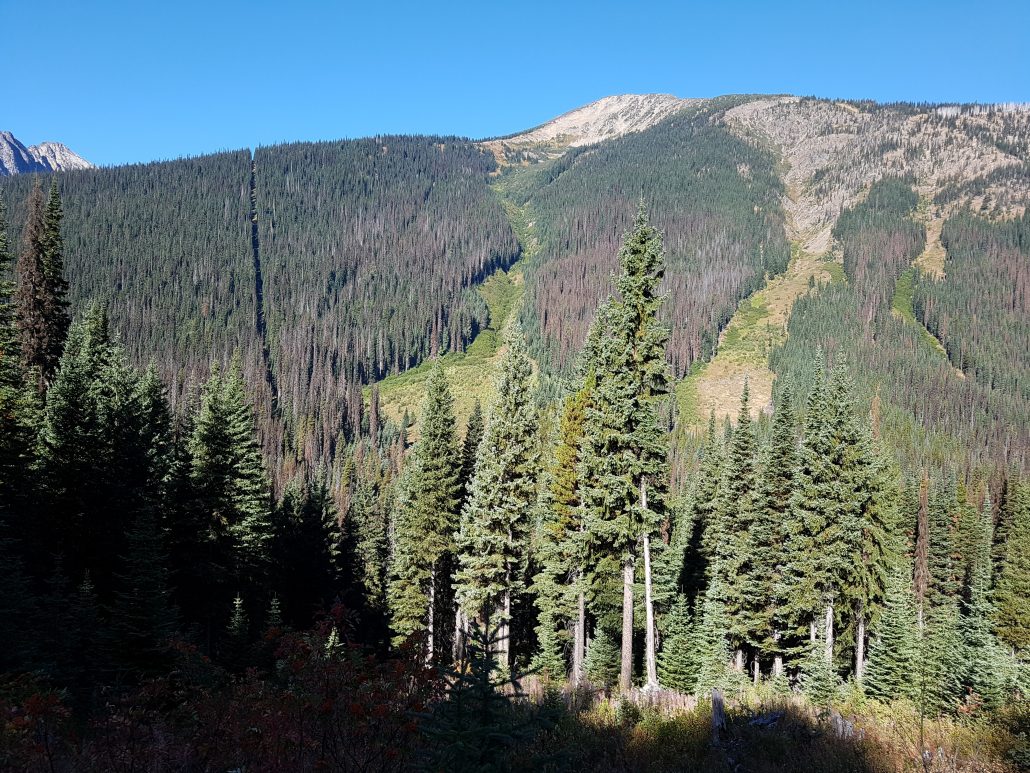 The path takes a left turn, and here it is:
THE MONUMENT!
The Northern Terminus of the PCT!
"We made it!"
"We bloody made it!!!"
Ohhhh my!
I drink the Whisky which I carried out here specially for this occasion.
"Cheers!"
"Oh bloody Cheers!!!"
It's a bit loud and rather crowded by the monument, as there are other hikers here too. They celebrate with Champagne and are very excited and a bit loud. That's fine, they are happy, they deserve to be as loud as they want, but I guess I would have wished for this moment to be a little more, uhm, poetic perhaps?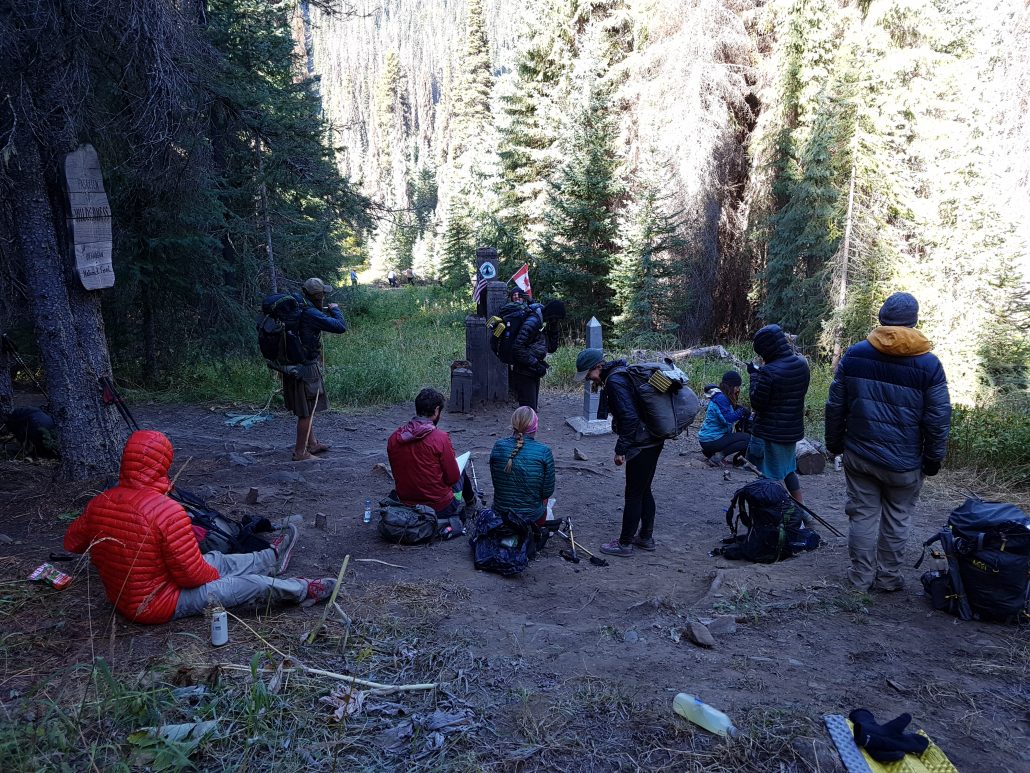 But it's OK. I am here!
I made it. We made it!
We make our own mandatory monument photos and then hang out a bit.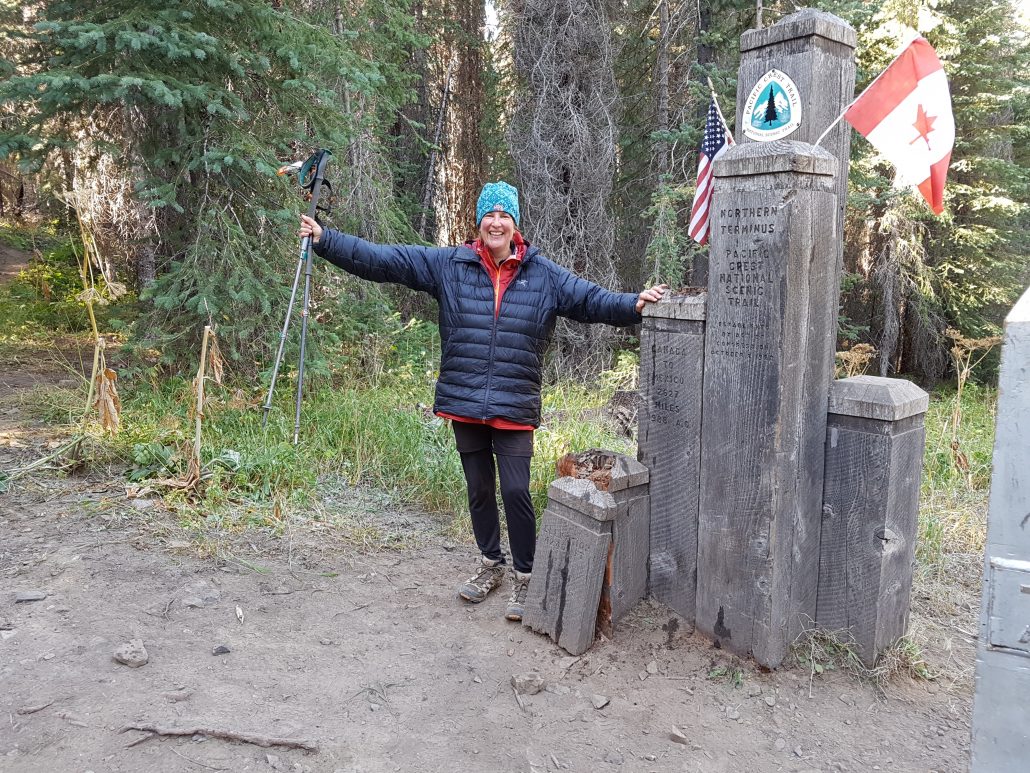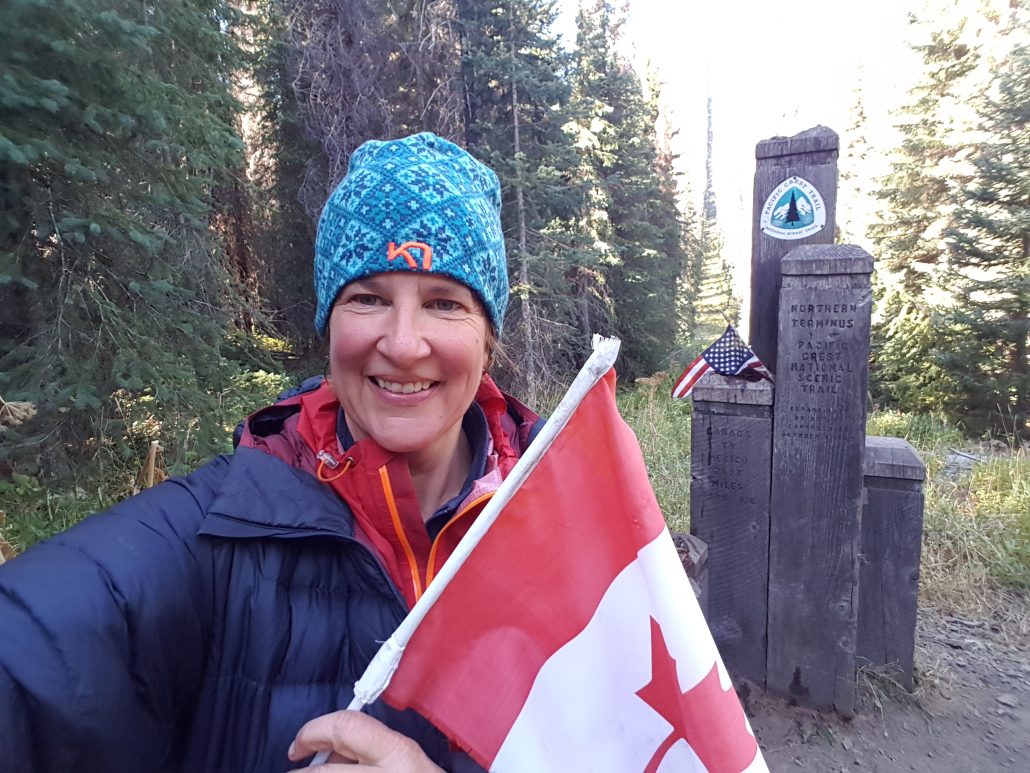 I write down my trailname into the trail register one last time, together with a little personal message of gratitude.
Well, time to leave I guess. We are still in the middle of nowhere and have to hike out of the woods to the Manning Park Resort, where we can catch a bus (at 2am!) to get to Vancouver.
So we have still 8 miles of hiking to do, but on Canadian soil!
I am hiking in Canada right now!
It seems to take forever to reach Manning Park, but now we are here.
They offer free shower, and free usage of pool and hot tub for PCT hikers (thank you!) and we can do our laundry.
We have a late lunch in the restaurant.
Now Andy wants to hitchhike into Vancouver, but Felix and I are fine with just hanging out and taking the bus later tonight.
So Andy disappears rather quickly.
He is gone! Just like that! Very weird!
Felix and I have dinner (we both order the same thing as we had for lunch) and I splurge myself with a cocktail!
Time to sleep on the floor a bit, waiting for the Greyhound bus.
It's 2 am, the bus arrives. It will take us about 3 hours to get to Vancouver.
I can not sleep in the bus, even though I am "noodelized" as Felix would say.
We arrive in Vancouver and book a place to stay for two nights.
Of course we walk to the place rather than taking a bus! So we "hike" through town and I feel a bit awkward in my hiking outfit. I am sure Felix does too.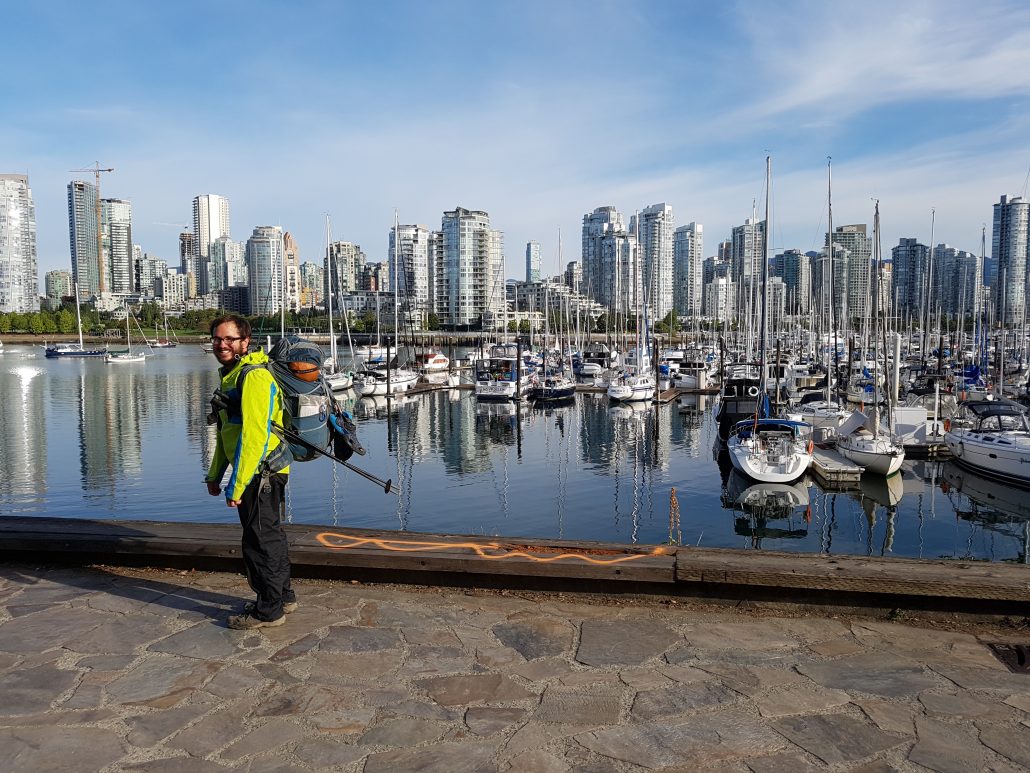 It seems like the woods spat us out and now we are in the big city, surrounded by well dressed and good smelling people. 
We hang out in Vancouver, walk around, eat, drink coffee, and go to the movies. It does me good to transfer into the other life again in this way.
"Thank you Felix, that was great!"
I will fly home tomorrow and just said goodbye to Felix a few moments ago.
It was hard to let him go. So very hard. He is such a profoundly good person.
This is it I guess.
This was my PCT.
It's been purely amazing! 
I am very grateful and still way too overwhelmed at the moment to write a few closing words. I will do this later, and write some post-PCT reflections here. (Perhaps after I have gone through my probably mandatory PTD (Post Trail Depression… Something many former PCT hiker seemed to have gone through once they were off trail again).
For now though, my thanks and gratitude go out to all the volunteers out there who constantly maintain the trail, to all the Trailangels, specifically Lu and her family, who helped me out of a miserable situation at Whitewater Preserve, I thank all those open minded people who stopped their car and gave us a ride into and out of town, I thank Bruce, Andy's and Felix's dads for driving me around and being so wonderful to me, and I thank you dear reader for reading my blog and liking my images!
It means the world to me!
I thank my friends at home who sent me messages of encouragement and kept being interest in what I was doing out here for all these months.
I thank Steffi, Basti, Swiss Miss, Roadrunner, Cowboy, Chantal and Francis for hiking with me for a little while. I thank Kathy who helped me with lots of logistical issues, I thank Tim and my sister Barbara, who both followed me on the GPS and always knew exactly where I was, I thank Dunja for keeping my business at home alive and I thank my mum who is always by my side.
And of course I thank my amazing Trailfamily. We have gone through so much together!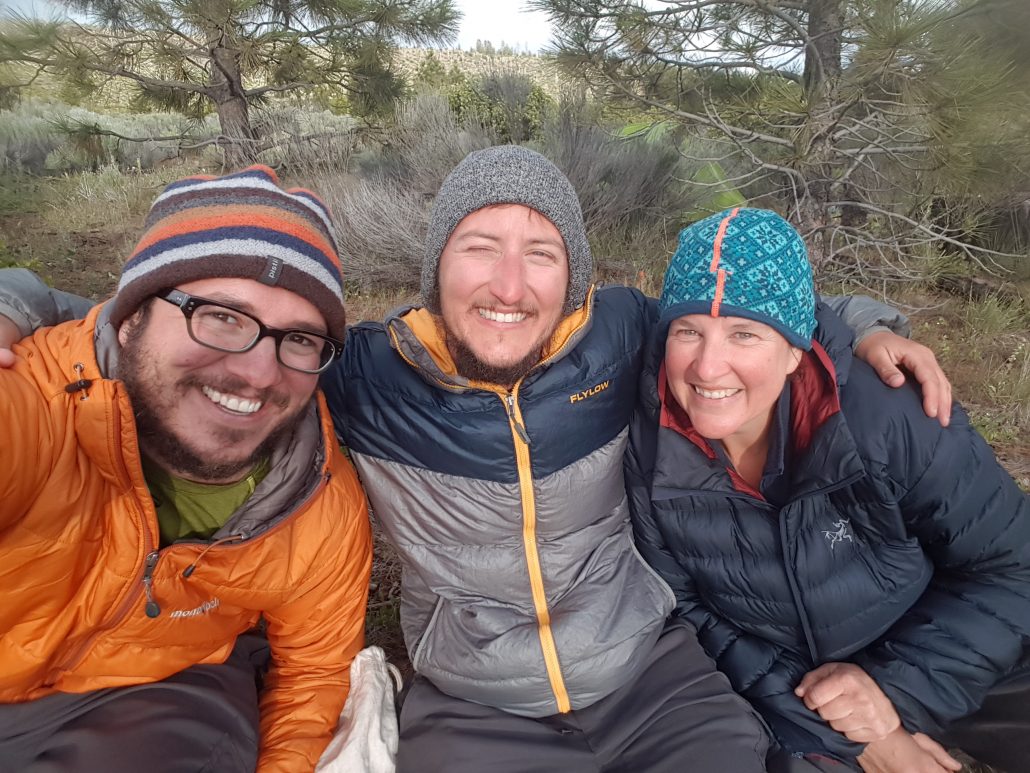 "Andy, you have been a ton of fun and a great companion. You so often had a big smile on your face, even when it was rough and tough!"
And my biggest "THANK YOU" goes out to Felix:
"You have been simply amazing. Every single day. Without exception. You are magic. I will come and hike any Long Distance Hike in the world with you!" 
[Well, perhaps we should pick a place where they have no wildfires though!]
"I am ready when you are!"
;)
Xxx
http://www.earlymorning.ch/wp-content/uploads/2017/09/20170914_163820.jpg
3024
4032
Heidi
http://www.earlymorning.ch/wp-content/uploads/2016/12/Heidi_Bronnimann_logo.jpg
Heidi
2017-09-19 05:01:50
2017-09-23 16:15:00
Approaching Canada