There is Dale! Our meetup works out perfectly!
Felix and I hiked into the old, cute, tiny mining town "Silver City" about an hour ago. We went straight into the restaurant, ordered food (and beer in my case) and were waiting for Dale to arrive.
I see him through the window and run outside:
"Dale! We are in here!"
"Yeay! So great to have you back!"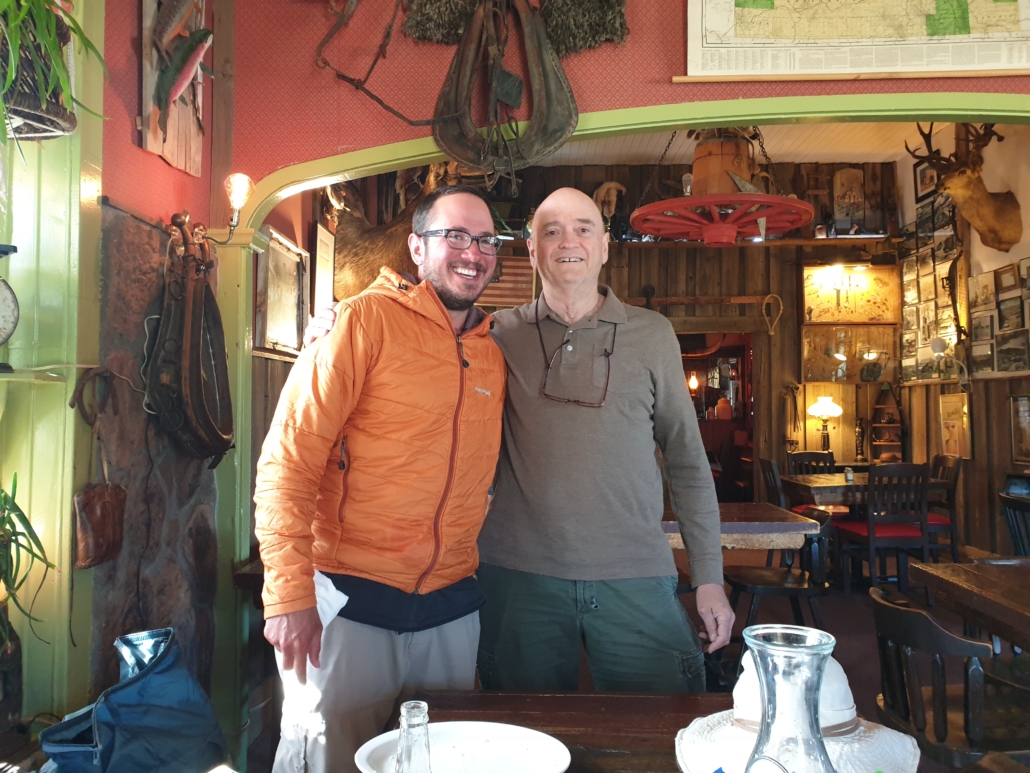 The team is complete again!
We stay the night in Silver City (I spend the evening in a hot tub!), Felix and I hike on in the morning.
The plan is as follows: we will drive North, right into Montana, again, around mountain ranges which are still not "doable", as there is still winter up here in this country!
Felix offered Dogma and Tim (we have leapfrogged with them several times) a ride in the van, and they happily grabed the offer! Dogmas parents live only somewhat two hours from here, so Dogma and Tim want to crash there for a week and get some rest.
The van is fully packed with five people, four backpacks, lots of food, lots of gear, and a dog.
We take the chance to visit an old gold mining factory, the "Carissa" mine.
(With having Dale here, we can easily do stuff like this! And I think it breaks up the routine and gives us the opportunity to learn stuff about Americas past. Mining was such a huge thing here, not that long ago. )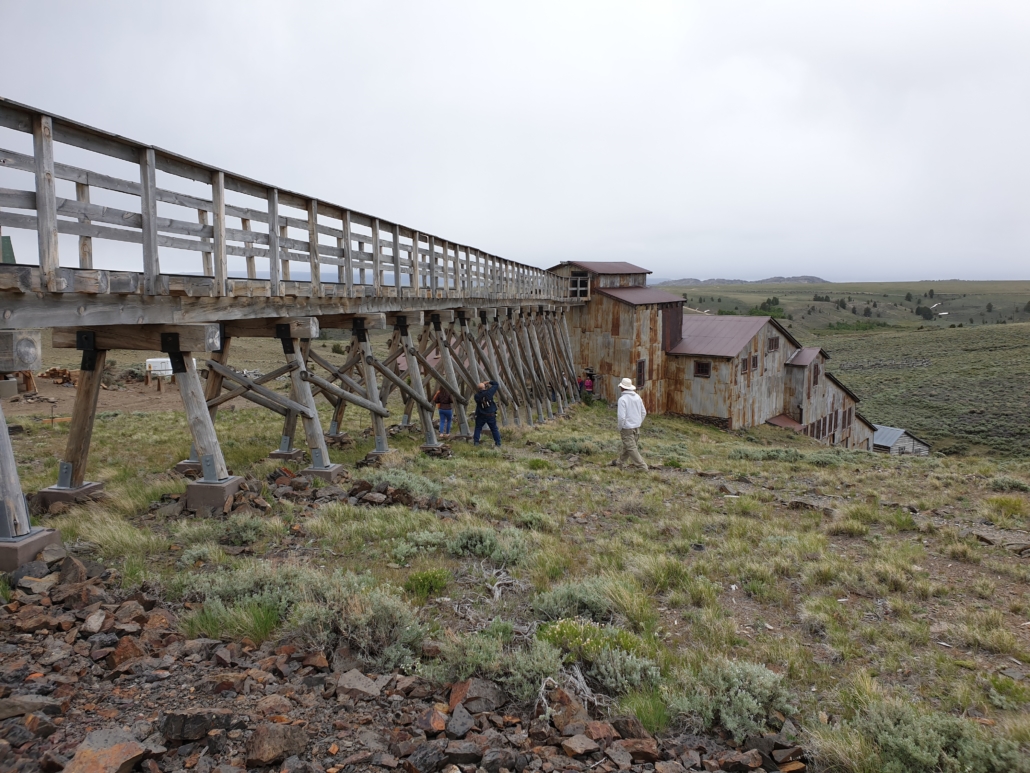 The tour turns out to be super intresting and I am very much impressed by all these huge old heavy machanical machines and pots, and constructions! A whole array of different processes to grind the rock in order to squeeze out the gold!
Glad we came here!
So, but off we drive now.
Dogma invites us to spend the night at her parents house. I pitch Maggie on their lawn and soon fall asleep.
And now, she and her mum are preparing the most amazing breakfast on this planet!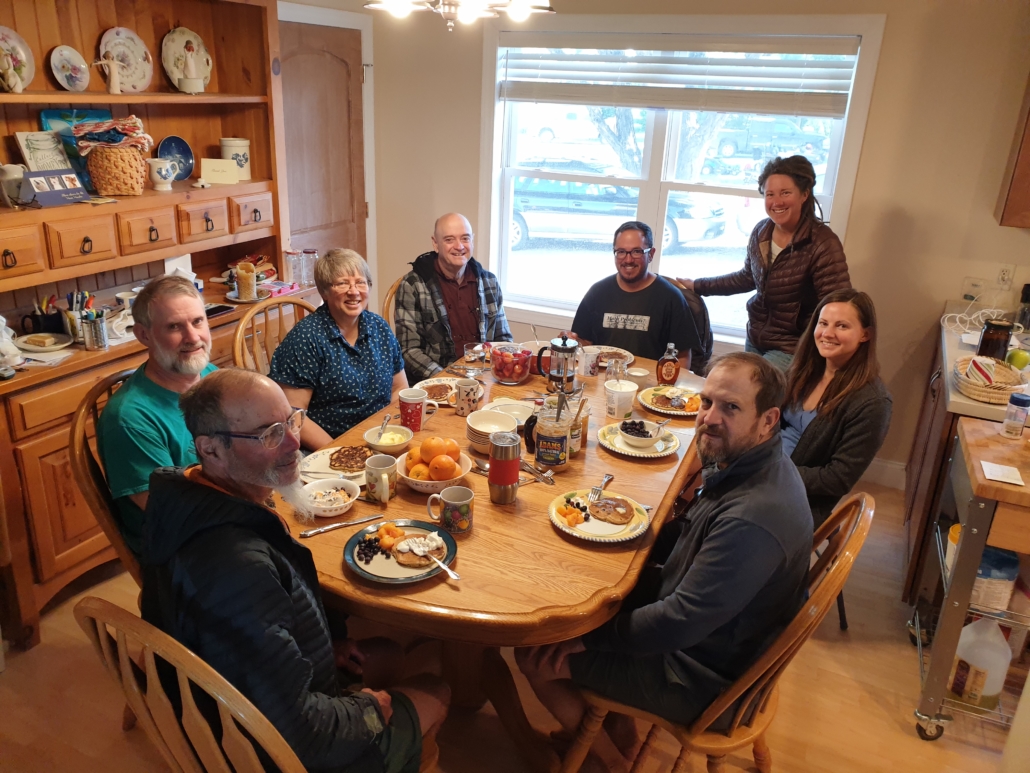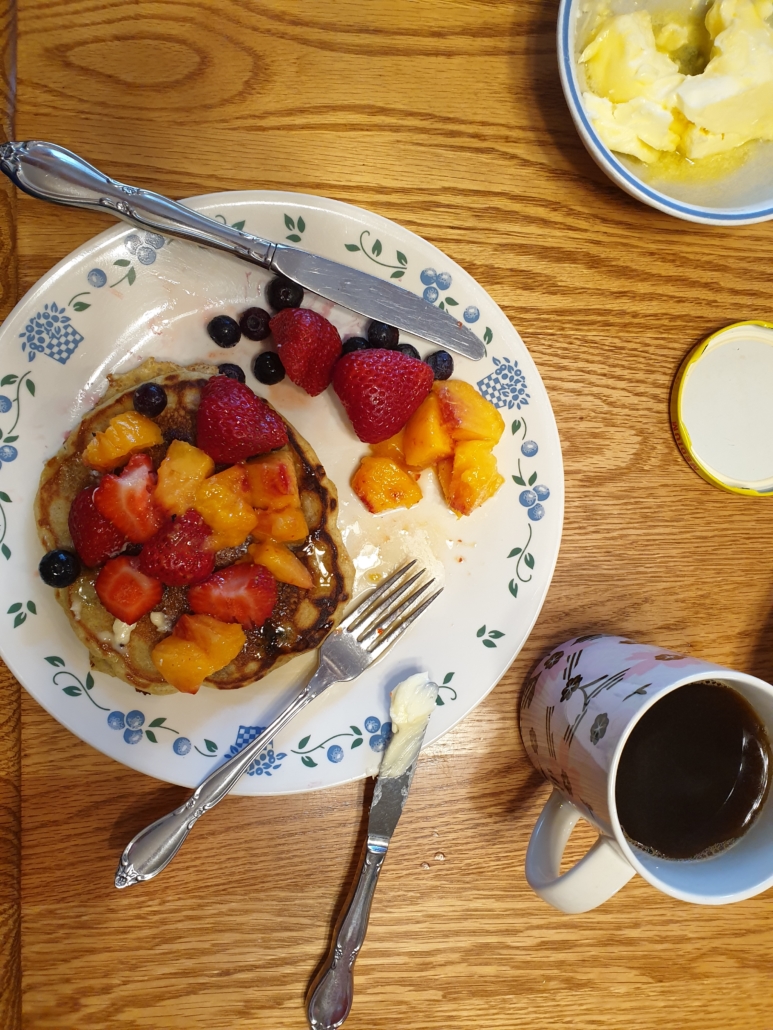 Holy moly I do enjoy this fruity, juicy, moist, homemade, amazing breakfast! Eating at this big, round family table.
(Consider, normally Felix and I eat a Protein bar for breakfast while already hiking.)
Thank you guys! Your hospitality was truly the best!
Off we drive, we are on our way to Montana. And the cool thing is, we will drive right through Yellowstone Nationalpark!!
We stop in Cody, right before the park, and I buy me a bear spray, you know, just in case it might come in handy up in Montana. The cool thing is, they let me test the thing outside their store, so I learn how to use it!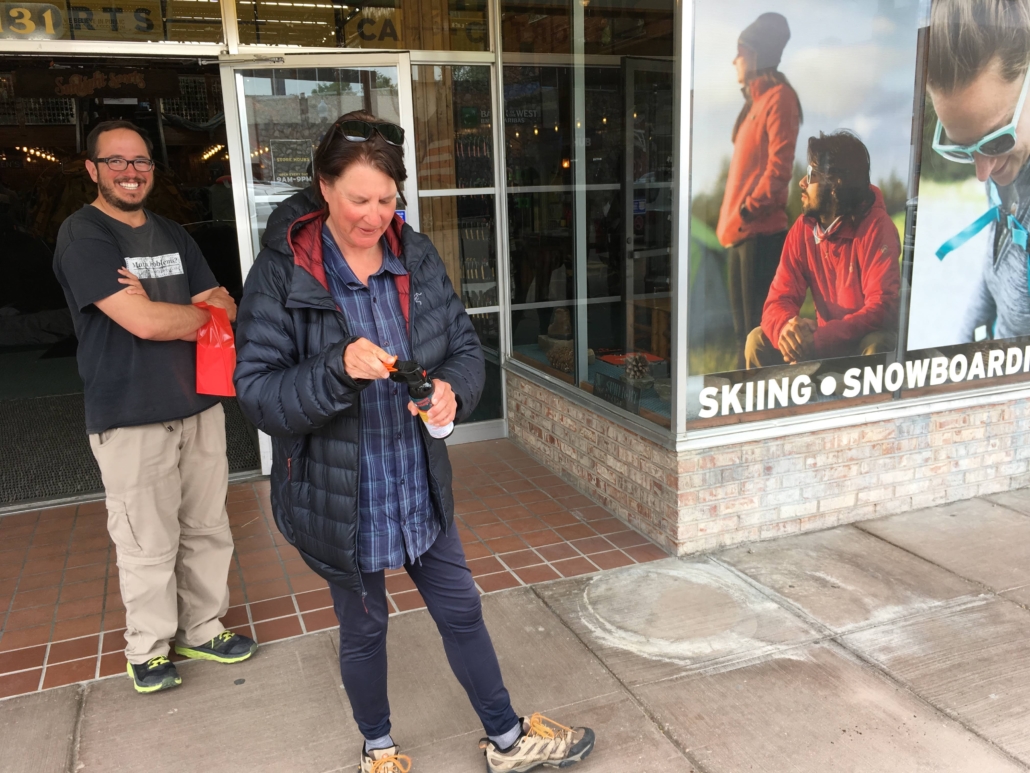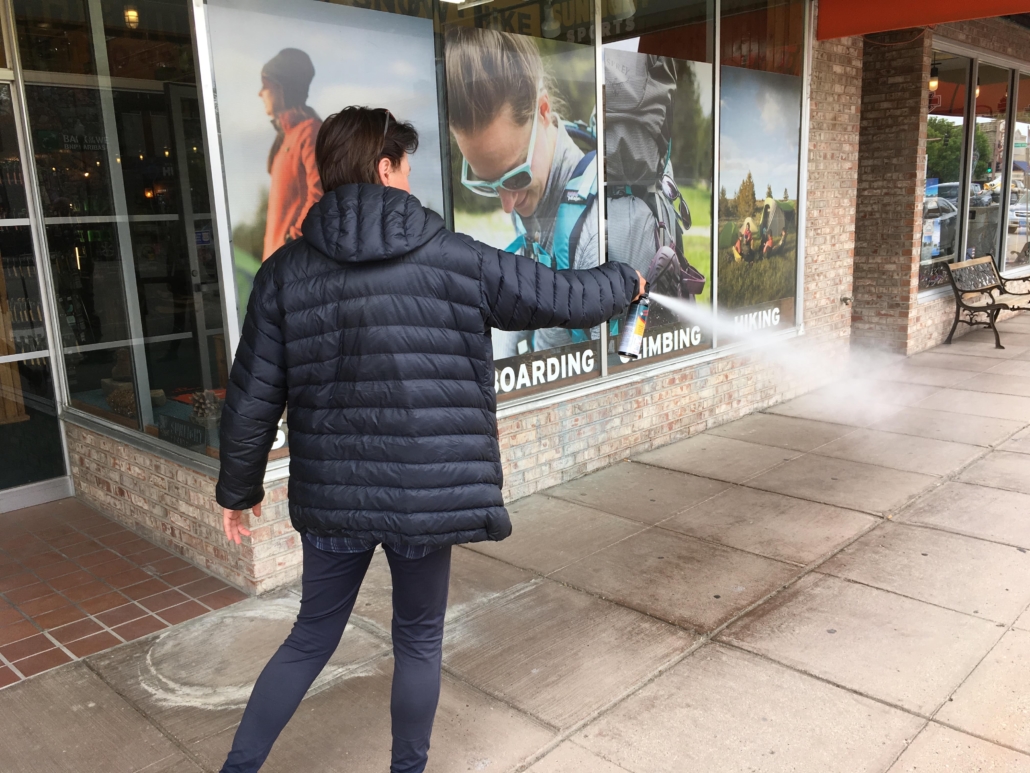 (Both images by Dale)
Alright, I am all set! Let's drive into the park!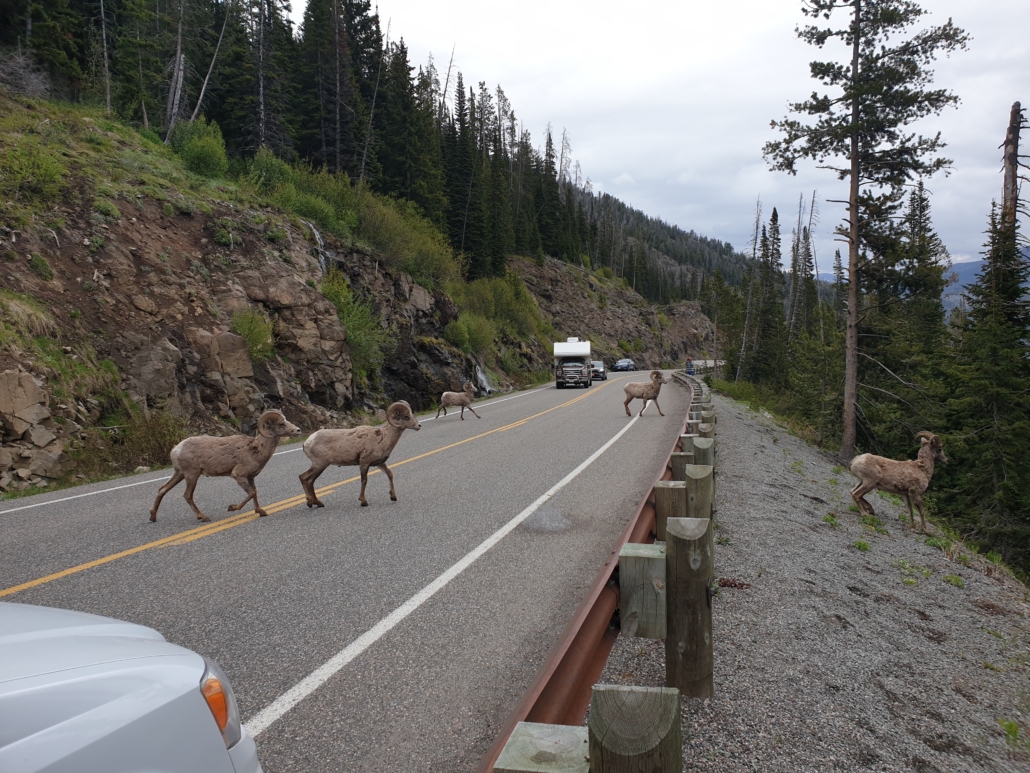 Wow! So many animals here! And we don't even have to hike to see them! We watch them right out of the car!
"Heidi, there is a Bison over there!!"
"Oh HOLY SHIT!! They are huuuge! They are awesome!"
"Yeay!"
My jaw droppes to the floor.
We drive around, see lots of bubbly and steaming things! It's amazing, but it's also getting late.
"Maybe we should spend the night in Yellowstone rather than just driving through it", Felix suggests.
"Yes! Let's see whether we can stay in one of these lodges here, that would be cool!, I reply.
We drive over to a lodge and go to the reception desk:
"Do you guys have availability for tonight? One room for three people?"
"Let me see, yes, we have a room for one night, it would be USD 407, plus taxes".
Silence on our side.
"Uhhg thank you, but no thank you…".
Holy moly.
The lady is kind enough to check whether any camping area has availability.
Unfortunately they are all fully booked.
Hmmmm.
Ha! We are indeed in the most famous National Park in the world.
"Let's just park the van by the lodge and let's all sleep in the van!".
For free!
"Yes! Let's do that!"
We scratch our heads about how we can make room for three people going horizontal in the van.
Difficult task, but Felix has (as always) the solution and puzzles our gear, food, and packs around until there are indeed three horizontal sleeping places available.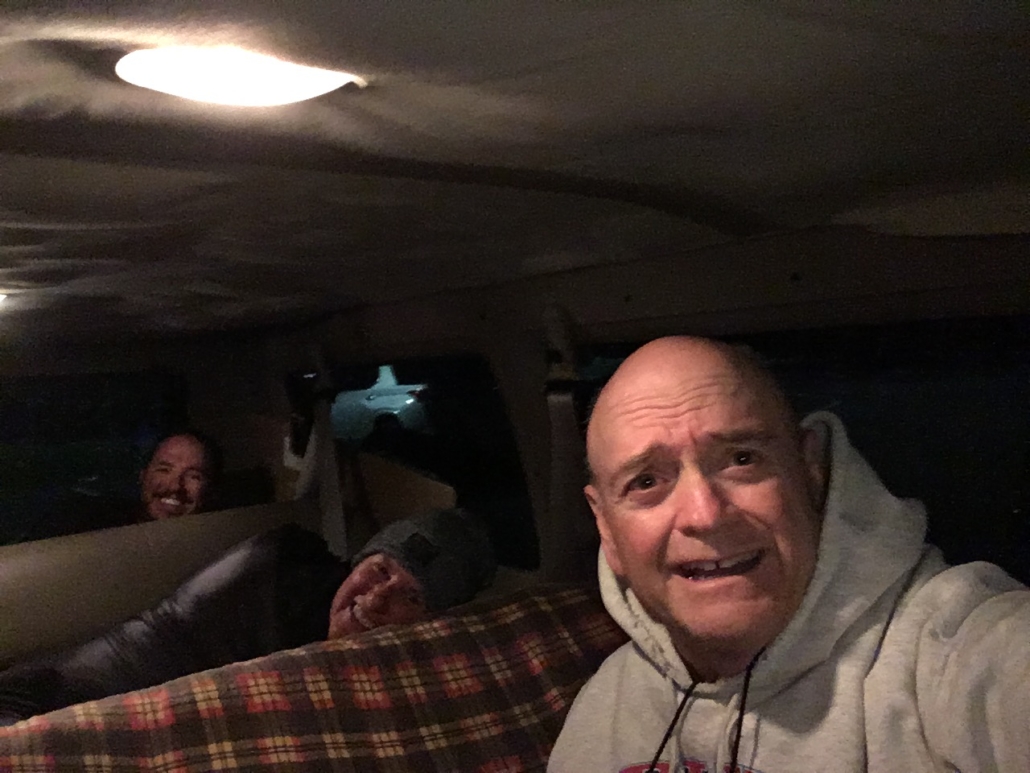 We sleep well! It's so cuddly and warm in the van!
And we use the lodge's toilet in the morning!
Perfect!
We do some more sightseeing in Yellowstone and have an awesome day just being normal tourists.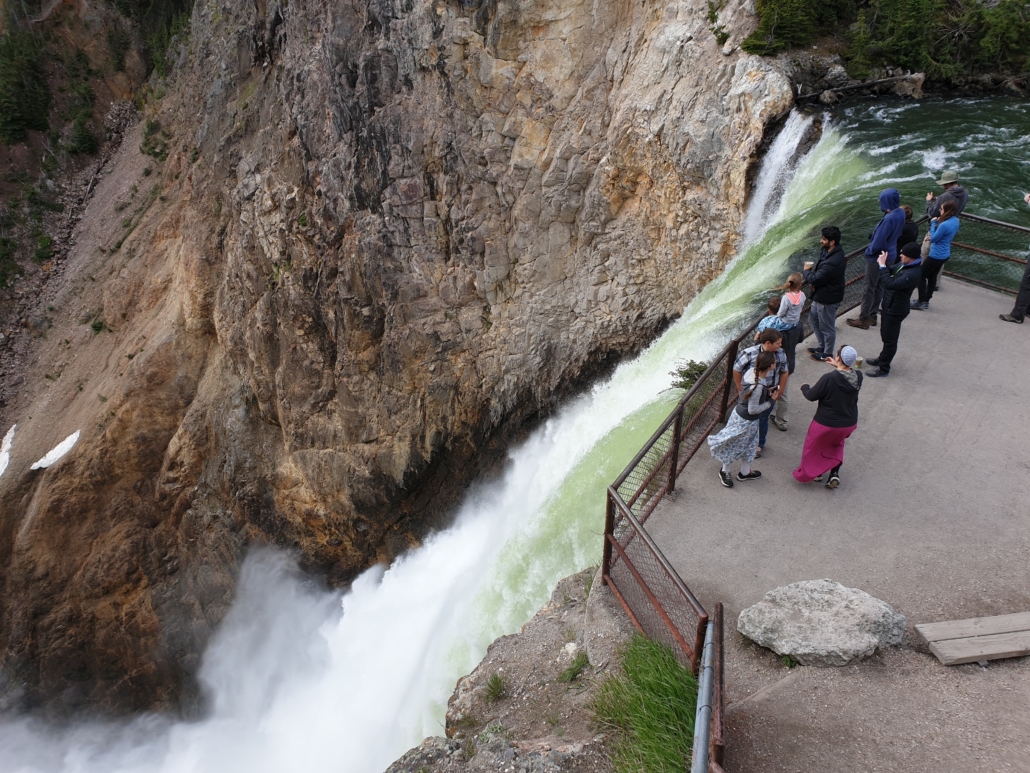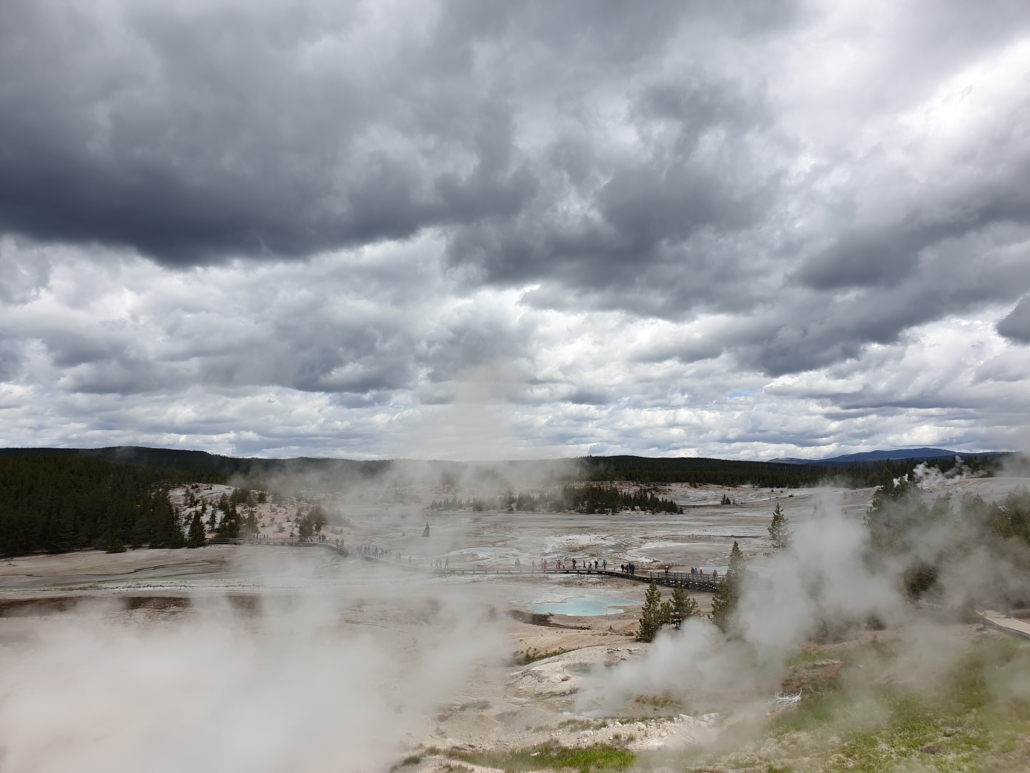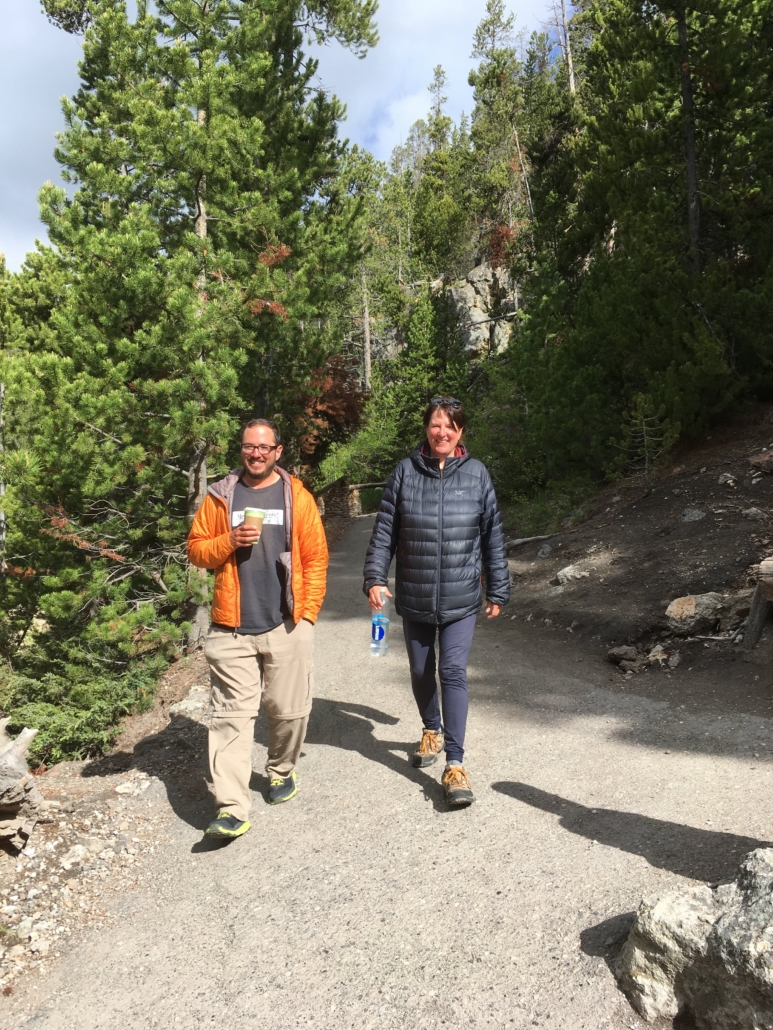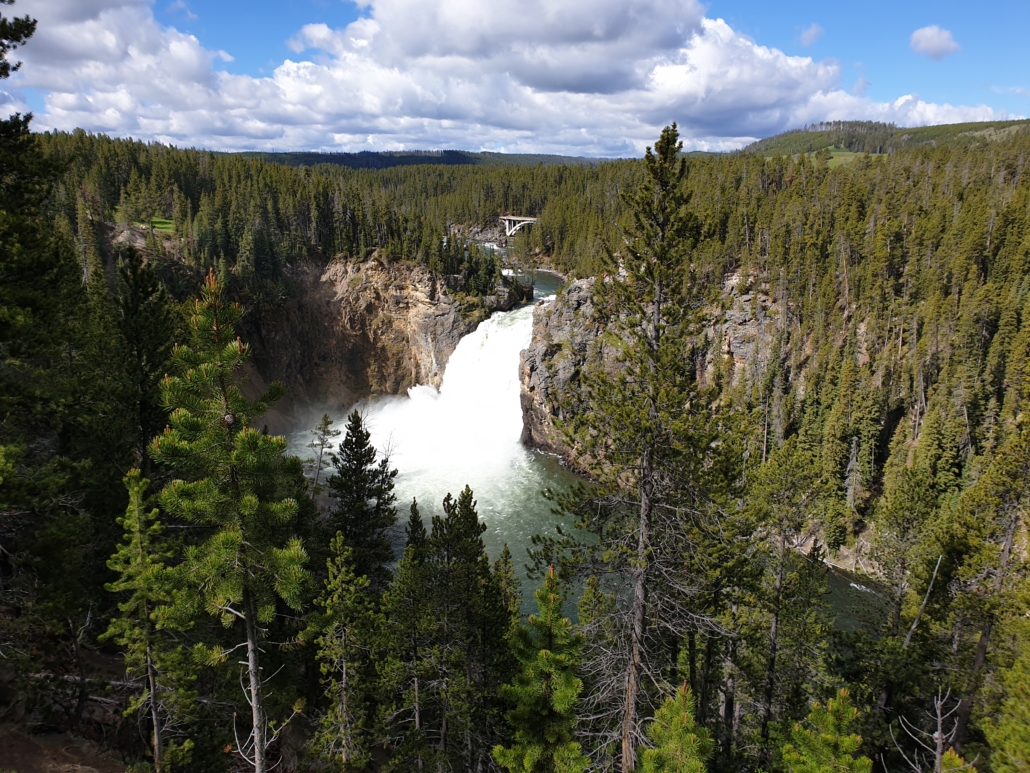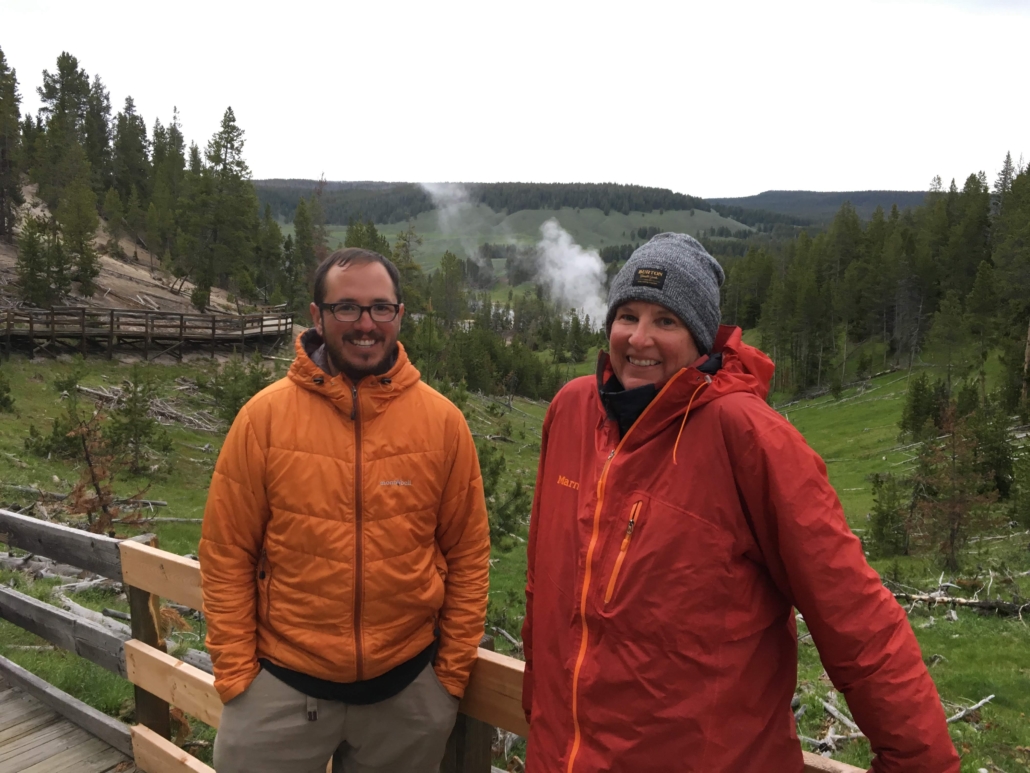 Off we drive, into Montana, to the trailhead near Anaconda, where Felix and I will resume hiking tomorrow.
Felix and I could theoretically pitch our tents in the forest here…. But "meeeeh", its too cold and we are too tired:
"let's just squeeze into the van again, it's so much warmer in there!"
So we do, and all fall asleep.
We hike to Anaconda, meet Dale, drive to Butte, as this is a very intresting historic city, and also, as there is a historic "Bed&Breakfast" Mansion (Mansion!) there in which we can stay for the night!
It's the "Copper King" Mansion, a 34-room residence, built in 1884 by a very successfull and very ritch interpreneur, and politician, involved in the copper mining business. Today's Mansion owner give one hour tours in this house. We got the tour for free, as we booked a room.
I always love to learn bits and pieces about historic places. The CDT is not only a hike, it's also a trip into America's past.
So we will sleep with style tonight.
(I should perhaps not mention that Felix carries his stuff in his black plastic garbage bag which he normally uses as a rain layer).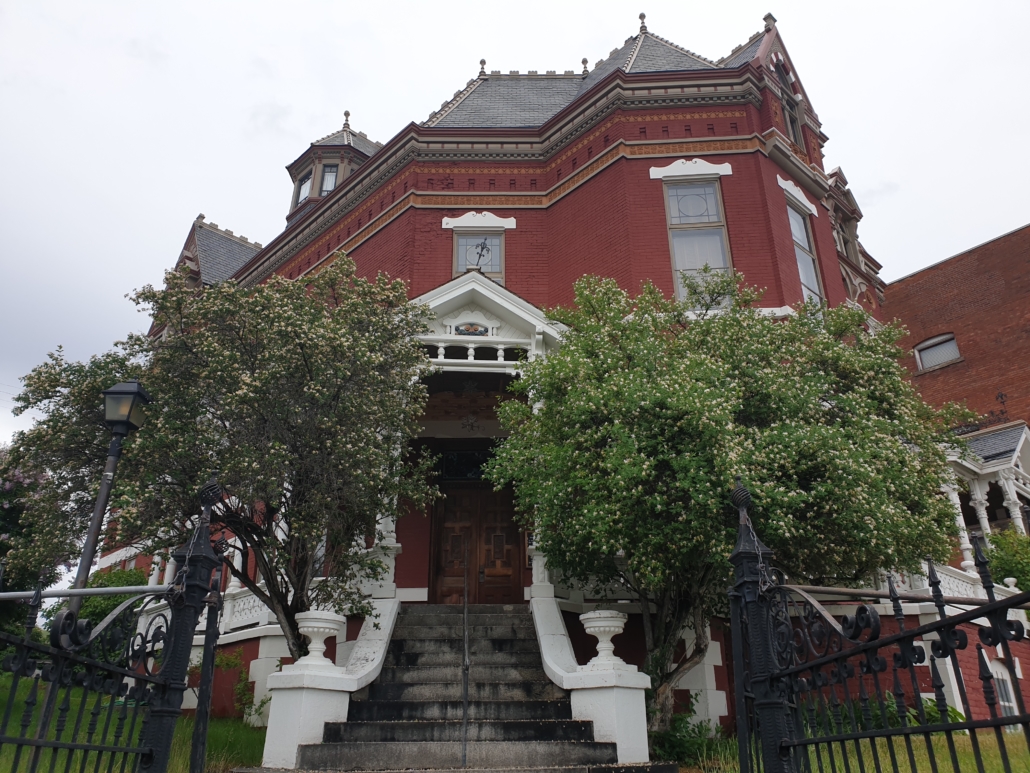 I feel a little awkward in my hiker trash outfit.
Guess I better have a bath (in this great, super old bathtub)…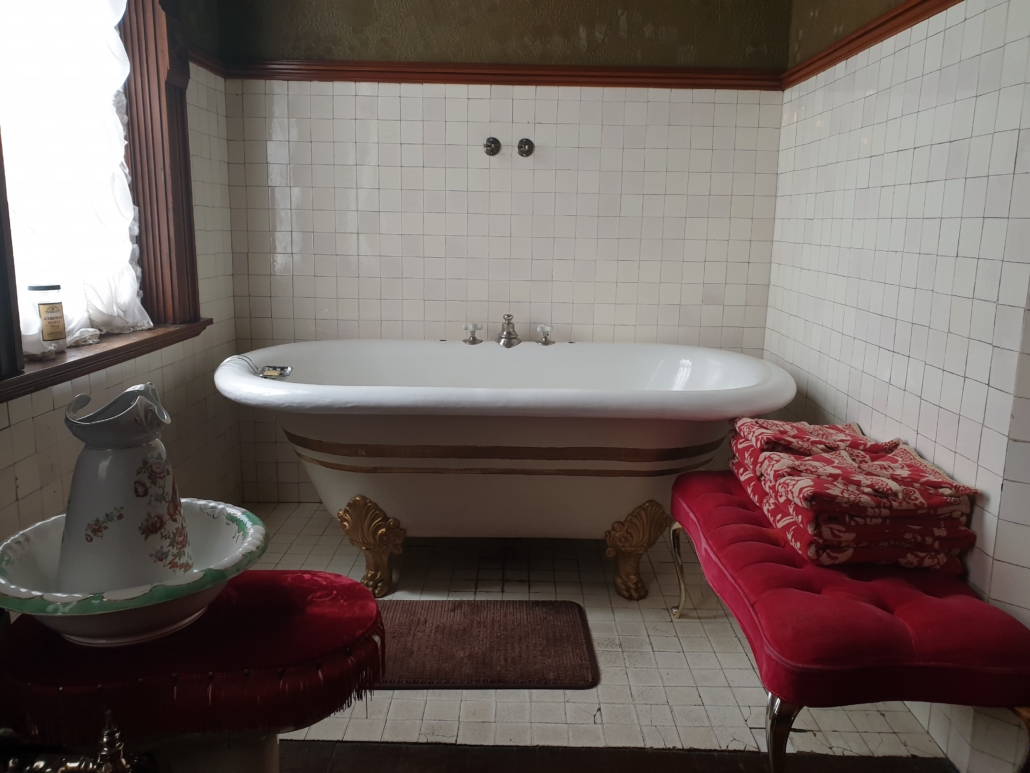 We all seem to have slept excellent in our Mahagony (!) beds…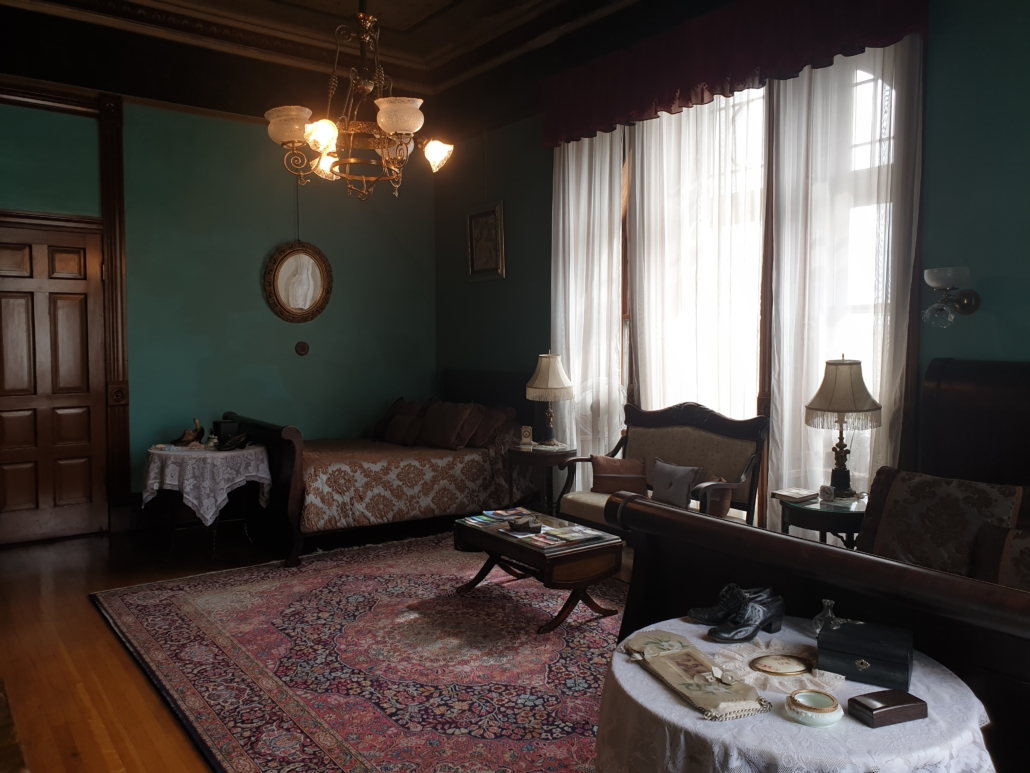 … and eat breakfast with style in the morning!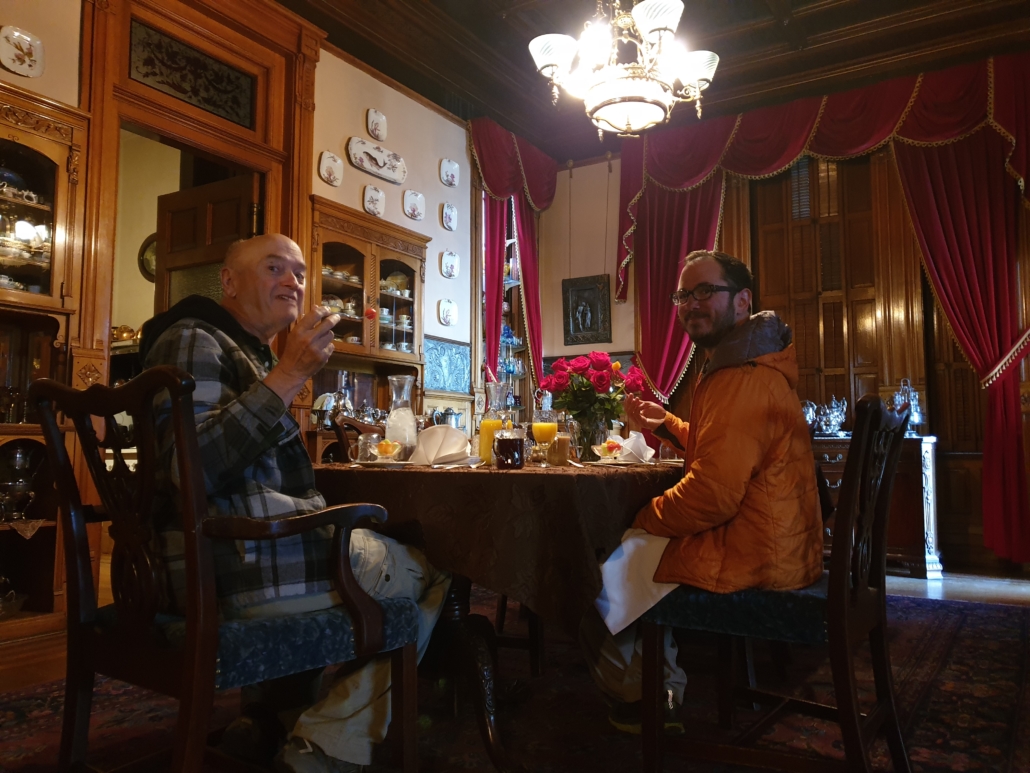 OK, the pampering had to end at one point… Dale drops us off at the trailhead.
(It's so amazing that we currently don't have to hitchhike to and from town!!)
Oh and I forgot to mention that they had amazingly soft and three-sheet layered toilet paper in the mansion! So I made sure to steal some of it to take onto the trail!
You see, we do need toilet paper, obviously, but no thruhiker is going to carry a whole role of it. So all thruhikers (and I am very sure about this) steal some, whenever they use a restroom in a restaurant or hotel. The quality of these papers vary greatly, which matters a lot, since one carries only a little bit of it. I prefer the ones with two or more layers, the cheap "one-layered" ones just don't do their job well enough and I have a hard time trying not to run out of toilet paper before we hit the next town.
But anyway, off we go, into the woods! There is actually a trail here! With trail markers! And a path! This does not happen very often on the CDT!
Felix figured out what "CDT" stands for: "Constantly Dissappearing Trail".
Ha! Exactly.
So we enjoy being on an actual path with trail markers!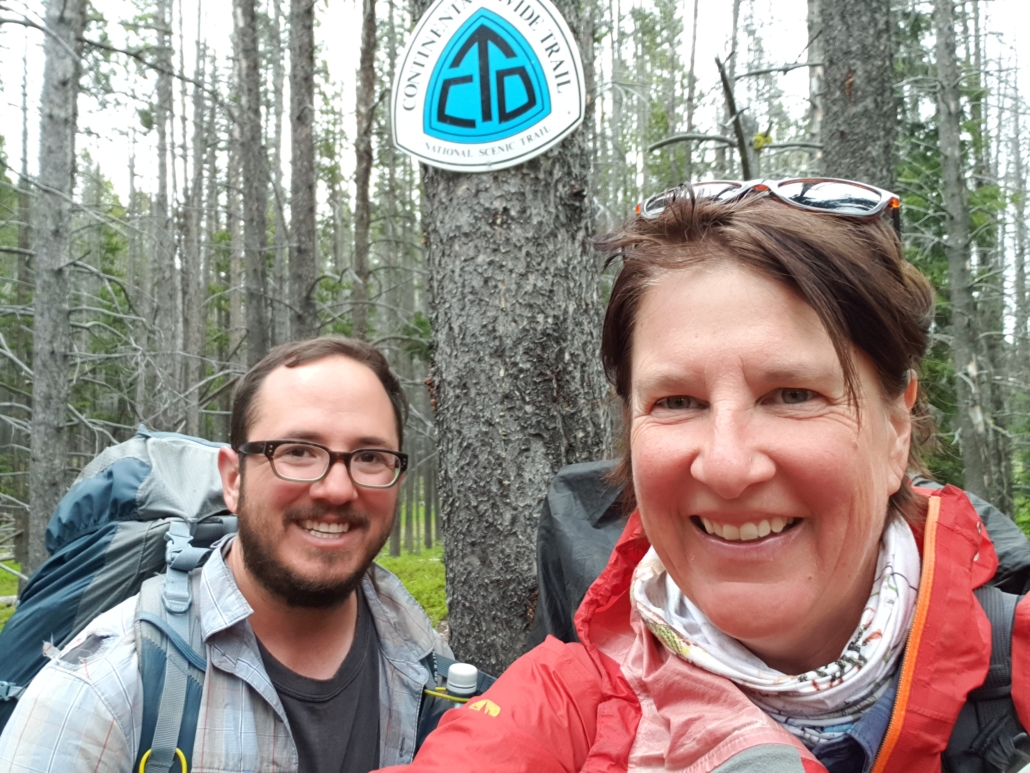 I am hoping very much for a quiet, thunderstorm-free, normal hiking day.
A thunderstorm rolls in.
"Of course! What else!"
The thing is right above us!
But this time we can hide in the woods, which feels much better. We both chuck our metal (!) hiking poles away and duck under trees and wait.
I don't freak out this time.
OK, the thing above us moves on, let's hike.
Wow! It's beautiful here! I can still see the dark clouds lingering, but the flower meadows are amazing!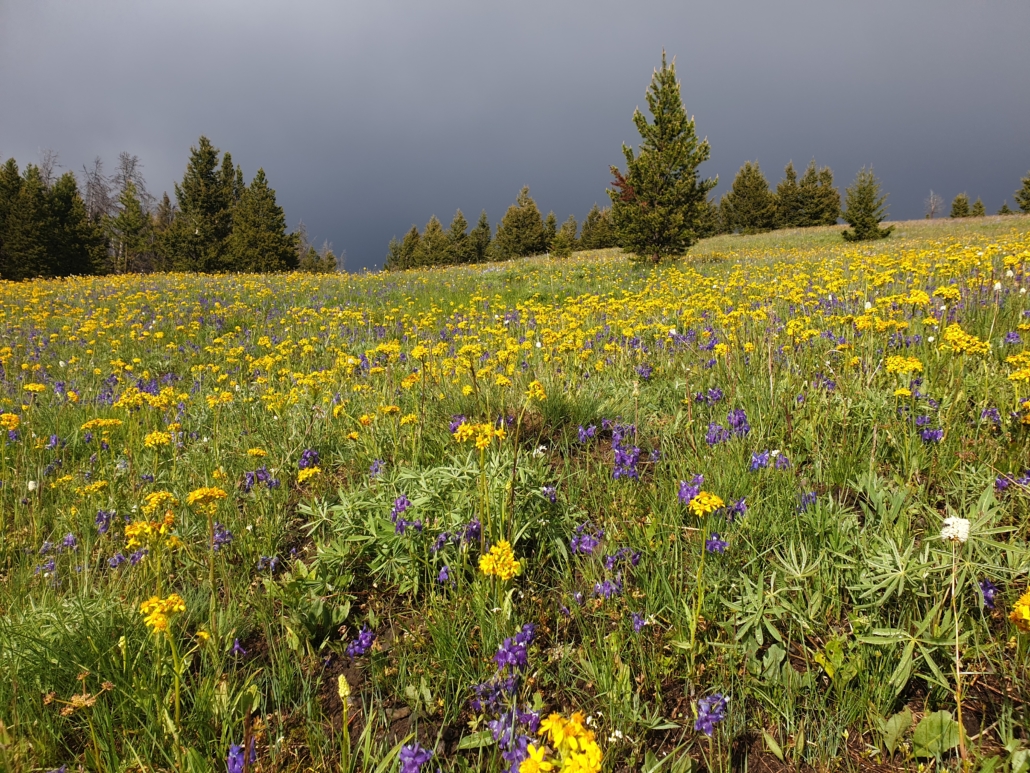 They remind me of Swiss Alpine Meadows and I perhaps get a little melancholic.
I enjoy the walking in the woods greatly! It's rather moist here, the snow has only melted recently. The ground is wet. Our shoes are wet. The whole day. I can feel my feet getting wrinkly.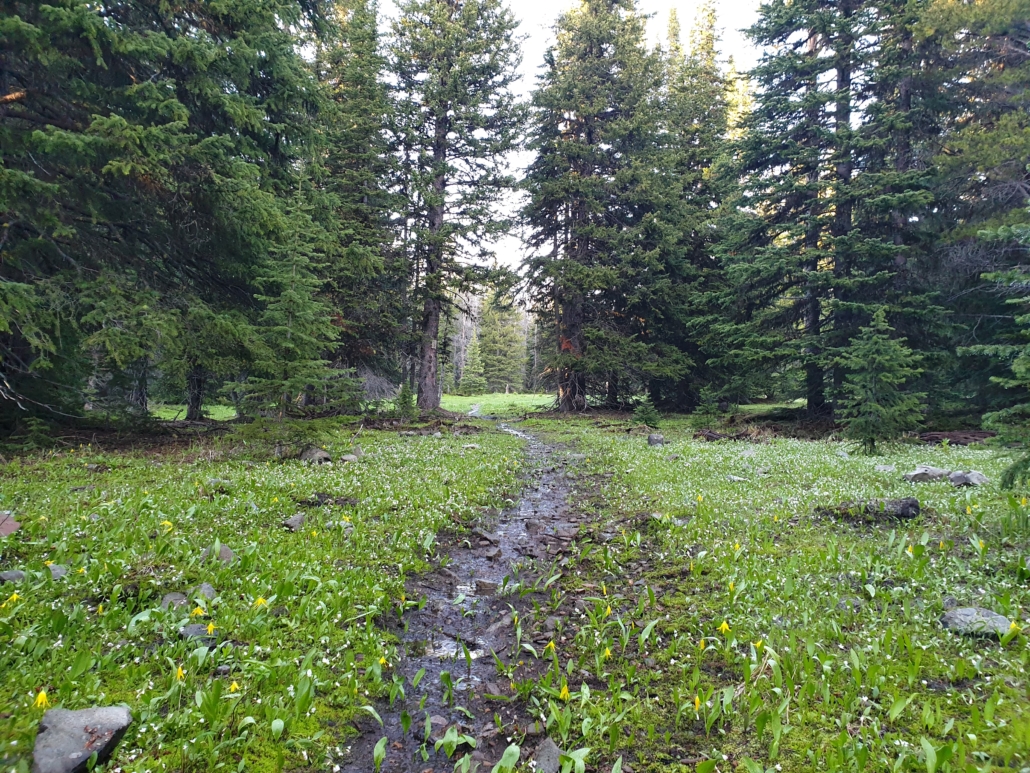 We hike till it gets dark. Pitch our tents. Sleep. Get up. Hike.
Today is a very exhausting "lots of up and lots of down" day.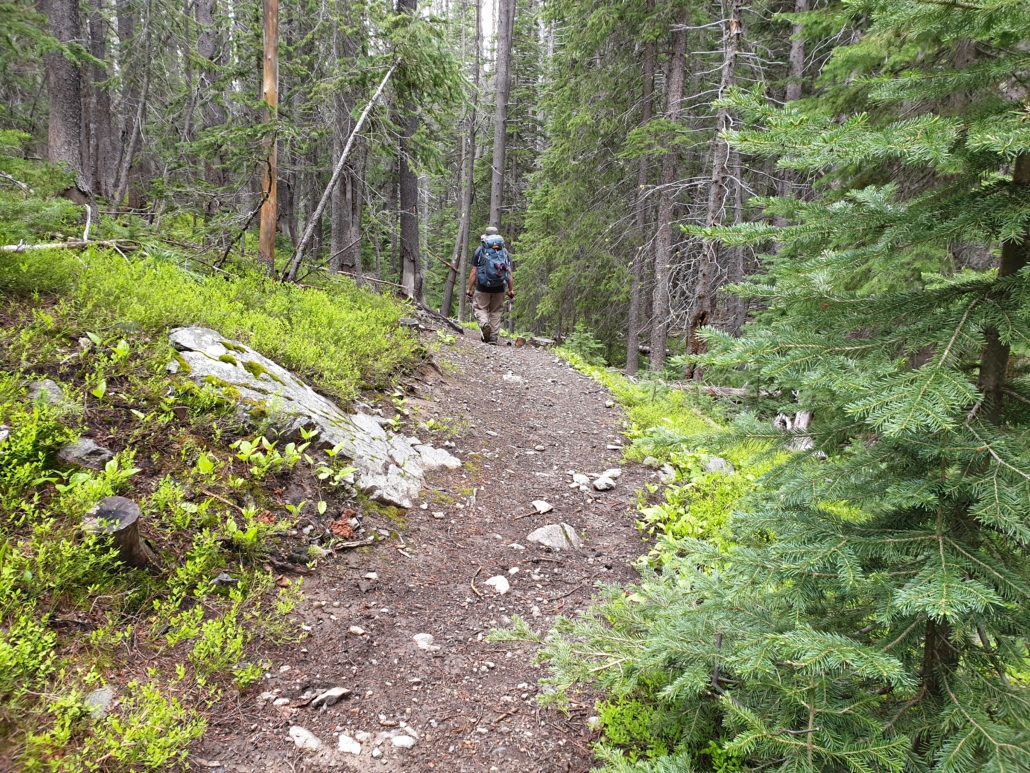 And we see lots of these gorgeous green, glowing lychen or moss (Felix…?!) things.
I swear, these things glow! They are almost fluorescent!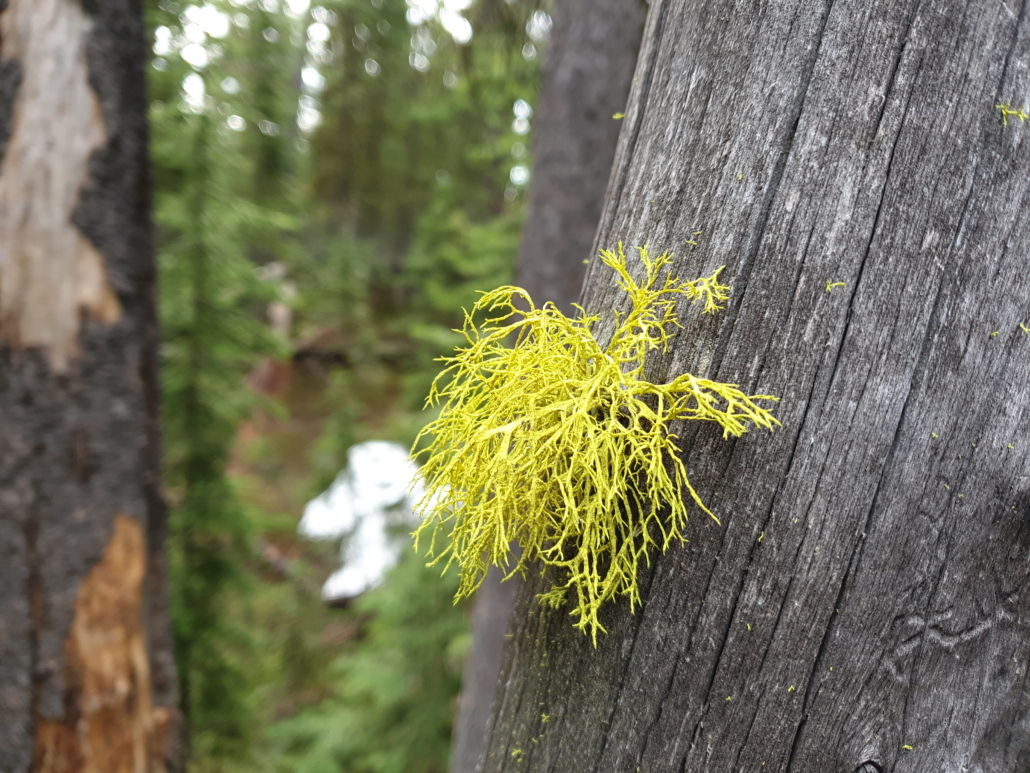 Both knackered, we crash right on the trail again. Nobody here anyway! Sleep. Get up. Hike.
Today is a beautiful hiking day! Just "normal hiking" as I say. No drama, no river crossing, no storm, just flowers, woods and butterflies!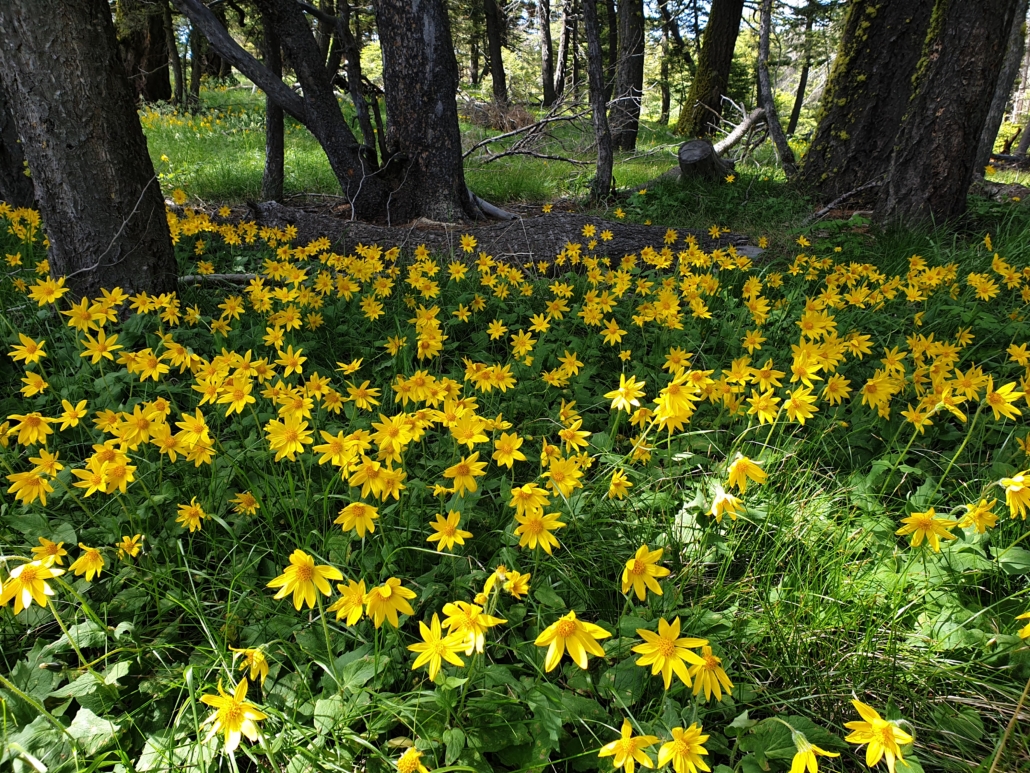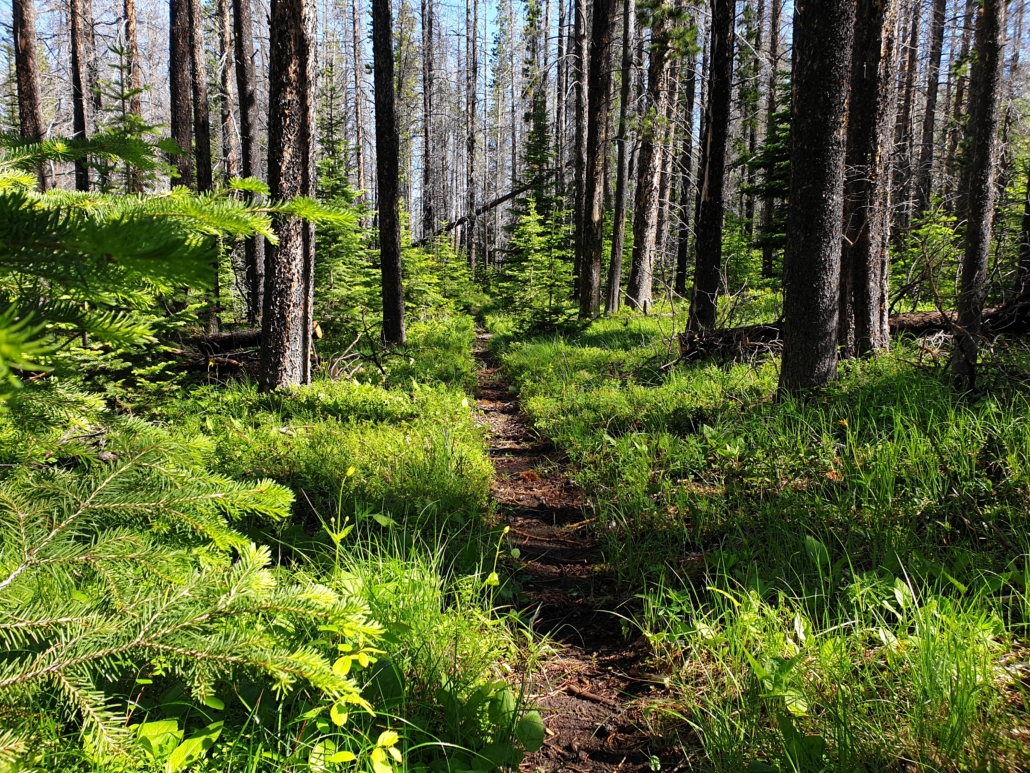 "Ah I see Felix's pack on the path, he must have gone to "use the facilities".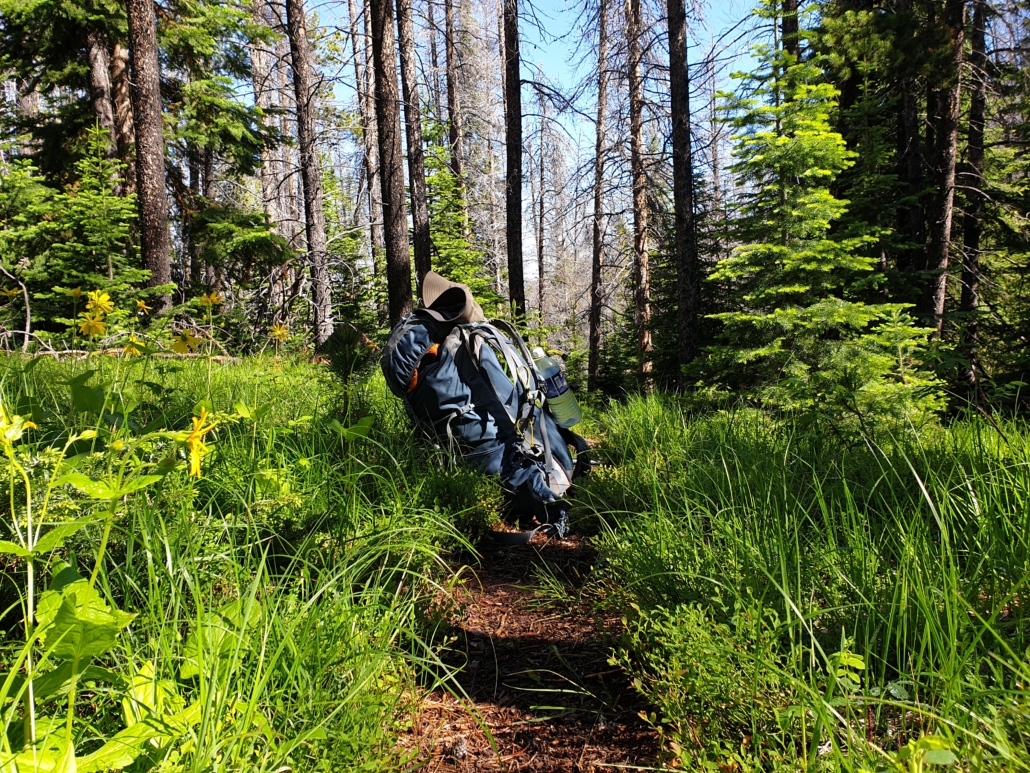 I sit down and wait for him while eating my favourite trail food: Fritos Chips!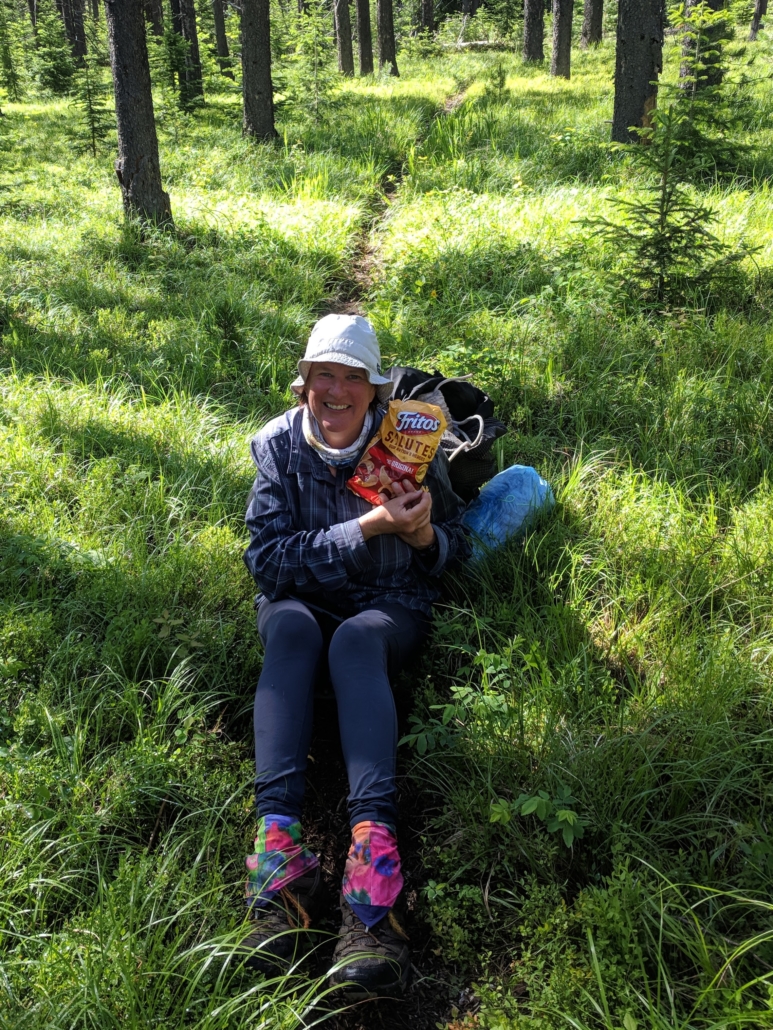 We hit a forest with lots of blow downs. It's more of an obstacle course then a path. But it's fun! Sort of!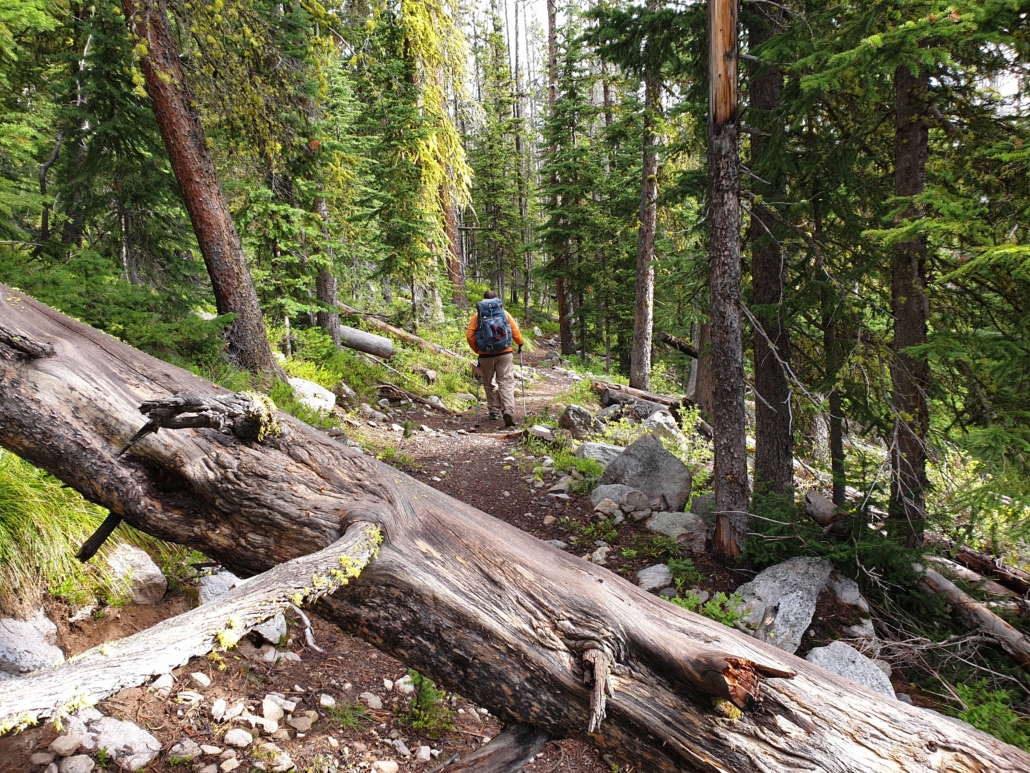 Exhausting! But good for some muscle stretching!
Alright, we will meet Dale this evening at the trailhead! Awesome! No hitchhiking needed! No walking to hotel through town needed! No walking to grocery store needed! No walking to Laundromat needed!
We just climb into the van and let us happily being pampered by wonderful Dale!
Life is good!
Oh and, I really do need to chuck my old boots today, they are completely wasted, fall apart, and smell horrible! I guess, almost 1500 miles (2400 km) of trails, dirtroads, highways, sand, forest, old snow, new snow, ice, and mud (!), streams, and rivers is enough for one pair!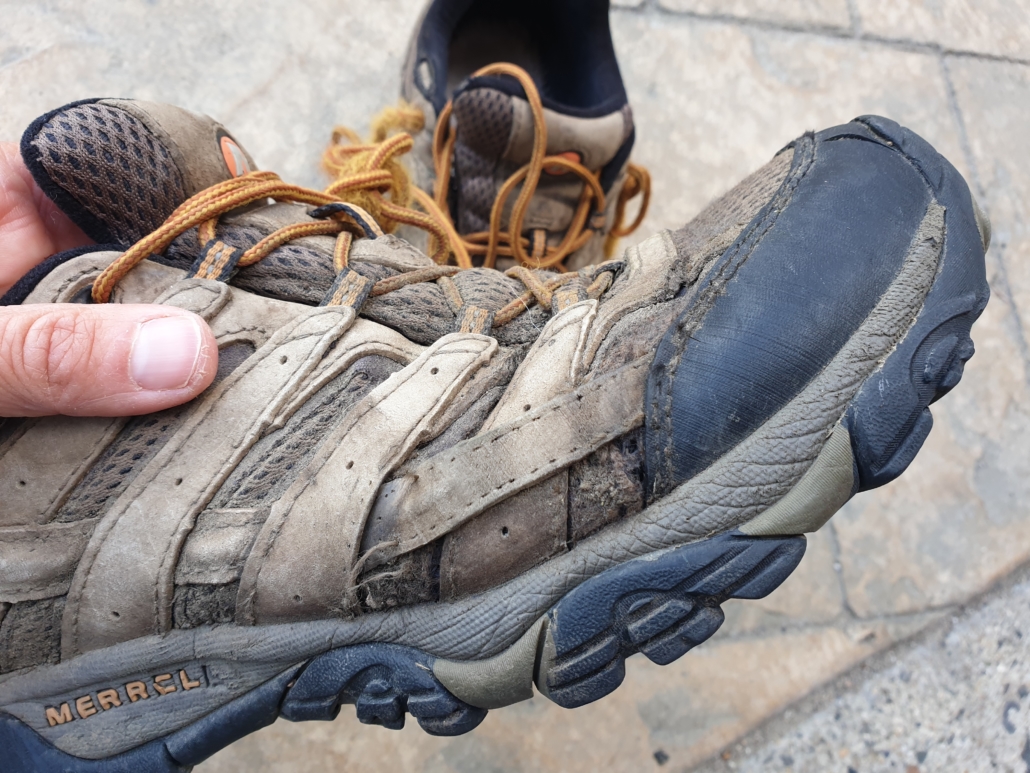 "Goodbye and thank you boots! You have served me well!"
http://www.earlymorning.ch/wp-content/uploads/2019/06/20190627_181858.jpg
3024
4032
Heidi
http://www.earlymorning.ch/wp-content/uploads/2016/12/Heidi_Bronnimann_logo.jpg
Heidi
2019-07-02 03:58:47
2019-07-02 03:58:47
Still Northbound!