We are pretty close to the Bridge of the Gods now, the border to Washington!
How incredible!

With a full tummy and a nero (nearly a zero) in our legs, we leave Timberline Lodge in the evening to get some miles in and find a place to sleep somewhere out there.
Our mood is excellent. We are neither tired nor hungry. It's not hot and we are not too sore after the nero.
There is potential rain in the air.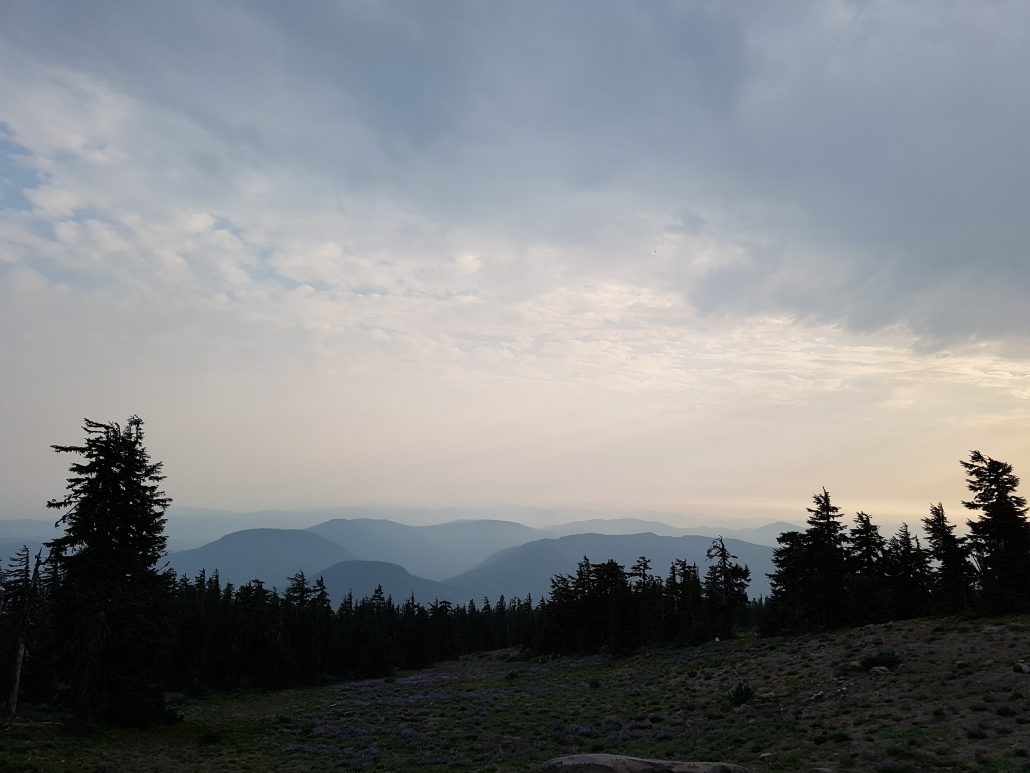 We walk up a ridge and get this great view.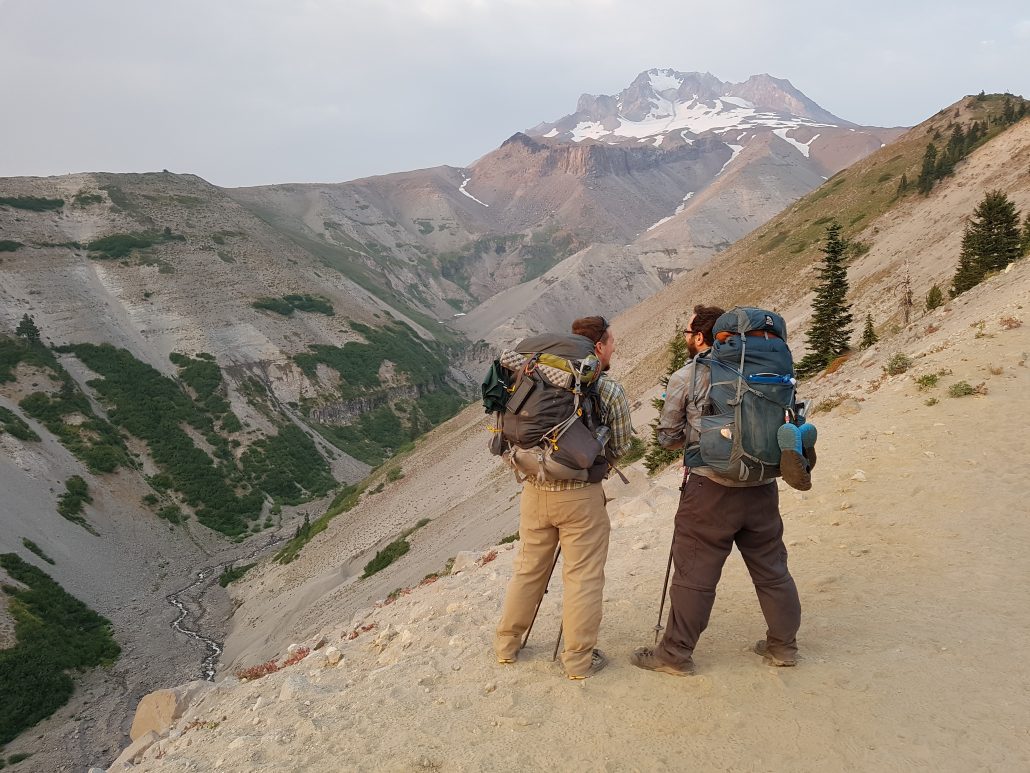 Felix and I want to camp up here, Andy does not really want to.
2:1, so we stay and put up our tents.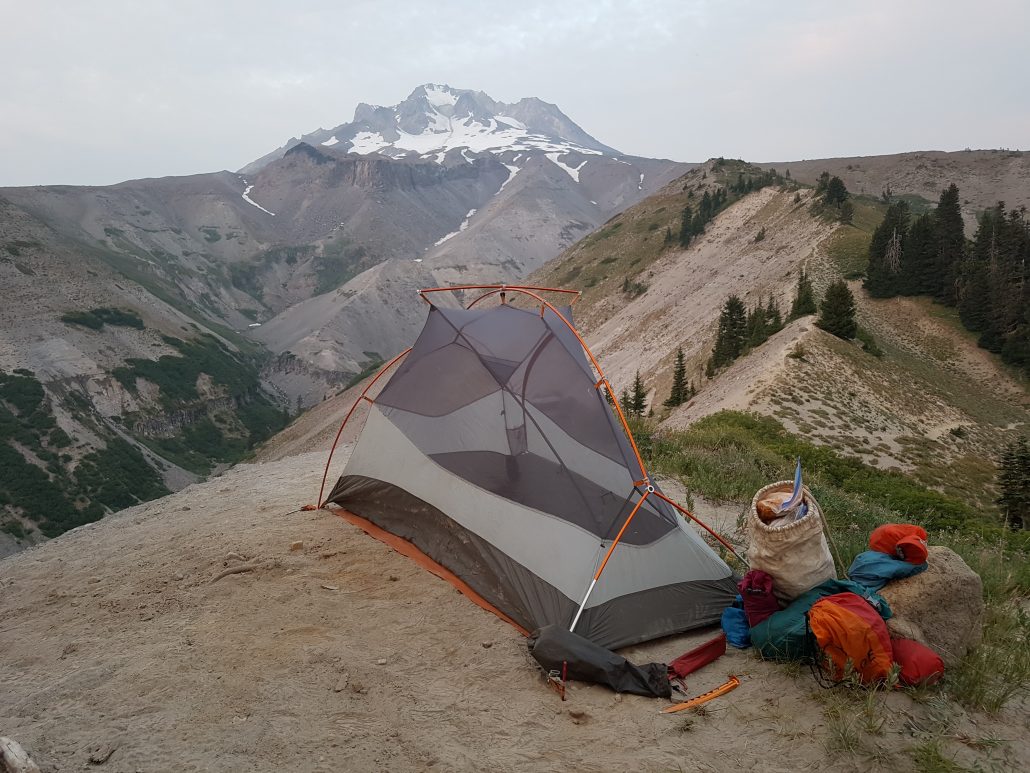 We do this new game to entertain ourselves: It's called "the video challenge": we all get three days time to make a little video with our smartphones. On day tree we show it to each other before we go to sleep and have a hell of a laugh.
Am I not hiking with the best trailfamily ever?
So we watch our videos, have great great fun, and go to bed.
"What is this bright light flashing out there?!"
I check my watch. It's 1 am.
There it is again. And I hear thunder too.
"Oh fuck no!!"
A storm is coming in! And we camp on this bloody ridge!!
A place I most certainly and definitely don't want to be right now. Thunderstorms are what freak me out out here!!
I wake up Andy who has his tent right next to mine. It's a bit difficult to wake him up, as he has earplugs in his ears. And I don't want him to freak out by unzipping his tent. So I poke him through the tent.
"Andy, a storm is coming in. I am freaking out on this ridge here. I will leave my tent here and hike down a bit into the woods."
Andy eventually crawls out of his tent too and wakes up Felix.
Felix is ready in seconds and decides to pack his tent and go down.
Alright, we all take down our tents now in the dark of the night, by the light of our headlamps.
The plan is to get the hell off this ridge and find a place to camp further down.
Andy can not resist saying:
"I told you so guys! I did not want to camp up here in the first place!"
Right!
So we hike down in the dark. Nighthiking! I love nighthiking! BUT I WOULD NEVER DO IT ALONE!
So we hike down and down and down through the woods. Lots of blowdowns to climb over or crawl under. In the dark! That's new. Fun actually!
It's a getting 4 am. Guess we better get some sleep soon.
We find a rather tilted spot, pitch our tents and pass out.
We allow ourselves to sleep in a little.
So now it is just a couple more days through the woods until Washington. Oregon is almost done!
Another state thru hiked (minus the fire detour). We had lakes, mosquitoes, some awesome volcanos, lots of butterflies, cute frogs, banana slugs, camp robber birds, plenty of super cute chipmonks, and some even super cuter pikas.
Felix loves pikas. I actually believe that he was a pika in his former life. And if he was not, then I wish for him that he gets to be one in his next life.
But we had mainly forest. Forest. Forest. Forest. Guess this is why Felix renamed Oregon into Boregon!
Yes! All huge green tunnel. But awesome non-the-less. It is great to see how much greener the forest gets the further north we hike. Lots of moss now and fern and other green things.
[Dunja, I think a lot of you out here! You would love these woods!]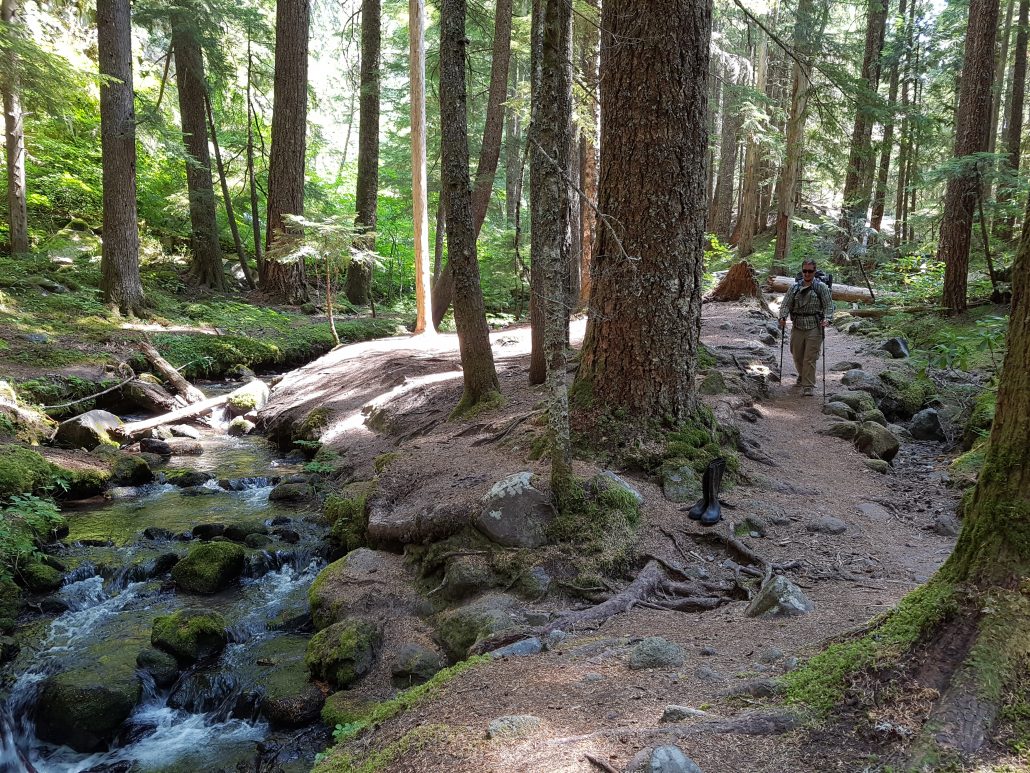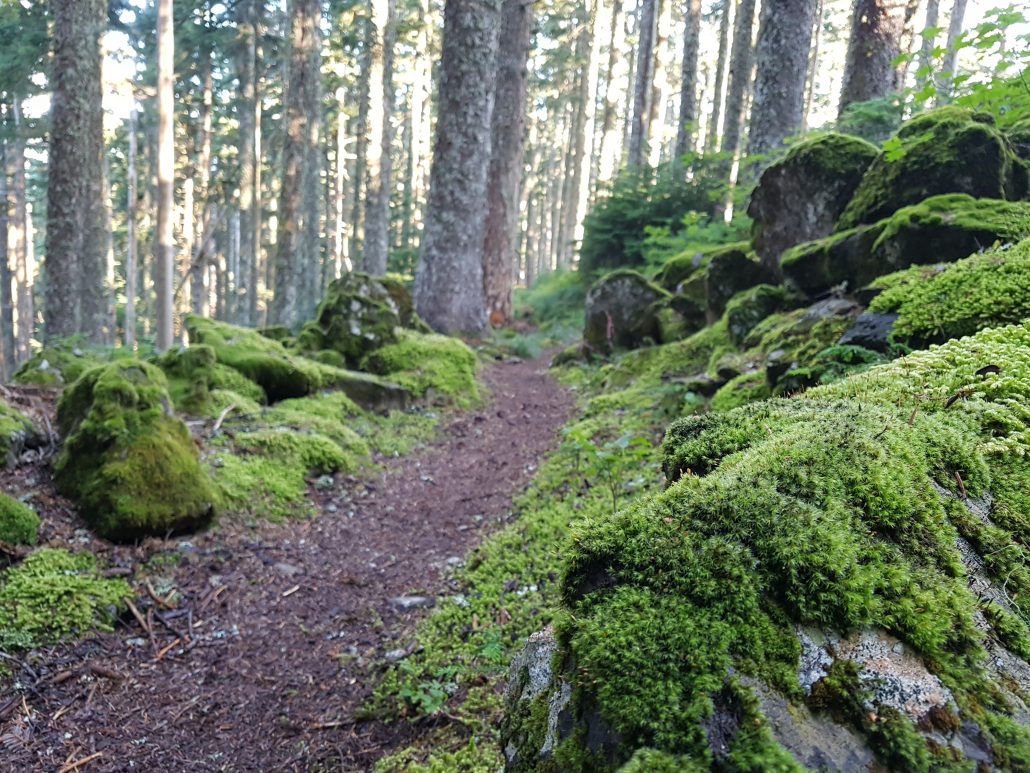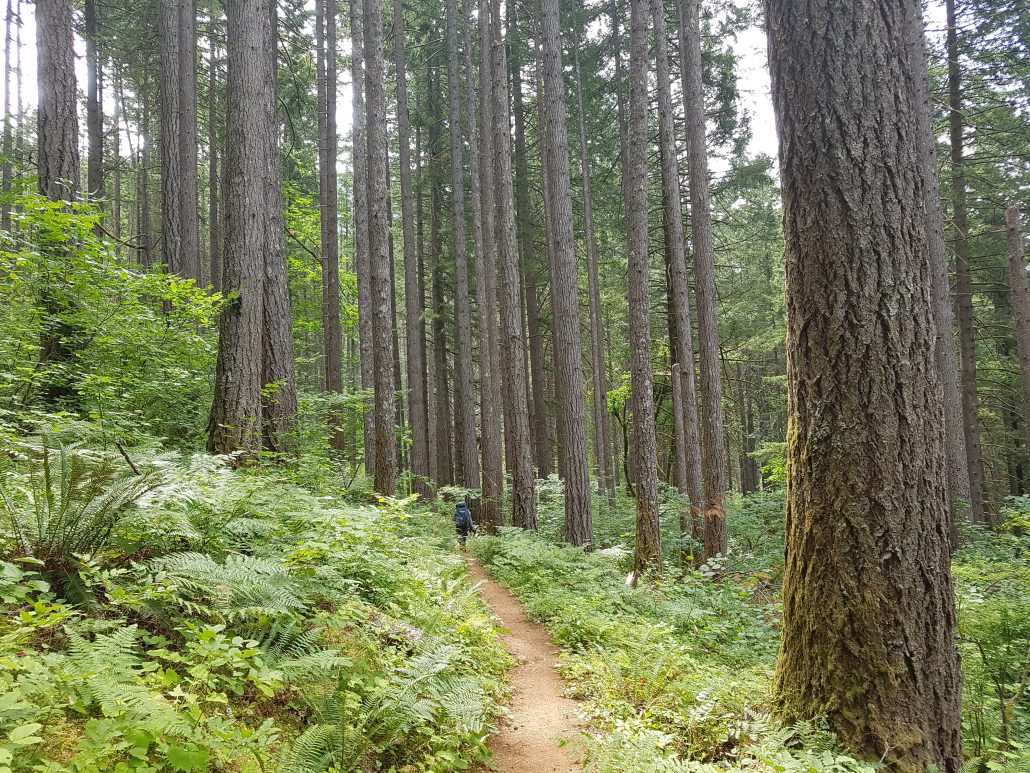 Today it seems to rain all day. I don't mind at all! I love the change! It does the nature the world of good, and it will help stopping the fires and clear out the air a bit! And it seems to make the forest even green and lusher!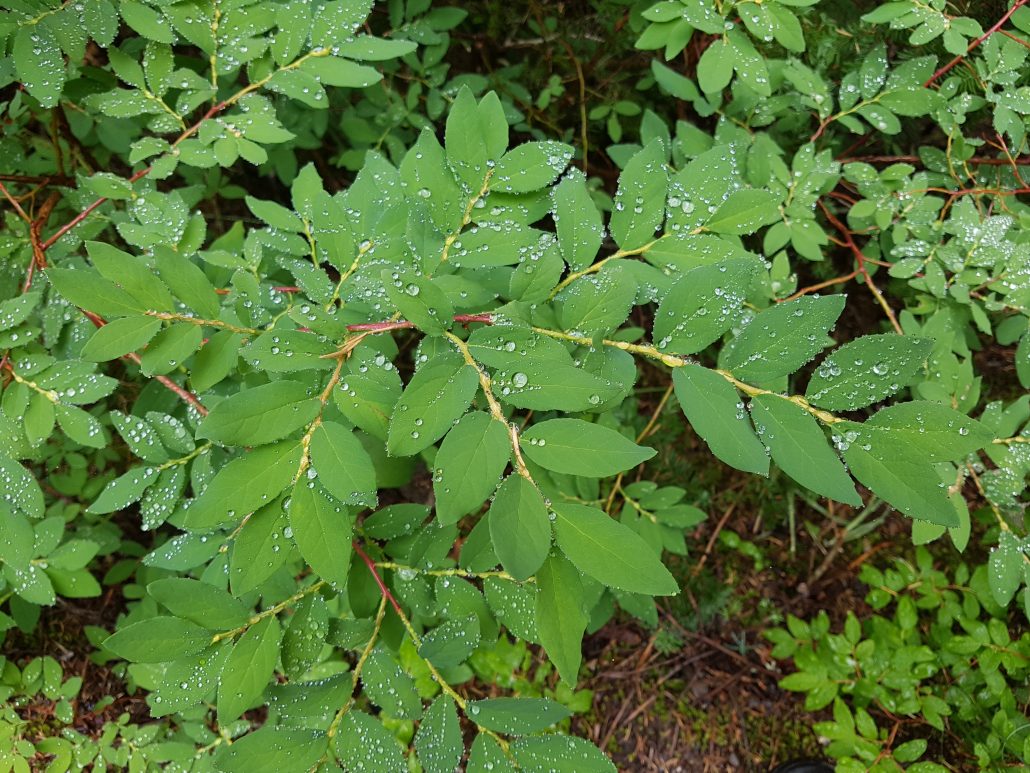 I am glad I still carry my sun reflecting desert umbrella, as it makes for an excellent rain umbrella too!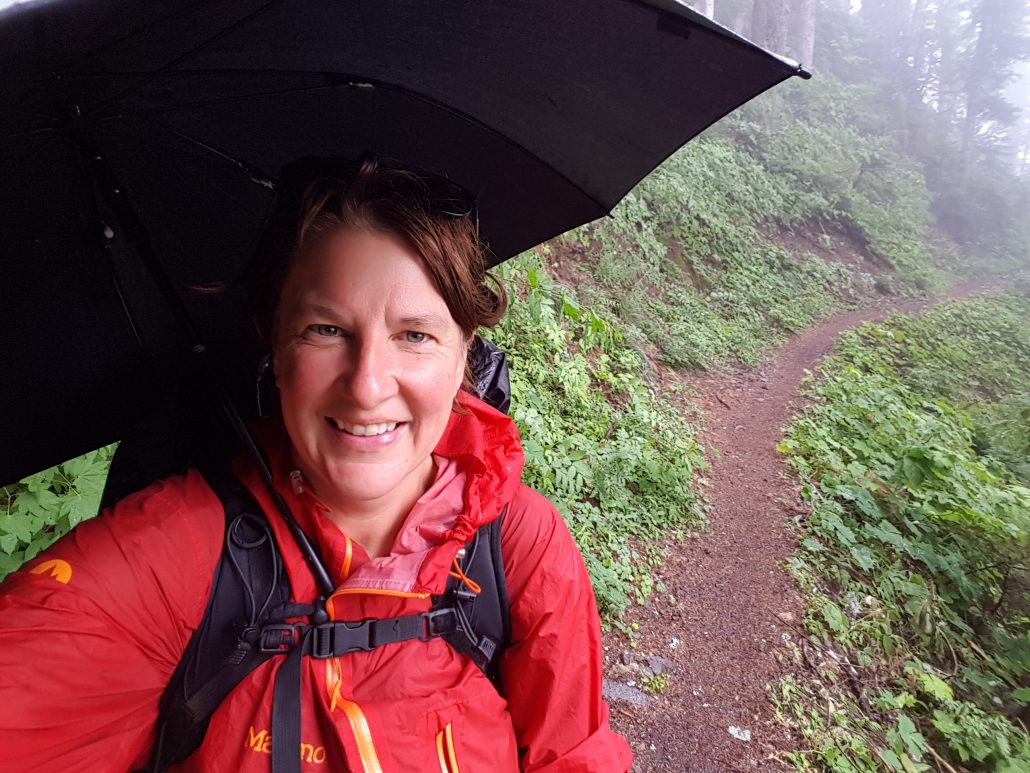 We will be reaching the border tomorrow!
Let's see what Washington brings!
I am so happy, lucky, and grateful to get to hike Washington with my two guys from Seattle. Hiking through their backyard together with them!
Awesome!
http://www.earlymorning.ch/wp-content/uploads/2017/08/20170813_090256.jpg
3024
4032
Heidi
http://www.earlymorning.ch/wp-content/uploads/2016/12/Heidi_Bronnimann_logo.jpg
Heidi
2017-08-15 21:12:33
2017-08-15 21:12:33
Towards Washington!