So here we are, out in the desert of New Mexico!
Felix and I keep reminding ourselves, that we are actually out here "doing it!"
In the beginning it feels a bit unreal when I start a thru hike. All of a sudden I find myself out in the wild, facing completely different challenges compared to my office and city life.
It feels surreal, but with each day of hiking, seeing the beauty out here, sweating in the heat, admiring the cacti and cute wildlife, and sleeping in the tent, it seems to sink in more and more into my brain!
"We are doing it Felix!"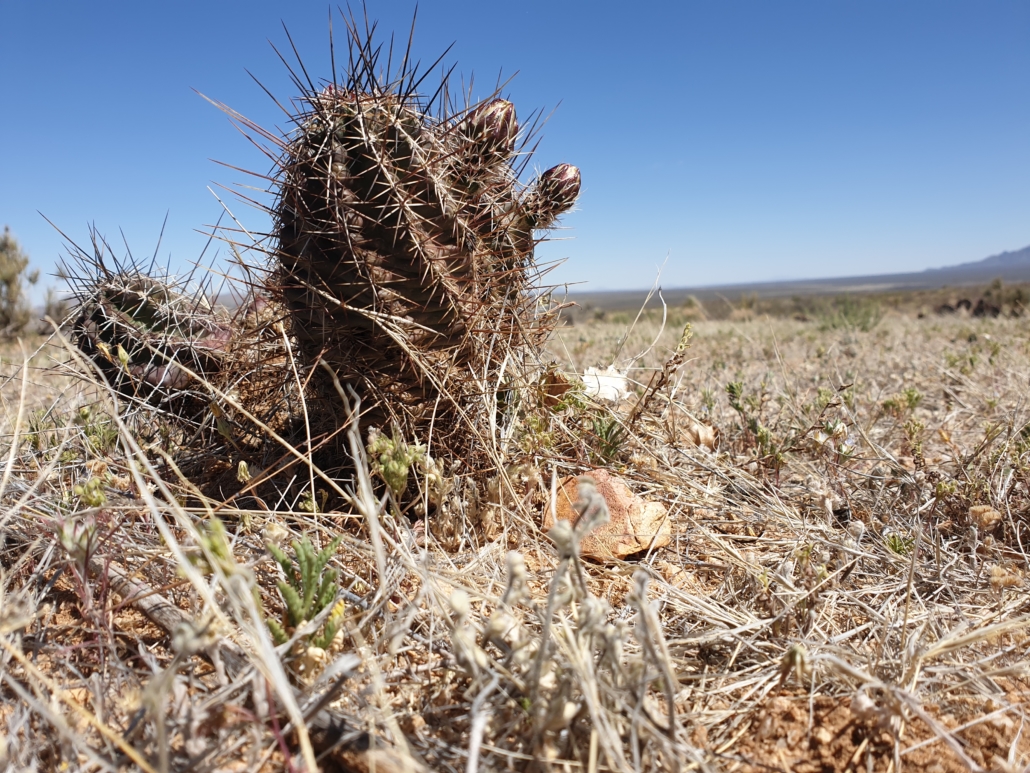 Oh, speaking of my tent: some of you have requested I should give her (!) a name, like my good old faithful Big Agnes had.
So I was thinking of "Wobbly", put perhaps that name does not give her justice in the long run (once I get the hang of pitching it perfectly), so perhaps I call her "Maggy" (it is the nickname/trailname I have once given my mum, and somehow this name seems appropriate. (Hi mum!). So Maggy it is!
Well anyway, I have not a single blister so far!! The "trail toe" creme which I rub in every morning does its magic so far!
Hurray!
The CDT really is nothing like the PCT! We have hardly met any other hikers yet! It feels as if we were alone out here in this gigantic, enormous, dare I say epic land!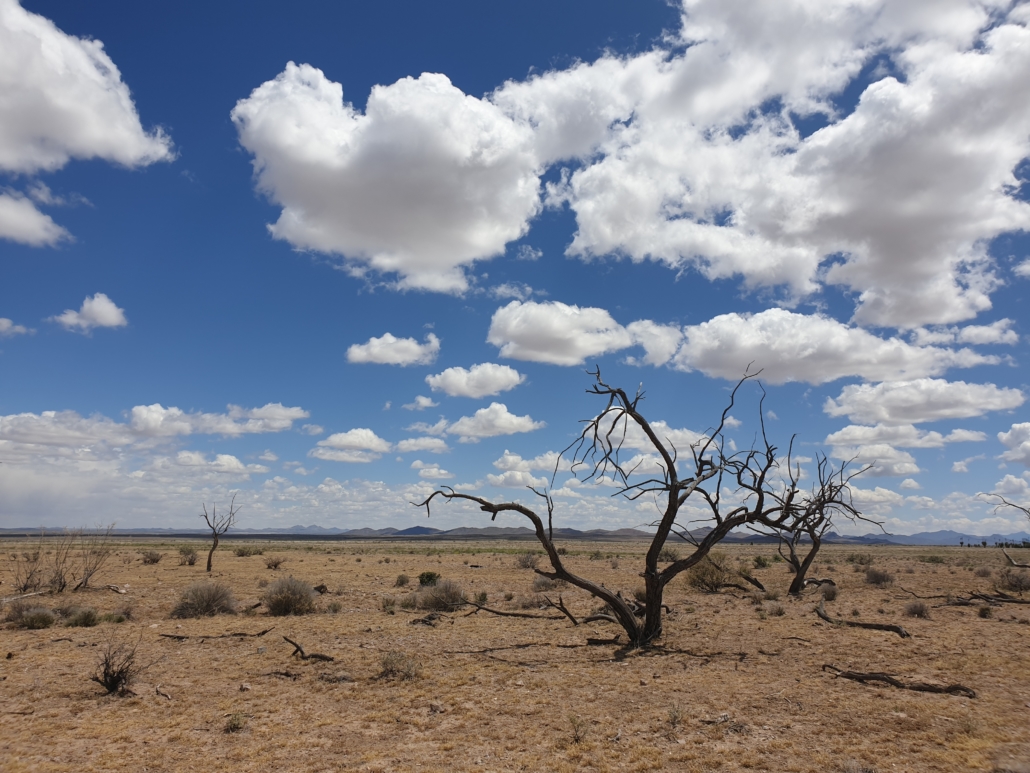 And most of the time there is no path or trailblaze either. Felix studies the maps on the mobile phone and points out a mountain range towards which we should be heading to. So we go cross country through and into the wild and dry land.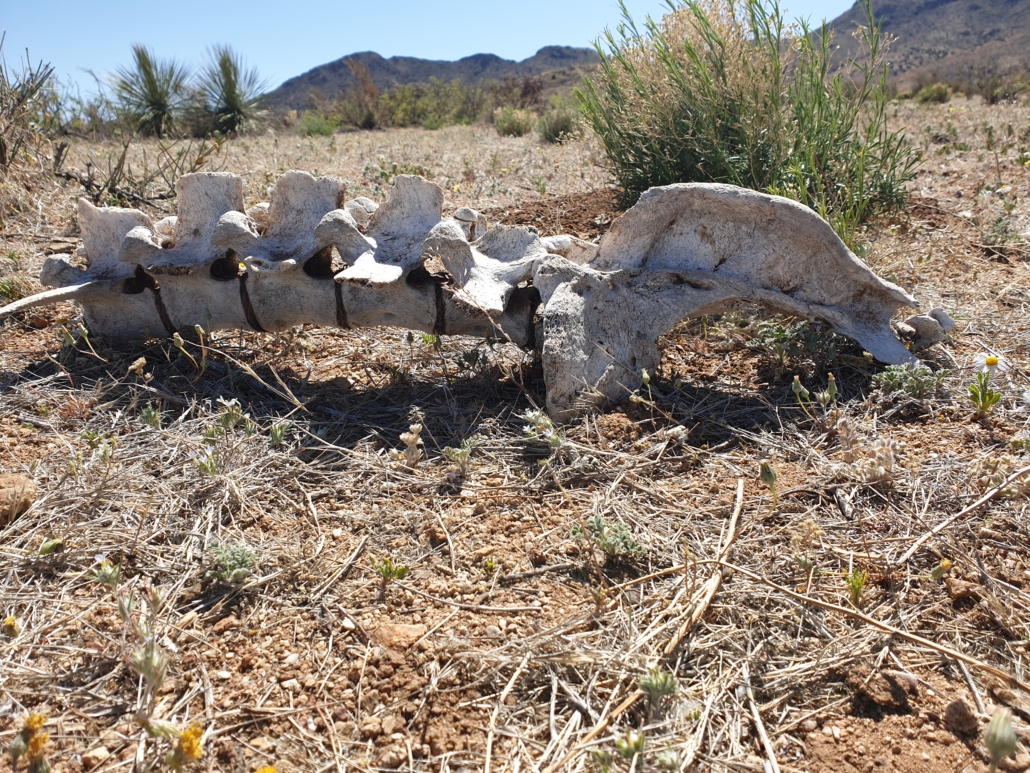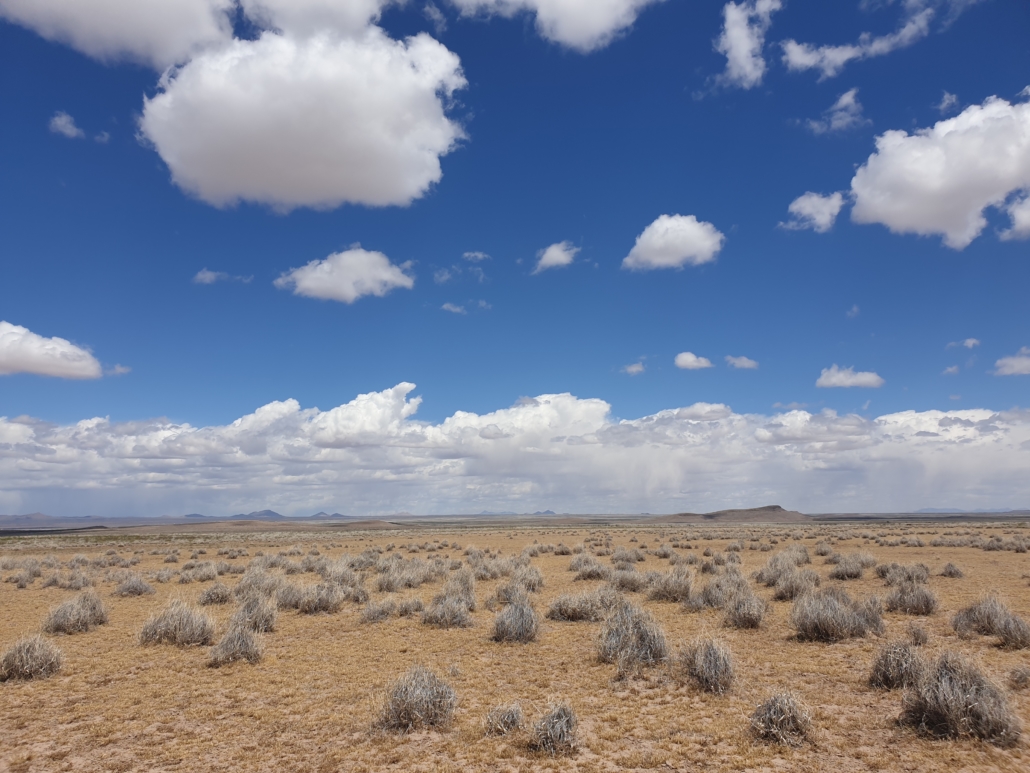 We make sure not to step on cacti!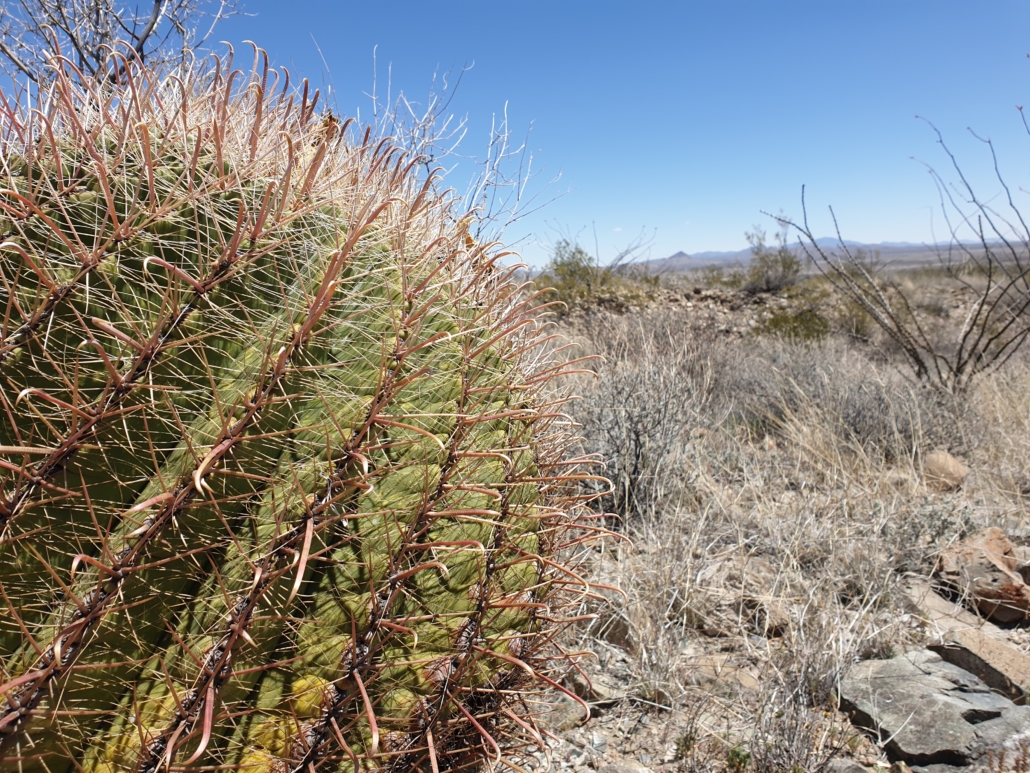 Or snakes. But actually I have seen only one so far!
This land here has like no water sources whatsoever, apart from some places where they have Windmills which pump it out of the ground (for cows and perhaps the occasional thru hiker).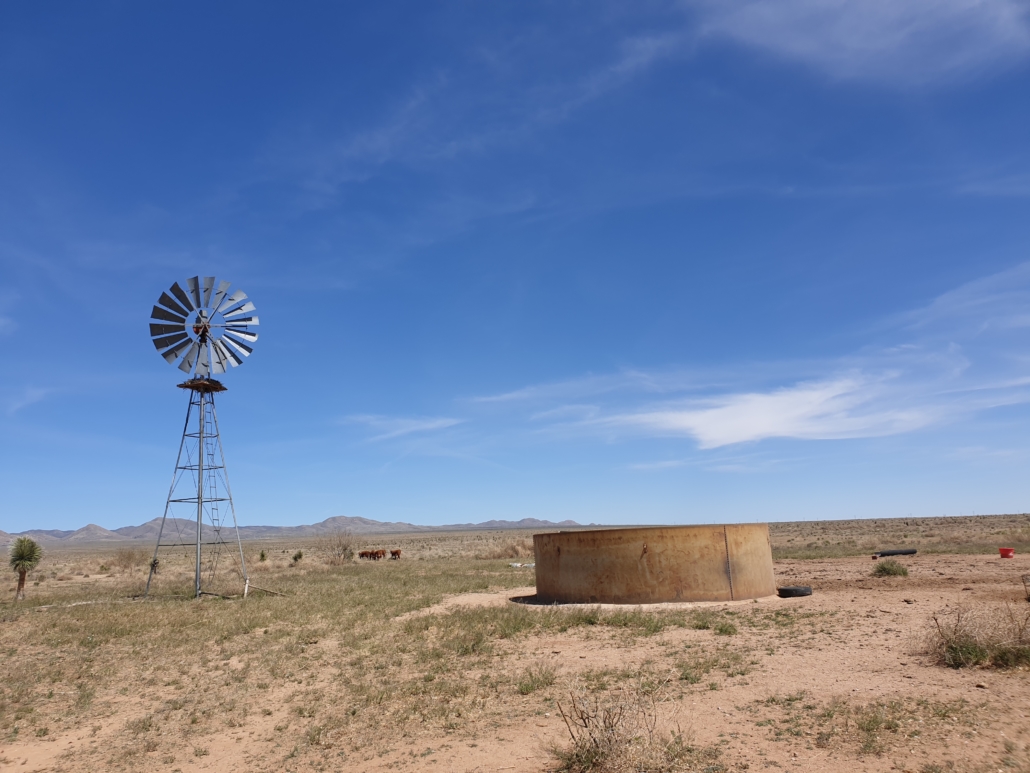 Water is luckily still no issue for us at the moment, as Dale is still around supporting us and doing his magic for us!
We do need water though once in a while as you don't want to carry more than four litres.
Here is another windmill, let's fill up! This windmill also happens to be the marker of our first 100 Miles! (You can see the mile marker on the barrel.)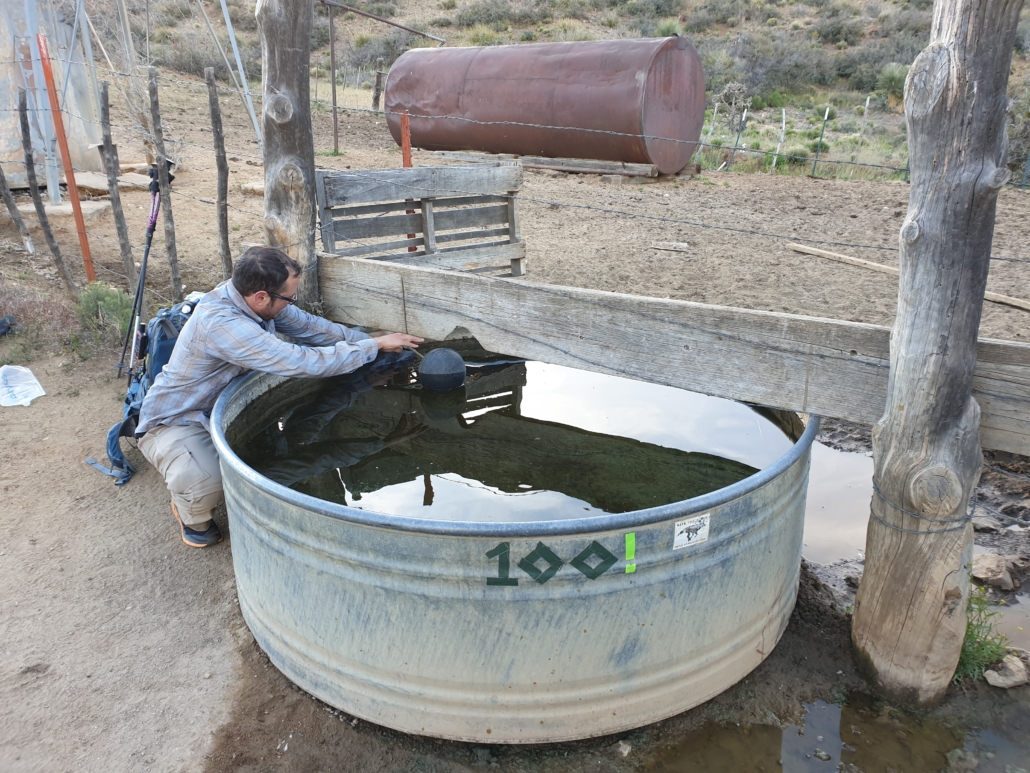 I get ready to filter water.
"What the fuck??!"
My filter seems broken!! There is no flow! Now how did that happen? These things should last forever (unless they freeze, but I always take my filter into my sleeping bag with me at night to keep it warm and cuddly).
Well that is unfortunate! Good job Felix's filter still works. I will have to find a new one ASAP. As I said, there are completely different worries out here compared to a normal life in civilization!
But so far so good I shall think!
This water source out here seems to be a little oasis for birds too! They sit around and wait for us to hike on, so that they can drink too! We step aside and watch them go drinking. It's touching and adorable.
We still only see the occasional trail blaze…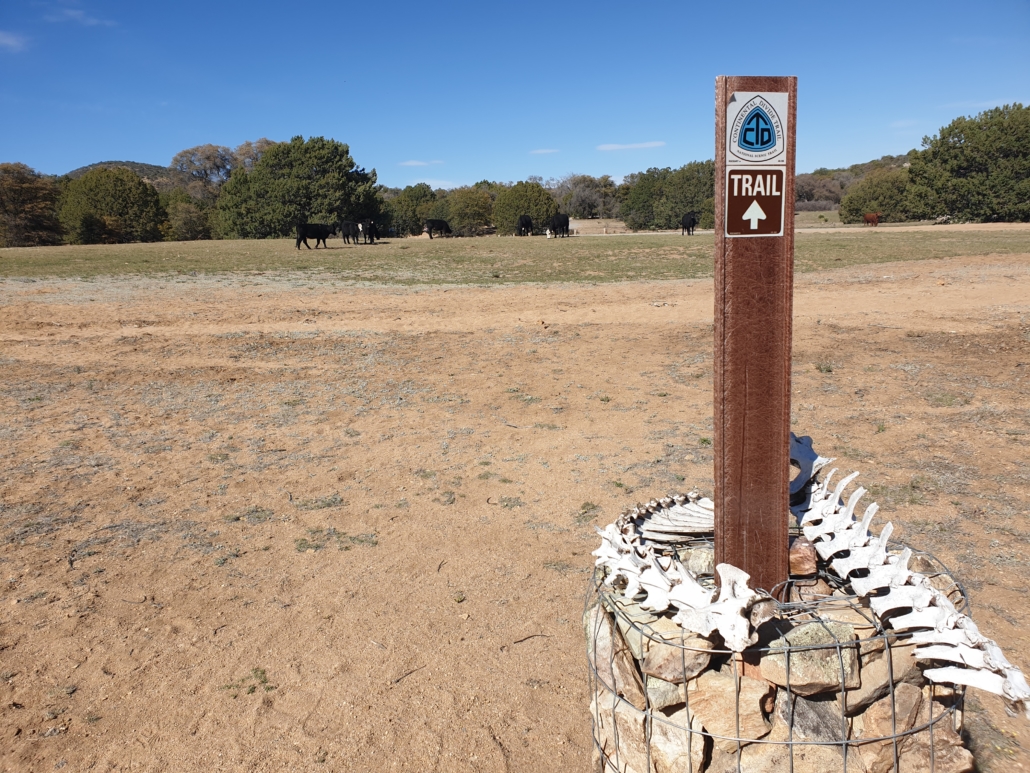 … but once in a a while there is actually a real trail to walk on!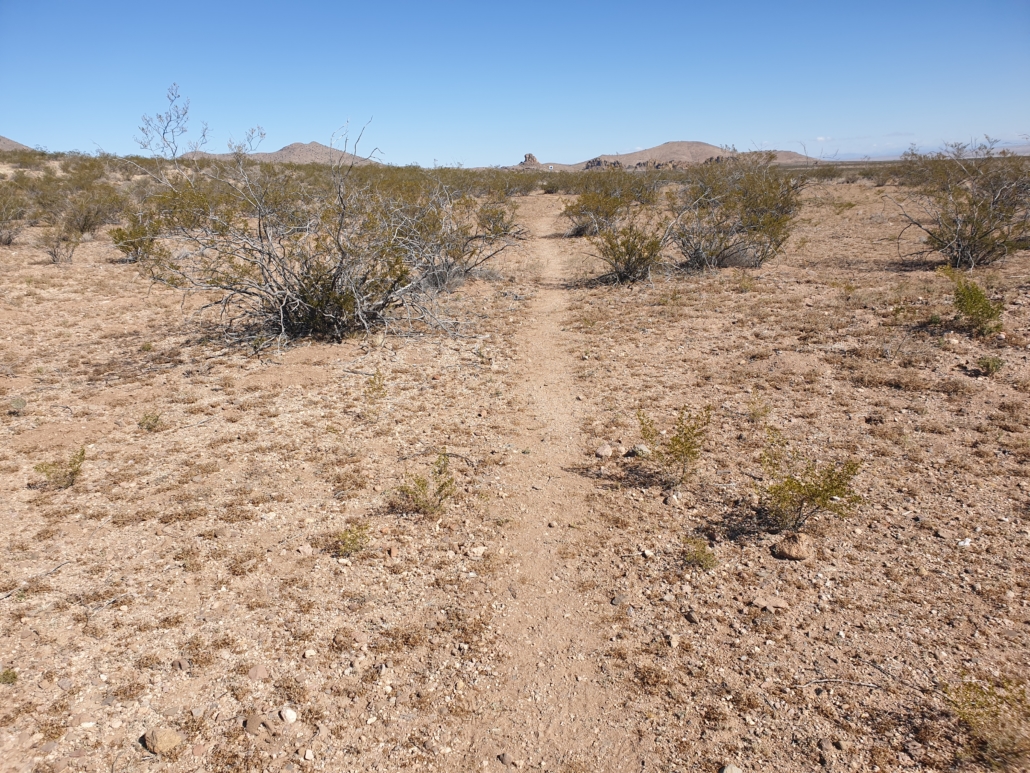 And very often we have to hop over or crawl under fences.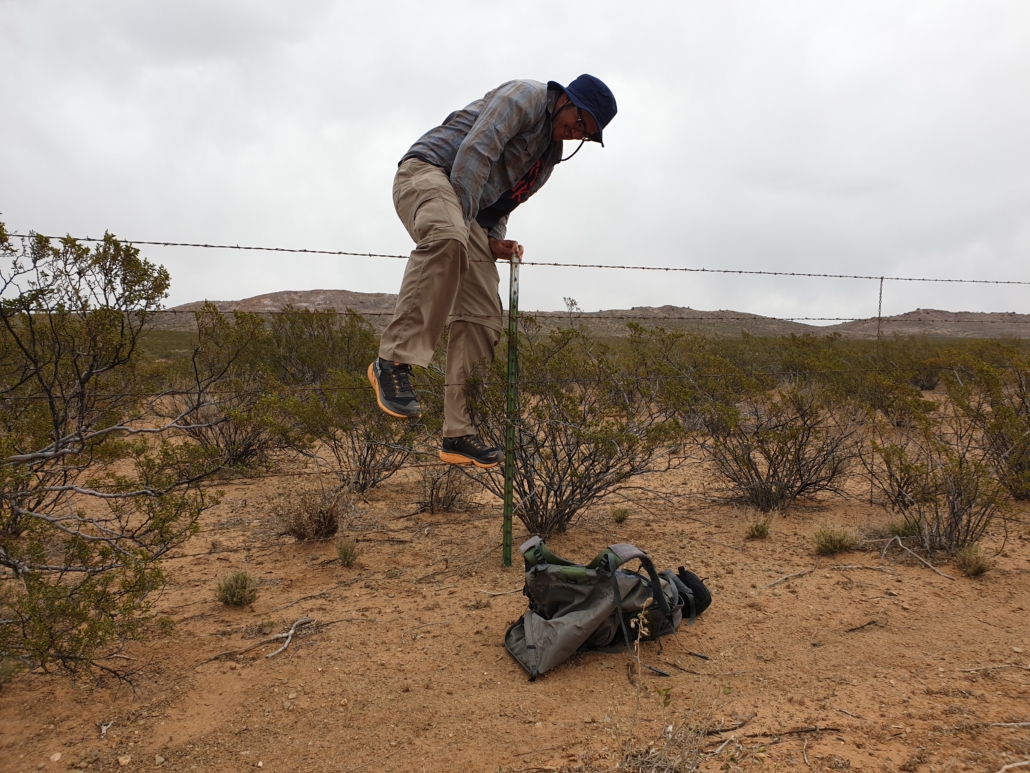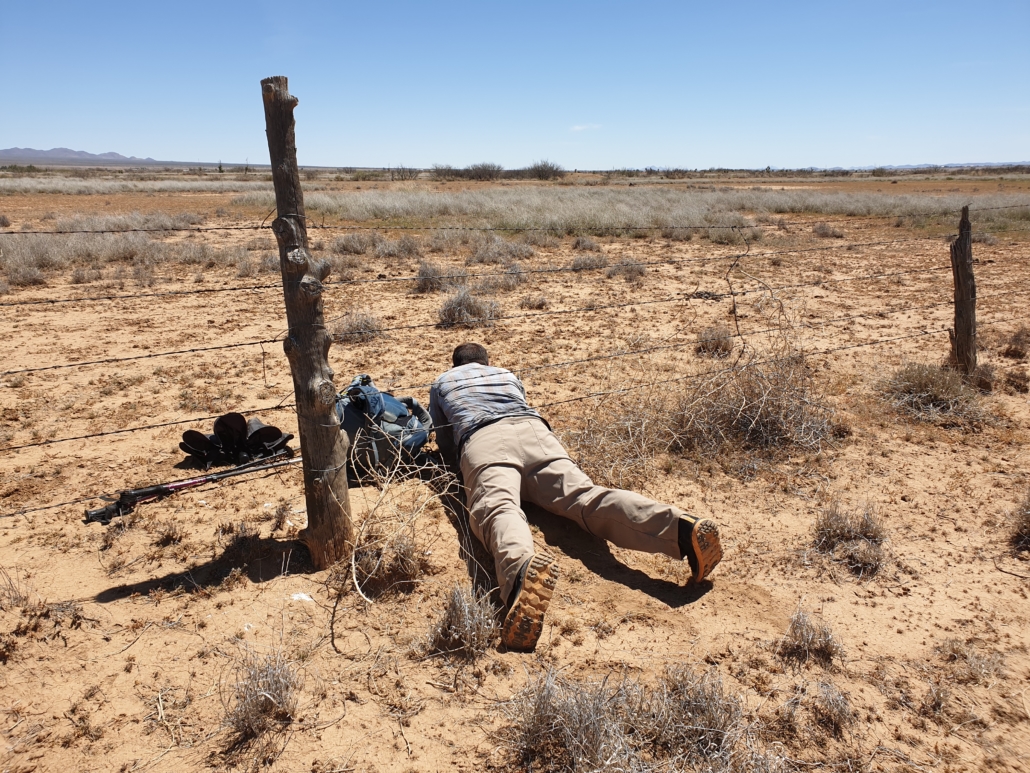 Some nights we decide to not camp and have Dale pick us up at a spot where we cross a highway and DRIVE us into town to SHOWER and SLEEP IN A BED, and do LAUNDRY!!
We are still close to the Mexican Border. We have not seen any "Border Crisis (!)" yet, but there are many Border Patrol guys out here in their white Patrol Pickups. I have a feeling they are watching us.
Dale is saying that the Patrol guys do regularly check up on him while he is sitting in his dark van with tinted windows, hanging out at the trailheads. He must look very suspicious to the Border Patrol guys!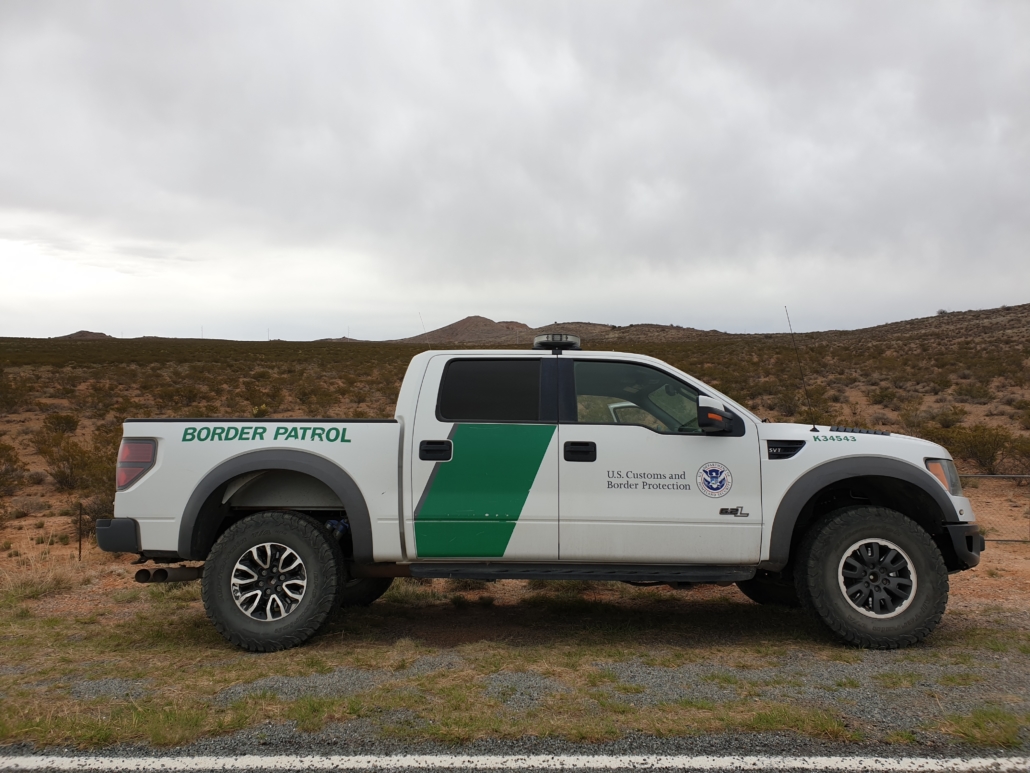 I am sure they meanwhile stuck a tracking device onto the bottom of the van, as they want to catch him in action while smuggling drugs, or worse, Mexicans!
We are now all sitting in the van, heading towards Lordsburg.
Flashing lights and a siren behind us. Border Patrol! Dale stops the van and puts his hands onto the steering wheel, as one is apparently supposed to do in the the US if Police stops you.
Four armed guys come up to us from behind with their kind of slow motion "we have the power" walk attitude.
"Holy shit! I feel like in the middle of a Hollywood movie!"
"Good day. What are you guys doing out here?"
Dale explains the situation.
"Where are you guys from?"
"We are two Americans and one Swiss".
"A Swiss, huh? Can I see your passport mam'?"
"Sure, here you are."
Oh dear, one guy studies my passport rather thoroughly, but I should have nothing to worry about, my papers are hunky-dory!
"How long will you be staying out here?"
"When will you be leaving?"
It seems Border Patrol really is not happy with us and the dark van!
Phiuu! That was exciting! I wish I could have taken a picture of the four guys. Dale says it would be legal to take pictures of Police/Border Patrol in action, but I just did not want to piss them off more than they already are!
Today we will do a 25 mile hike (40 km!). It is going to be a long day and my feet and bones will hurt tonight.
We gain elevation and find ourselves in some awesome desert forest! Who would have thought that there are trees and shade out here!
Certainly very much appreciated!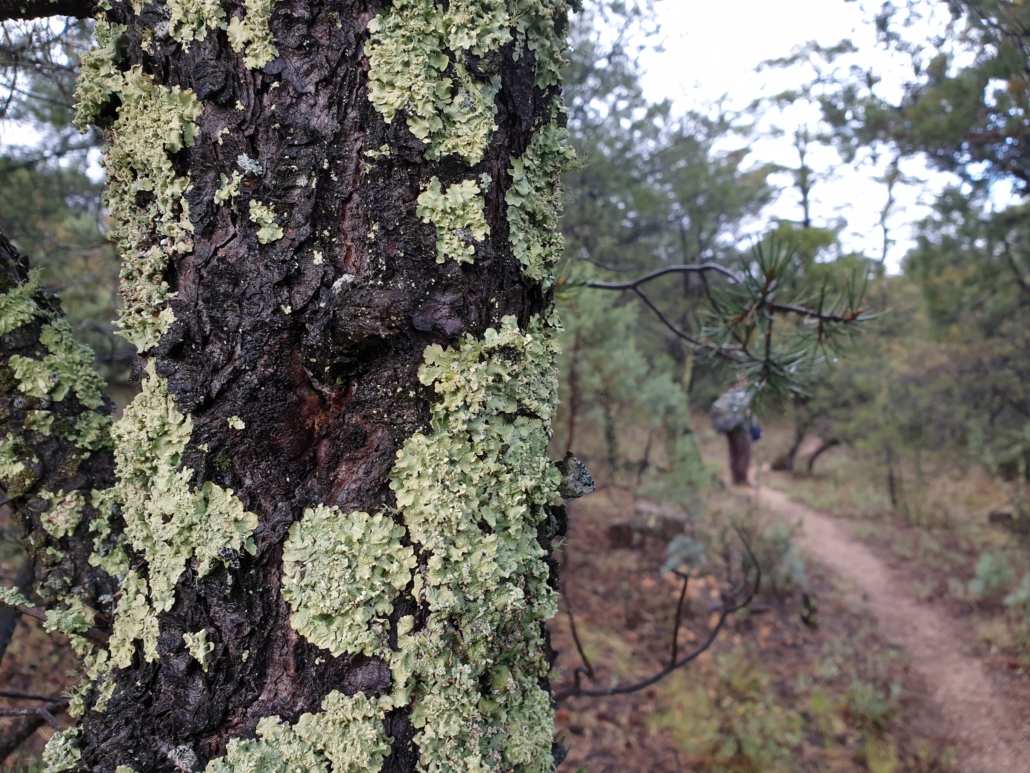 The plan is to meet Dale at a highway crossing. He will either wait at the highway or drive a bit into the land on a dirt road, depending how the quality of that road will be.
Felix and I are enjoying ourselves. The packs are still light (oh what difference this makes!!)
We treat ourselves to a break about every three hours.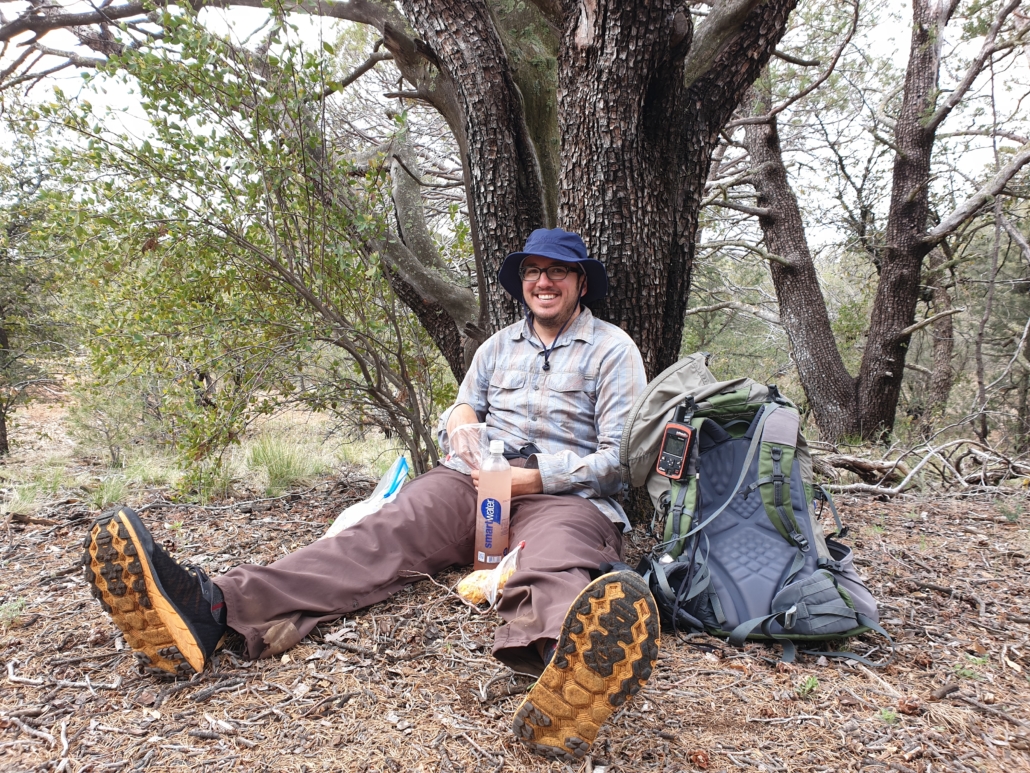 We are almost there where we are supposed to meet up with Dale. I am looking forward to see Dale and the van as I am knackered.
Oh dear! This dirt road looks pretty scetchy, I hope Dale is doing alright on it. Or even better he just waits at the highway.
But wait! This road is not really a road? It seems to be a wash out only? But why is it marked as a road on my map?
Weird!
We walk along this road-not-road thing and start to slightly worry about Dale. There are several junctions of road/not roads and who knows where they all lead to? The ground is made of sandy soft stuff. Hopefully Dale does not try to drive into here! These roads are no joke!
We don't see him and finally reach the trailhead by the highway at Saddle Rock Street.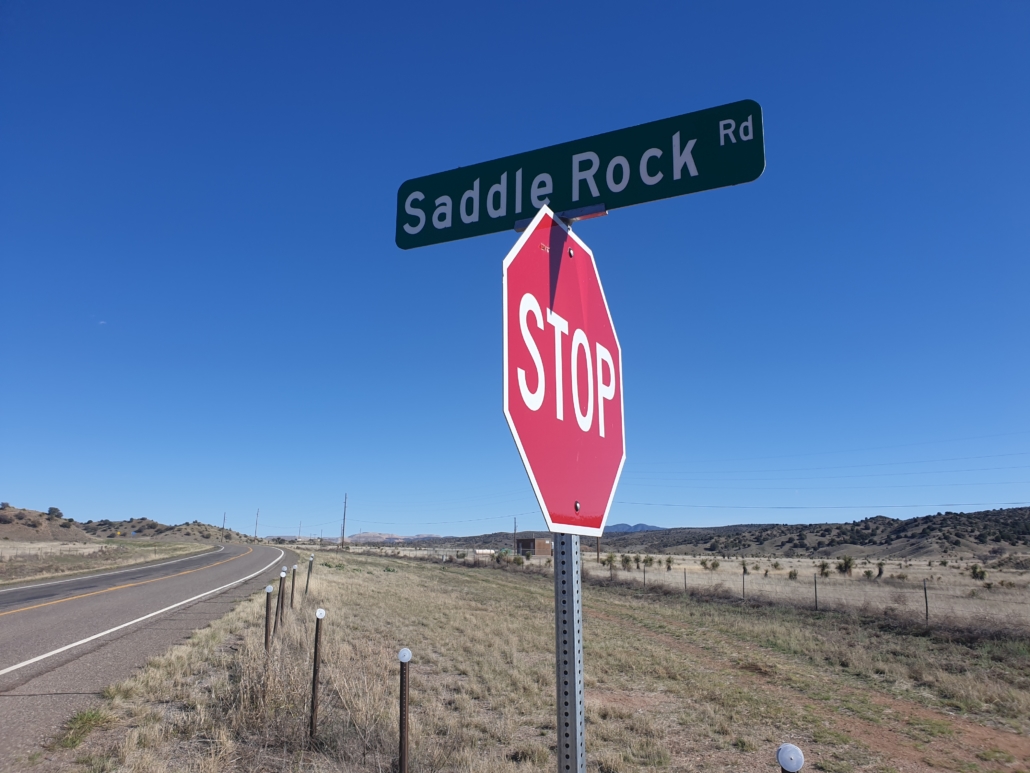 Dale is not here.
"Hmmm?"
He must have driven in then to meet us and we must have missed him or he must have taken a wrong turn perhaps?
Well, let's sit down and wait for him. As there is no cell reception out here, we can't call him.
We sit and wait.
It gets cold.
It gets dark.
"Hmmmmm?!"
I hope he is OK and did not get lost out there in this wild structure of roads/riverbeds/washouts!
We wait.
Still no sight of Dale.
"Felix, I think we should try to hitchhike into Silver City as long as we still have some daylight left. Nobody is going to give us dirty figures a lift when it is dark".
You see, since we have been slack packing today, our tents and sleeping bags are with Dale in the van. So we can not savely stay here as the temperature falls to zero still at night.
We very reluctantly stick out our thumbs, as we don't really want to leave Dale behind. But it really is the smartest thing to do at the moment.
We are sure he will find his way out soon, drive to the highway where there is signal and call us.
We get a ride (thanks man!) and stay in the AirBB which Dale had already booked.
We wait for his call.
We wait for his call.
9pm. 10pm.
Oh dear oh dear! What if something really bad happened to him? What if he is injured and needs medical care? (Some bits of these roads/riverbeds are really really steep and he could have had an accident".
Felix gets paler and paler by the minute. The smile he usually has in his face is completely gone.
Shit shit shit.
"Do you think we better call 911?"
"Yes!"
Yes! We need a Search and Rescue Team heading out there to find him".
Felix calls 911 and reports his Dad missing.
Oh dear.
The local officers say they will head out now to have a look, but can only do little in the dark! The S&R team will wait till tomorrow morning.
Oh Dale! I so hope you are OK!!
We try to think: "well what is the most likely? Most likely he is stuck somewhere and does actually worry about us!"
We go to bed, glued to the phones! We don't get much sleep.
It's 9 am, we have not heard anything yet. Felix calls the phone number we received last night from one officer.
No! They have not found him yet.
10 am.
11 am.
Oh my! Why does it take them so long to find him? Where is he? Is he OK? Is he hurt?
11.30 am.
We wait.
12.11 pm.
I hear a ping on my phone. Its a text message from the officer:
"We found him. We call you when we have better cell reception."
OH MY GOD.
Both Felix and I have the same thought.
"Is he OK????"
It's not a good sign that they "found him and want to talk to us later." Is there something they need to tell us in person rather then text?
We are both in shock.
Is he dead?
We both just sit on our beds, hardly breathing, hardly able to think, only having all these worst case scenarios in our heads.
In this very moment it is pure horror for me, but it must be an unimaginable horror for Felix.
The phone rings. Its the officer.
Felix has to answer this phone call which could change his life forever.
"This is officer Mac Nett speaking, we found Dale, he is fine".
"He is fine!!!!!!"
Hooooooooo! Oh my god what a message!! We both start sobbing in endless relieve!
"Dale is fine!!!"
"He bloody is OK!!!!!"
Apparently he did get stuck in the sand and could not move the van anymore.
The officers found him, helped him unstuck the van and lead him down to the highway.
HOLY HOLY SHIT!
We go out to the street and wait for Dale.
Here he is! Covered in sand! Exhausted!
We give him a big big hug and are all just very very relieved and very very exhausted.
Felix and Dale study the map, wondering where he was stuck out there.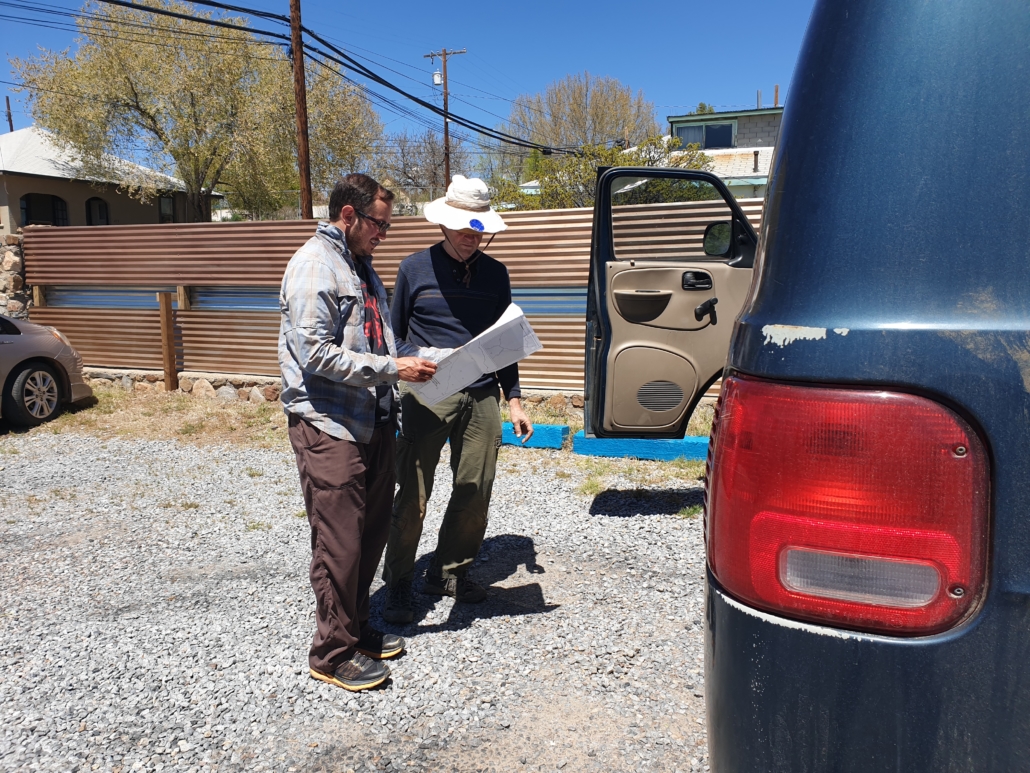 But it does not matter now! All is fine! Everything is good!
Well! Our CDT adventure started with a big bang! Let's see what's next lined up for us!
Hopefully just happy hiking and awesome-ness!
I will certainly keep you posted!
http://www.earlymorning.ch/wp-content/uploads/2019/04/20190411_145135.jpg
3024
4032
Heidi
http://www.earlymorning.ch/wp-content/uploads/2016/12/Heidi_Bronnimann_logo.jpg
Heidi
2019-04-20 03:33:21
2019-04-20 04:56:07
Call 911