The coming section will be special and we are both greatly looking forward to it! We will be hiking through Glacier Nationalpark!
I am excited!
"Wallace" will be joining us for this section, so our little trail family is growing!
Together we head out of East Glacier, right into the park!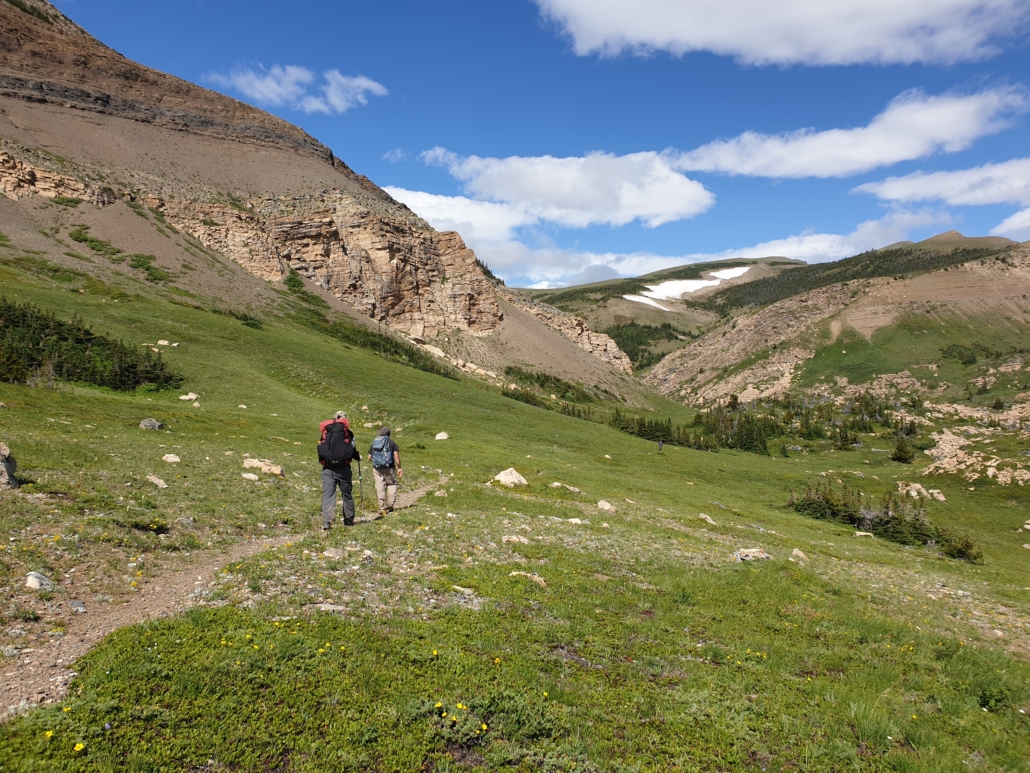 My hiking App tells me that we will be hiking up and down 6 passes in one week!
And once over the last pass, we will reach Canada!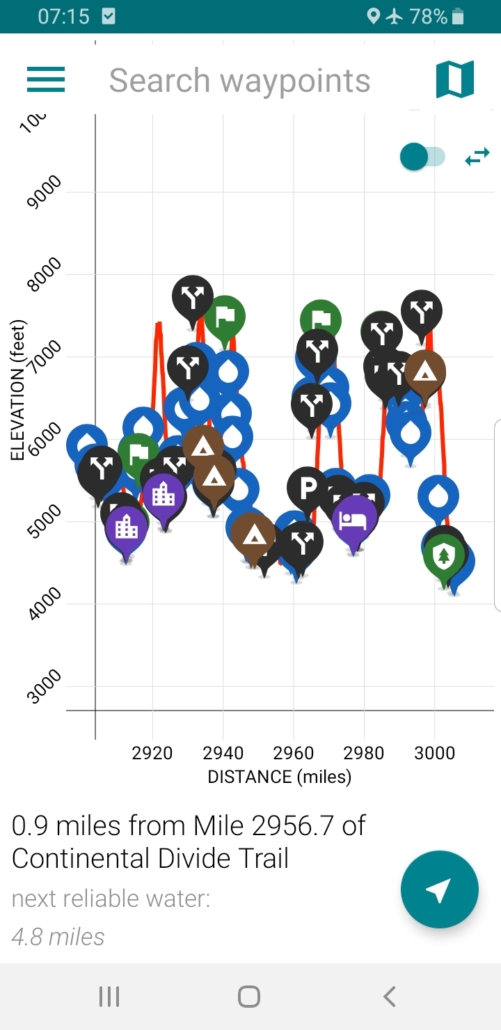 Hiking in a National Park will be different, as we need a permit for the places we will be camping. Apparently we need to prepook all five nights. There is no "wild" camping allowed here. The problem is, that these campgrounds are tiny, and that they are mostly booked out already. We know that some CDT hikers had to do crazy milage due to this system (30 plus miles, two passes in one day) and have hurt themselves due to this).
So as we have a defined route, we could end up with silly miles too.
We conquer our first pass.
Oh my goodness!
What amazing views!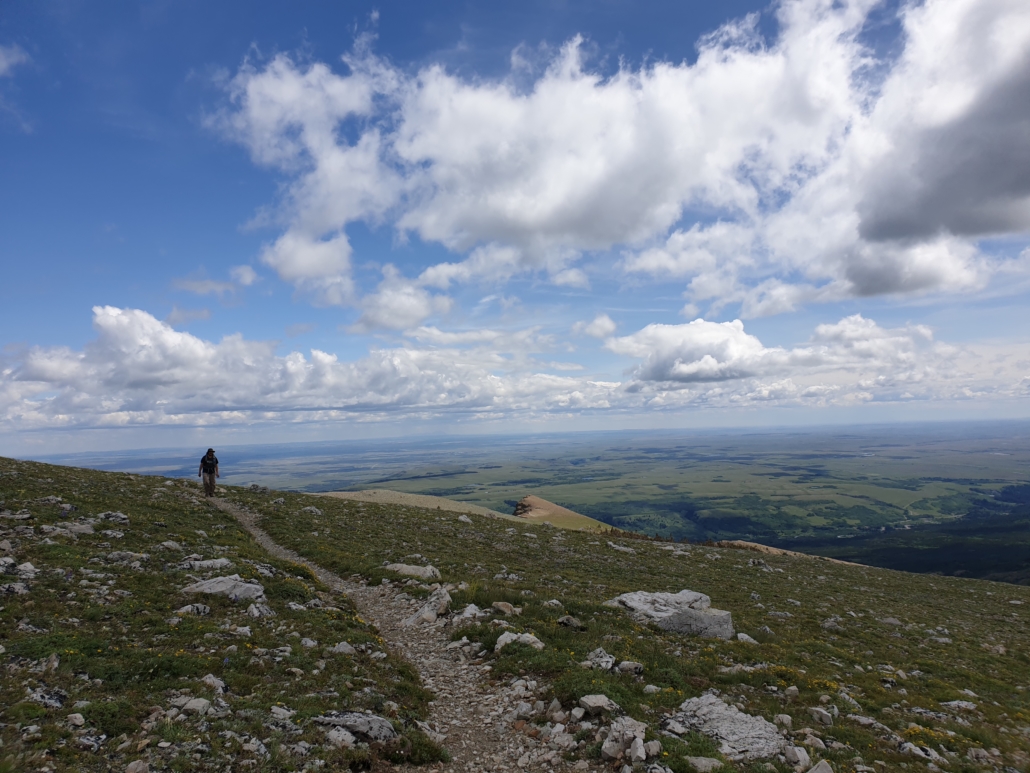 And we are so lucky with the weather too! We have heard of hikers who did the whole park in fog, rain, and thunderstorms.
But we have sun today and views! Lots of views!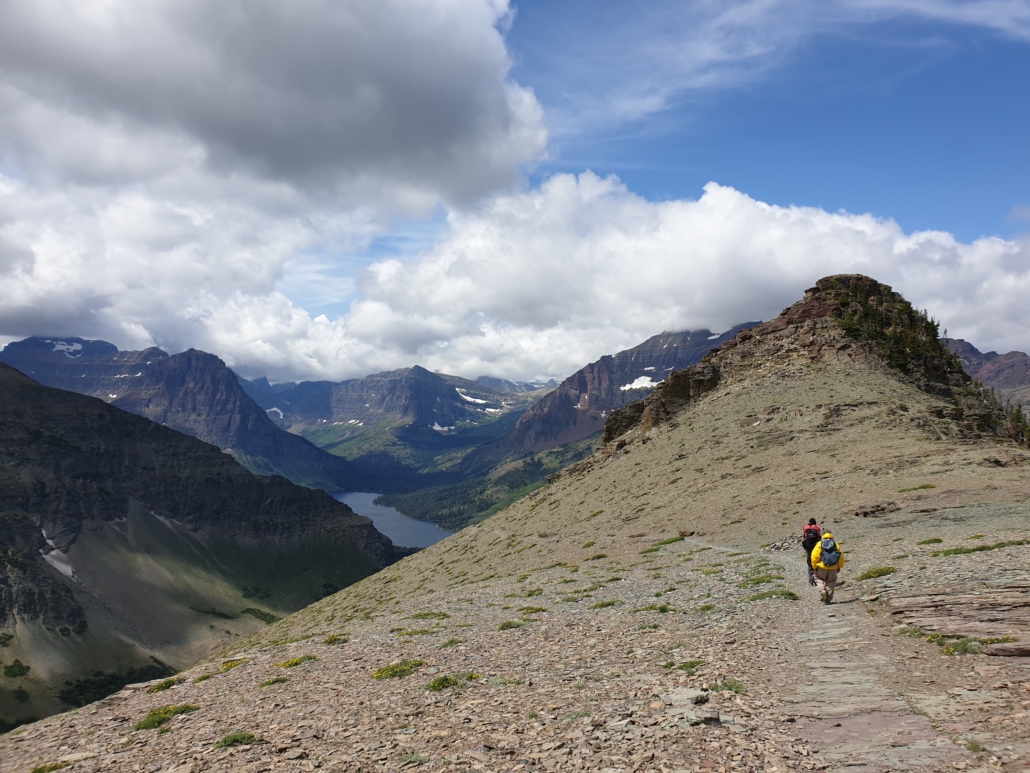 We have our lunch break on top of the first pass. It's intresting to see what other hikers eat. Wallace seems to love his self made Peanutbutter, honey, chocolate chip wrap!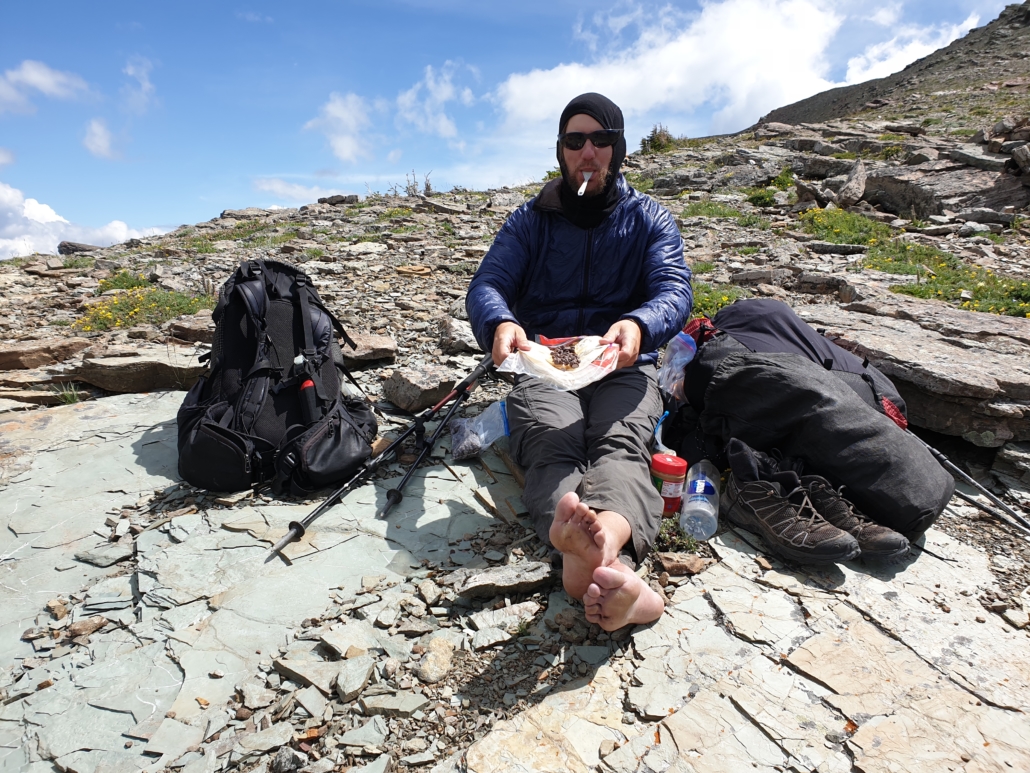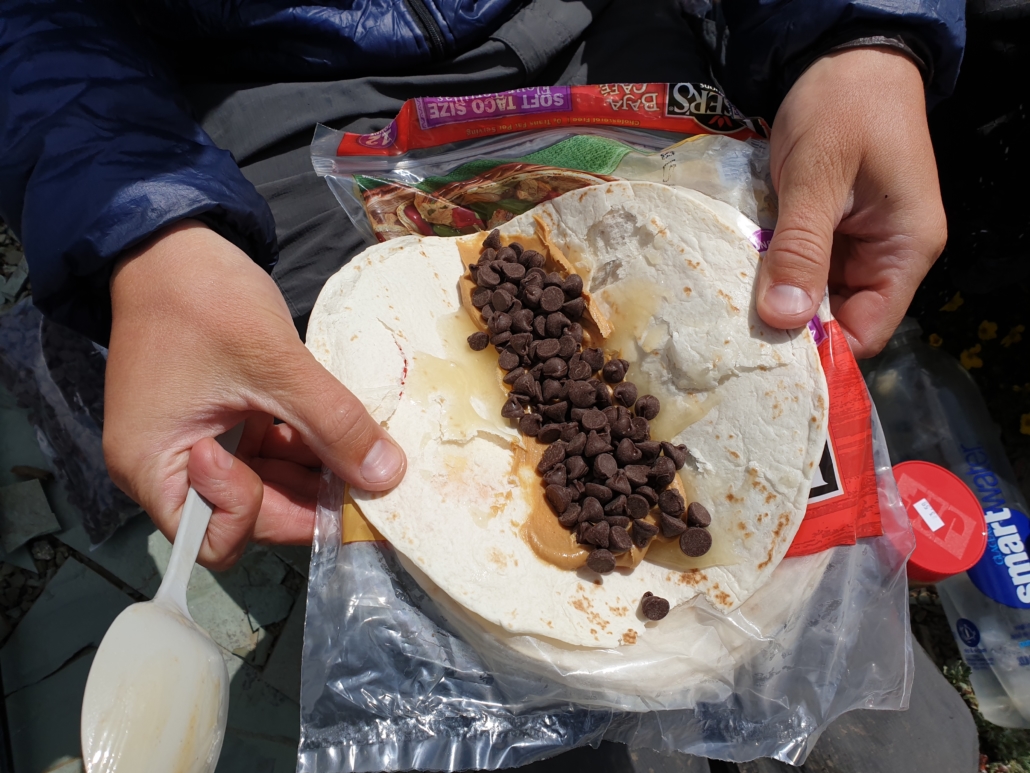 "Look guys! Ah mountain goat!!"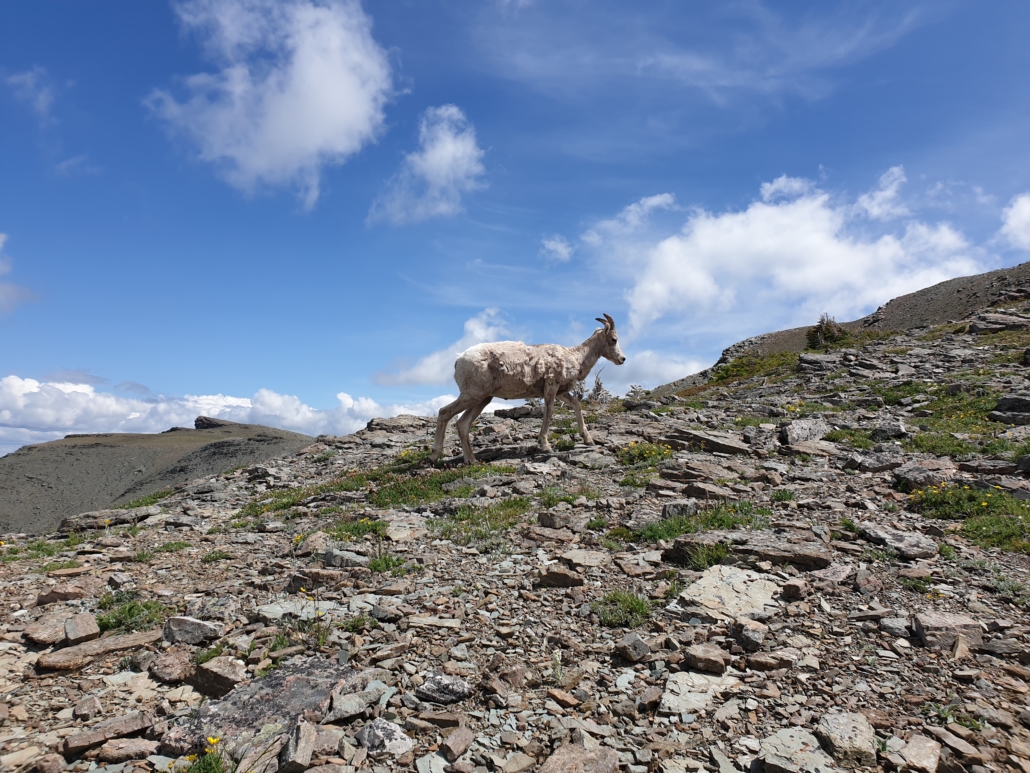 "She looks a bit shaggy", Felix says!
"I hope she is not sick!"
The goat passes by and we head down the pass, where Dale will be waiting. This is a National Park you see, so this means there are roads here and people can drive in by car!
This is no Wilderness anymore!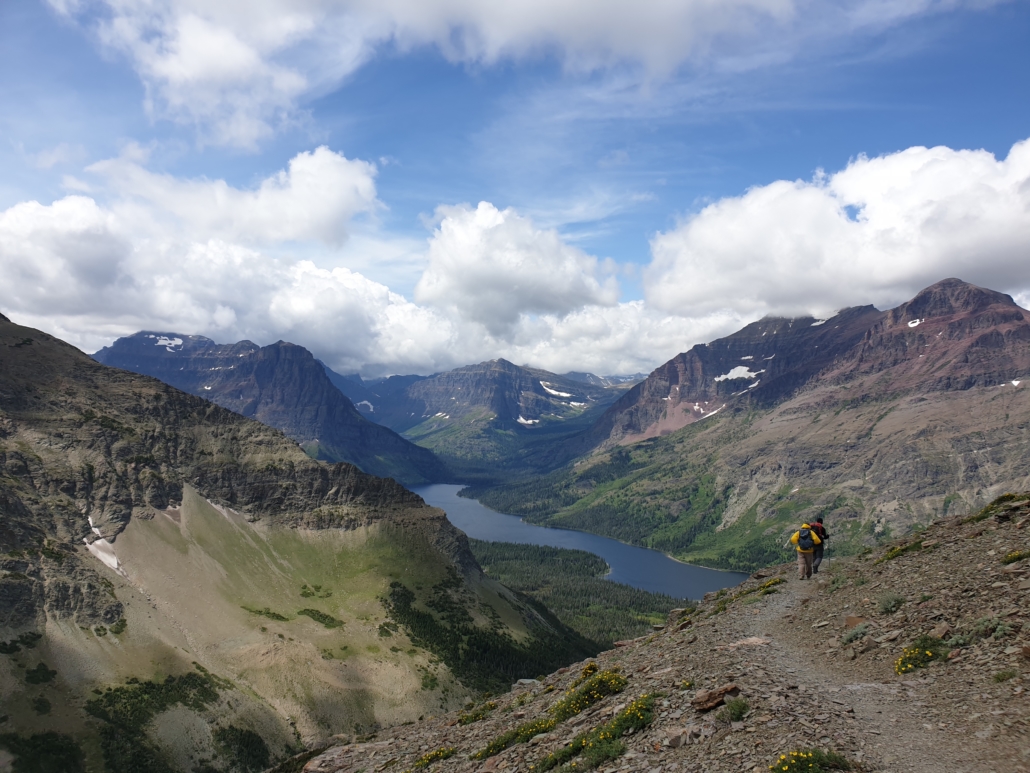 We walk straight into the Ranger Station to sort out the permits.
"Your next available campground is in 40 miles", the Ranger-Lady says. There will be one available in 20 miles in two days from now, but you can't book that one now, as we only accept bookings for the next day.
You have to come back here at 5 am tomorrow morning and stand in the waiting line and hope that the campground will be available".
"Hmmm, what if we just hike 20 miles and then leave the park and sleep outside the park tomorrow?"
"No you can't do that. If you leave the backcountry, you would have to come back here to book the next campground. You can only book the campgrounds consecutive ahead of you if you don't leave the park".
Now this is not very helpful! How on earth are we gonna solve this problem?
She gives us a map of the park with the available campgrounds for the next 6 days. We take it and discuss a plan.
To cut a very long story short: we come up with a plan which does not exactly match their rules and regulations….
But well, we are thruhikers and we need to make miles and we need to get to Canada, and we need to stay in good shape. If they have silly rules, we have to make our own.
We book five consecutive campgrounds, two of which we will actually be using, three of which we will not. We will meet Dale at some points in time who will drive us out for the night and back in for the day. (Highly illegal!) If a Ranger would check our permit, he would most probably realise that something is fishy, as our booked campgrounds are not exactly on our path!
The penalty would be that they throw us out of the park!
So we hope not to bump into one.
Anyway, this is done. We have our permit, we can keep hiking, into the park!
We climb over the second pass on our route.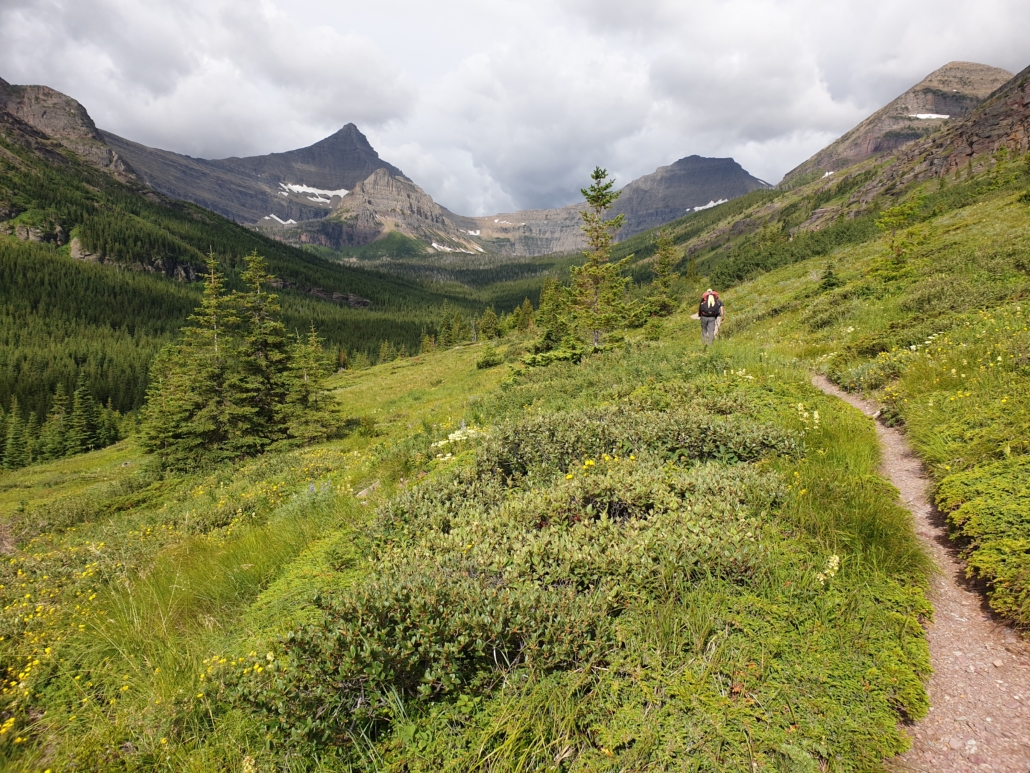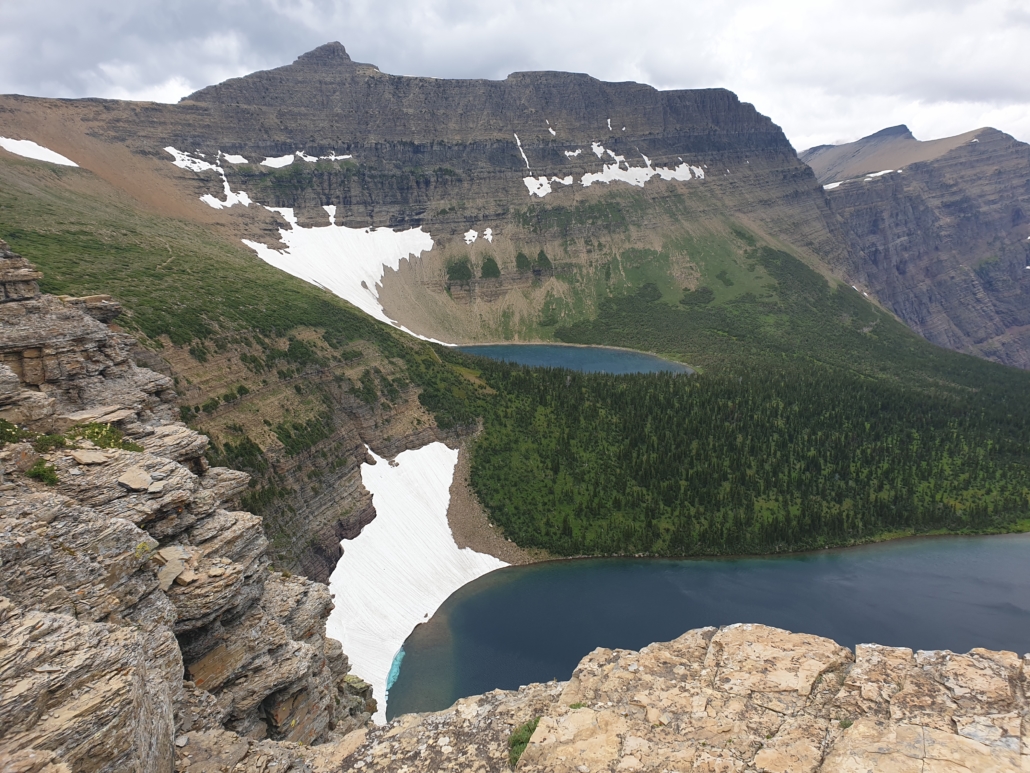 It's steep but gorgeous. I am mentally working on my fear of heights. I need to get better with this problem! Need to get rid of it!
Oh wow! This landscape up here! And the flowers! We joke that we keep "bumping into Spring". The snow has only melted up here a couple of weeks, if not days ago.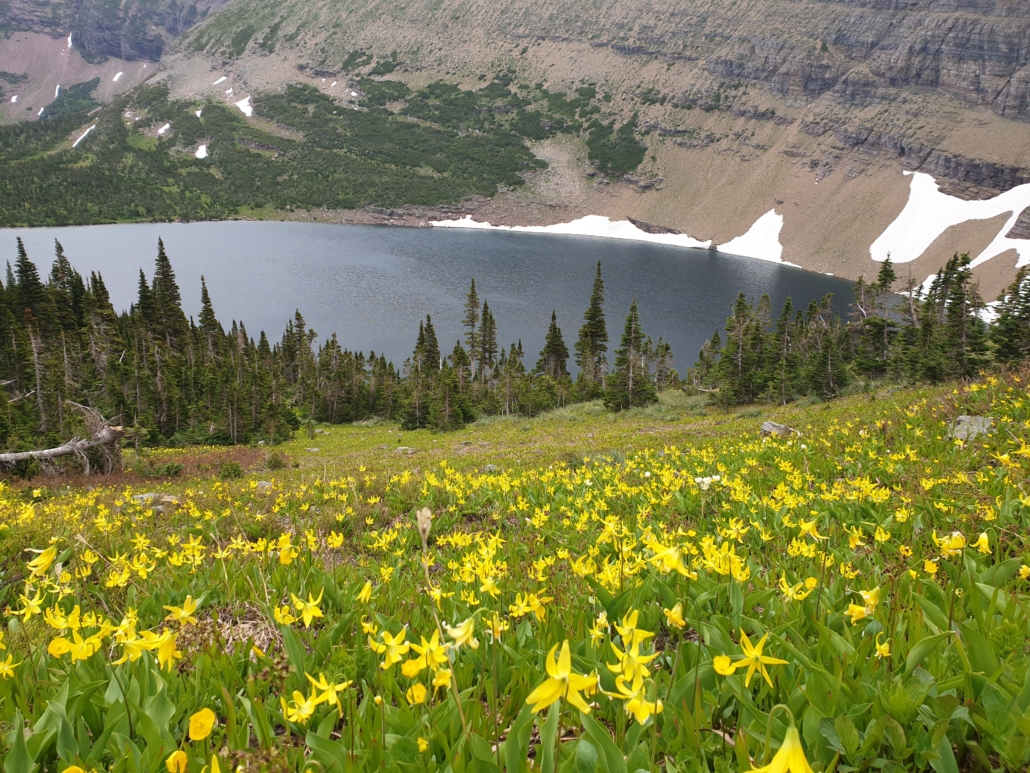 It rains on our way down from the pass. But who cares! It's awesome to be here!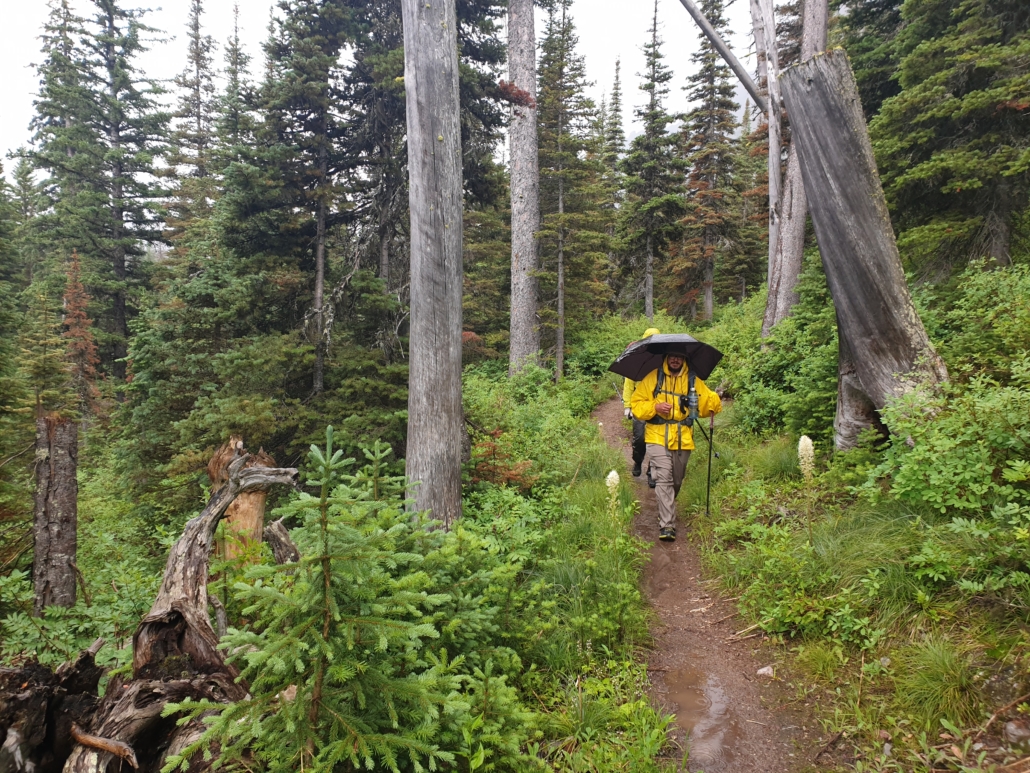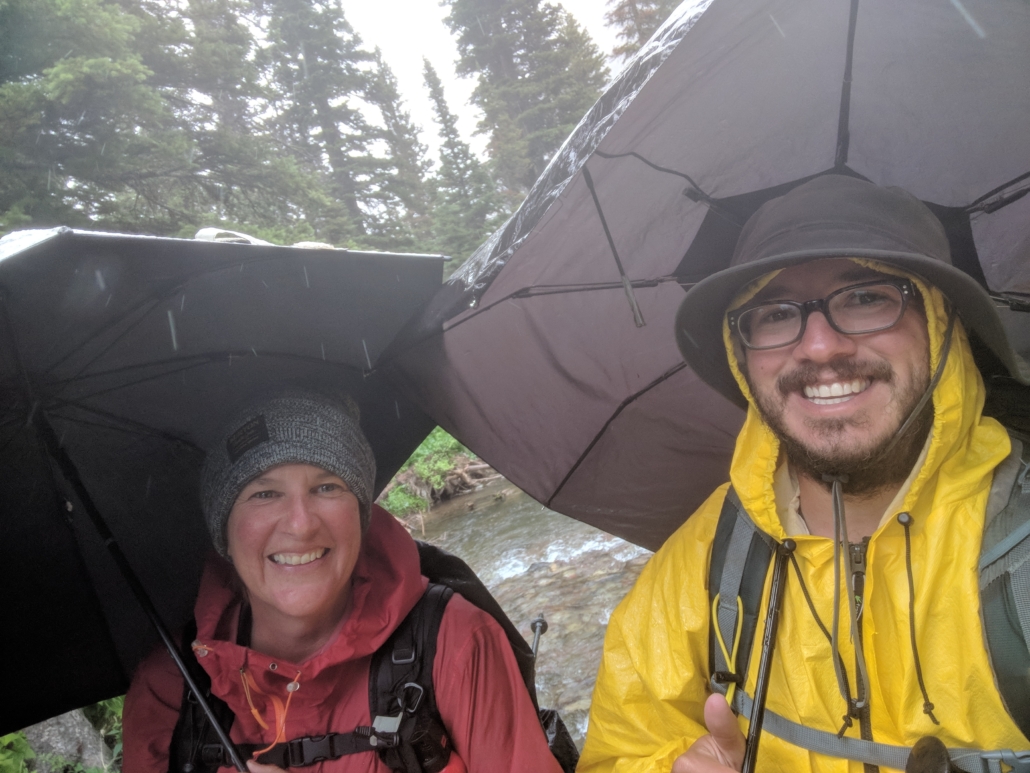 We hike out (4 extra miles!) and meet up with Dale.
We hike in again the next morning (4 extra miles again).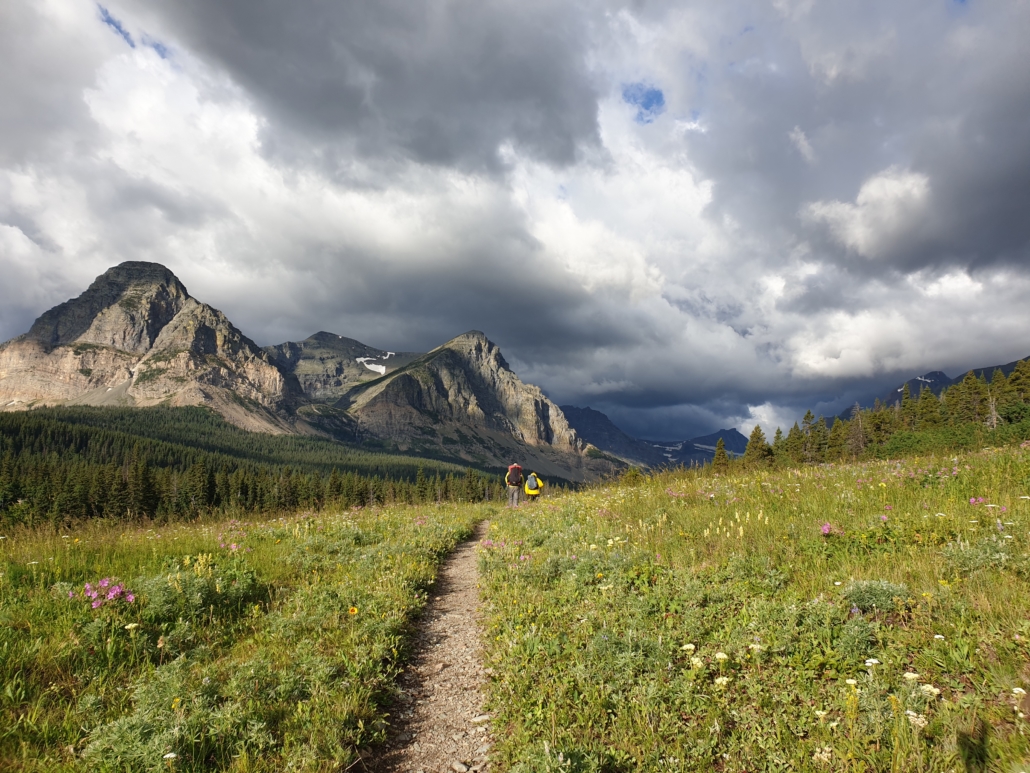 We are on our way to the third pass. The "Tripple Divide Pass!" The water up here either flows into the Atlantic, the Pacific, or  the Arctic Ocean!!
How cool is that!!
The climb up is gradual but steady up. I reach the point where I can't really look down anymore!
(Still working on my fear of heights! This here is the perfect playground to work on it!)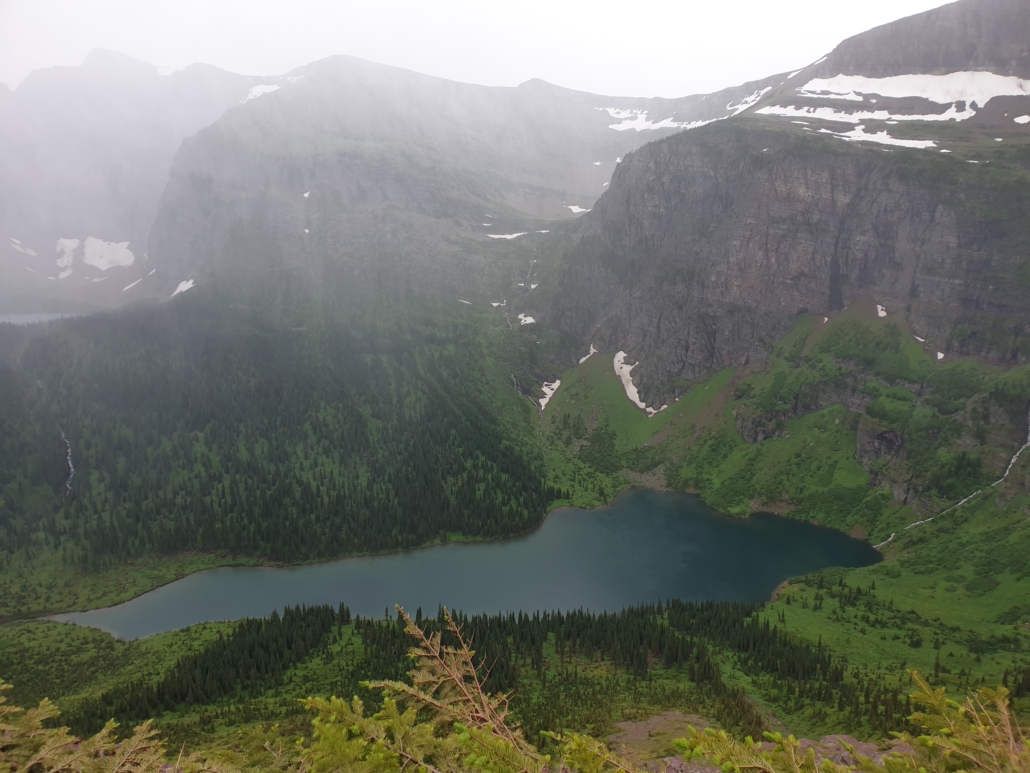 Now what is this?
"Hail!"
It bloody hails on us and it hurts! We turn our backs into the hail and sit down, so that the icecubes do not hurt and so that the wind does not drag us off the cliff!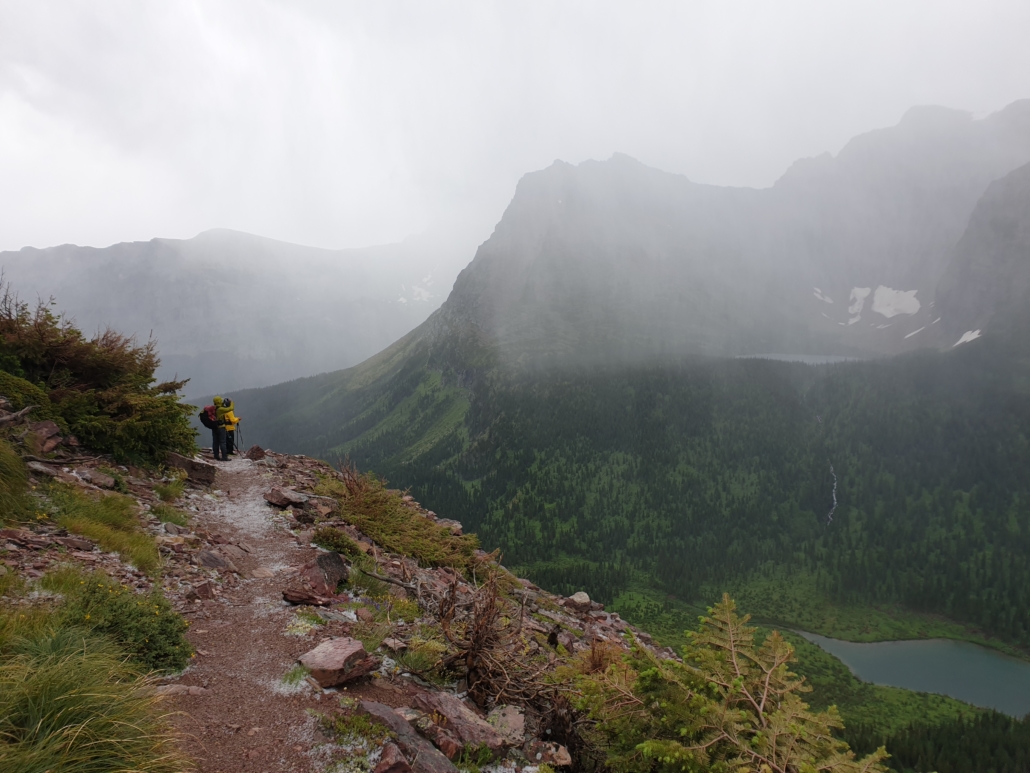 It is soooper cold! Bloody hell, it's July and the weather is still so bad!
The hail and rain storm comes and goes. Off and on. We are almost up on the pass.
Lightning!
"Seriously guys?!?"
Thunder!
Not again!!
"Let's get up and over the pass soon, this could get really nasty".
We reach the pass, stop quickly to appreciate the coolness of the Tripple Divide and head down the other side.
The three of us are all FREEZING cold.
We hike to our officially booked campground. There is a "bear bag hang" installed here (National Park Regulations!) so we hang up our Ursacks.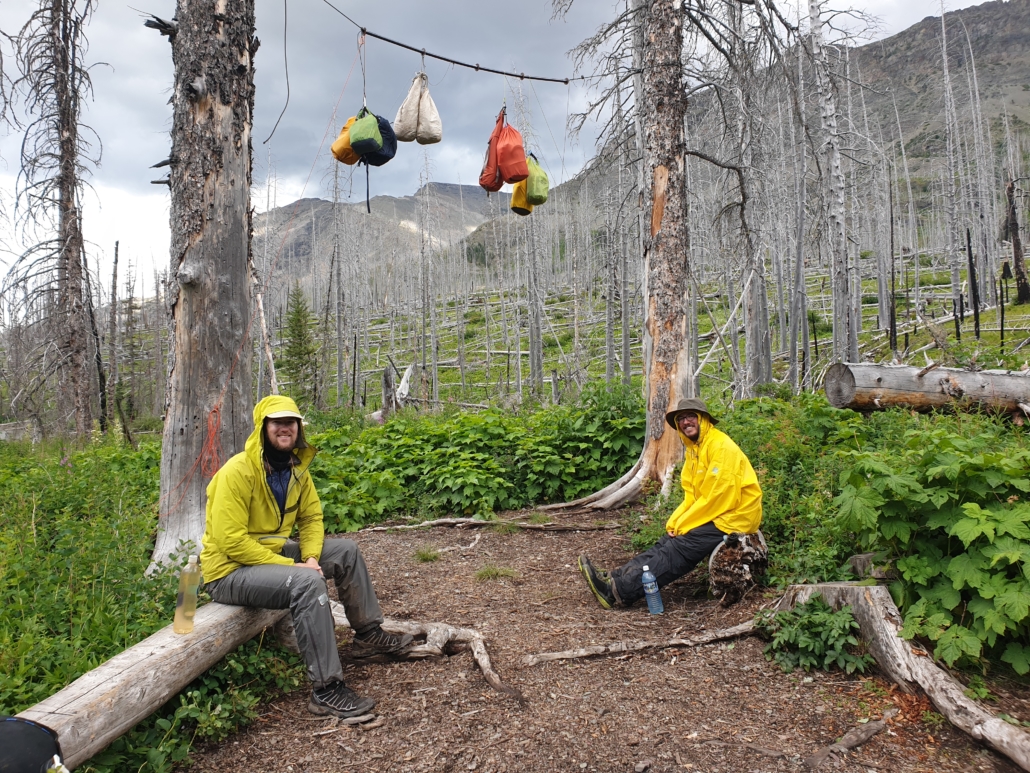 (Normally we just tie them on a tree at night. I know that most CDT hikers sleep with their food in their tents.. Even here in Grizzly Country…!)
Alright, next pass!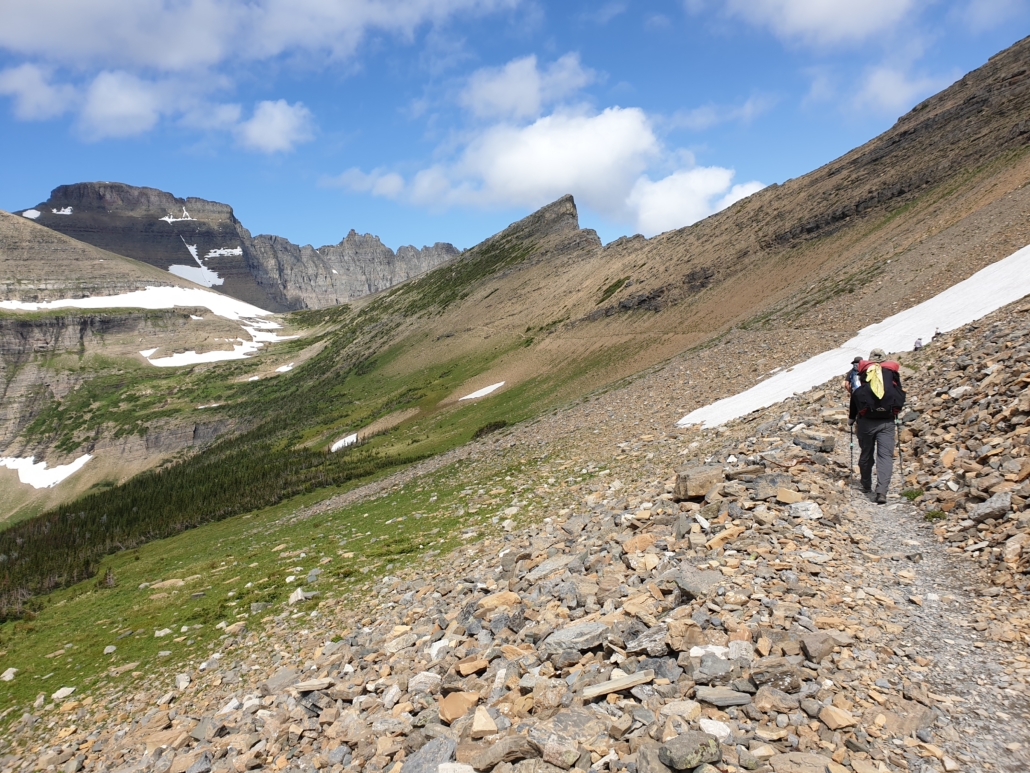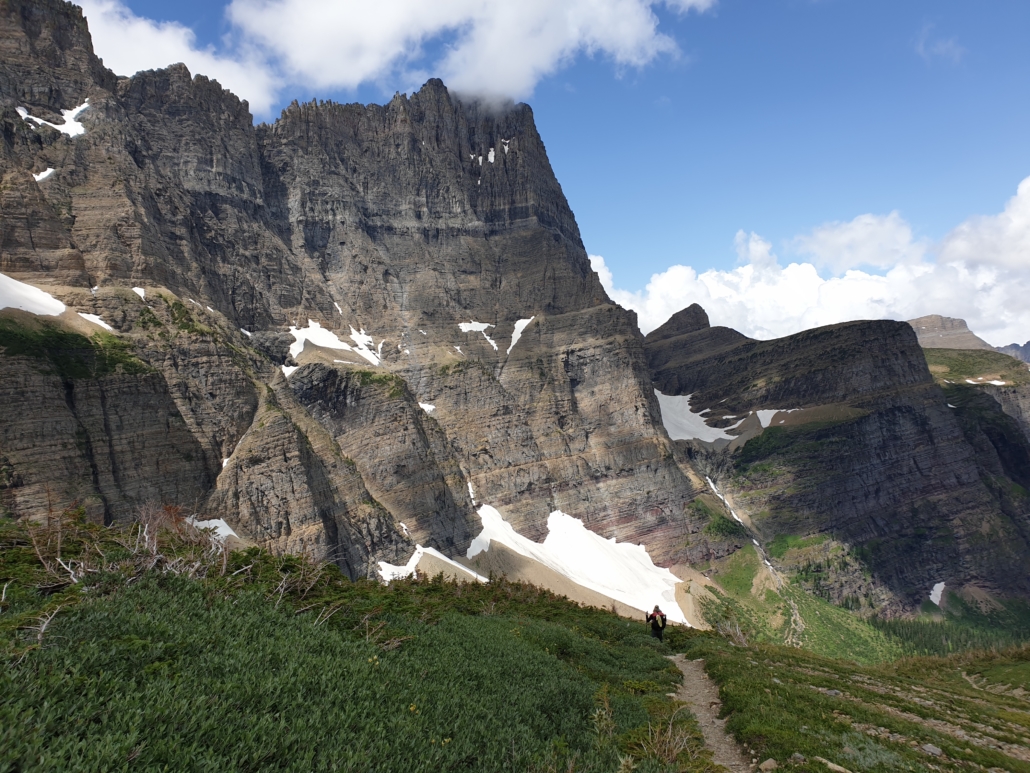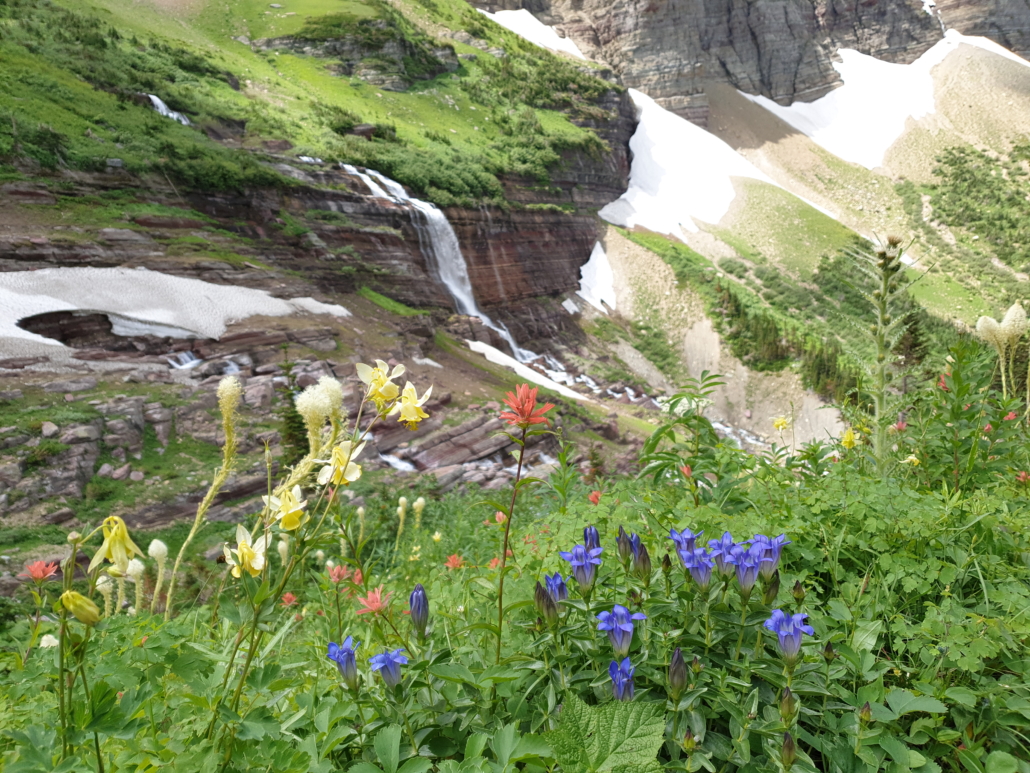 It is truly fantastic here! A landscape right out of wonderland!
And the marmots hang out directly on the path too!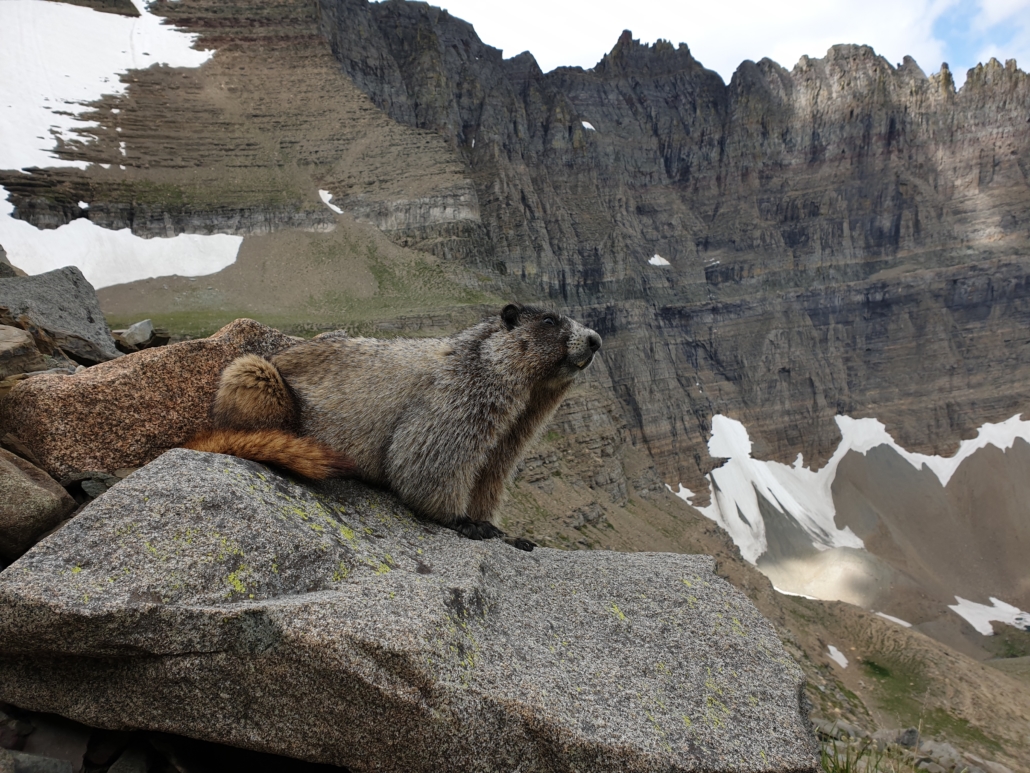 And we enjoy the great weather! We have indeed actually sunshine today and blue skies!! That does not happen very often on the CDT!!
What is funny here in the park is that they have actually bridges (!) over the creeks! So we don't have to wade through the water!
Ha!
"I find it almost insulting to have bridges!",
Felix says, and we all laugh. We know what he means and feel exactly the same.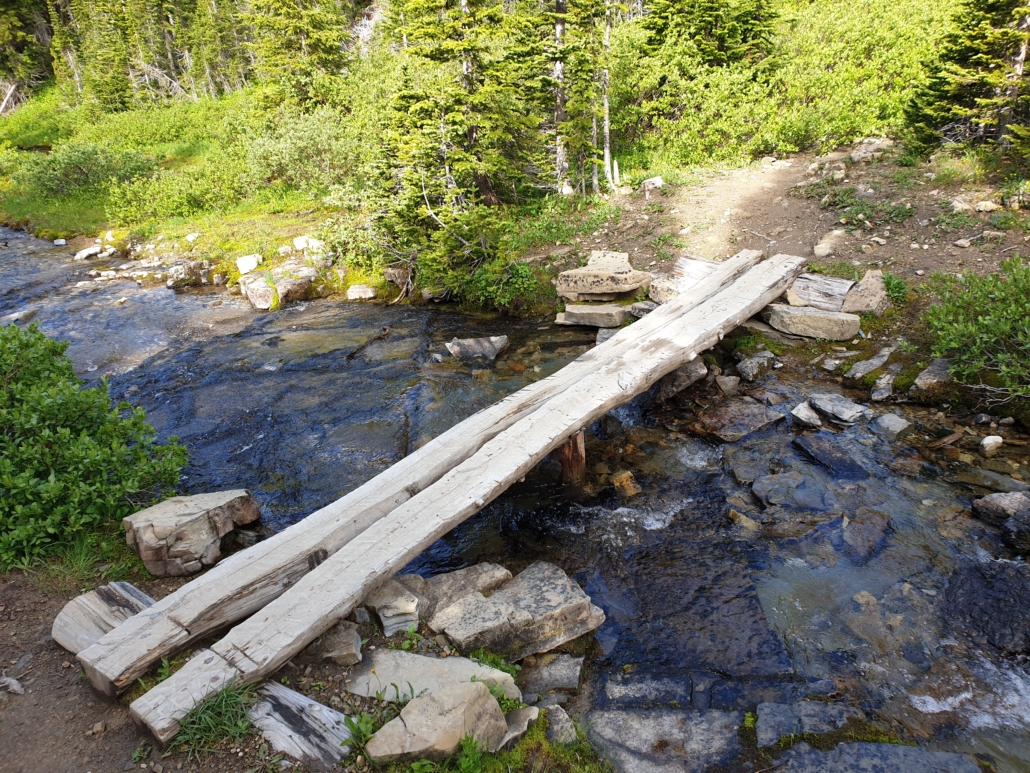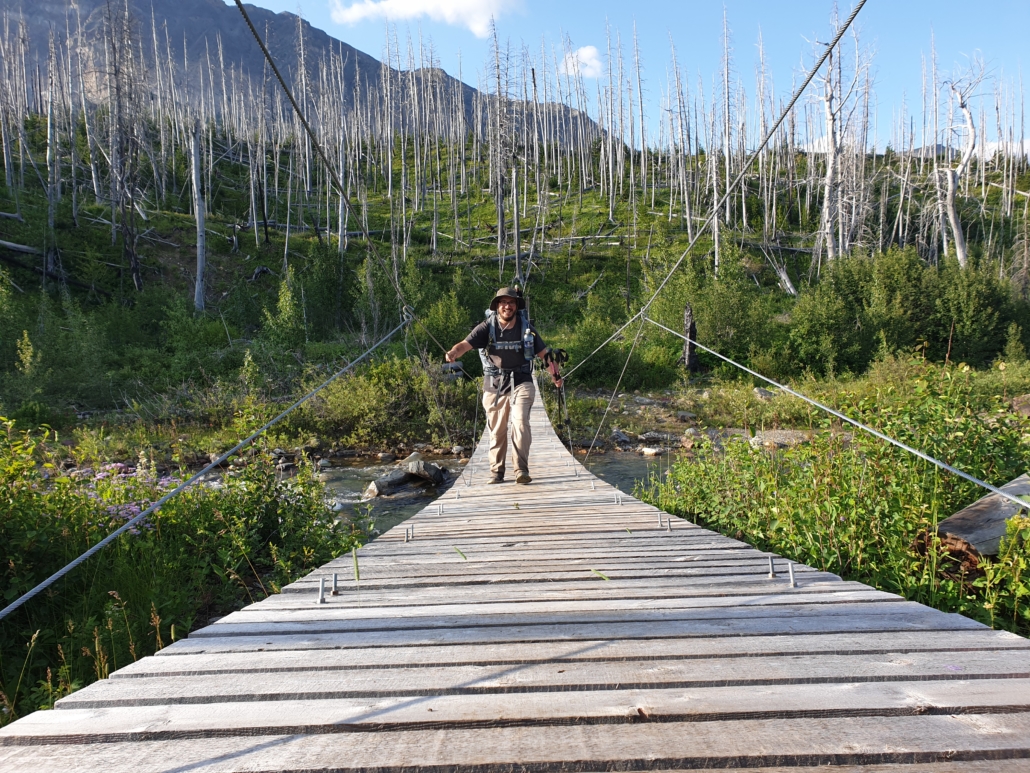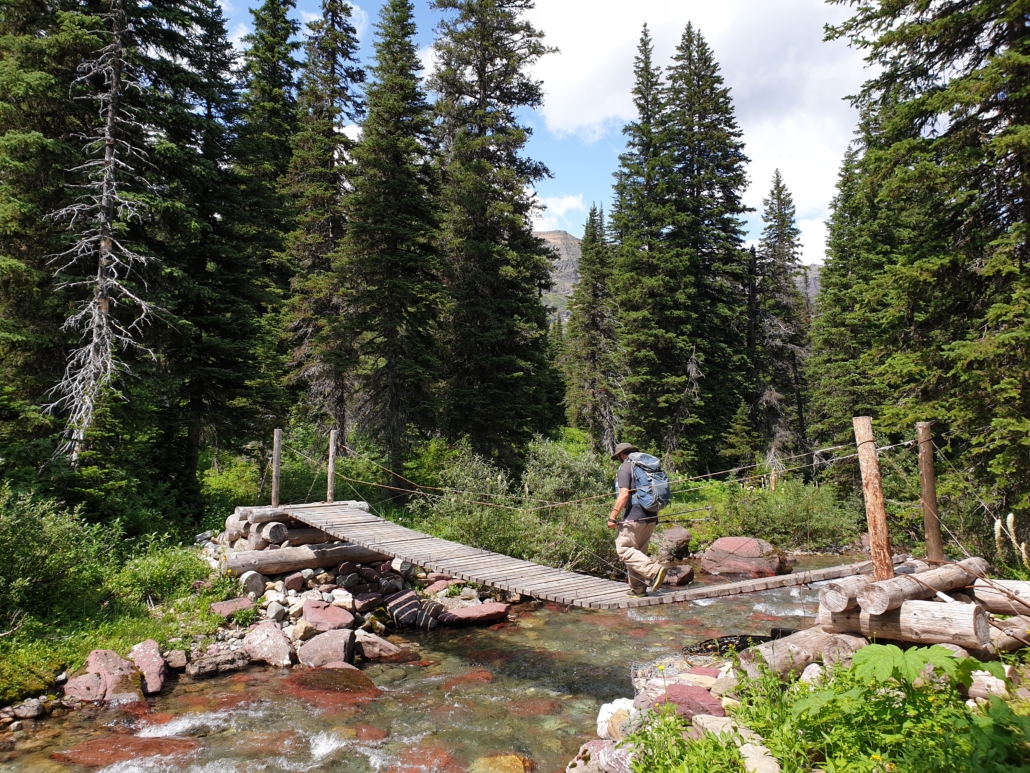 But then it's rather nice not to have white wrinkly feet every night!
We reach "Many Glacier".
Oh my. This place needs to be renamed soon… All the glaciers here have melted down and all that is left from their former grandess are sad little snow fields.
Oh my.
It's happening everywhere. I can see the same drama happening in Switzerland.
But apart from the sad glaciers, the landscape is phenomenal! Like on every corner of this amazing park!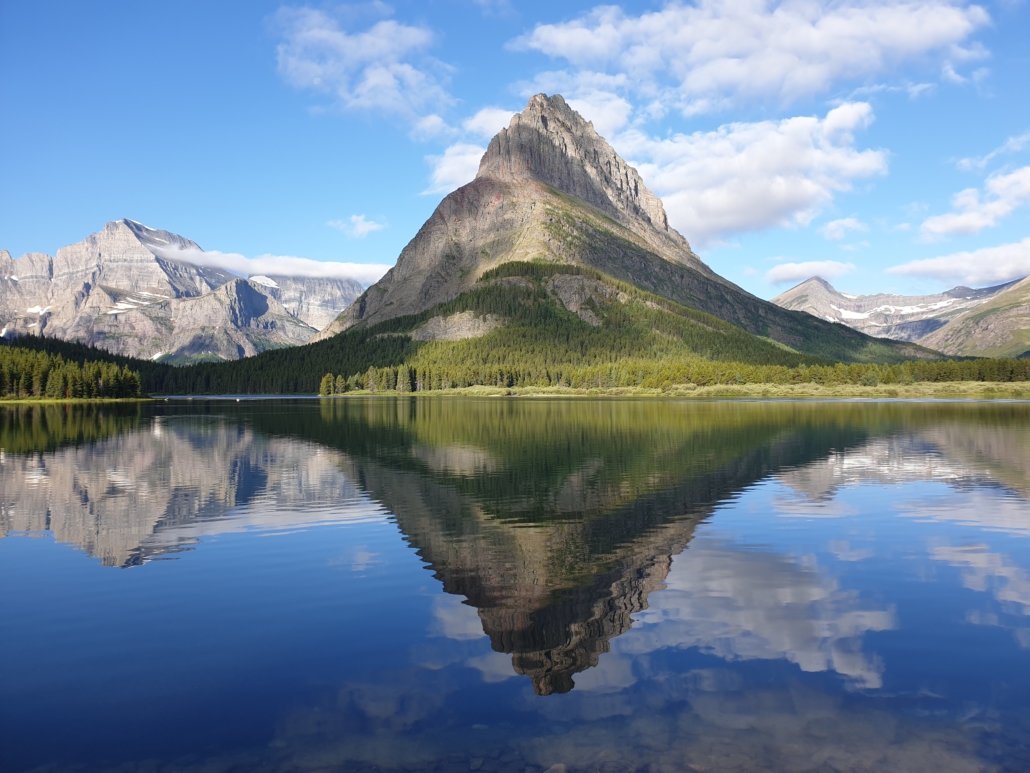 Alright, let's tackle the next pass!
Up the valley!
From here are two possible routes to Canada. A higher and a lower one. The higher one could potentially still have snow, but it's the way prettier route. The lower one ends in a Highway walk into Canada.
So we take the high route!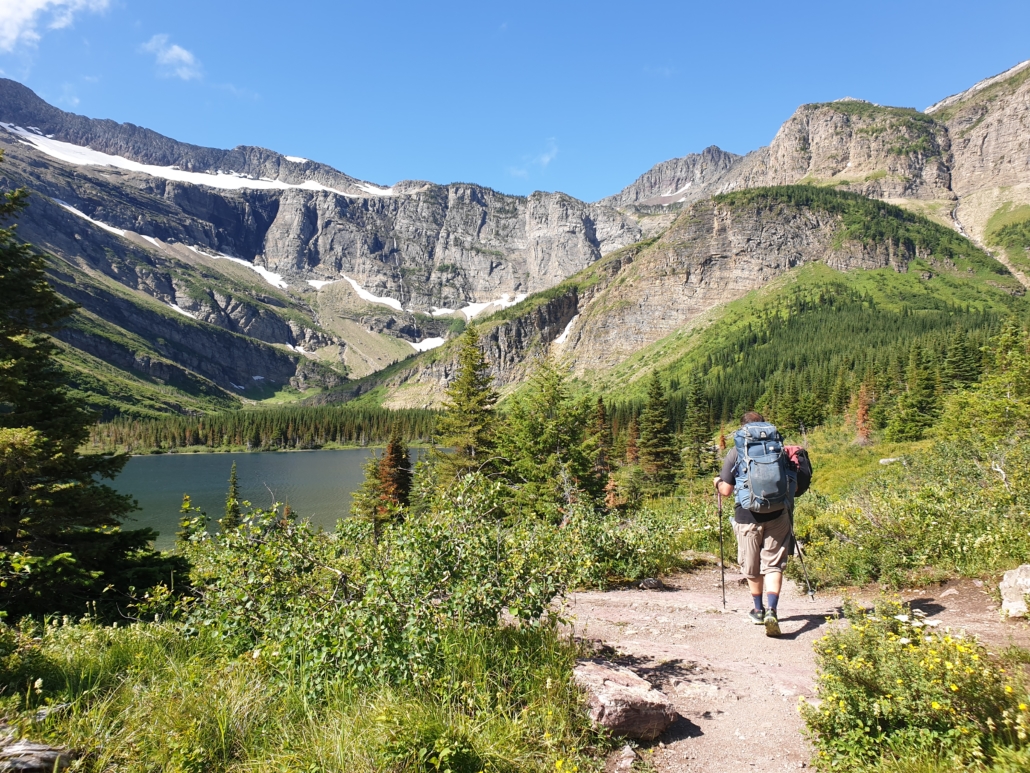 "Let's take a break by one of these lakes here and feed the locals with some trail mix!"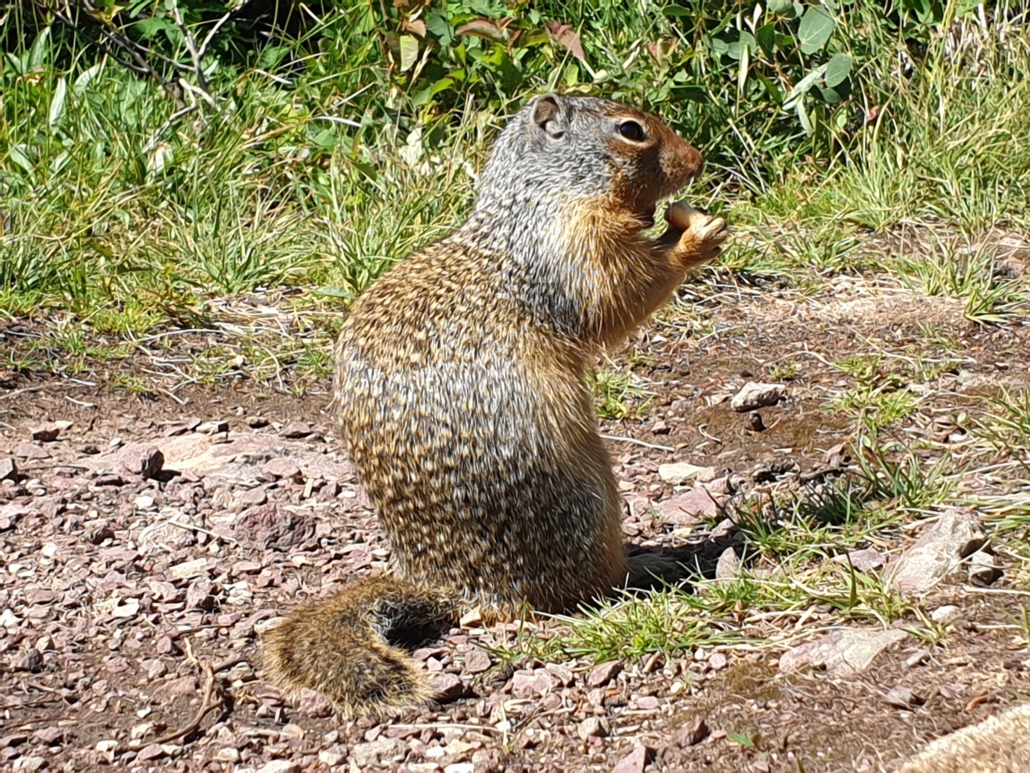 The lake we sat down by is now way down there!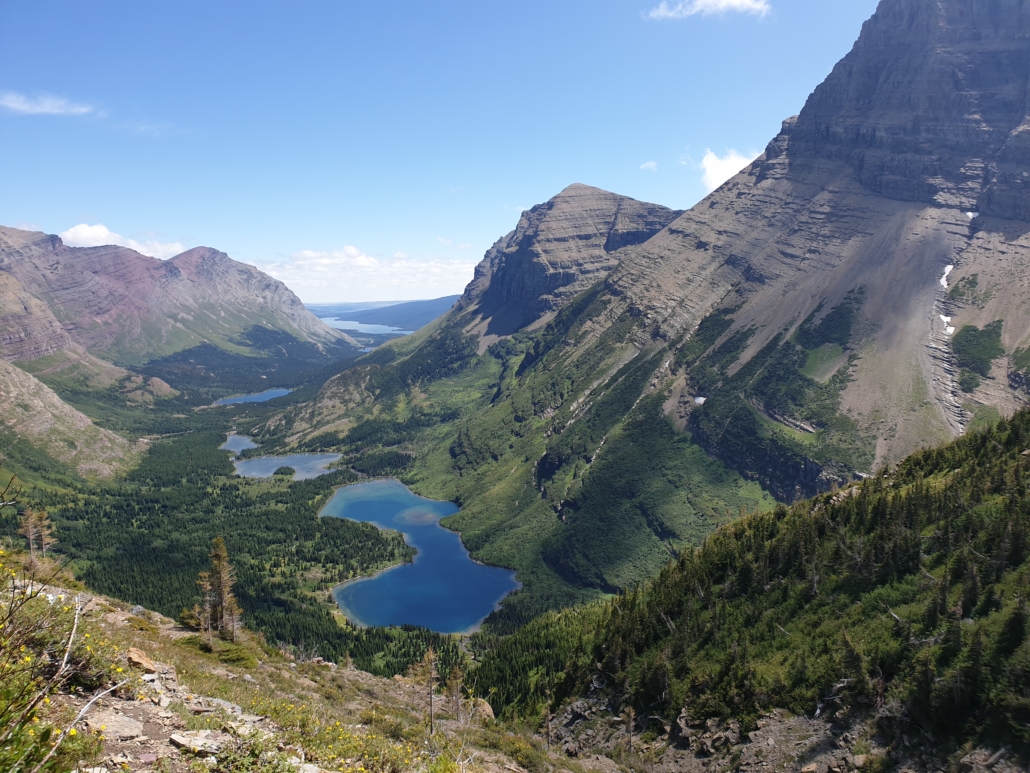 (Yes I keep mentally working on my vertigo).
Oh holy moly!
"It's epic up here!" So many mountains lined up in a row!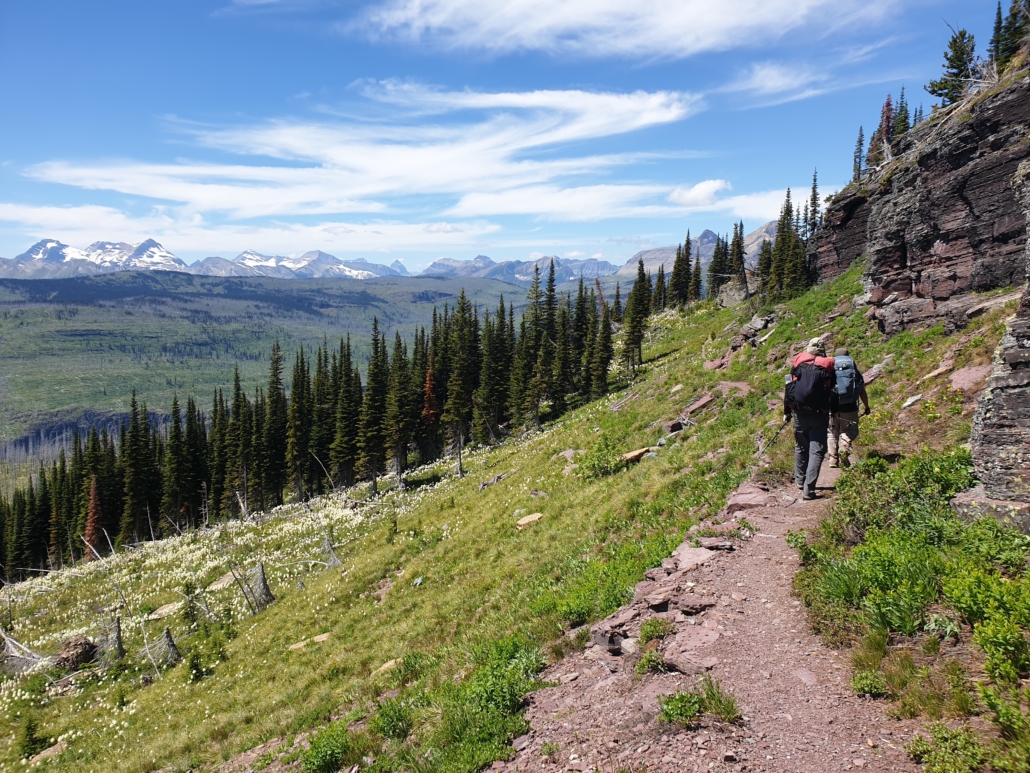 Wallace mentions that there is a very super dodgy hairy piece of trail coming up. It's only a short stretch where the snow (ice!) hardly ever melts. He says we should definitely stay together to do this ice field. He had talked to a Ranger in the End of June and the Ranger said he does not recommend hiking over this spot.
"You could slide down, fall over a cliff and die".
"SERIOUSLY??!"
My happy mood drops down 10 points out of 10.
Now I am worried shittless.
This was definitly TMI! (Too much information). I would prefer not to have this information.
So Wallace worries, I worry, Felix does not worry.
(!)
A few hours later we suddenly reach the point of my fear: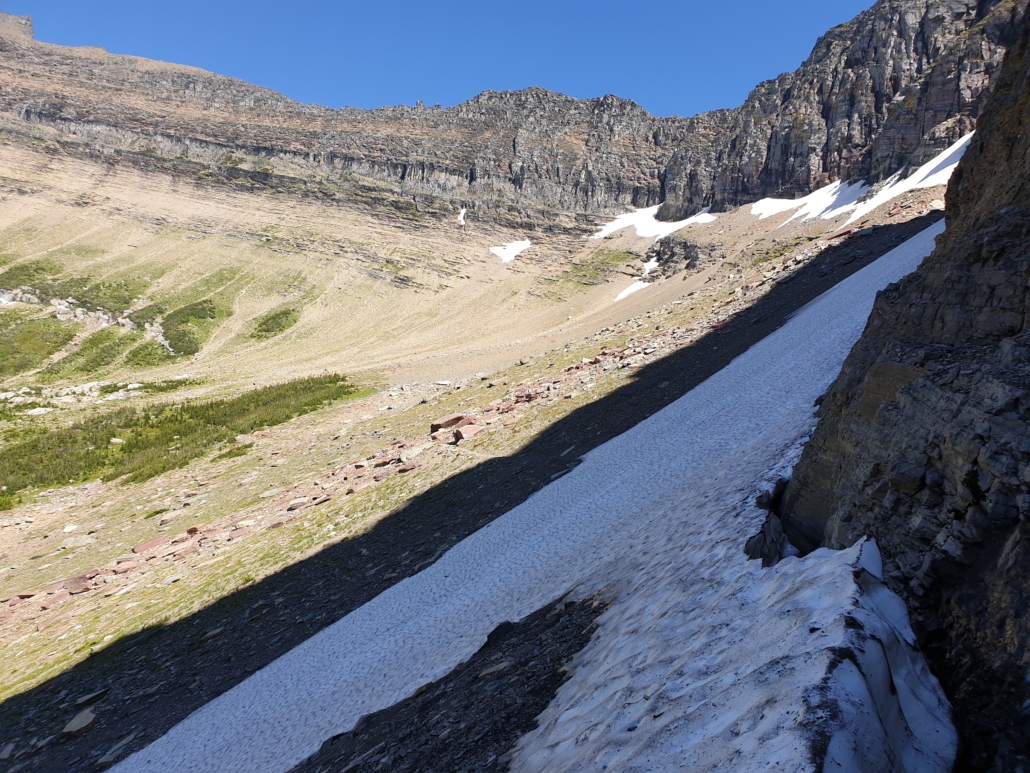 Aha. This spot seems to remain in the shade at all times so the bloody snow does not melt here.
But "OH HALLELUJAH", it looks totally fine. We can easily climb around the thing!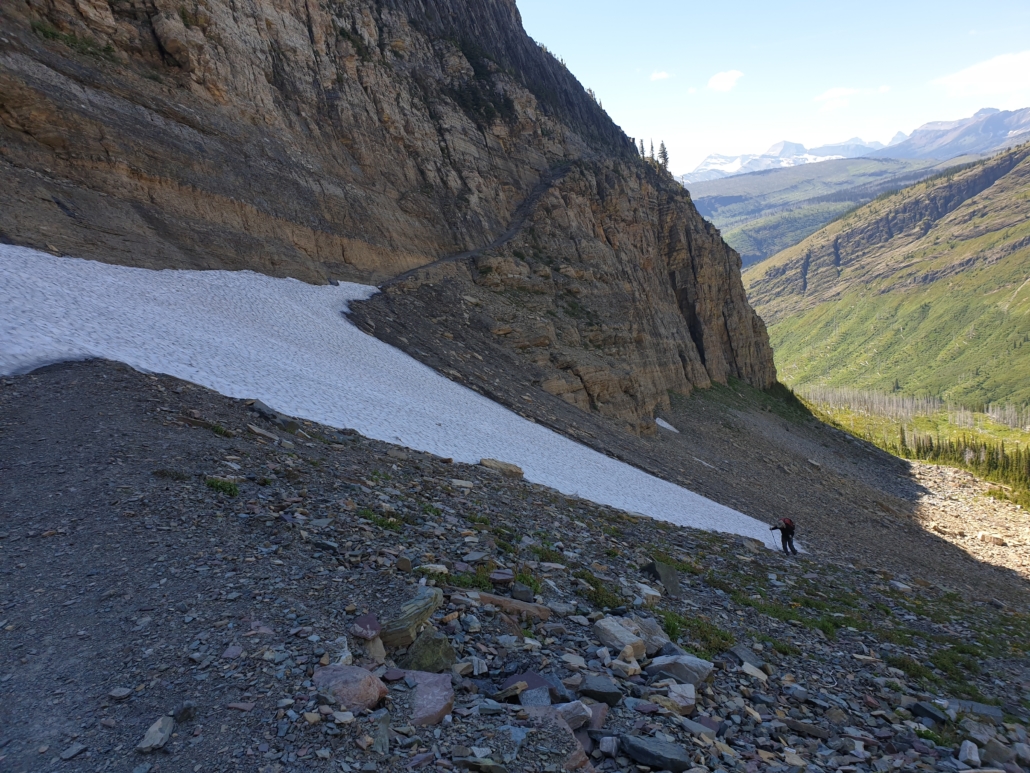 Had we come here five to ten days earlier, we would have had a huge problem! But our timing seems excellent!
Ha! OK! All the worry for nothing.
Once more, I make a mental note to myself:
"Heidi, DO NOT WORRY IN ADVANCE EVER AGAIN!!!
We hike on and take in the last pass in Glacier. Tomorrow we will reach Canada!!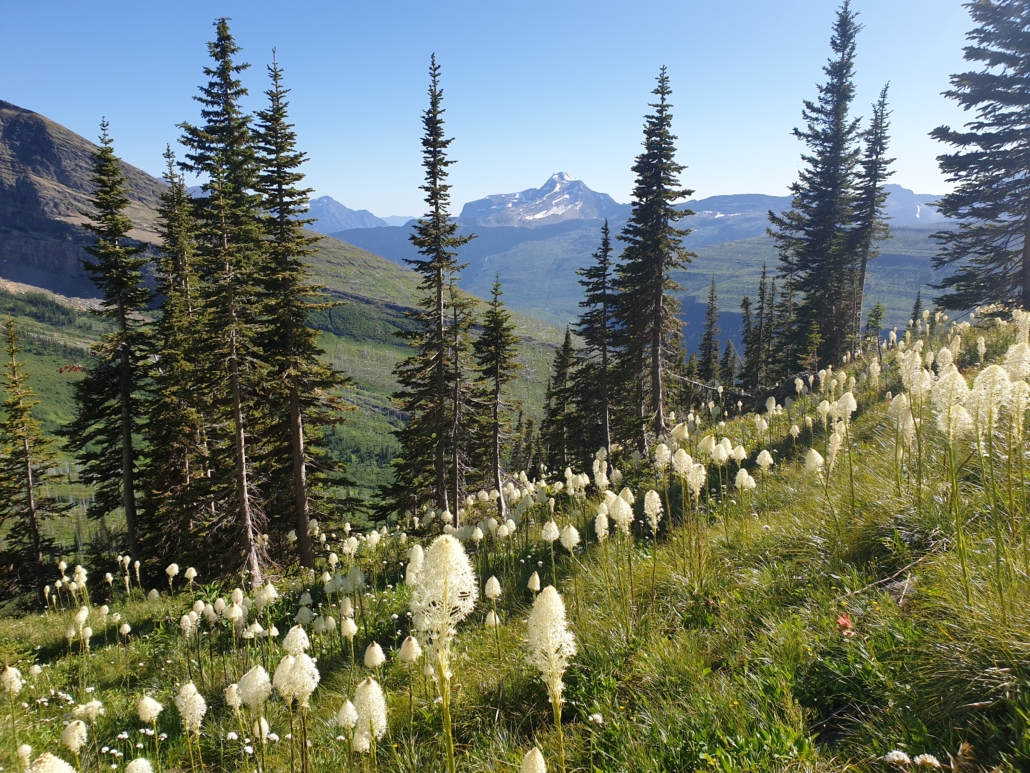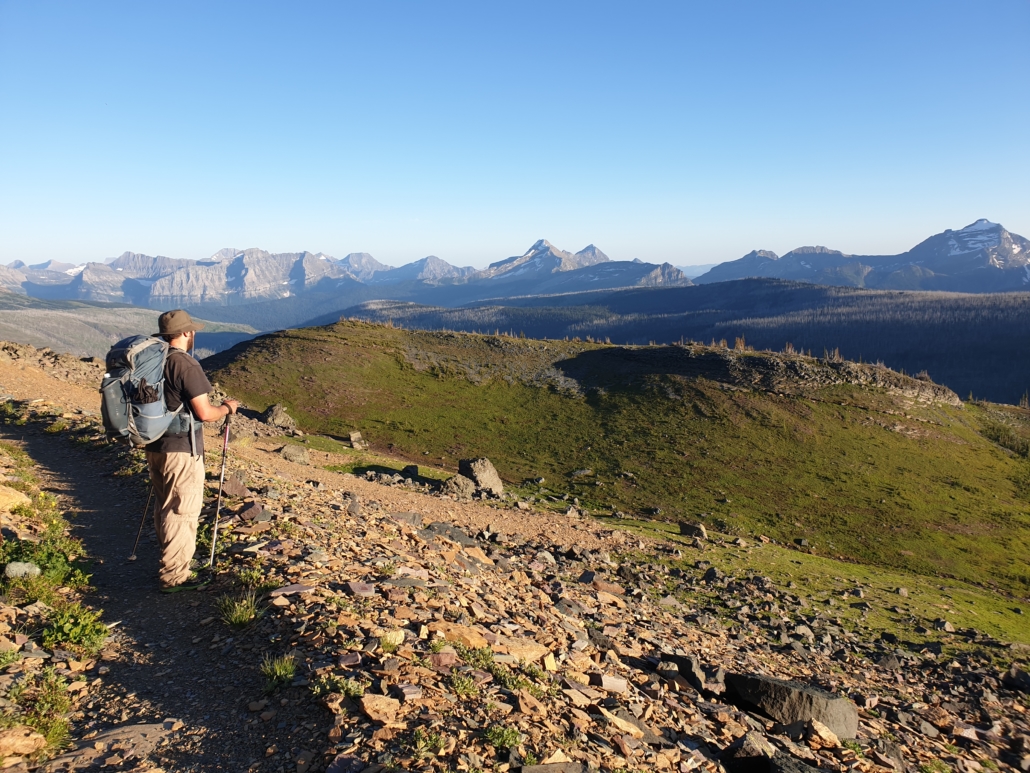 We camp one last time in Glacier. Tomorrow we will reach the border!
Its a long way down today into the valley. The path is rather overgrown and the scratches on the trees make sure we don't forget we are still in Grizzly country!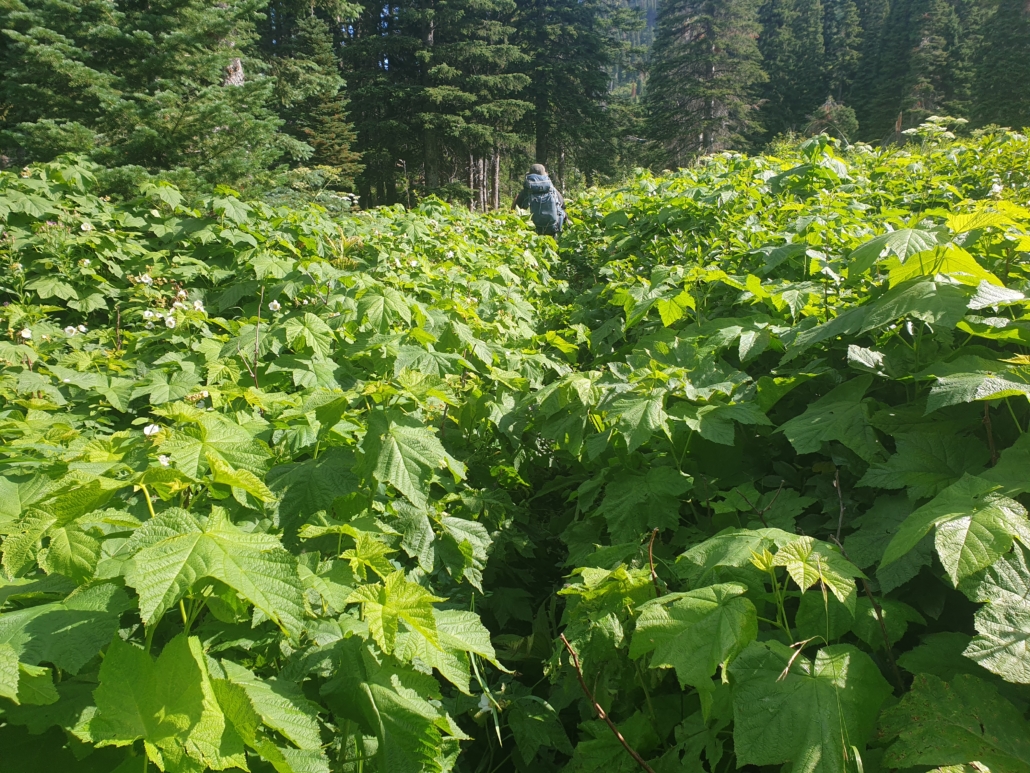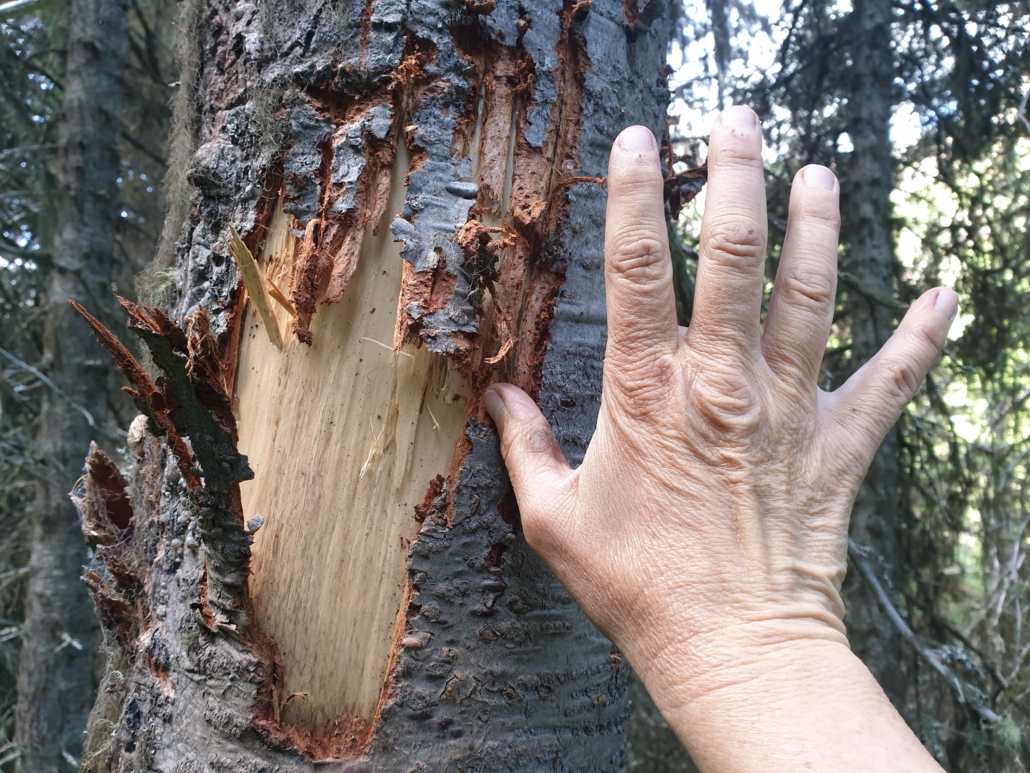 There it is!
We made it to Canada! We bloody reached Canada!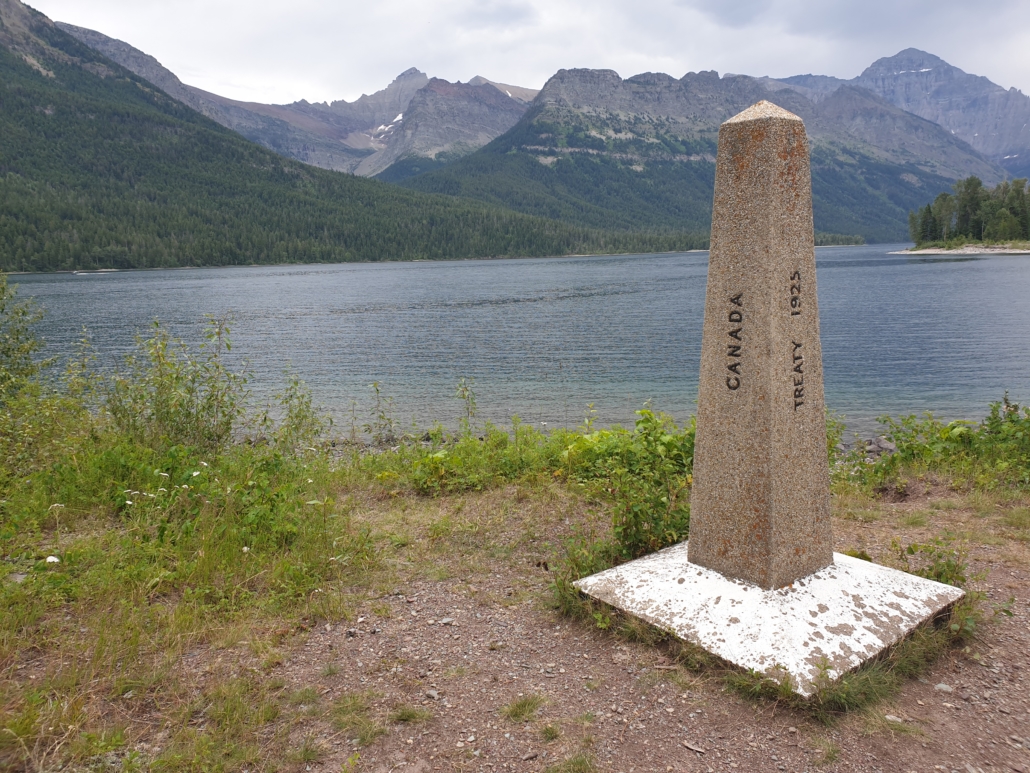 It's epic to have reached Canada! But we still have somewhat 1280 miles (2060 km!) to hike to finish the CDT, so we only celebrate a little bit.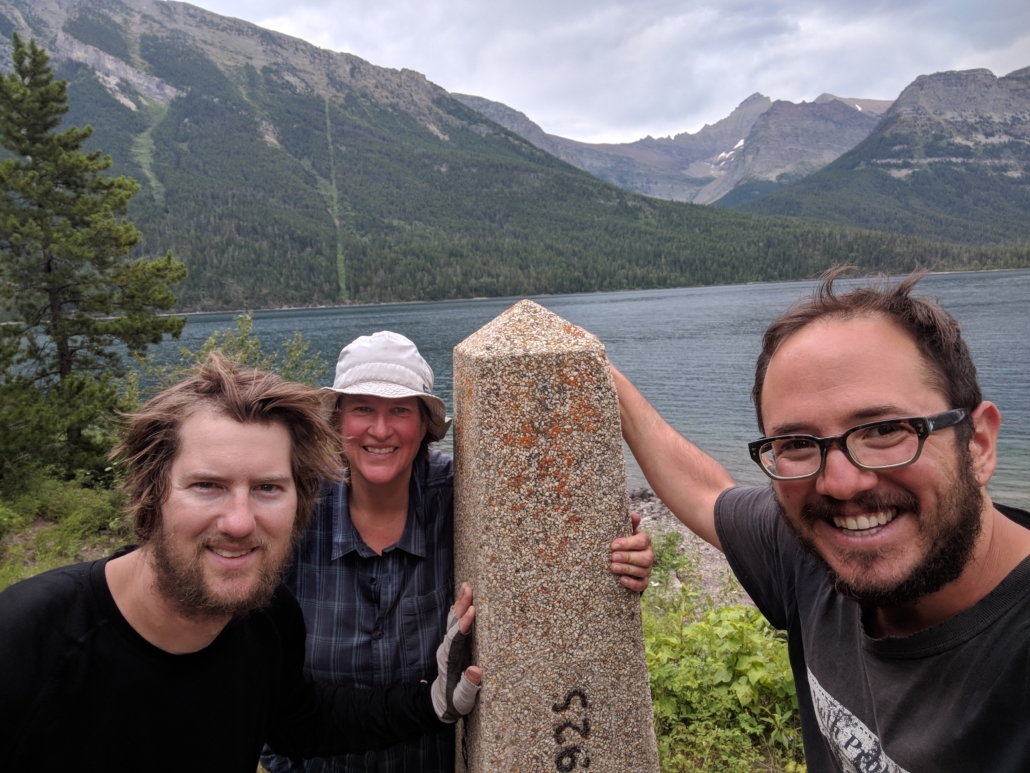 Onwards we must go!
http://www.earlymorning.ch/wp-content/uploads/2019/07/20190721_080316.jpg
3024
4032
Heidi
http://www.earlymorning.ch/wp-content/uploads/2016/12/Heidi_Bronnimann_logo.jpg
Heidi
2019-07-24 20:17:57
2019-07-24 20:17:57
Glacier Nationalpark