We hang out at the monument a bit before we hike onwards and enjoy the precious moment just for a little bit longer.
Felix has a bit of extra energy left and plays with the monument.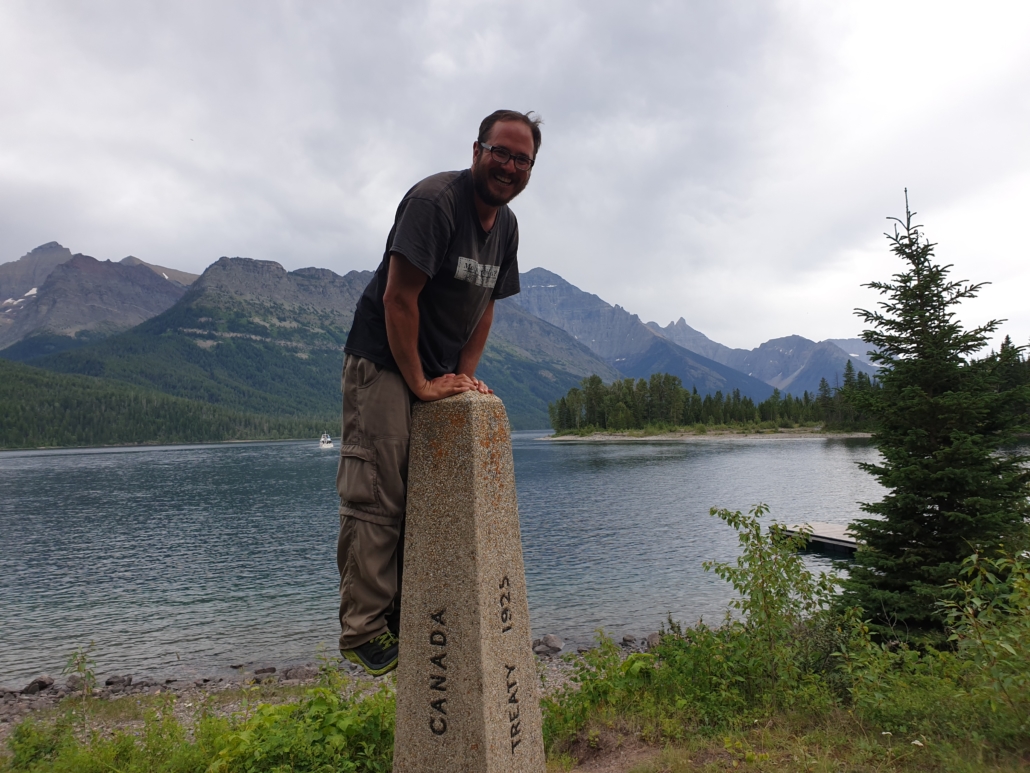 The funny thing is that there is no CDT marker at the monument, and I find this hilarious! For almost four months now we have so often been searching for a trail marker when there was indeed none to be found! So it seems there is also none to be found here! Ha!
But oh man, what have we done and seen and gone through since April 8! It's overwhelming to think about and I know those memories will feed me for the rest of my life! An extreme adventure which is the sum out of many little daily mini adventures.
It has been fantastic! If I just think of the last few weeks, the last big sections from Scapegoat Wilderness, to the Bob, and now Glacier Nationalpark!
Fantastic and forever unforgettable.
OK, but now it's really time to go and make the last four miles into Waterton, Canada, where Dale will be waiting with the van, to pick us up and drive us back into the USA to Anaconda, from where we will be hiking southbound.
There is so much more of the CDT left to discover! So many more daily adventures to conquer, so much more to hike and see!
Ah here is Dale with the van! Another successful meet up!
Yeay!!
First thing we have to do here in Waterton though is calling the Canadian Border authorities and tell them that we crossed the border and are now in Canada.
Done. We are no longer illegal.
We look for accommodation and jam all four of us into a hotel room. I get some good and deep Canadian sleep!
We don't have much time in Canada, we need to get back on trail to make miles. But we will not leave before having had a celebration breakfast at the famous and soooper fancy "Prince of Wales" Lodge here in Waterton.
The lodge is pretty cool, the setting with its large windows overlooking the UNESCO world heritage view right above the lake is grand!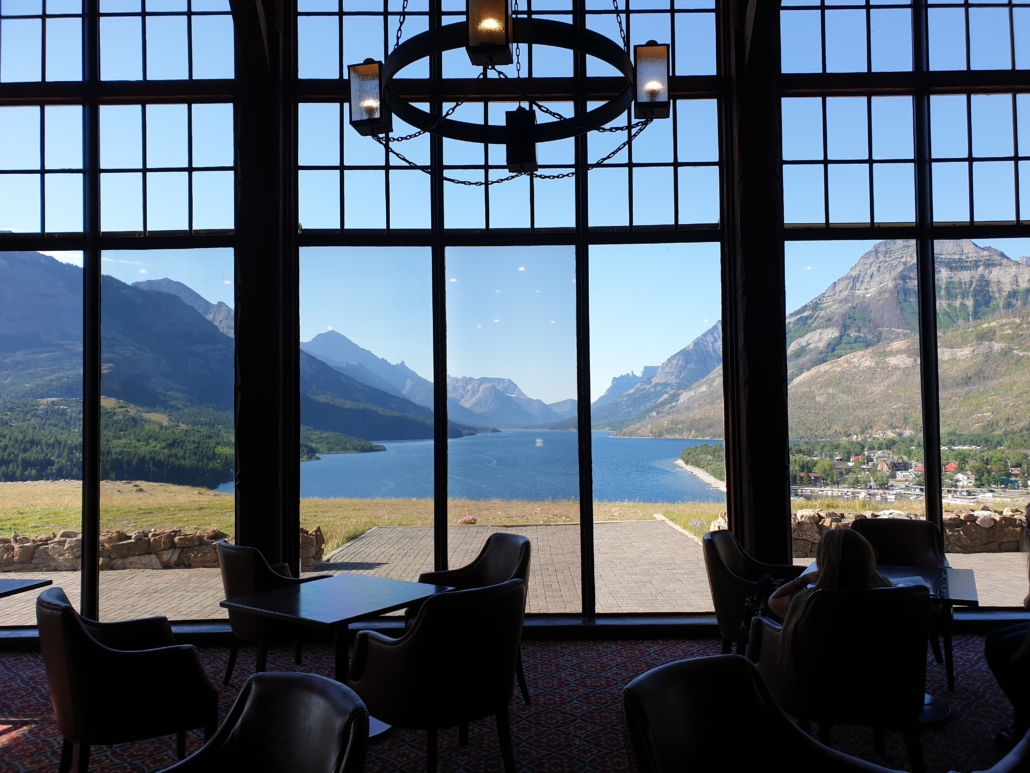 Breakfast is excellent and appropriate for our accomplishment I shall think!
Hikertrash in style!
As we are currently doing laundry, I wear my (dirty and smelly) rain gear in this fancy place, no underwear, as really all my clothes hs, except mentioned rain gear) are in the washing machine.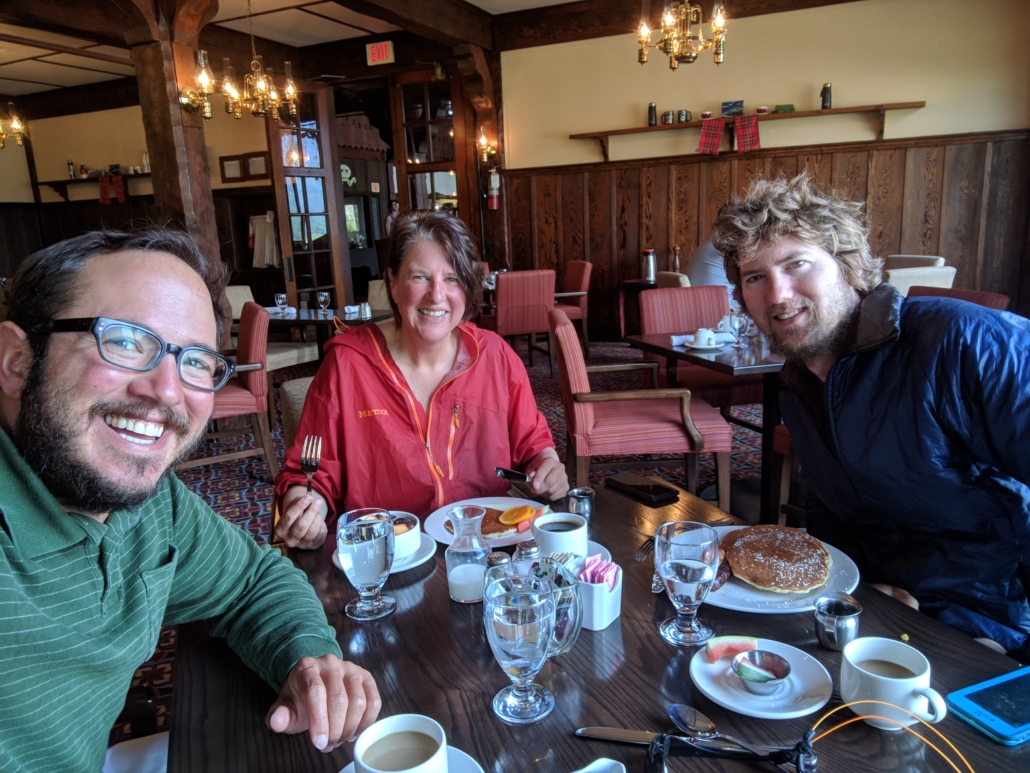 We are appropriately fed, off we go, back to the US.
The drive in the van (which we named "Dodgy Dodge" quite a while ago) takes us about five hours.
We say goodbye to Wallace, who needs to be dropped off in Butte, as he was hiking another route than us. He will also hike southbound now and surely catch up with us soon!
We pack food for 5 days and head out, into yet another Wilderness.
"I always have an odd feeling when we hike out to a next section",
Felix says,
"maybe we are pushing our luck, as nothing bad has happened so far and we are both in good health."
"Hmmm, yes, I know exactly what you mean Felix!"
We are about 4 miles in.
"Ohh fuck that hurt!!"
My knee! I got a sudden pain shooting into my knee.
Oh well, that can happen.
I keep hiking.
"Fuuuck! Ohhh, pain, another one!!"
"Hmmmm, not good".
I bite on my teeth and keep going.
"Another one! Oh shit!!"
I better let Felix know, who is ahead of me.
"Felix, I seem to have a problem with my knee! I have no idea what this is, but I get these pain shots about every 10 minutes."
"How bad is it? Can you still walk?"
"Yes sure, let's keep walking, it will be fine."
"Painshot".
I scream out loud and swear, whenever I get one.
"Can you make it to the next lake? We can camp there and you can give your knee a rest."
"Yes let's do this."
I pitch Maggie right by the water, take a 600 mg Ibuprofen and go to sleep. I am sure it's better tomorrow.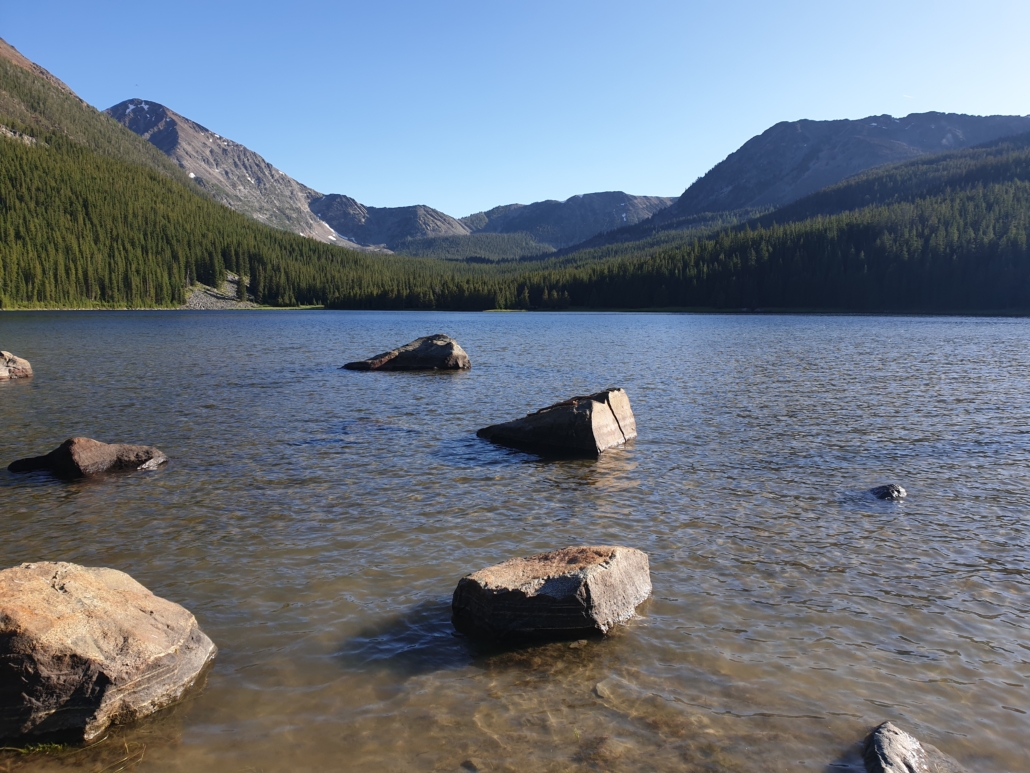 I examine my knee in the morning. I seem to have a bruise and it's swollen.
I try to remember whether I bumped my knee lately?
Hmmm, I seem to remember now that I twisted it on our last day before Canada. I was talking to Wallace who hiked behind me. I had turned around to look at him. At this moment I heard a crack in my knee and I had a little pain. But that was it. I only remember now as I am thinking hard.
Maybe something went wrong there?
I take another 600 mg and hike on.
Knee seems fine.
I hike.
"Oh fuuck, another shot, just like yesterday.
Let's see how bad this gets.
Another one.
"Hmmmmm?!"
As we hike into another Wilderness, I have to decide soon what to do. We are not very far in yet so we could easily bail out. If the knee gets worse later on, we have a problem.
I hum and haw.
Hum and haw.
Bail out or go on?
I can totally handle the pain, but I worry something is really wrong with that knee…
The pain shots seem to come more often now.
"Felix, I don't think I can go on. I better bail out now, since we are still close to civilization. Who knows what happens with this knee if it gets worse.
Felix checks the map:
"If we hike on a bit, we come to a dirtroad, as I still have cell reception, I could call Dale and see whether he can pick us up."
"Shall we do this?"
"Yes, that would be good. But Felix, you should hike on, I can drive out with Dale, rest my knee, and I meet you further south in Darby in five days and join you again if the knee is better by then.
"No, I come out with you. I hope we can both hike on together soon."
"Oh man Felix. You are amazing."
OK, decision is made.
Felix calls Dale, who is luckily still around Anaconda.
And sure enough, not much later, Dale and the van turn up.
Magic!
How lucky we are to have Dale!
We drive down back into civilization, take a hotel room, and I go straight to bed and keep my leg horizontal.
Whenever I get up and walk I get more shots. They are still only occasionally, but they make me scream out.
"Guys, I think it's time to go see a doctor".
We drive to the "Anaconda City Hospital" and enter through the Emergency door.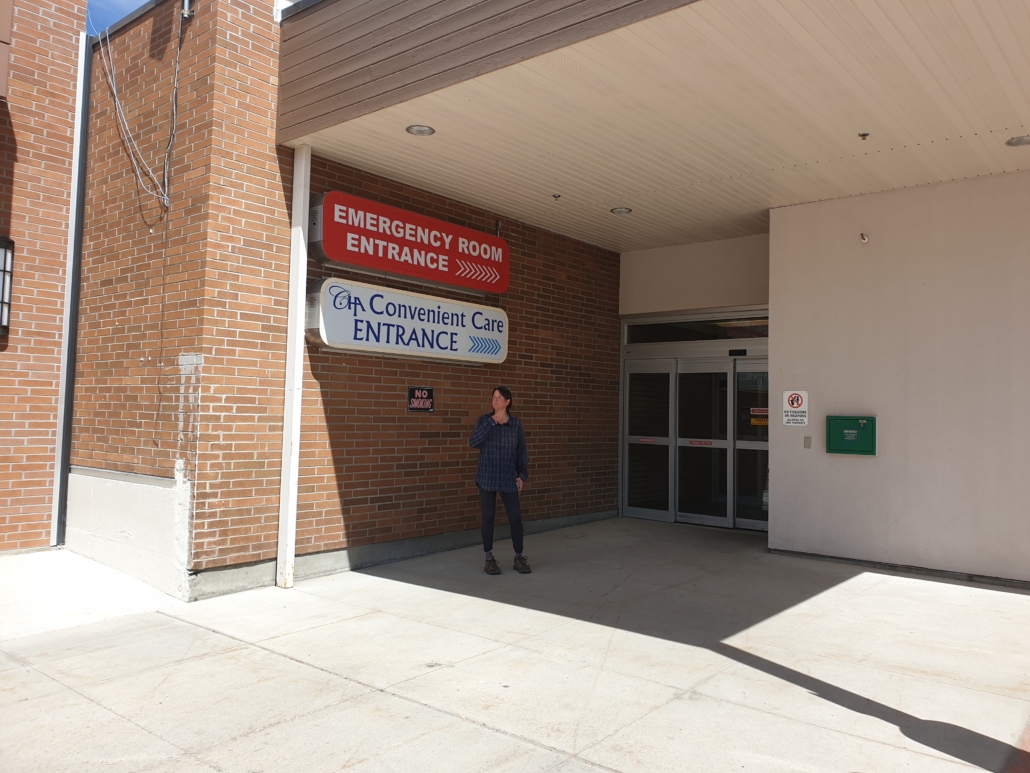 Ten minutes later I sit in this examination room, the nurse gives me an apron thingy.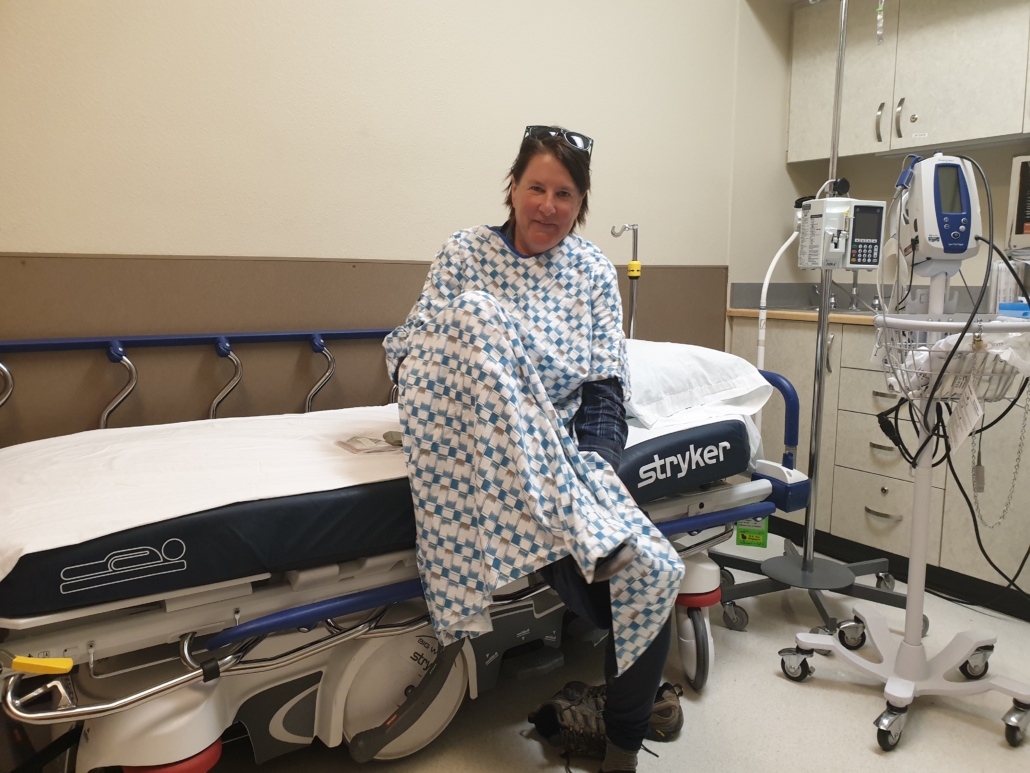 Doc comes in.
"Aha, so you are hiking the CDT! The last one I treated who was hiking the CDT had Giardia!"
He examines my knee and asks me a few questions and finally says:
"You have torn your MCL. The bruise comes from the inner bleeding.
"MCL?"
"Medial Collateral Ligament."
"It's very painful. You need to rest the knee, put ice on it, elevate it for at least a week. You can try doing easy hikes after a week again, but I do not recommend attempting hiking on the CDT again with that knee, the CDT is not exactly easy hiking territory."
"Take it easy and good luck".
"Oh dear, a torn ligament in my knee!!"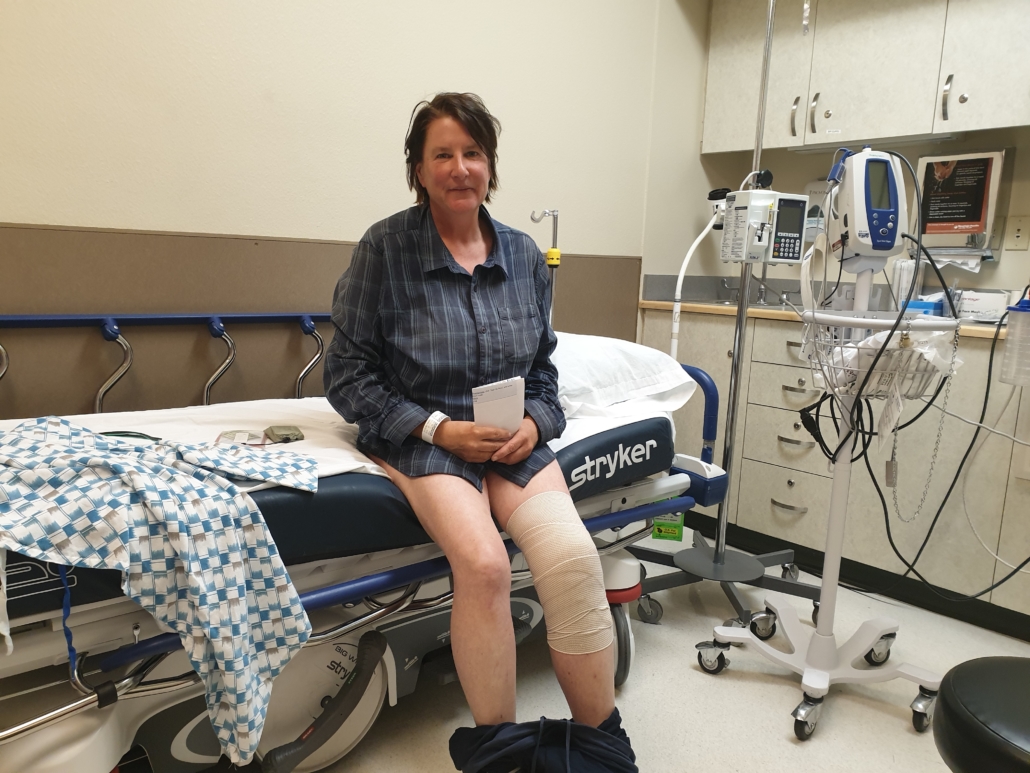 "Oh nooooooooo! That's bad news!!"
I start sobbing.
We leave the hospital and book another hotel room for tonight. I go horizontal, Felix brings me ice to put on my knee.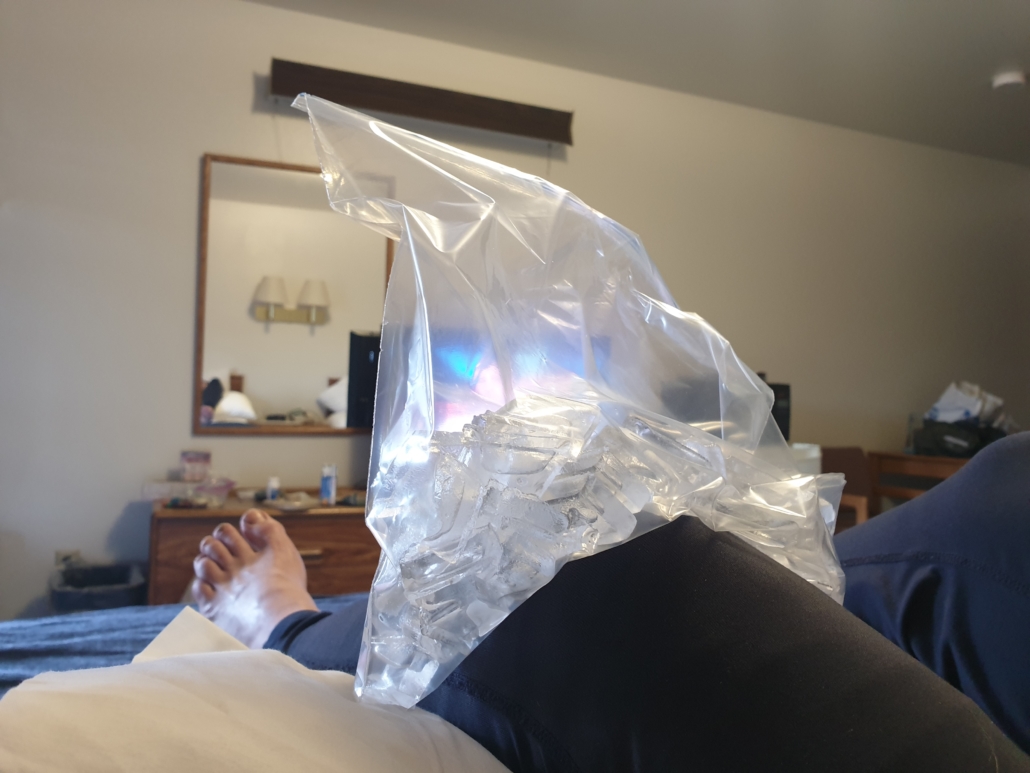 I spend the rest of the day in the hotel room. Occasionally bursting out in tears, then go to sleep.
What's next? Can I keep going? Should I keep going? Will it be better in a week? What if I go on and the knee gets worse? What if I damage it more?
I say to Felix:
"I take a week off, why don't you hike on and we meet up in a week and then we see how it goes".
He hums and haws too, just as I had done yesterday. He even flips a coin, but that doesn't help with the decision making process.
"OK, I made up my mind", he says:
"Why don't we all take a week off. Let's drive back up to Canada, check out Banff and Jasper, and you can rest your knee for a week and see how it goes."
"Yes! Cool! Let's!!!"
"Dale, are you in?"
"Yes, let's get out the maps and find the best route to take!"
"Alright guys! You are AWESOME!"
So off we drive, the three of us, back to Canada.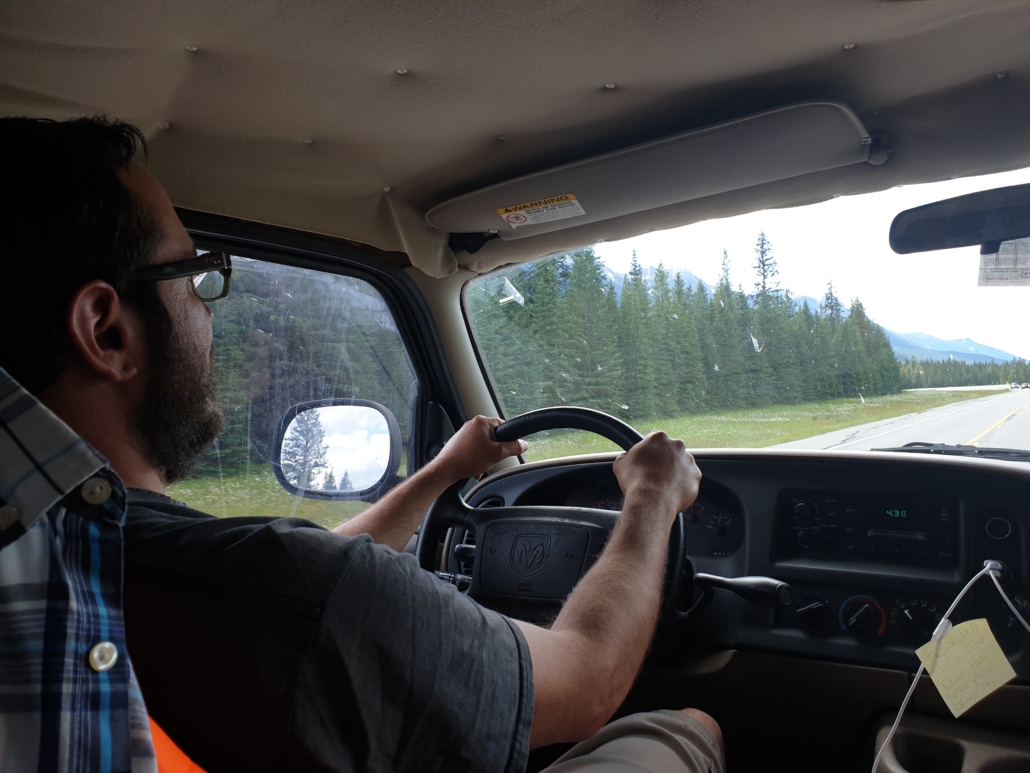 All three sleep in the van again.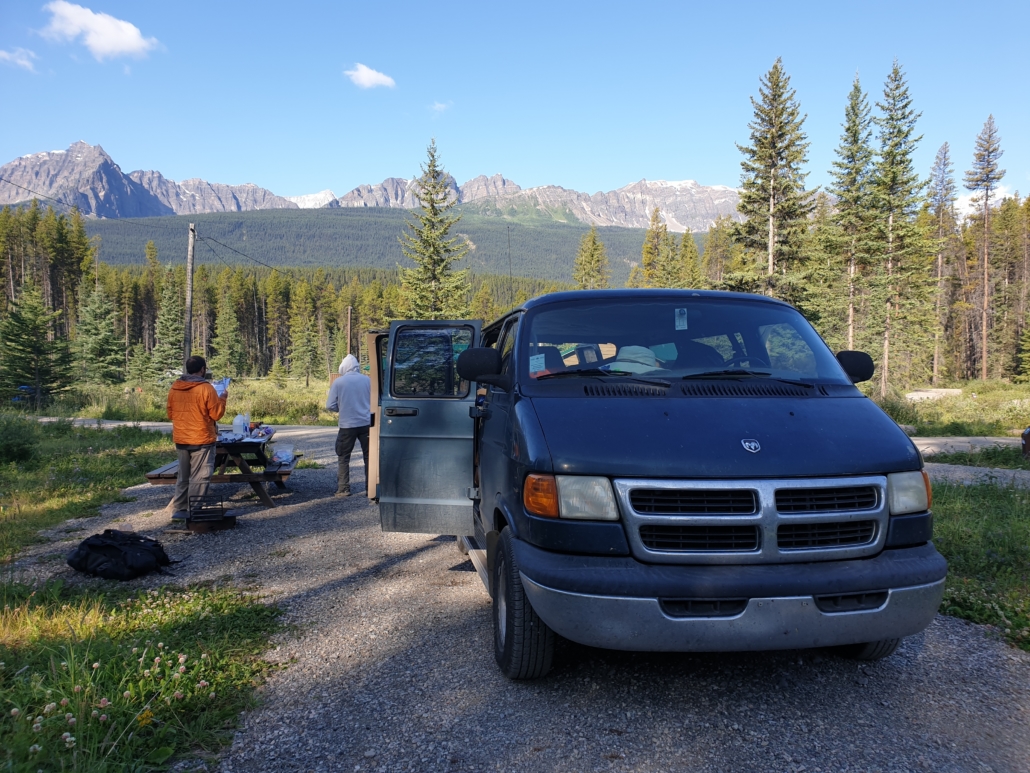 We travel now just like normal tourist!
Sightseeing, canoeing, playing cards in the evenings.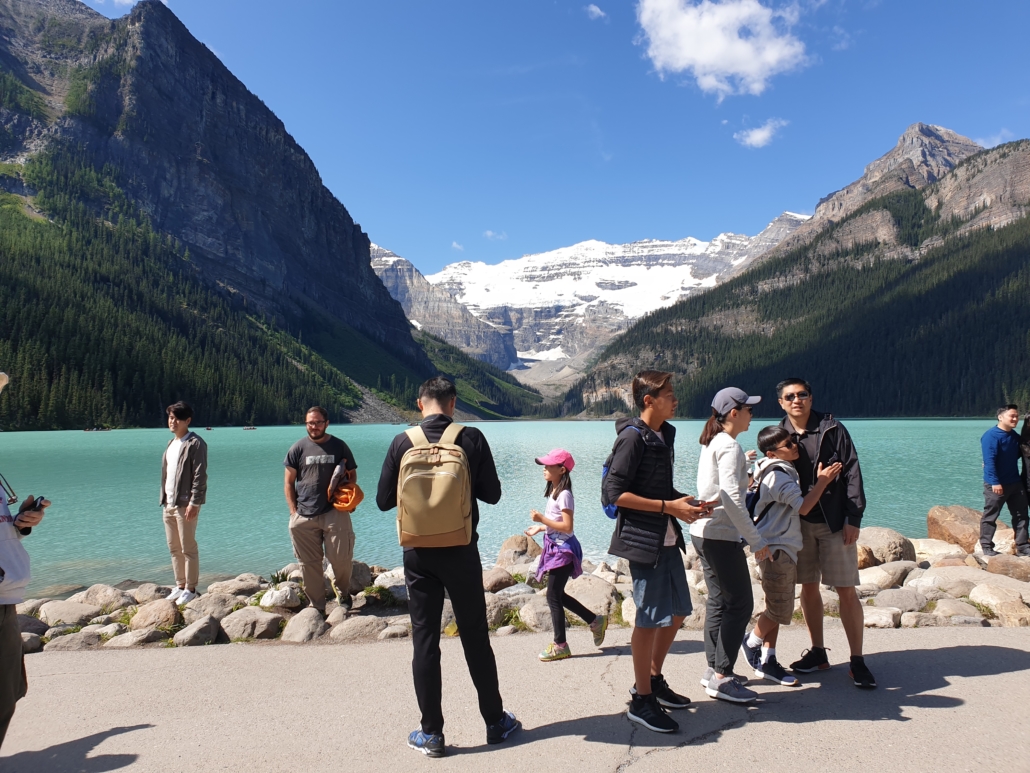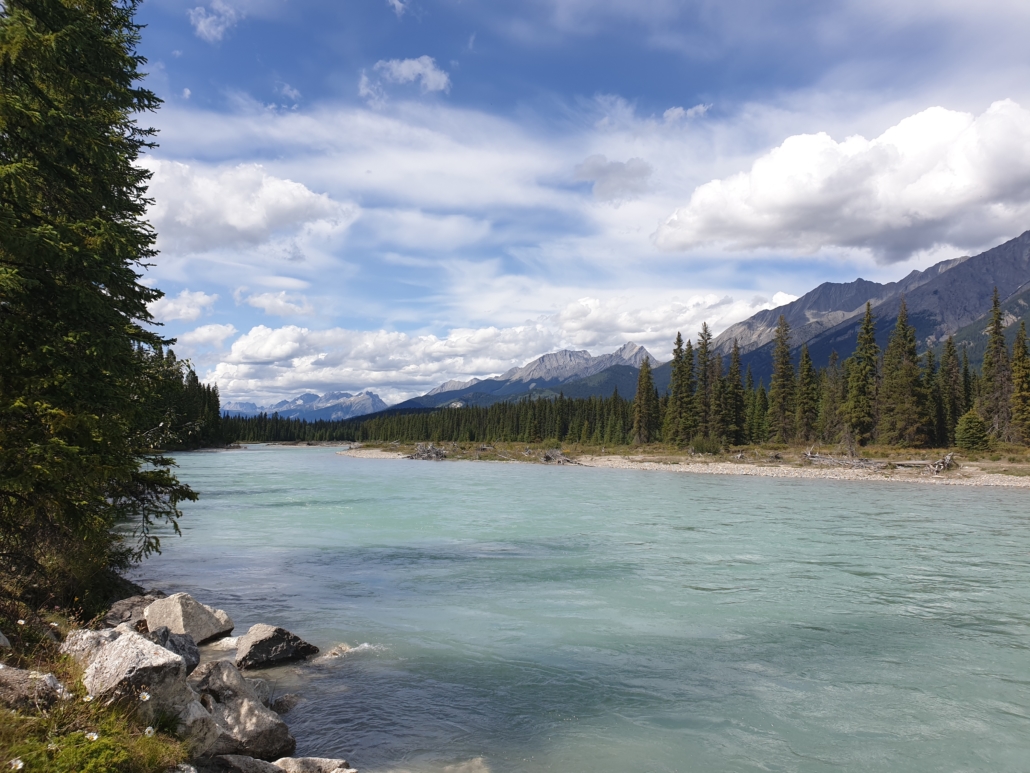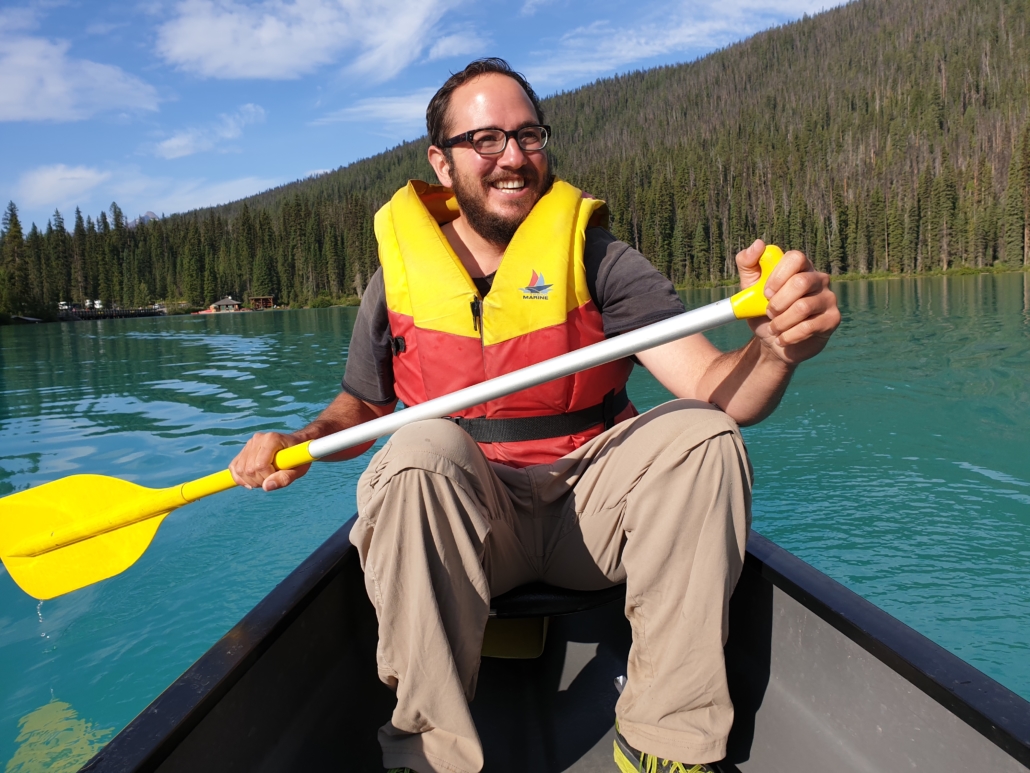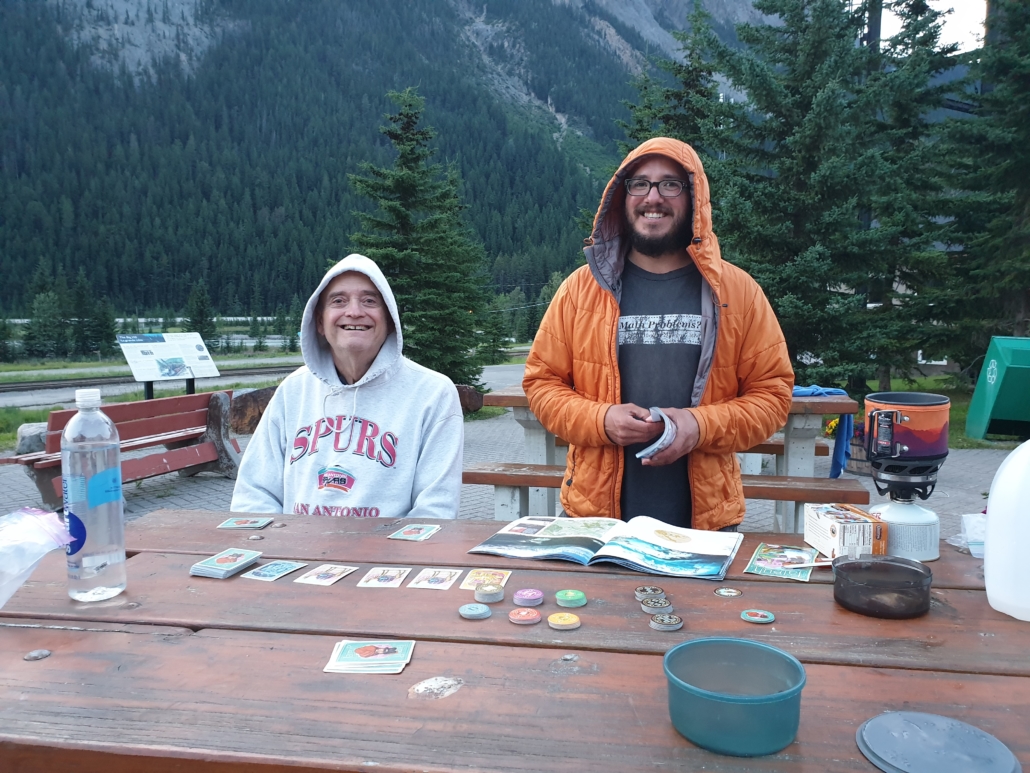 I only walk a tiny bit. But my knee keeps hurting. I keep getting these pain bursts.
So I must come to the only sensible solution:
"This is it for you Heidi. Time to go home. You just spent four fantastic months hiking in amazing nature, you had an awesome friend hiking with, you have had everything you can ask for, be grateful for what you had and listen to your body who obviously had enough thruhiking for the now. Go home."
So I guess I will indeed go home.
I will enjoy the rest of the week here with Felix and Dale and then see how I get to Seattle, and see when I can get a flight back to Switzerland.
That's it.
Just like that.
I am super sad but also super grateful. And I am sure my knee will heal up just fine, if I give it time and care and if I take things easy.
But for now I enjoy the company of Felix and Dale and the cool, super relaxed way we travel in Dodgy Dodge through these National Parks up here.
"Thank you again you two awesome guys! And also thank you Becky for everything you have done for us and for having let Dale go out and about for such a long time!"
I let everything sink in now and keep you posted.
http://www.earlymorning.ch/wp-content/uploads/2019/08/20190728_162358.jpg
3024
4032
Heidi
http://www.earlymorning.ch/wp-content/uploads/2016/12/Heidi_Bronnimann_logo.jpg
Heidi
2019-08-01 14:27:09
2019-08-04 17:01:33
The Twist