.
It is looking good!
USA Visa: check
USA Flight: check
PCT Permit: check (!)
California Campfire Permit: check
Entry to Canada via PCT Visa: check
Place to stay before starting the hike: check
Gear compared, weighted, tested and purchased: check
Getting excited: check

.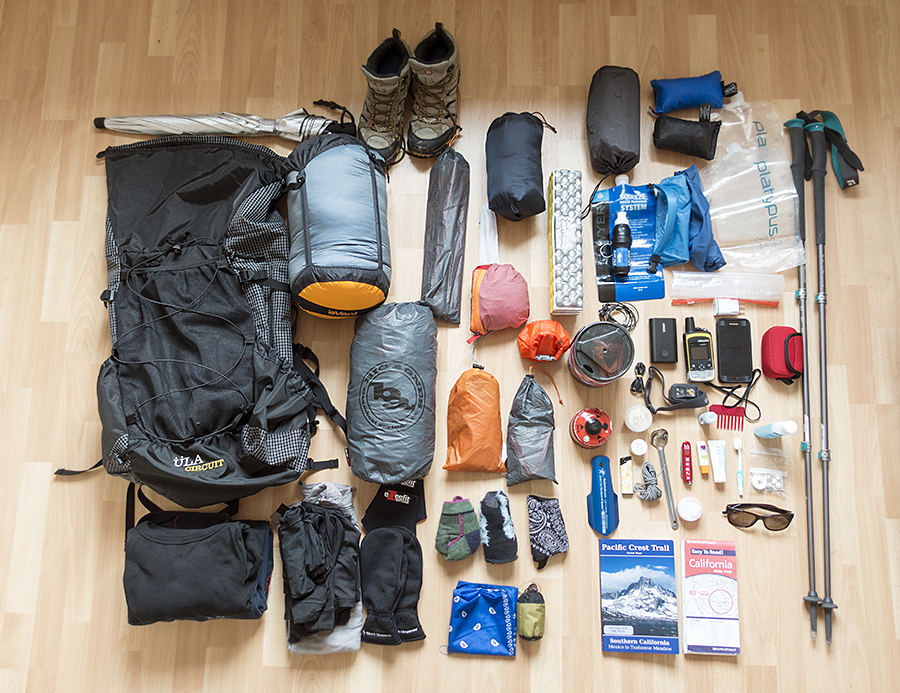 Above you see the summary of what I decided to carry along.
It is the absolute gear essential of what I (think I) need for a six month long hike.
.
And then there is of course the "Exceptionally High Snow Year 2017"
As mentioned here, we face A LOT OF snow on the trail this year.
Apparently the deepest snow layer since 1952 in the Lake Tahoe Region.
So I seem to need additional (heavy and expensive!) gear, which I will be needing in the Sierra Nevada (after mile 700).
Gear which all would not be necessary in a normal snow year.

Things like:
– Gaiters for hiking in the snow
– A Whipped to rescue myself if I slip in icy steep snow
– Water shoes to more or less safely cross rivers with
– Crampons
And then there is the very infamous BearVault BV 500.

BEAR VAULT (so that the bears do not steal my food).
Apparently it is the law in many US National Parks to carry these things. I heard it makes for a good seat too!
All this extra gear I will send per US Priority Mail directly to the starting point of the Sierra.
NO WAY am I going to carry all this through the 40°C hot desert…
.
Learning of the Day:
It is great fun to purchase gear.
But there comes a point when the fun tilts towards an overkill.
I think this is the point when one is ready to soon hit the trail!

http://www.earlymorning.ch/wp-content/uploads/2017/02/PCT-Sign.jpg
675
900
Heidi
http://www.earlymorning.ch/wp-content/uploads/2016/12/Heidi_Bronnimann_logo.jpg
Heidi
2017-02-26 15:24:48
2017-03-01 08:24:56
I am soon ready for the PCT!