So yes, we made it all the way to Colorado! For quite a while now we have been thinking that we need to bail out once we make it to Colorado.
I mean, bloody hell, it's still snowing up here!
But after Felix has studied the maps, we see that we can actually take the "Great Divide Alternate Route" for a while, which is lower than the CDT and should have less snow and should hence be doable.
You see, hiking the CDT means that you have to walk within 50 miles East or West of the Continental Divide. So even when you are not on the actual trail, you are still officially hiking the CDT, as long as you stick within this 100 mile radius.
(We have obviously been doing this before).
Well anyway!
Awesome, we don't have to drive around Colorado yet but can just keep hiking our continuous path Northbound for a bit longer! Yeay! I love it!
So off we go. It's more highway walking, but it's high up, pretty, and the road is not busy.
Its still bloody cold. That nasty evil wind is still our third member in our little hiking family.
And it starts raining again.
"Let's sit here by this church for a while to get some shelter from the rain, maybe the rain passes!"
We sit, wait, and get super cold as we are not moving anymore.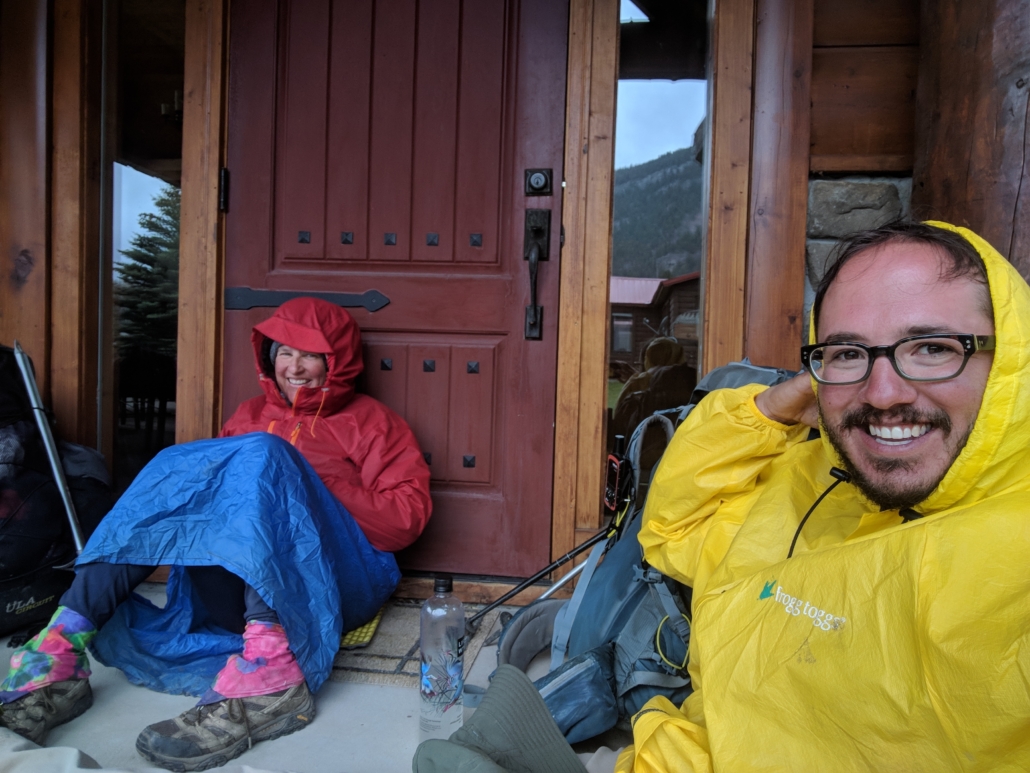 I have an idea:
"Felix, let's try to look miserable, so maybe someone sees us here shivering and invites us into their home, feeds us and let's us sit by their fireplace!"
So we do our best to look very miserable: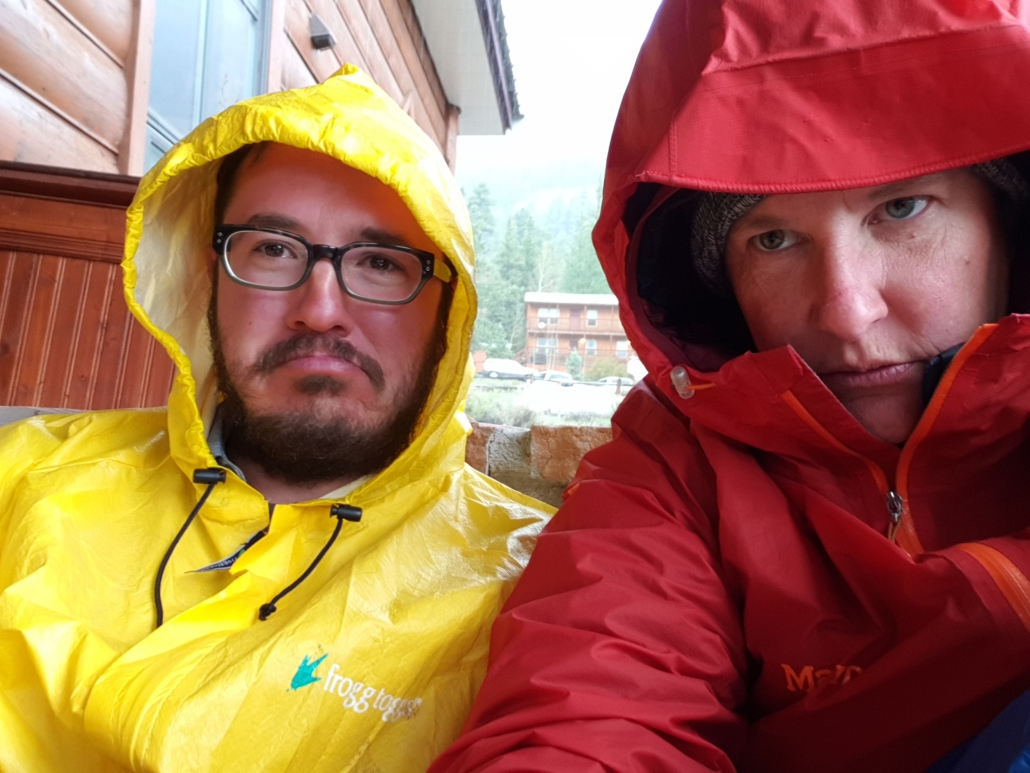 But then we burst out laughing, so this plan does not work.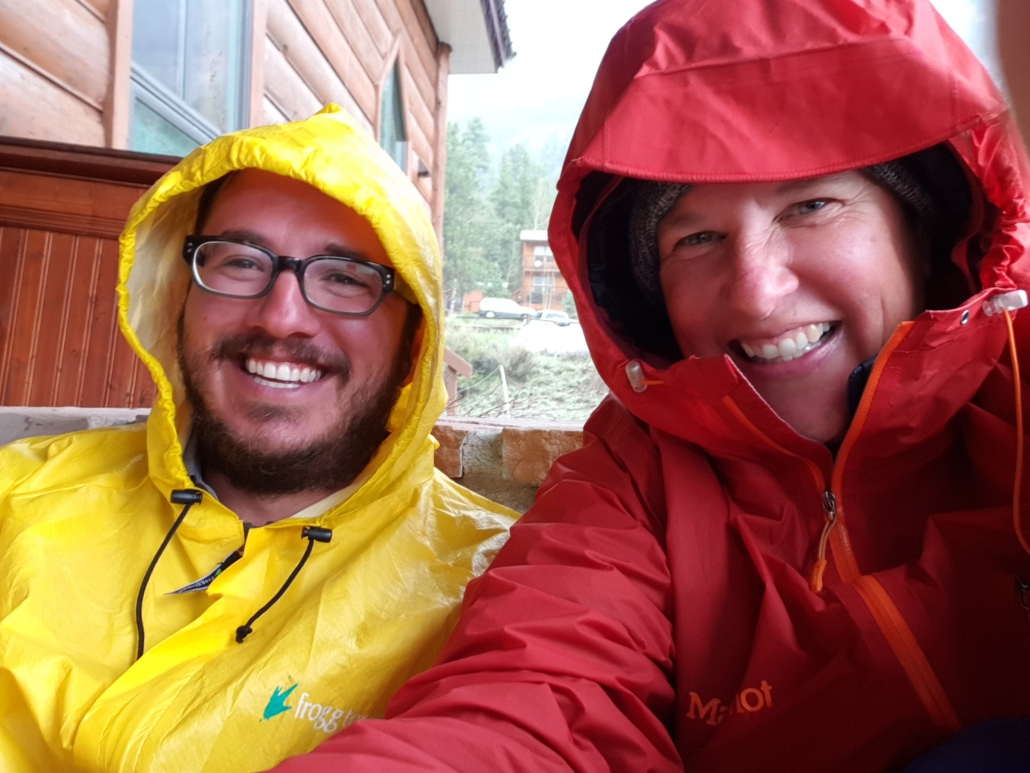 Nobody takes pitty on us, so we keep hiking in the rain.
We leave the highway and walk on a dirt road. Luckily, this is a good road though! Yeay! No mud-death-marching! Perhaps the mud was a New Mexico thing and they don't do mud here in Colorado!
The rain stops, we hike until we are both done.
"I need to go horizontal, let's look out for a spot to pitch our tents!"
"Over there, a little uphill looks good", Felix says. He volunteers to go up the hill to check out whether there are actually two flat-ish spots for our tents.
"You can come up Heidi, it's awesome up here! And I just scared off an Elk".
I climb up too, and yes! Wow! What a place to camp on our first night in Colorado!
I clear out some Elk poo, we pitch our tents,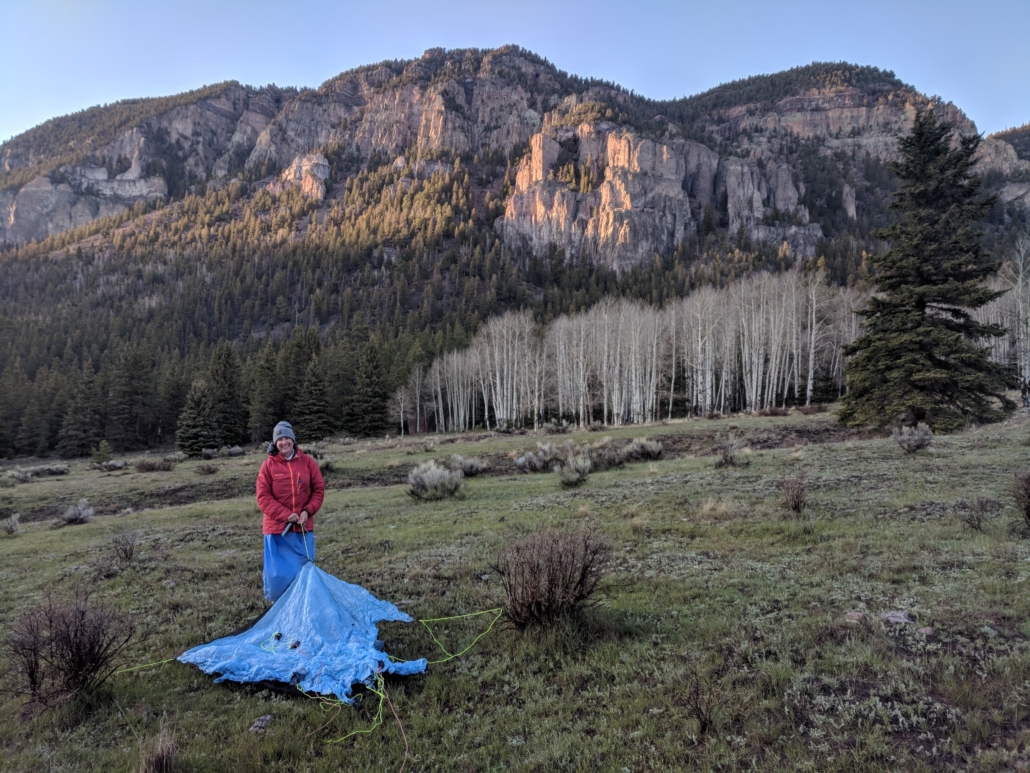 et voilà!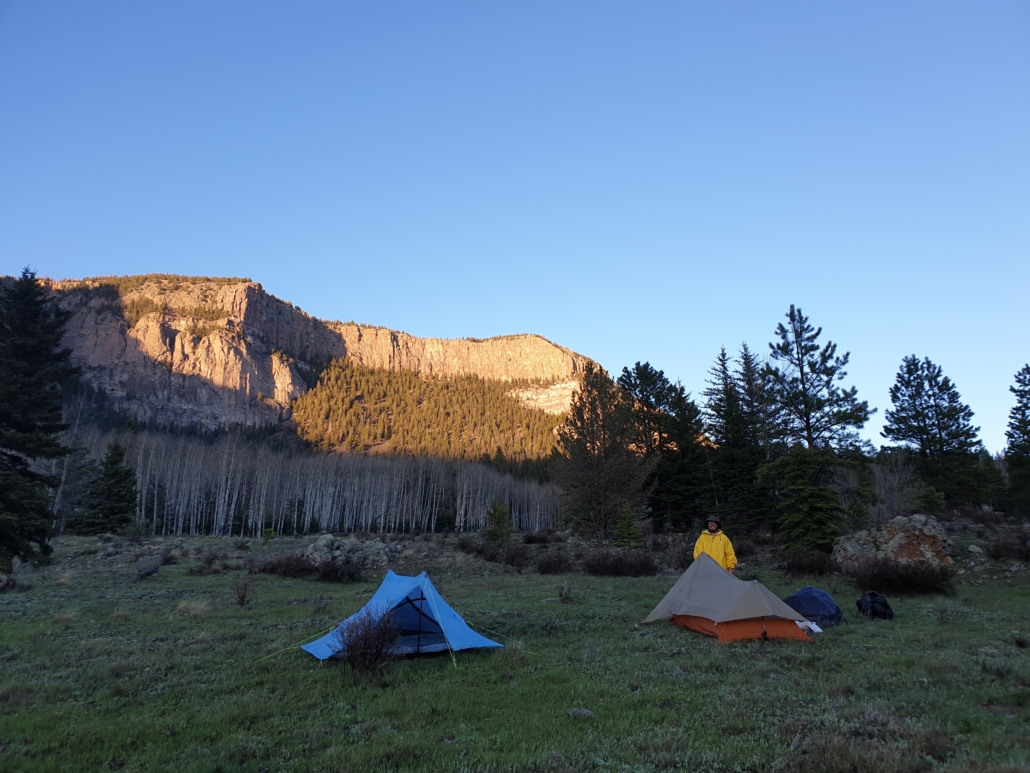 The night is so very cold.
Maggie has ice on her walls in the morning.
On the INSIDE!
"Brrrrrr".
We hike up the valley, along this "Conejos" River.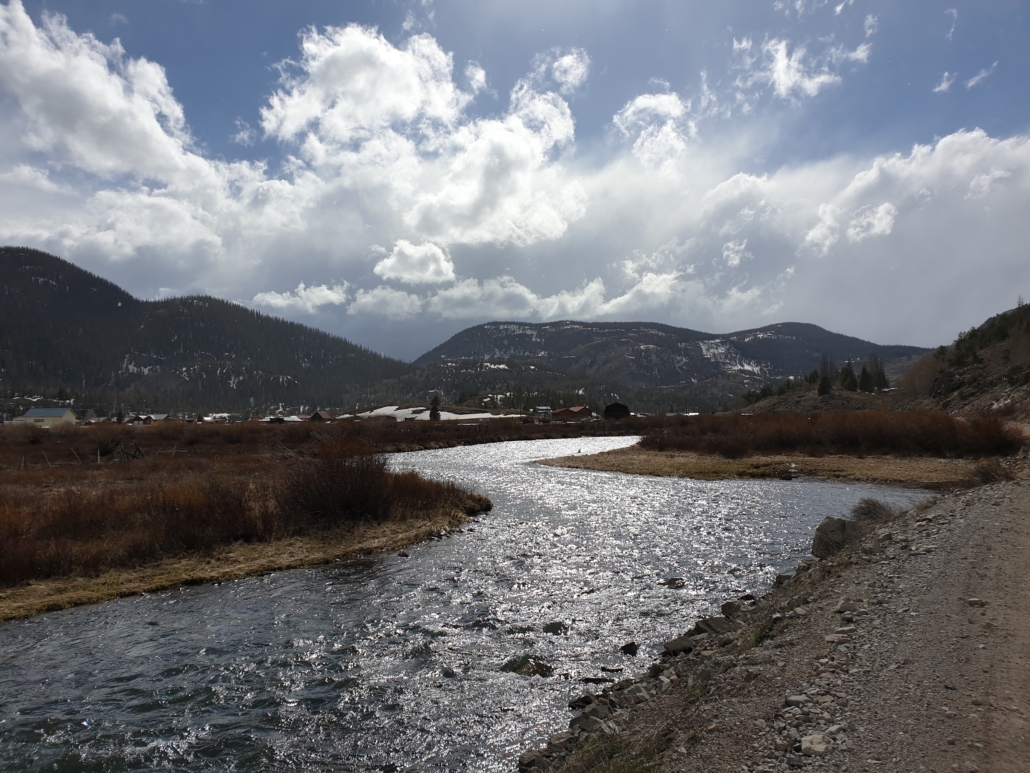 Up up up all day! Cold and windy all day!
We make it to this old mining town named "Platoro".
(Apparently the name Platoro is derived from Spanish meaning "silver and gold".)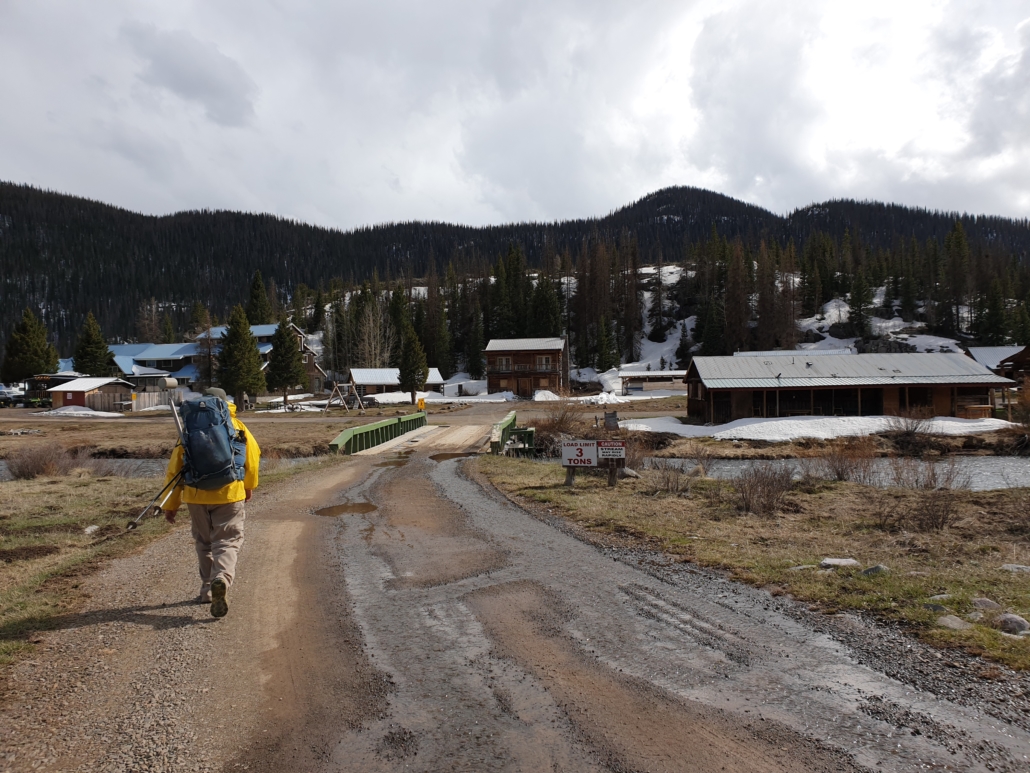 We are sooo tired and sooo cold, that we decide to book a cabin here. It is supposed to freeze again tonight, so we rather splurge and get warm!
Look at this!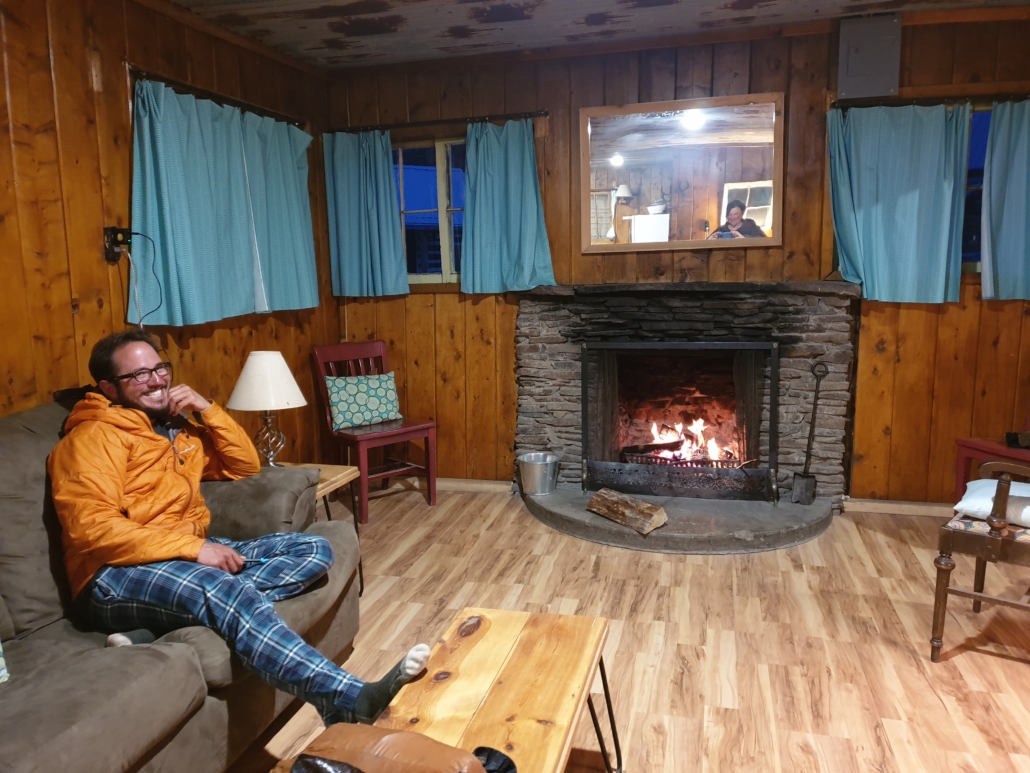 Big smiles!
The cabin is huge though so does not warm up at all, despite the awesome fire we made, so we both sleep in our sleeping bags anyway.
We head over to the restaurant for breakfast.
"Is it OK if I eat my veggy omlet here by the fire?", I enquire.
"Sure you can! Enjoy the best seat in the house!".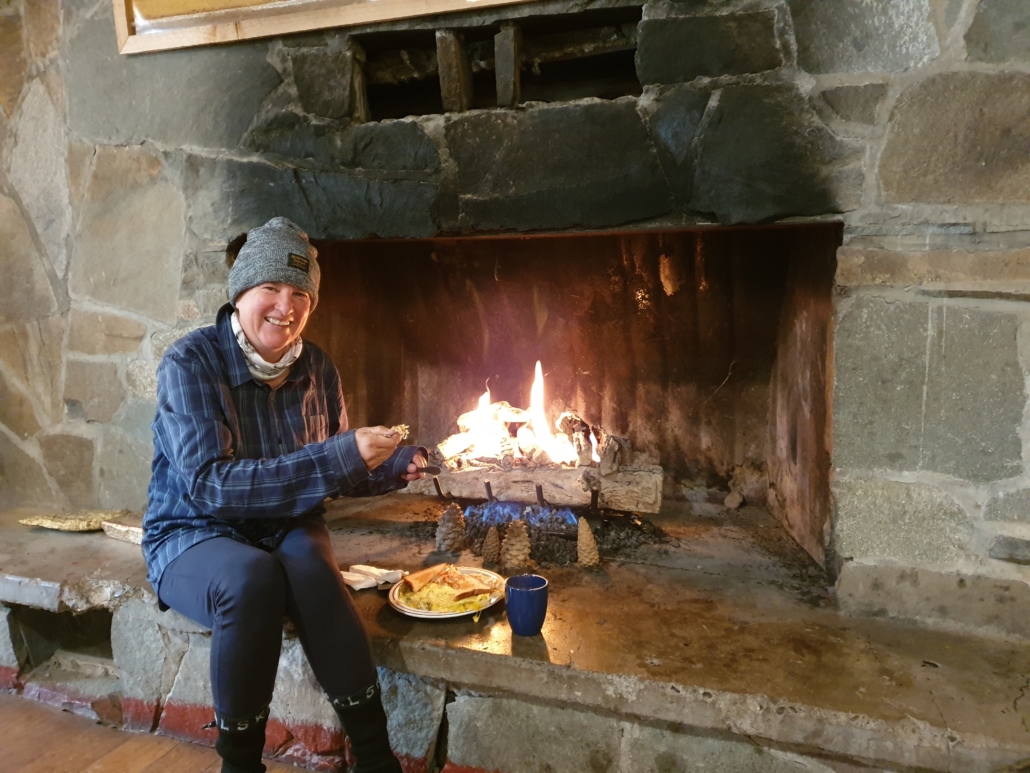 Alright, breakfast was awesome, now we have to get out into the cold and hike up, certainly into snow, as we have to get up over Elwood Pass, which is at about 11'600 feet (3'500 meter). And everything higher than 11'000 feet is packed with snow still.
Felix had done his map thing so he knows its not going to be steep and dangerous snow stuff.
Also… Felix had earlier seen on the map that there is an old tiny little wooden cabin up there by the Elwood Pass which one can book online. So we booked it!
We figured that we will make it there in about 1.5 days from Platoro, as we know we will be going slower than usual due to hiking in snow.
So off we go, leaving Platoro.
Our family member, Mr Evil Wind, hikes with us.
"I see a fresh bear print!"
We are obviously in bear country!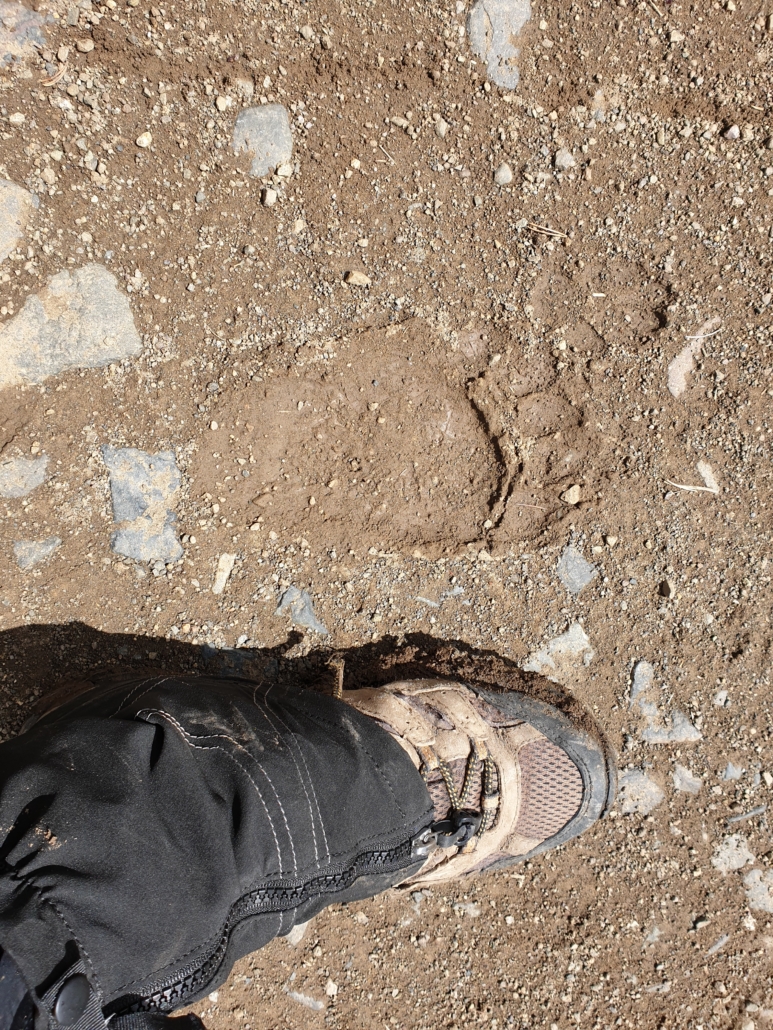 We reach the snow level. And we get some blue skies! Nice!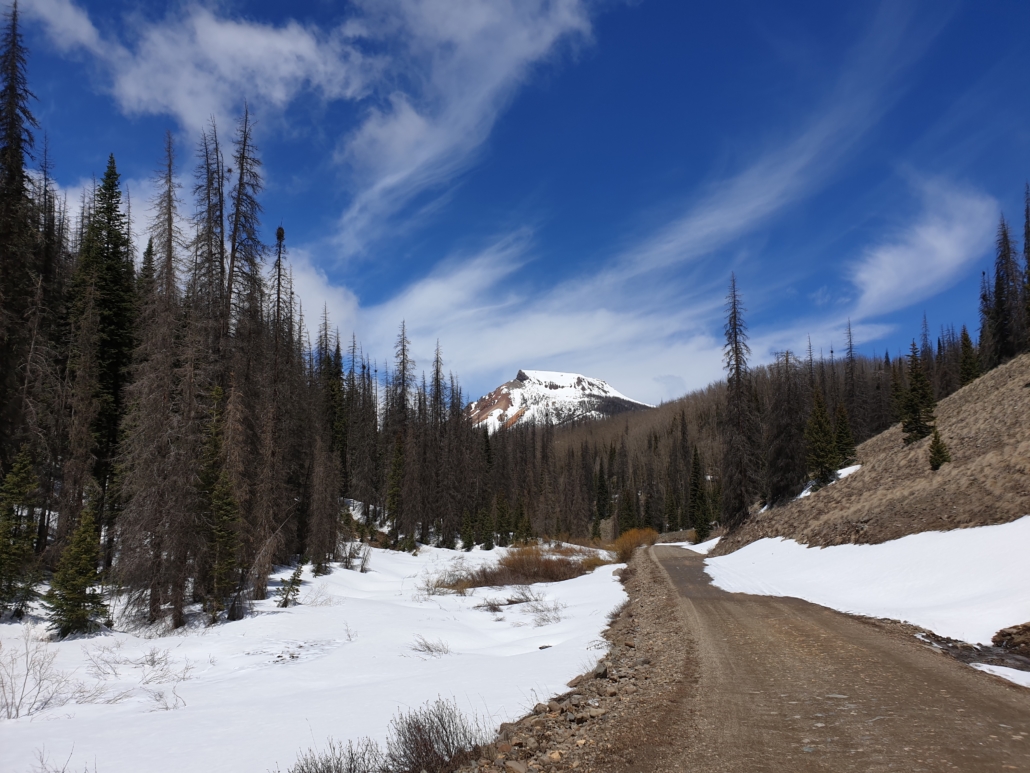 Higher and higher up we go…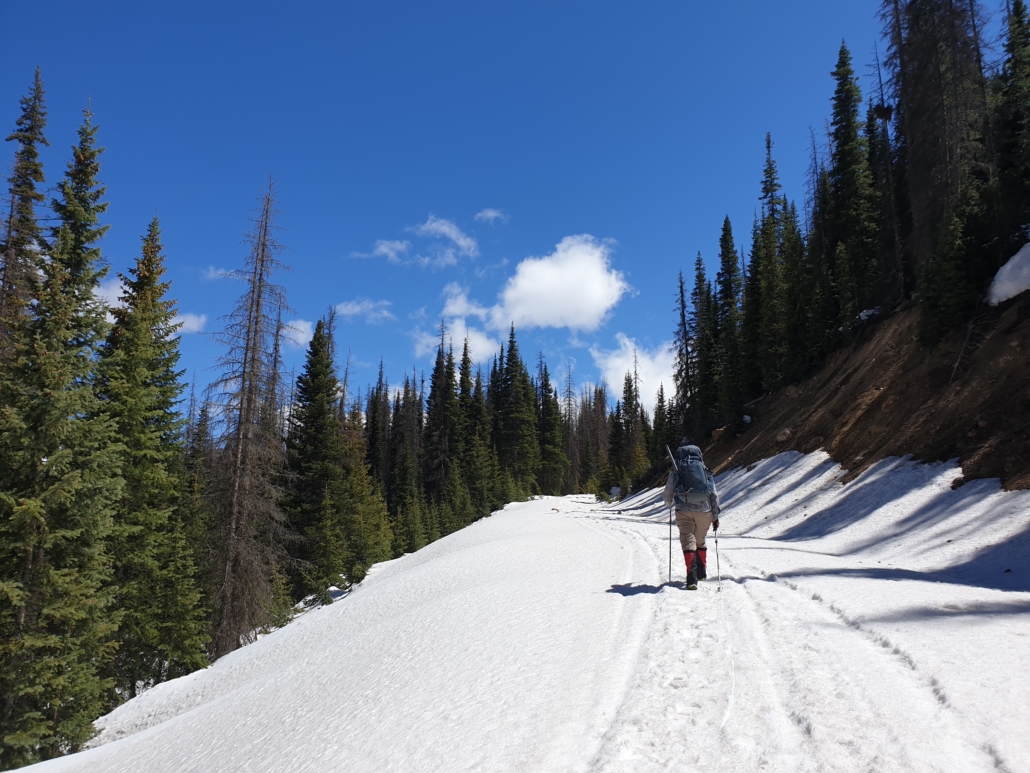 Ah no, the weather turns cold and nasty again.
And we seem to be too fast! We booked the cabin for tomorrow, but we are rather close to it already. But as the weather turns nasty, we discuss whether we should just head up tonight and hope that the cabin is free. And if it is not free, we just knock on the door and see whether the people in it will let us stay too. We figure if some people booked it, they will most likely be other CDT hikers anyway.
So up we go, into more snow.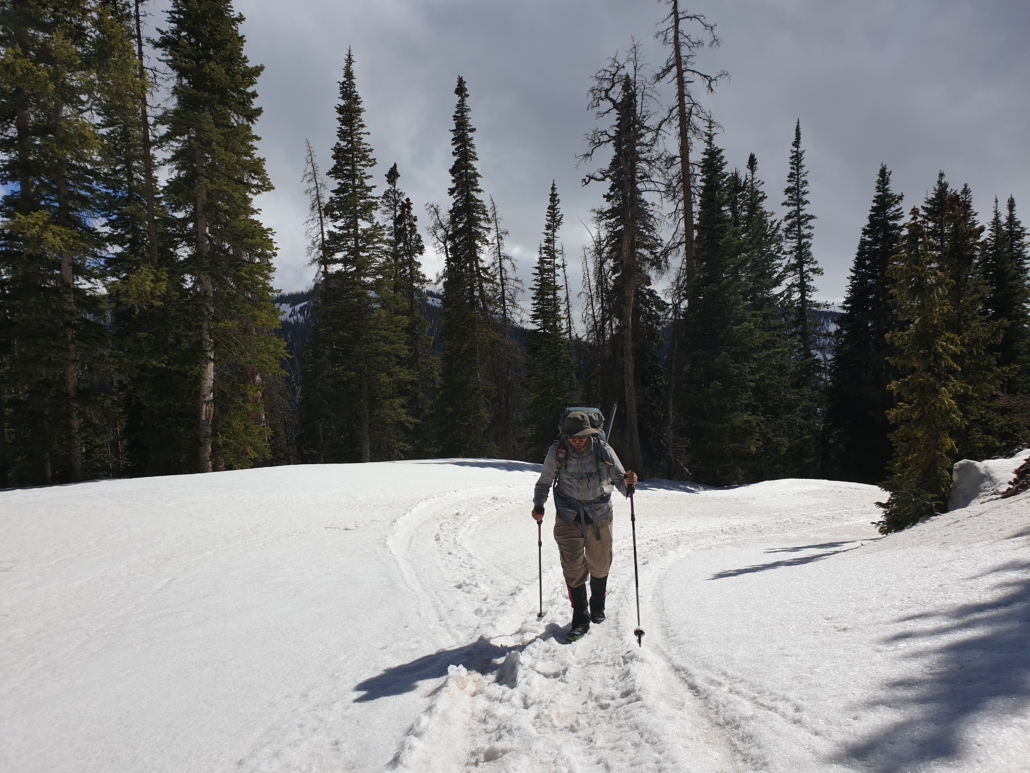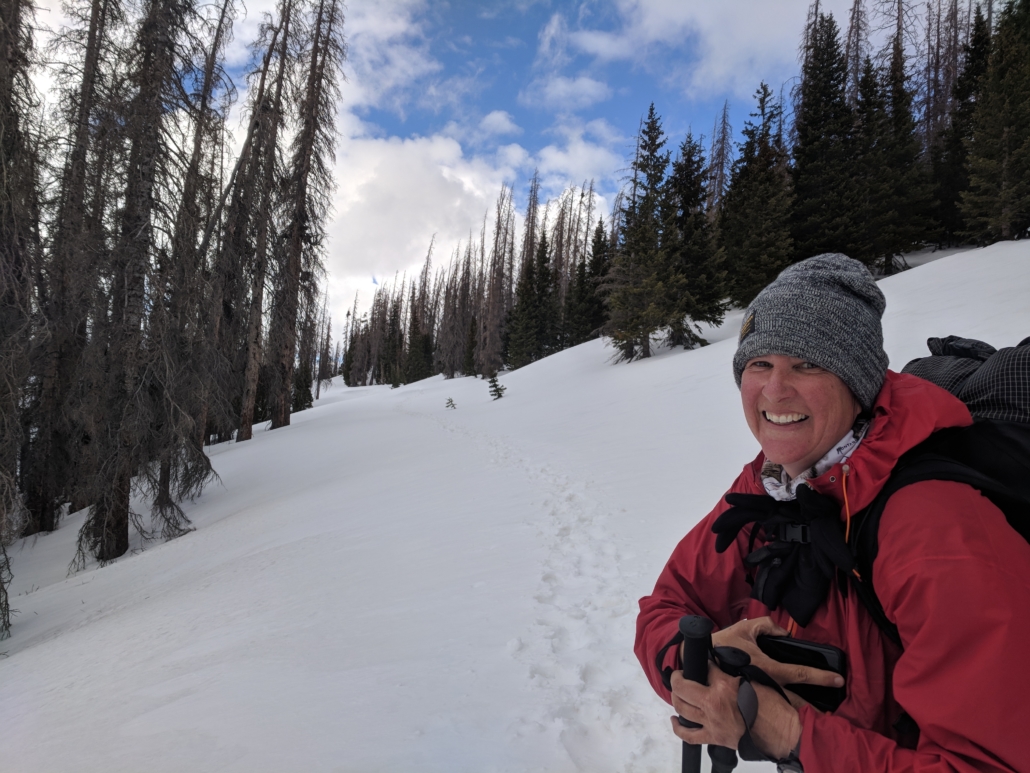 The weather turns nastier,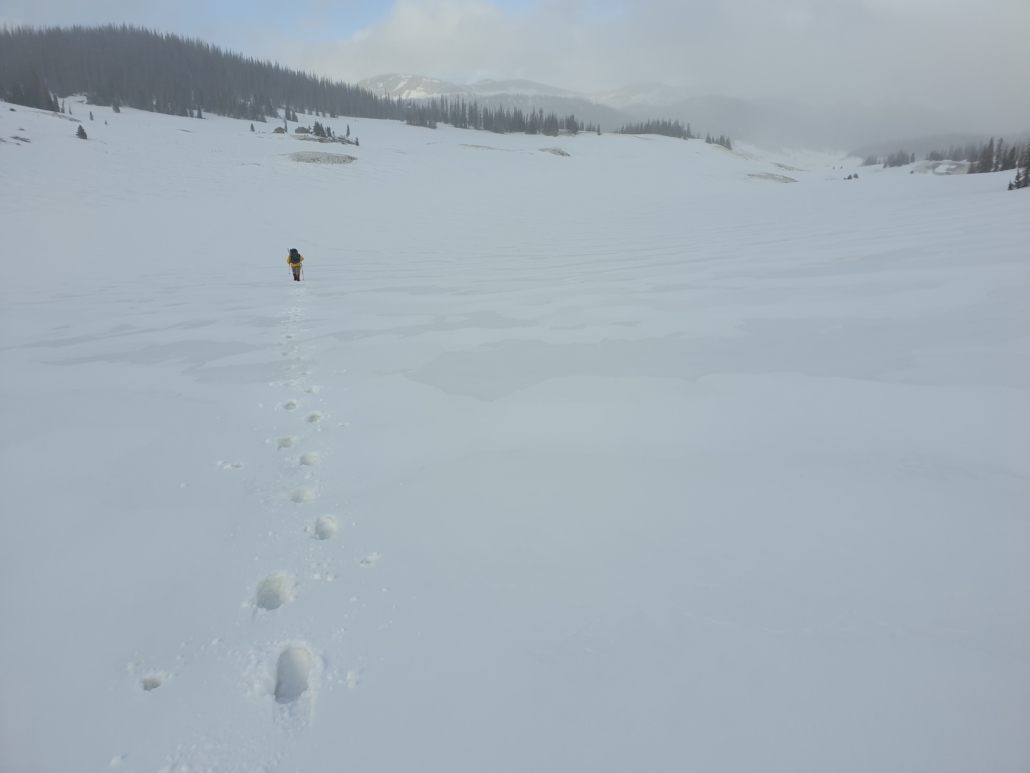 … and nastier…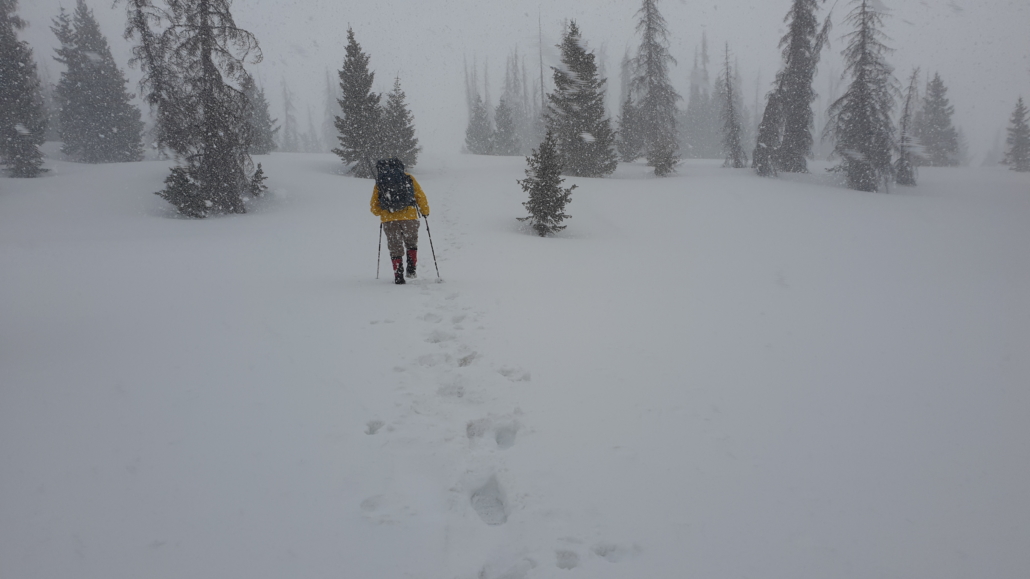 "Holy shit!"
We are in the middle of a full-blown snowstorm now!
"I can't see a thing anymore!"
I make sure to keep up with Felix! I do not want to loose sight of him in this whiteout!
Oh man. This is not funny anymore!
We can't see where we are going. It's snowing hard now. According to the map and GPS, the cabin should be really close now though. Maybe 1.5 more miles.
"Man!"
I am so glad there is indeed a shelter up here! It's getting late and we are in the middle of a bloody snowstorm at 3'500 meter!
We tramp through the fresh snow.
"I can see the cabin over there!!", Felix says!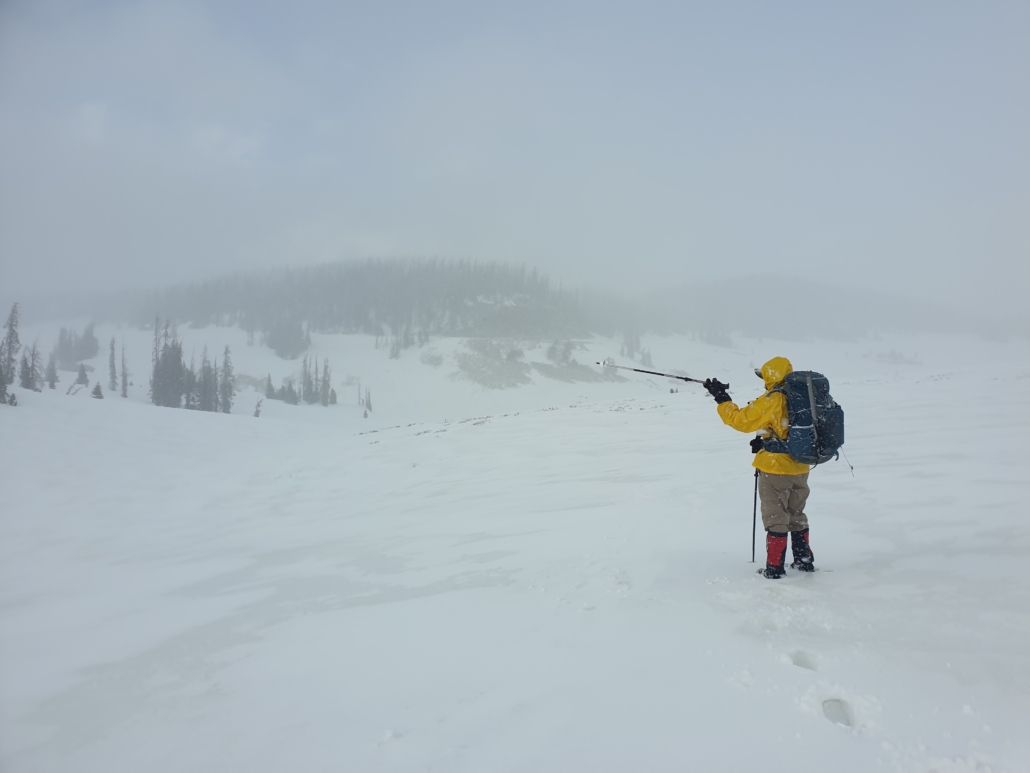 "Oh hurray!"
That makes me feel much better! We head over to the cabin, and see that it is actually occupied.
Hmmm, it takes some guts to just knock on the door, because the people in there have booked and payed the cabin and they will not be amused to have two strangers knock on the door, asking whether they can spend the night with them….
But we have to do what we have to do.
Felix knocks on the door.
"Hi guys, can we come in?"
After an awkward silence which lasts a little too long, the three people in there let us in. As we thought, they are CDT hikers too!
After a little while we get comfortable with each other, so it seems totally OK with them that we cram in there too for tonight.
The cabin is tiny, so we kind of step on each others toes (five people with five packs is too much for this place) but I love it anyway in here!
It's amazing to be in this warm (very very hot actually!) cabin while the storm is out there!
We melt snow on the stove to get some water and warm up some food! No cold soaked dinner tonight!
We don't really sleep well (or perhaps don't sleep at all) as it is way too hot in this cabin with its wood stove.
But that's OK.
The storm is gone, I see the most awesome sky while I go out for a pee in the middle of the night.
Oh how very very gorgeous! It's been weeks since I saw the stars at night! And up here the sky is AWESOME!
Weather looks good in the morning.
Aha! This is how Elwood Cabin looks like in sunshine!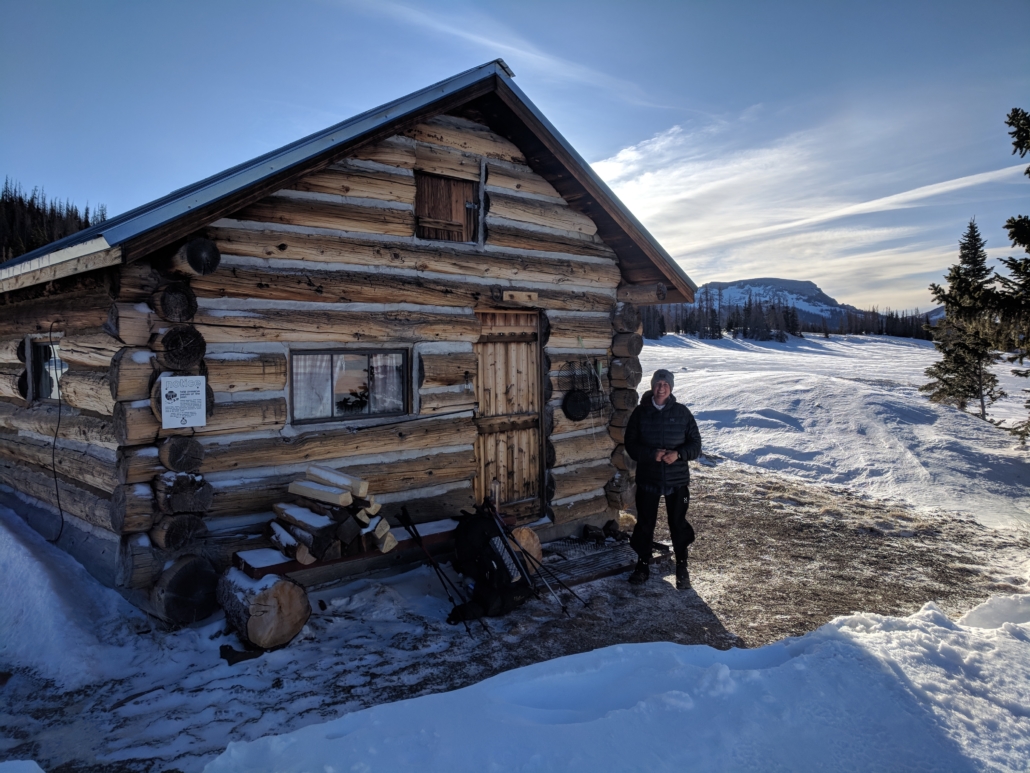 (Image by Felix).
The snow is now frozen, we can just comfortably walk on top of it without postholing (aka sinking in and swearing all the time).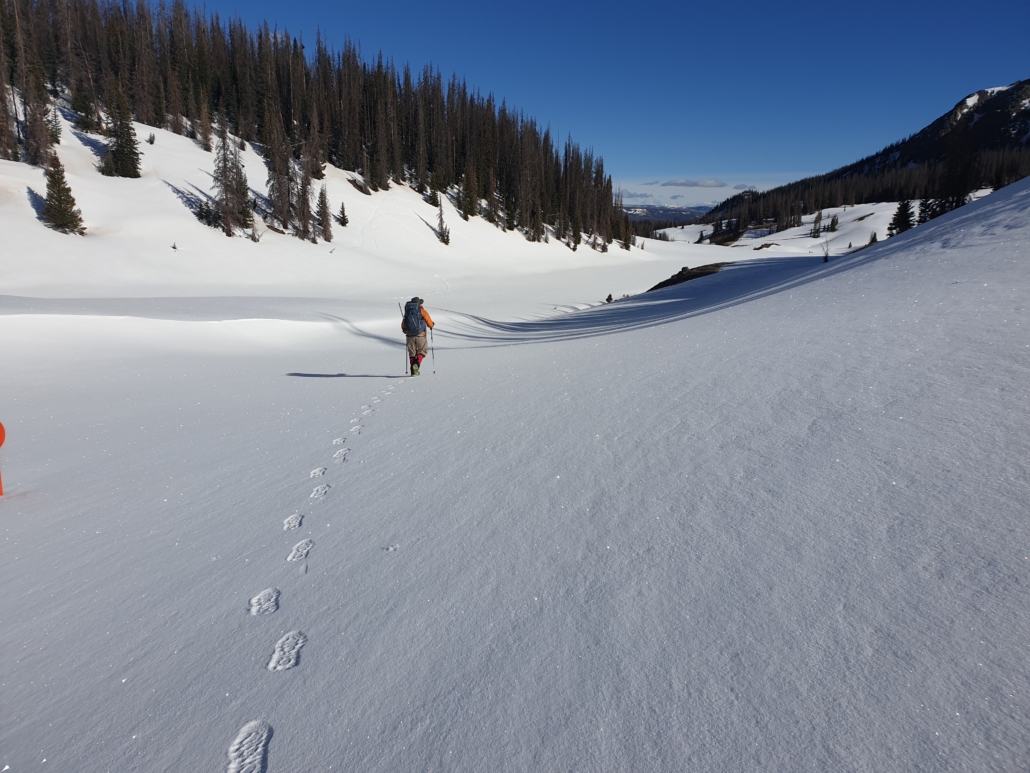 We walk in this frozen winter wonderland until we reach a cleared road, on which we will now hike down towards Spring and towards the town of South Fork.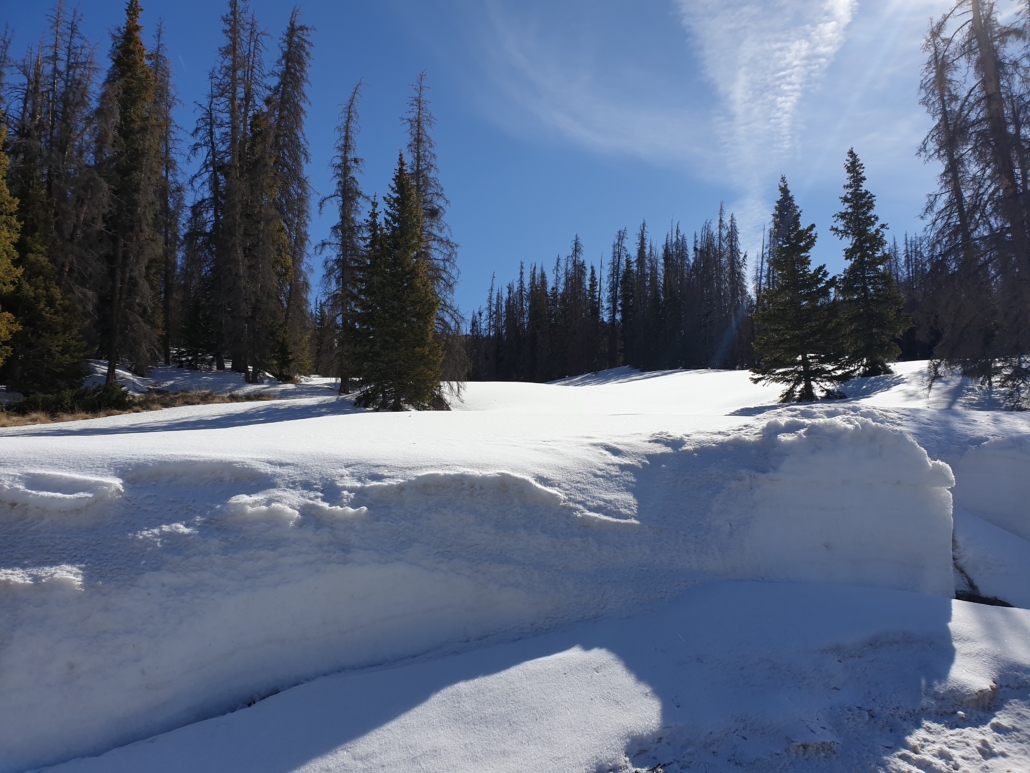 It has been an amazing adventure and I am so happy for having been able to do this section! We see and explore and experience oh so very much on our CDT, but this little excursion up onto and over Elwood Pass  will forever stand out for me! And I am pretty damn sure that Felix loved it too!
Well, so much for that! Let's see what comes next!
http://www.earlymorning.ch/wp-content/uploads/2019/05/20190529_084303.jpg
3024
4032
Heidi
http://www.earlymorning.ch/wp-content/uploads/2016/12/Heidi_Bronnimann_logo.jpg
Heidi
2019-05-31 02:53:23
2019-05-31 02:53:23
Onwards in the Snow