Off we drive into Albuquerque, aka the "Meth Capitol". (You guys who have seen "Breaking Bad" know what I mean!)
The bus drops us off outside Albuquerque.
Aha, the connecting train into town leaves in 4 (!) hours.
Hmmmmm?!
Felix, me, and two other hikers stand here now at this forgotten, drafty little bus-/trainstation and wonder how we should spend the next four hours.
Four hours? Really?
There is nothing out here!
Felix takes out his phone.
I know when he does that he comes up with a brilliant plan.
Because he is Felix.
(Sometimes I don't even bother to think and come up with a plan by myself, because I know Felix will come up with a plan faster than I can even say my name.)
"I checked Uber,"
he says,
"we could all get a ride for a total of USD 20 right into REI in Albuquerque and split the cost."
"Bloody brilliant Felix!!"
REI is the "one and only" outdoor store chain here in the States and its awesome! I have been in one during the PCT and have ordered lots of gear online!
Excellent! So Felix orders the Uber, and we all four step into REI before we even realise what is happening!
I check out the sleeping bag department and find a new fluffy and warm sleeping bag for me (Magma 15), Felix checks out the shoe corner and finds what he needs. Also, he has a good look at the maps! Because there is this problem coming up….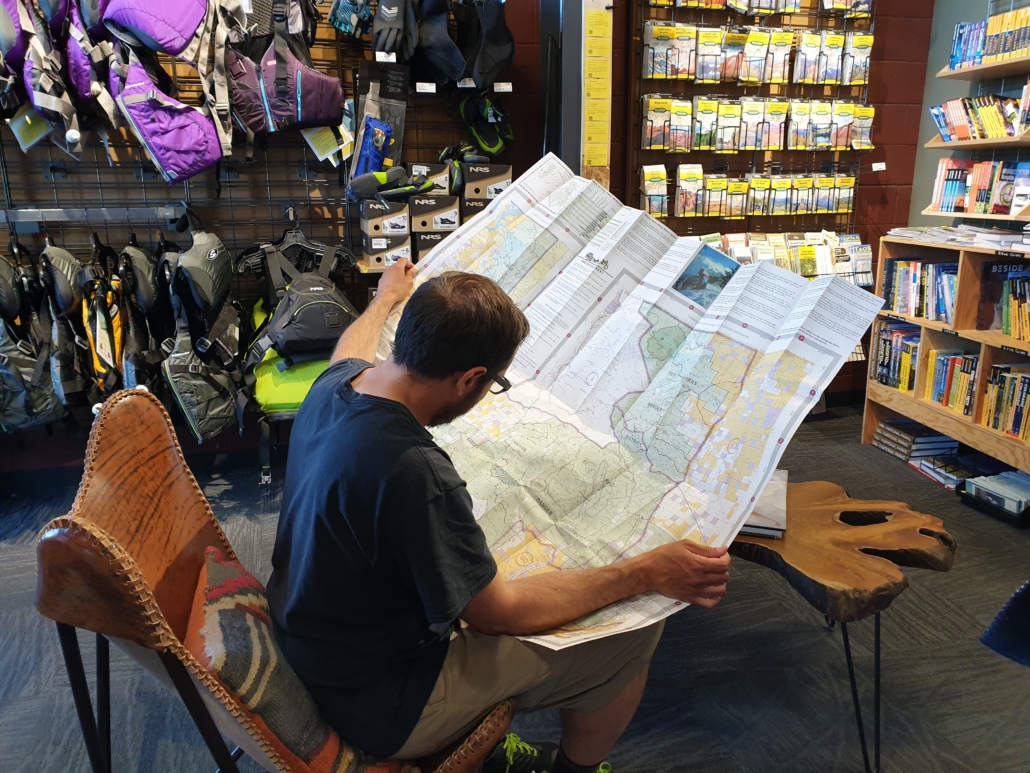 A great part of that last section in New Mexico from Ghost Range to Chama is covered in snow. Plus, there is supposed to be a river crossing which is apparently "not doable" (!) because the water is currently raging…
(And all of the trail in Colorado is buried under deep snow too, but this is another story..)
But we want to "finish" New Mexico!! We have come so far on a strictly continuous footpath, that we just absolutely want to make it to the Northern border of this state!
It's not negotiable.
So Felix studies the map in order to find a way around that river crossing.
OK, the work is done. Now comes the fun part: we order another Uber and let us drive through Albuquerque right to our AirBB.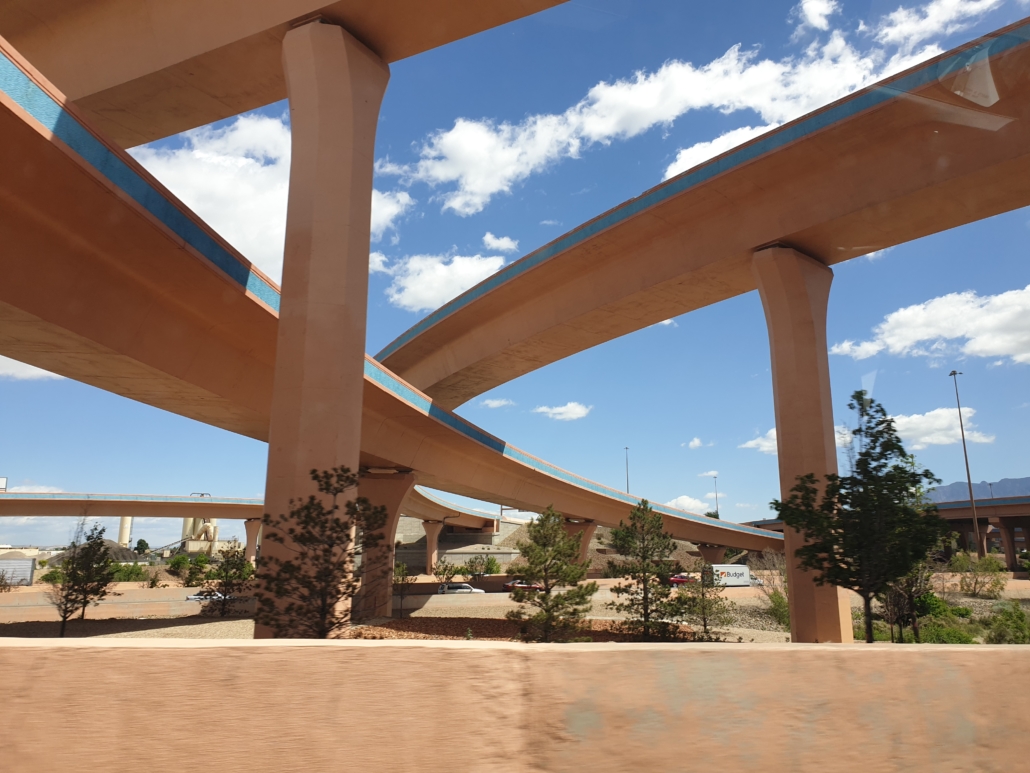 We hang out.
We walk around our neighbourhood in the old sawmill district (which is outstandingly amazing with its very old and super charming Adobe houses from the 17th century).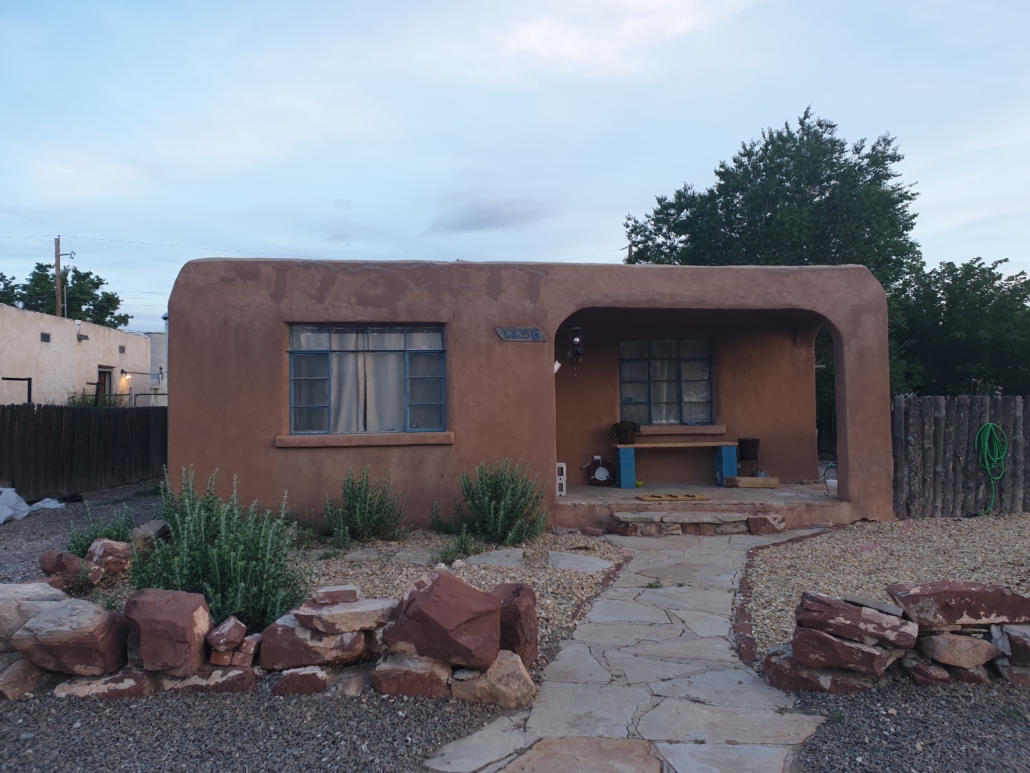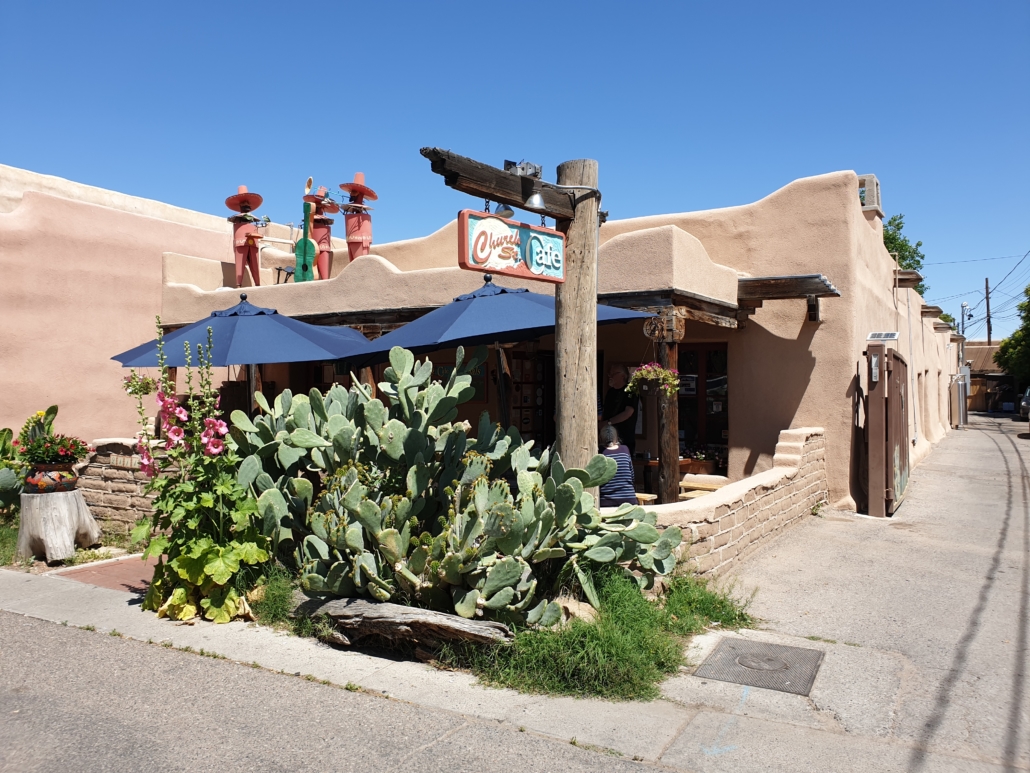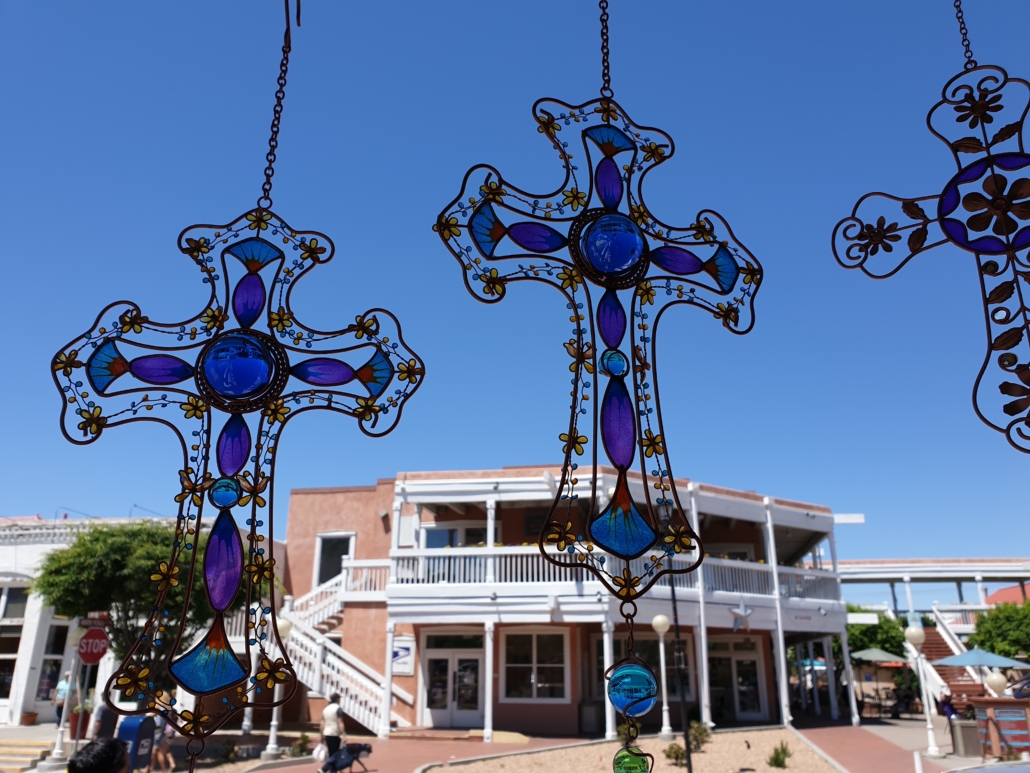 And, also, our AirBB is equipped with Netflix! And Felix has never seen Breaking Bad! So we start watching it, as we think it is appropriate to watch Breaking Bad in Albuquerque!
We keep watching.
"Let's do another episode".
"And another one".
We seem to be binge watching!
Episode after episode!
Oh dear!
But it's OK! We can do this!
We are tired and hurt and just walked 643 miles, so we deserve some hanging around!
24 hours and somewhat 10 episodes later, we decide to get out and breath some fresh air. We walk around the neighbourhood and bump into Jessie Pinkman's RV!!"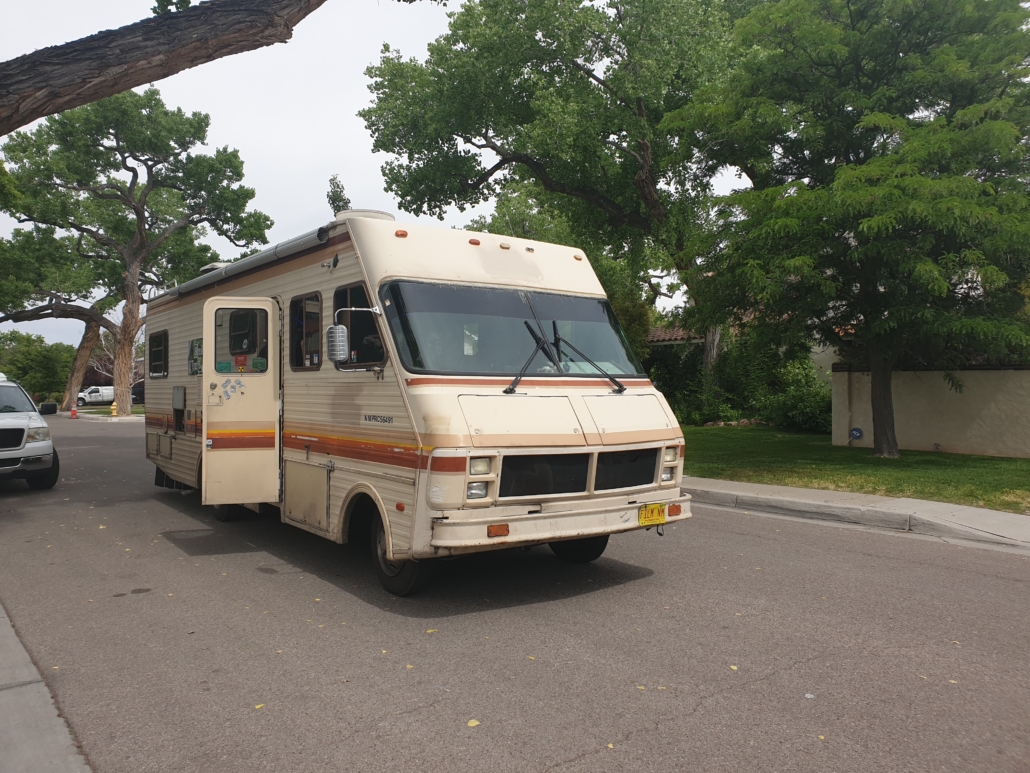 "Hilarious!!"
Alright, time to pack up and go back to our little city of Cuba, where we had left the trail three days ago.
Our bus arrives back in Cuba at 4pm, we go to Mc Donald's for some more frenchfries and ice cream and head out onto the trail. It's the section to Ghost Range. There will be snow, but it will not be much (I think…).
We hike until it gets dark, camp, and get up to tackle the mountain.
Again, it is super cold this morning. I hike with gloves, wooly hat and puffy. Even uphill. We crisscross a stream.
First snow. Not too bad.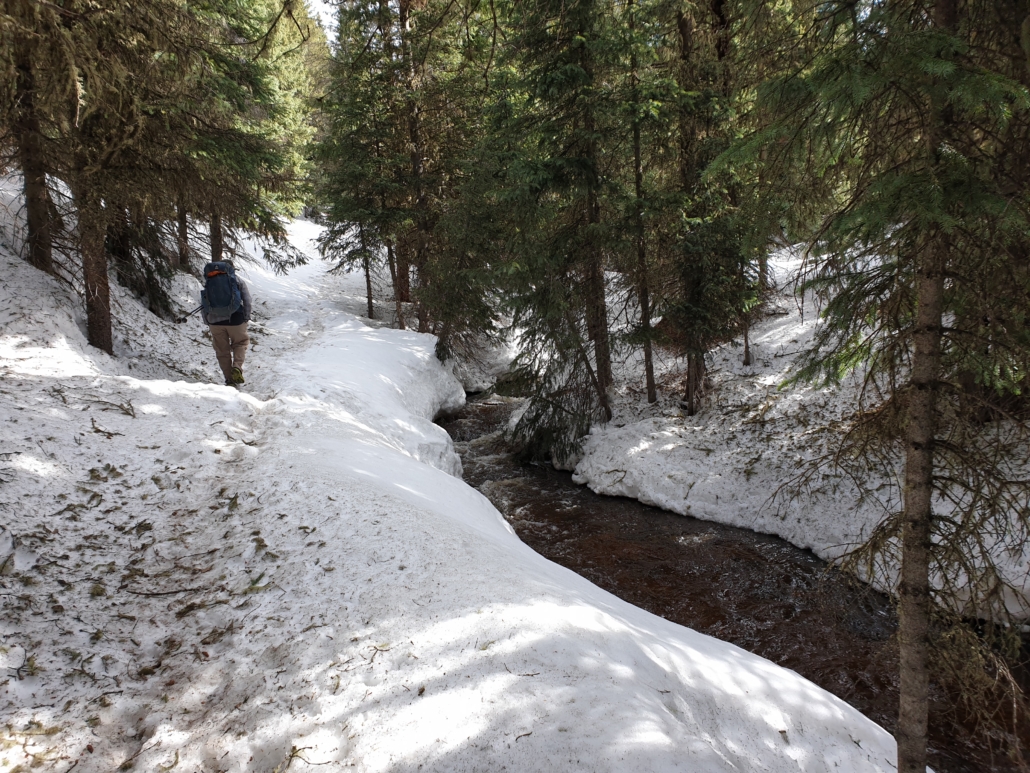 More snow, still not bad, actually beautiful!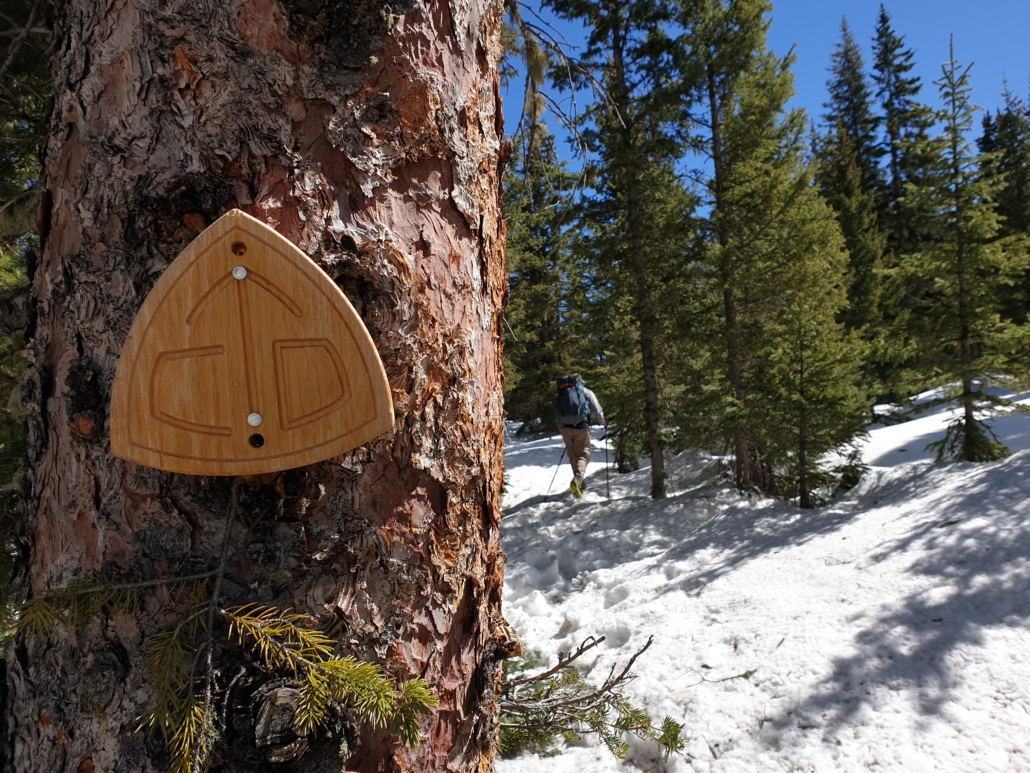 Oh man! We are up on a plateau now and it is amazing up here! We come towards the source of this stream we had crisscrossed earlier.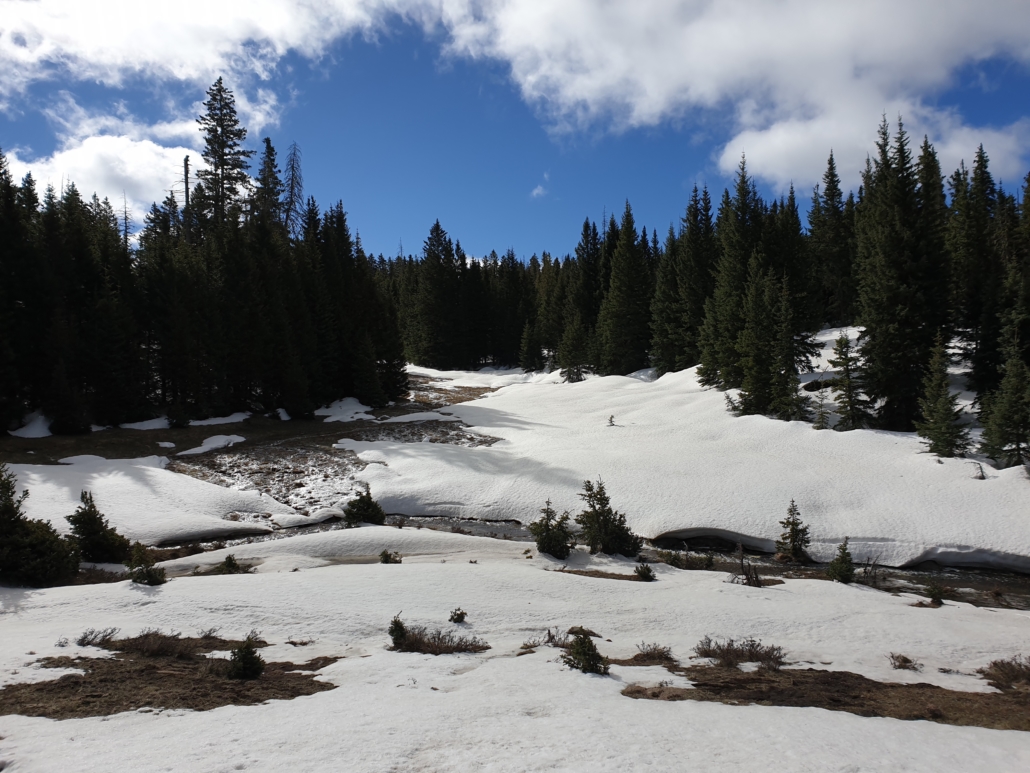 It's so cold up here. Felix and I are both freezing, specially with this persistent cold New Mexico Wind (Felix calls it the "Evil Wind), which is so familiar to us by now.
Oh so cold!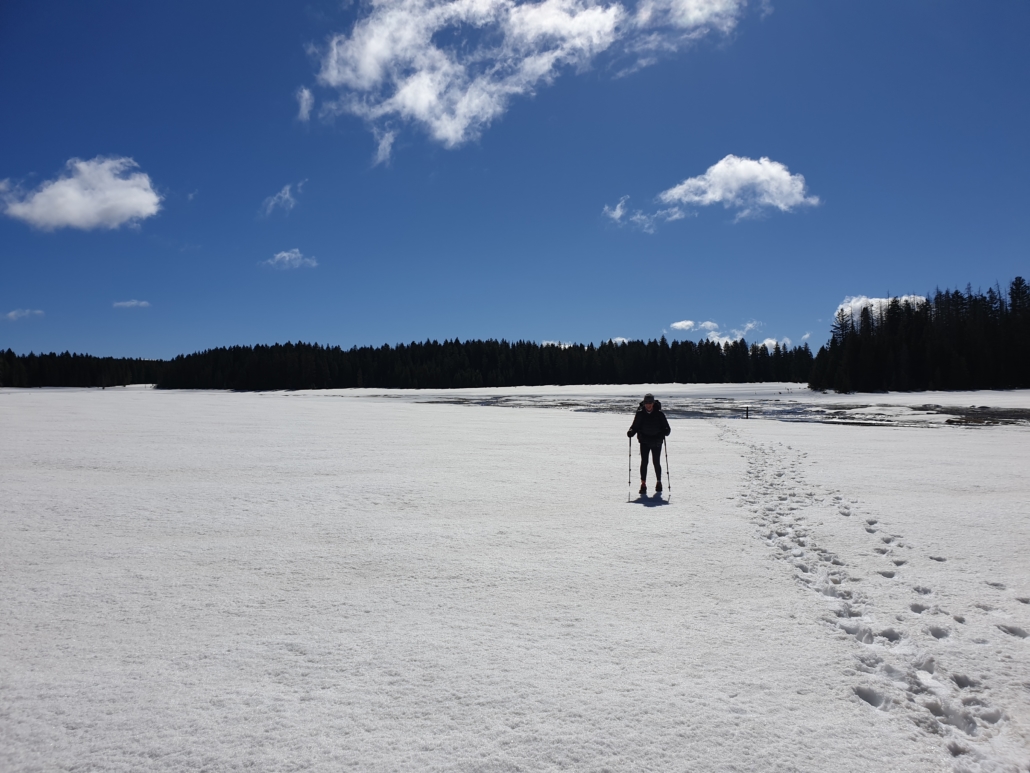 (Image by Felix)
Oh, the path ends. We seem to have to wade through the water here! But there is ice on top of the water!
It's so cold!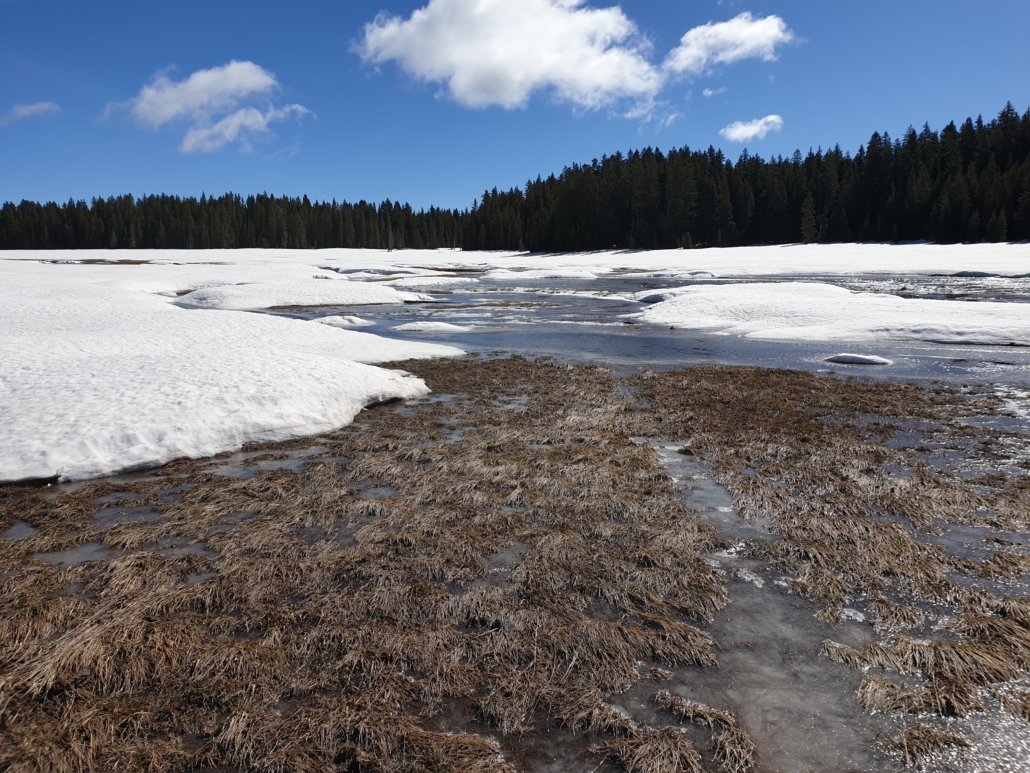 "Let's walk upstream a bit and see whether we can find a better way to cross that icy water", Felix suggests.
So we do, Felix goes in and hops from snowblock to snowblock.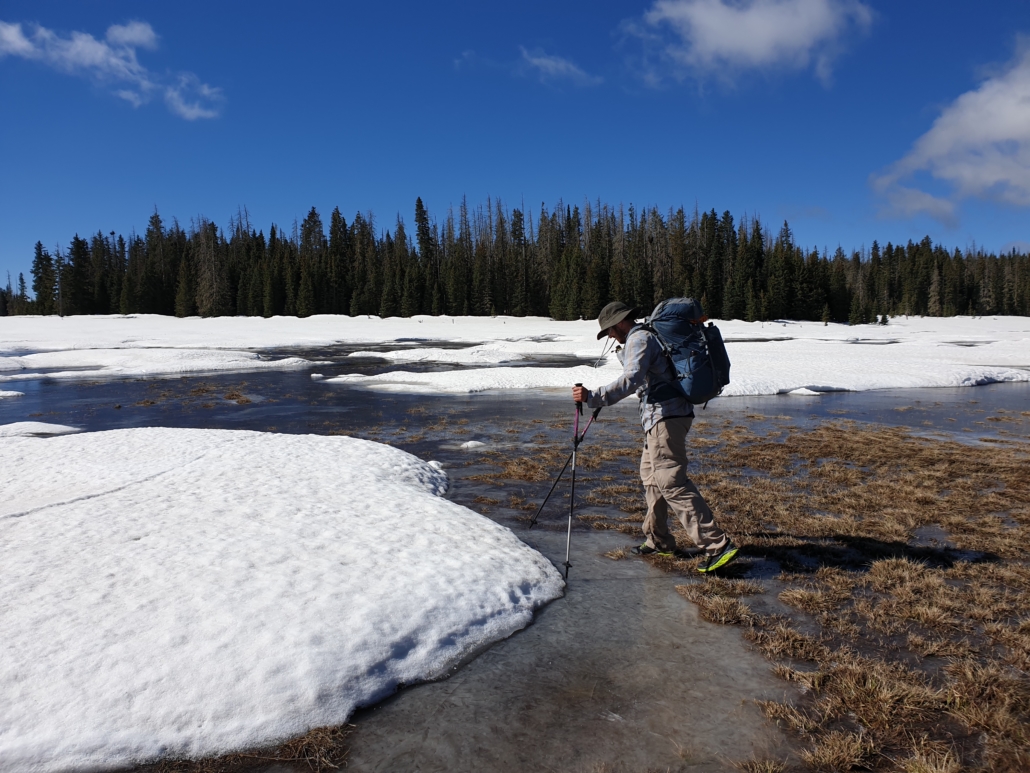 I follow.
"Hmmm, where exactly did he go so elegantly, without even getting his feet wet?"
I try it too.
I step on some ice.
"Fuuuuck!"
I break right through the ice and sink almost hipdeep into the icy icy (!) water.
"Oh fuck oh FUUUCK, brrrrrr, I need to get out NOW!"
I hurt my leg by trying to crawl out and panic slightly as I have a hard time getting out.
Made it back out to the shore though.
Brrrrr.
"Nope! I am done, I go back to where the river is wide but not so deep."
With wet and ice cold legs and feet I walk back rather quickly.
I see that Felix already made it over to the other side WITHOUT ANY PROBLEMS WHOTSOEVER!!
Bloody hell! I keep wondering how this guy does this!
In fact, whatever he does, he does it right. The longer I hike with him, the more I see how very skilled this guy is.
Amazing.
Anyway! I have to cross this ice cold stream now. Its not very deep here, so I intentionally step on the ice, so that it breaks and I don't slip and fall on it.
"Whhhhomp", "whhhomp", "whhhhomp" , I step and break through the ice into the freezing cold water.
The whole maneuver takes me about two minutes maybe? I can't really tell, but it feels like forever.
Done. Not so Happy Heidi made it to the other side. Feet are FROZEN.
Felix is waiting here on the other side for me.
Onwards we must go.
With wet and frozen feet/legs.
The wind makes sure we don't get warm. My wet trousers freeze and have little ice cristals on them.
But belive me when I am saying:
"I love being up here anyway!!"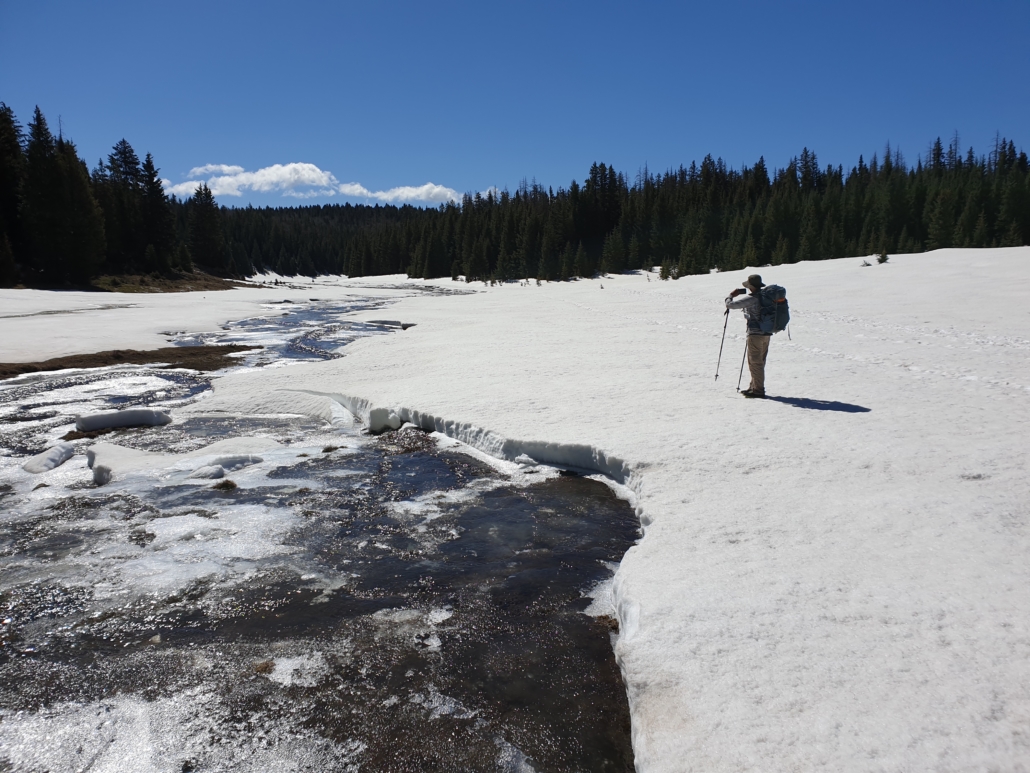 We get down into lower elevation, where the snow has transformed into thick, sticky mud! (Ah no, not again!)
Ah here are Dogma (she hikes the CDT with her dog!) and Tim. They have a post snow hiking break. Dogma is trying to unfreeze her feet.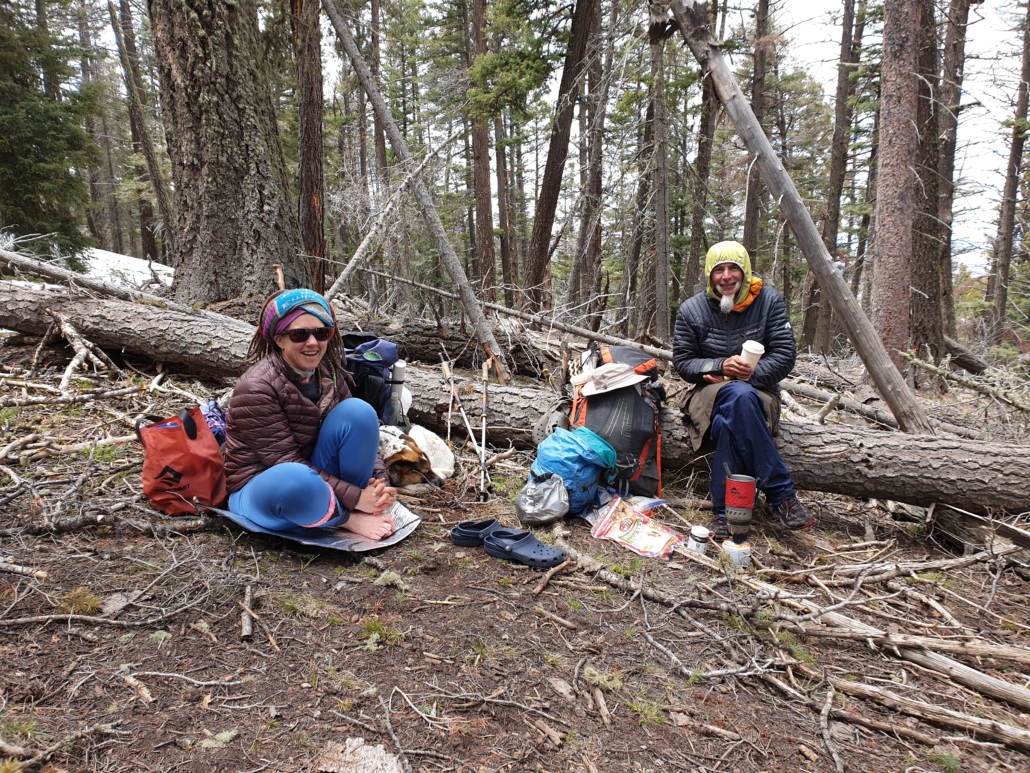 The forest here is rather chaotic, the wood is all over the place!
This means for us: blowdowns to climb over!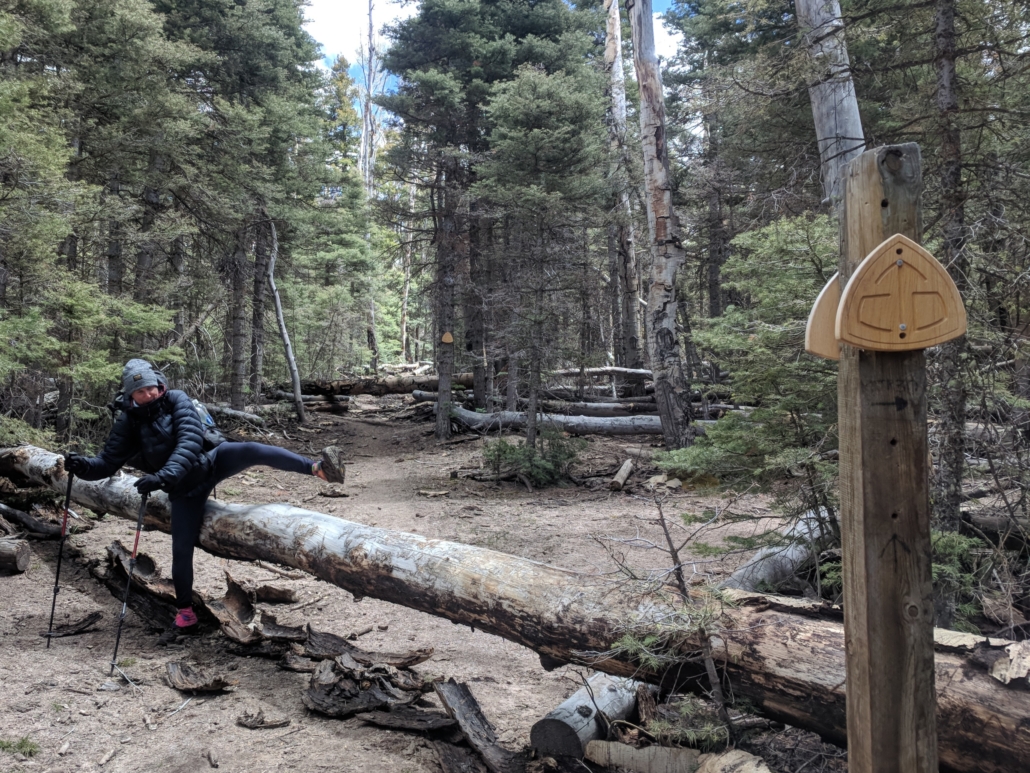 (Image by Felix)
Oh wow, this was a hard day I guess! I am knackered and so is Felix.
We are not quite done yet though, but the hiking gets much easier down here and it's rather pretty again!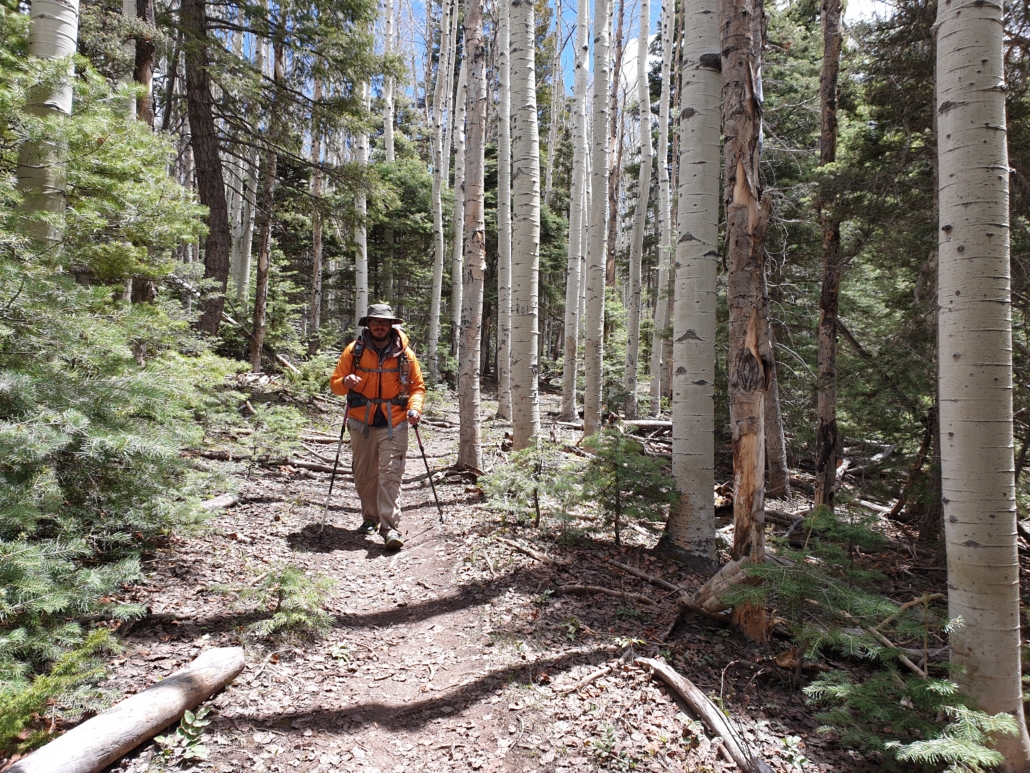 Enough now! We call it a day and camp.
Hopefully it is not going to be freezing again tonight! Although, I have to say, my new fluffy Magma does a great job keeping me warm at night! I can now sleep with three layers only! Don't need the rain gear anymore!
We plot on towards Ghost Ranch, the scenery is as always ever changing. Weather still grey, but it does not rain today!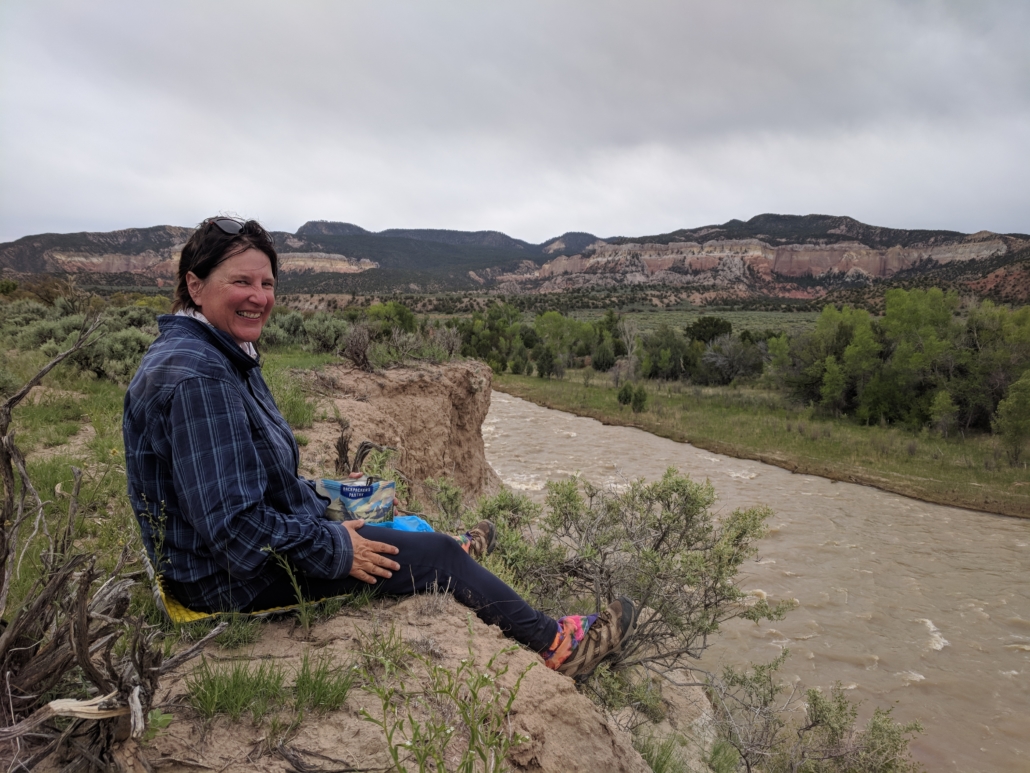 We camp here by the river tonight, I listen to the water and am very cosy in Maggie.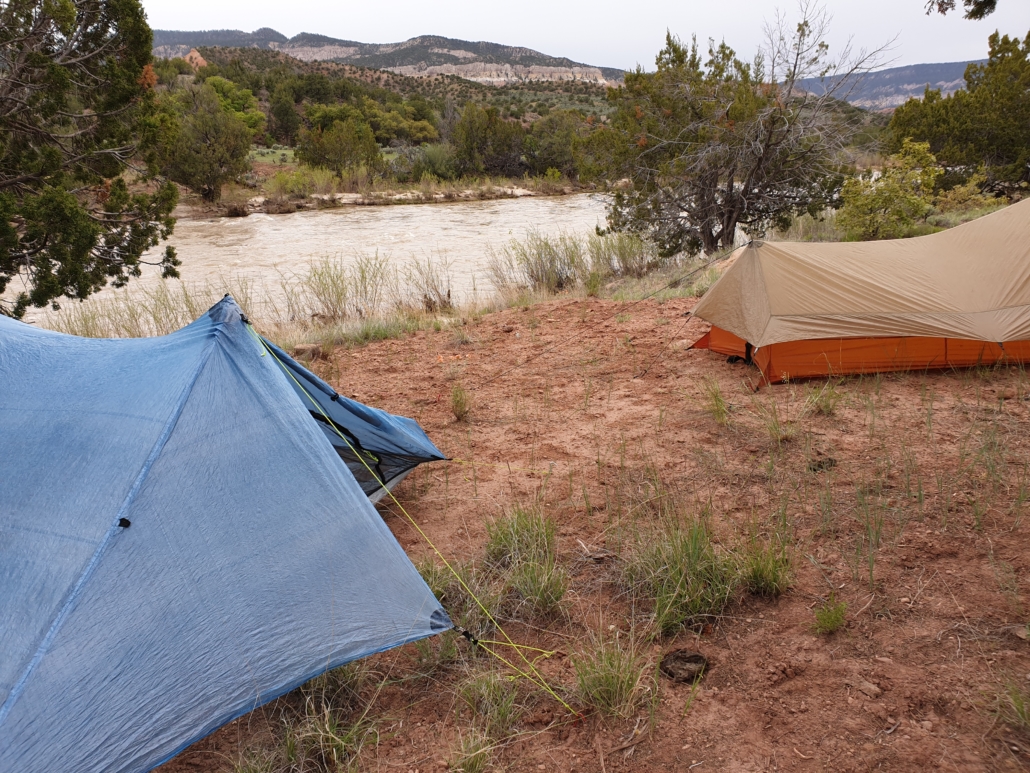 We start hiking at 5am this morning, so we head out with our head torches switched on.
The hike into Ghost Ranch is a little confusing, but we get there! We pick up our resupply parcel and stay for the night.
This is how a hotel room looks like as soon as two thru hikers arrive: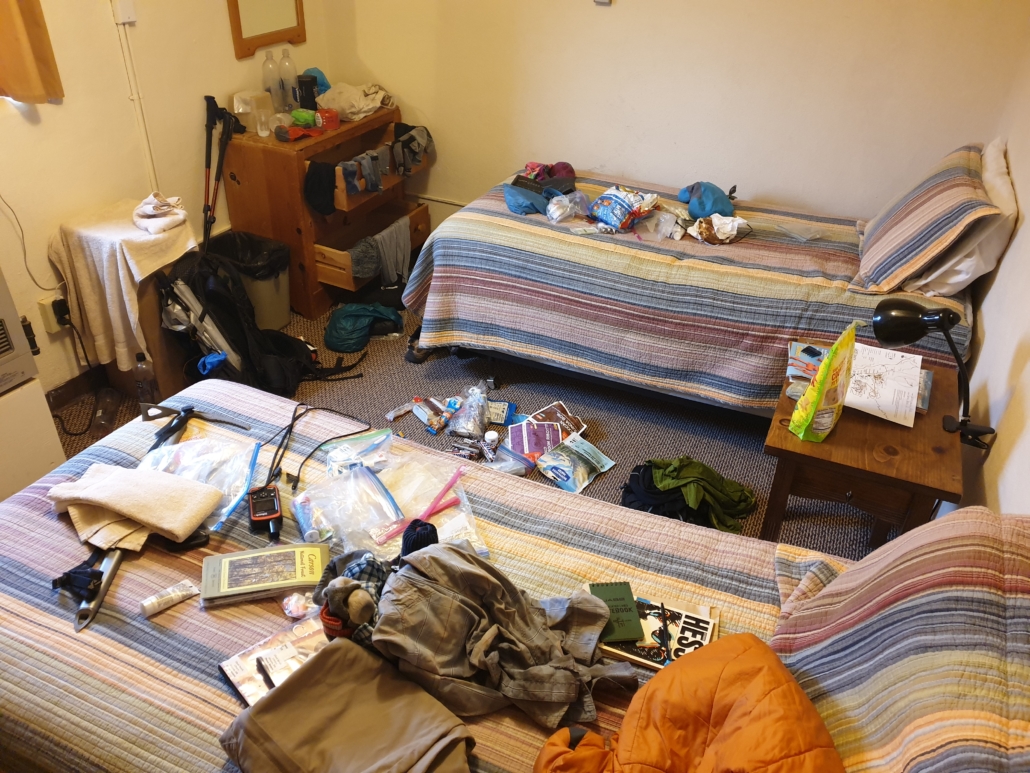 And this is how Felix looks like when he is tired: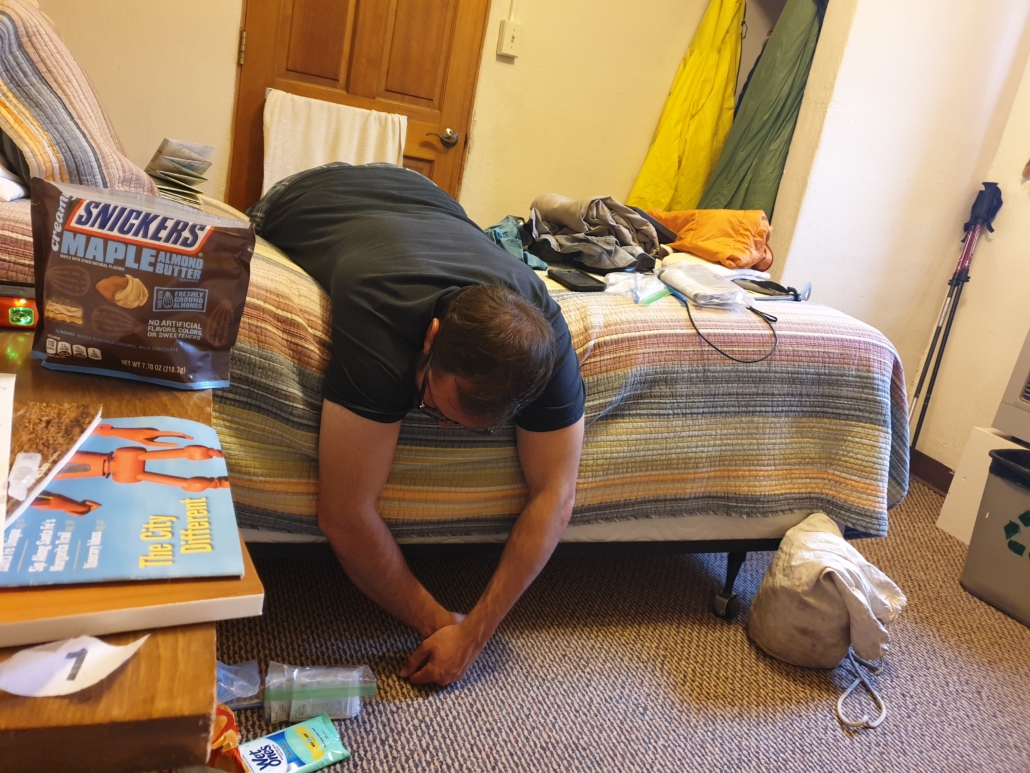 Alright, off we go, we head on direction Chama, right by the state border to Colorado!!
We climb up and up. The weather gets bad. Thunder and lightning…
It's snowing!
Whiteout!
Icecold wind!
"Brrrrrr! Again!!!"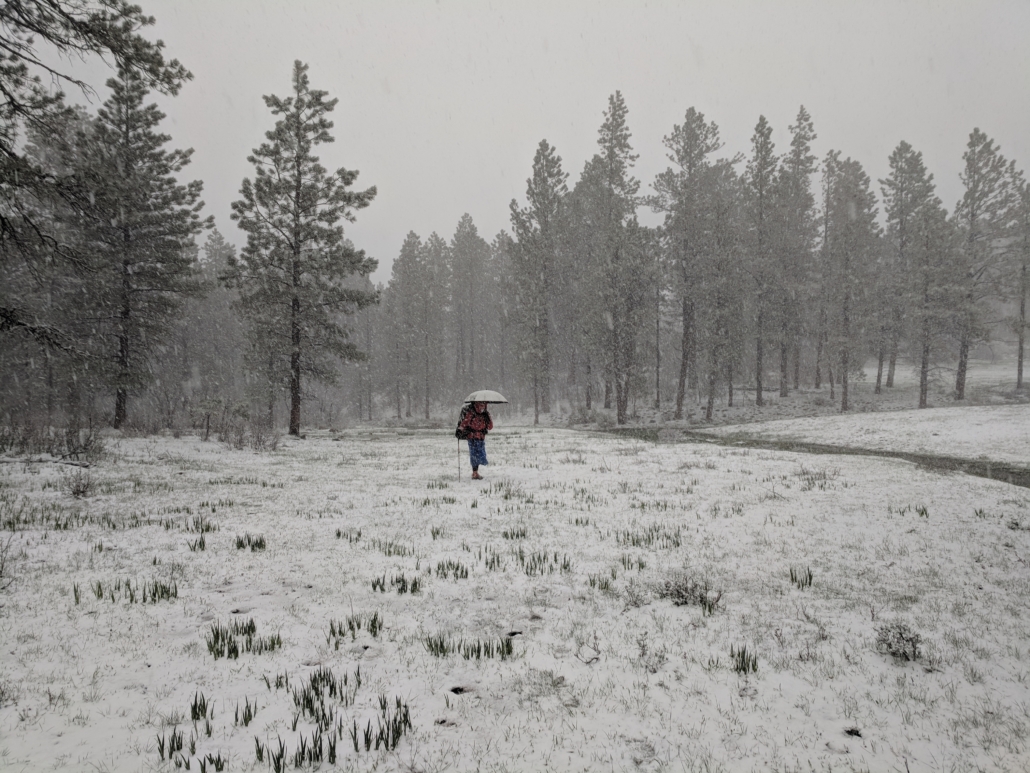 (Image by Felix)
We look at each other:
"Seriously?!?"
"Let's bail out to lower elevation, this could become really really nasty tonight!"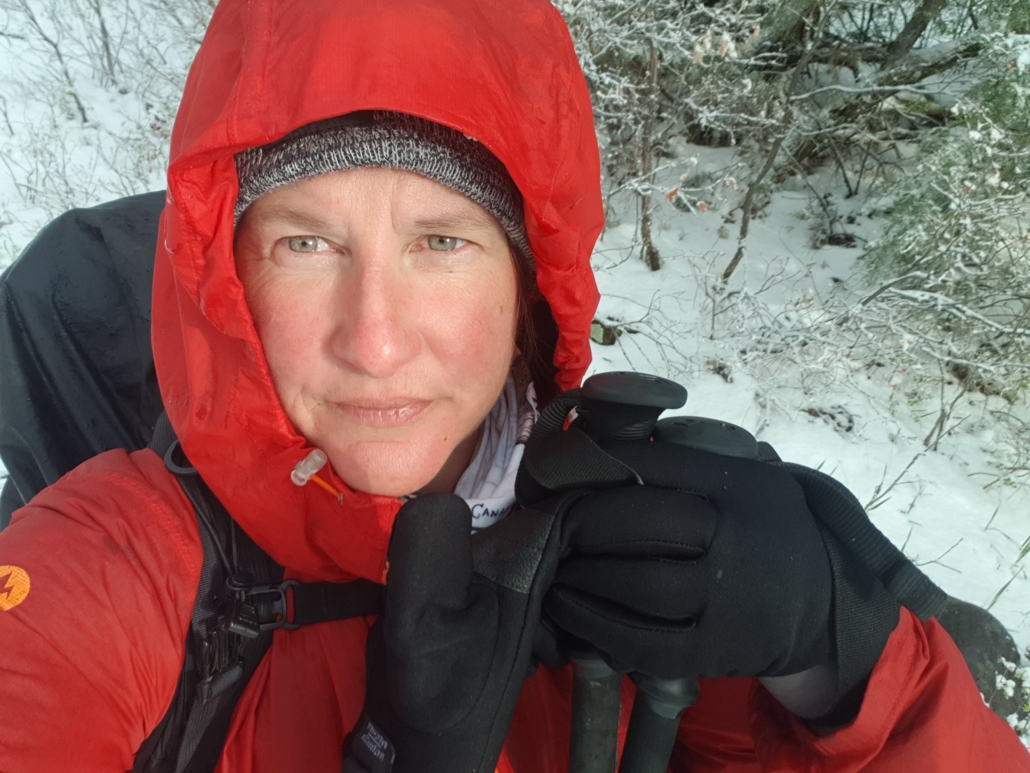 Felix takes out his phone again, and you know it by now, he comes up with a brilliant plan how we can get out of this misery.
He leads the way downhill.
There is much less snow down here! But still plenty for the poor little flowers which were hoping for Spring!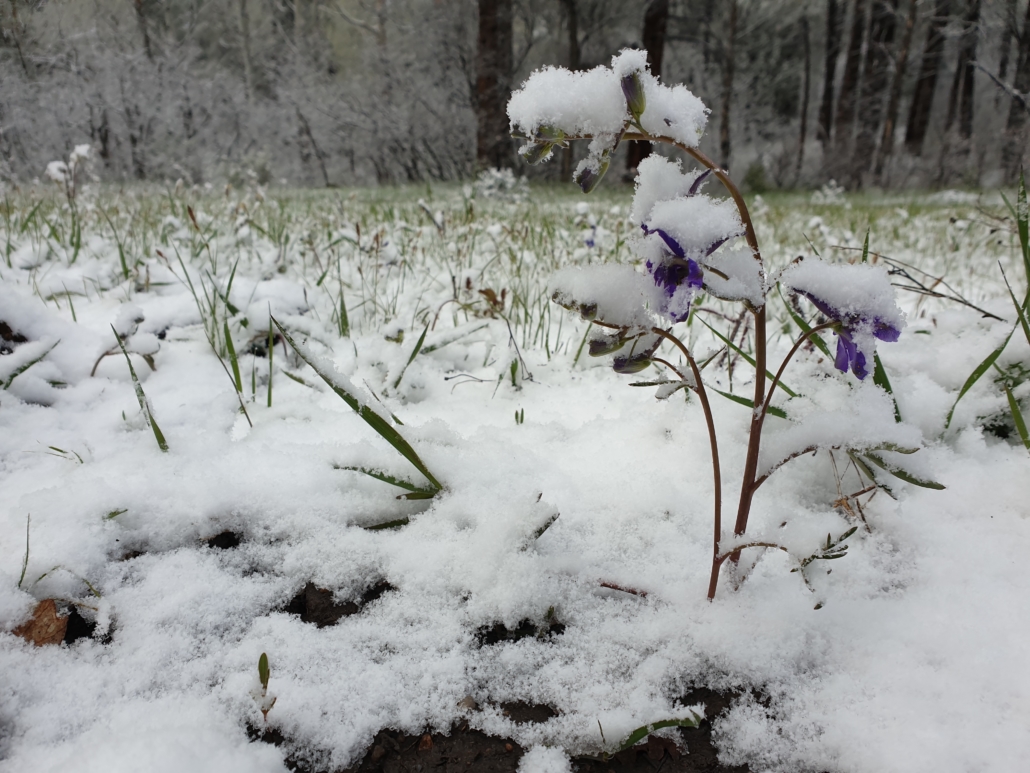 We camp in the snow (brrrrrr!), I don't sleep well, and off we go in the morning, onto the highway, on which we continue our (snow and mud free!) hike.
We changed our plan A, skipped plan B too, and just head on, plan C, all the way to Chama on the Highway.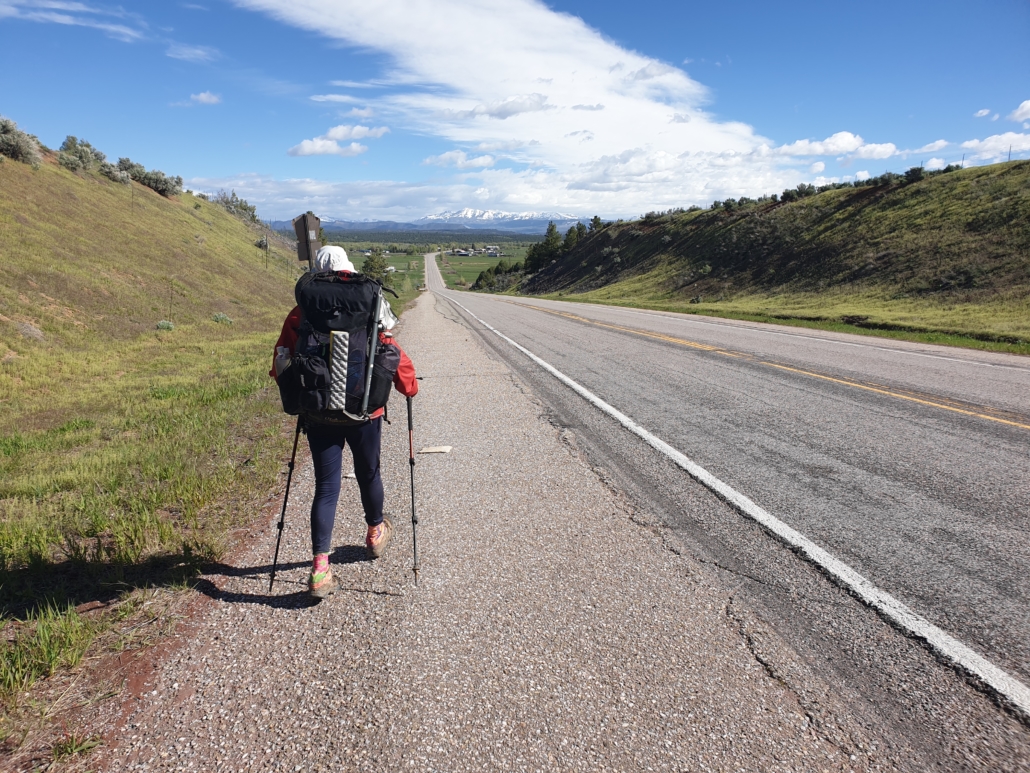 The upside of Highway walkings are gas stations! (Coke and Ice cream!)
And because we are in New Mexico, the gas stations look like this!!!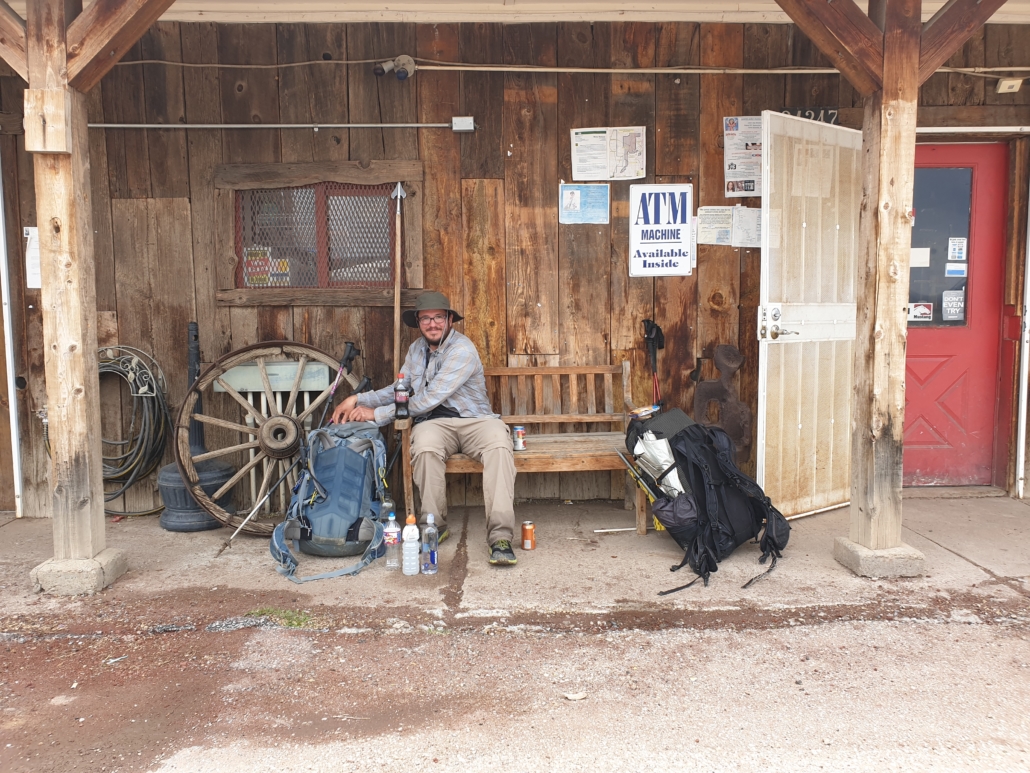 Alright, after two days of Highway walking, we make it to Chama and, yeay, we cross the border! We made it all the way through New Mexico, from border to border!! All by foot! 792 miles! (1274 km!)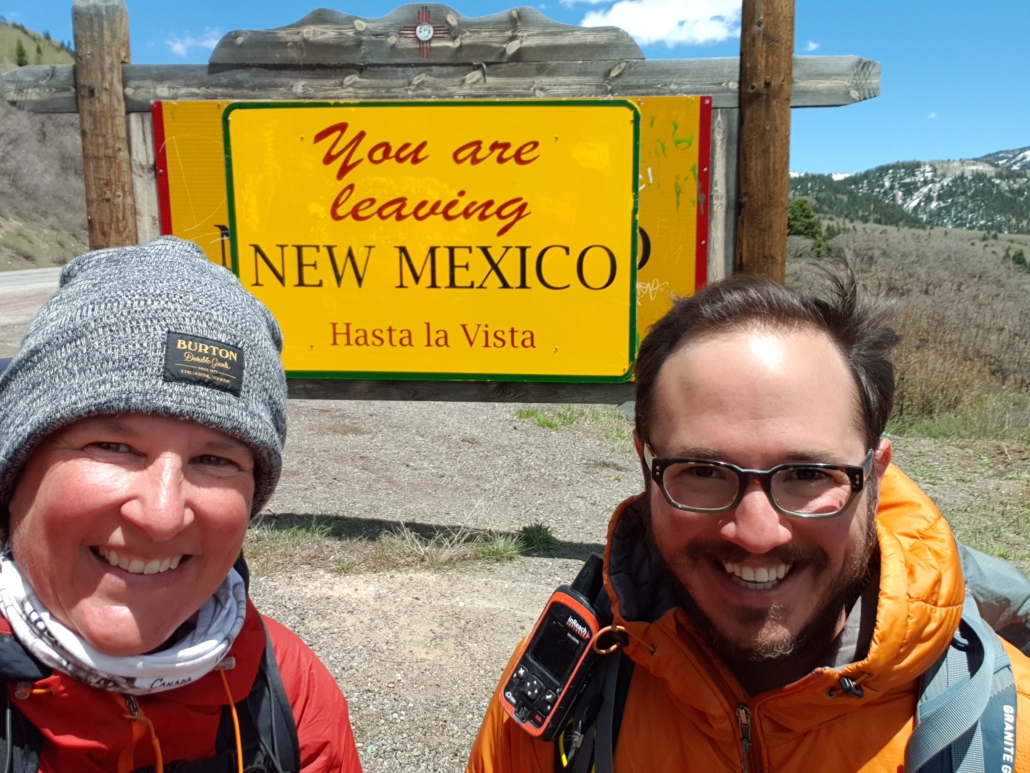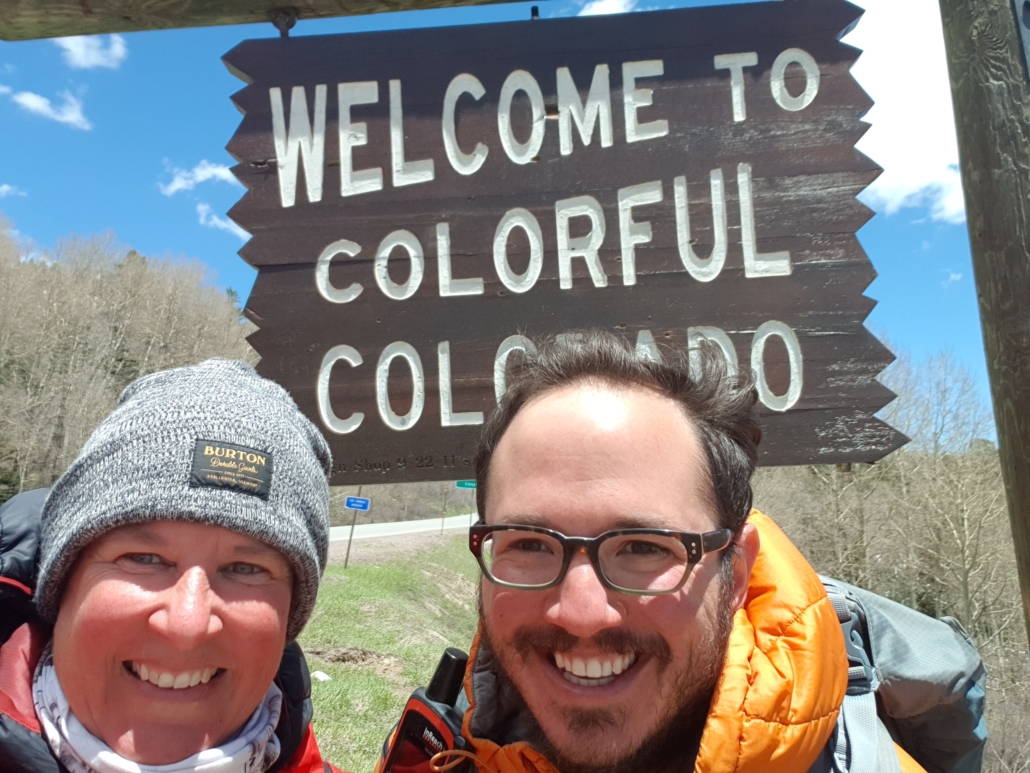 We have great fun taking these two pictures!
Alright! So far so good!
"Thank you Felix! I could not have done this without you! It's awesome and a great honour to hike with you! Let's see what Colorado has in store for us!"
http://www.earlymorning.ch/wp-content/uploads/2019/05/20190518_095421.jpg
3024
4032
Heidi
http://www.earlymorning.ch/wp-content/uploads/2016/12/Heidi_Bronnimann_logo.jpg
Heidi
2019-05-25 05:44:39
2019-05-26 04:05:40
Meth and Snow