Alright, just some tiny more roadwalking and then we will hit Grants, our next town for shower, food, resupply, laundry, bed!
We always look greatly forward to our town stops, even though we both love being out here in the wild, hiking, thinking, looking at things, being sucked in by nature, sleeping under the skies…
But there is definitely some magic in "going to town" during a thruhike.
But first we have to get there I suppose!
We hike along an endless, huge, amazing valley and seem to slowly approach civilization. Its often the same, we can feel how the "spirit" of the surroundings changes from nature to, well, people.
This hike today into Grants seems particularly, how shall I put it, maybe a little depressing perhaps?
There is this ditch on the side of the road where people seem to have dumped cadavers (really!) and garbage of all sorts.
Seriously people?
We keep going on this long road into town, along some shady houses, lots of dogs are barking at us, we cross a very busy highway and walk straight into McDonald's!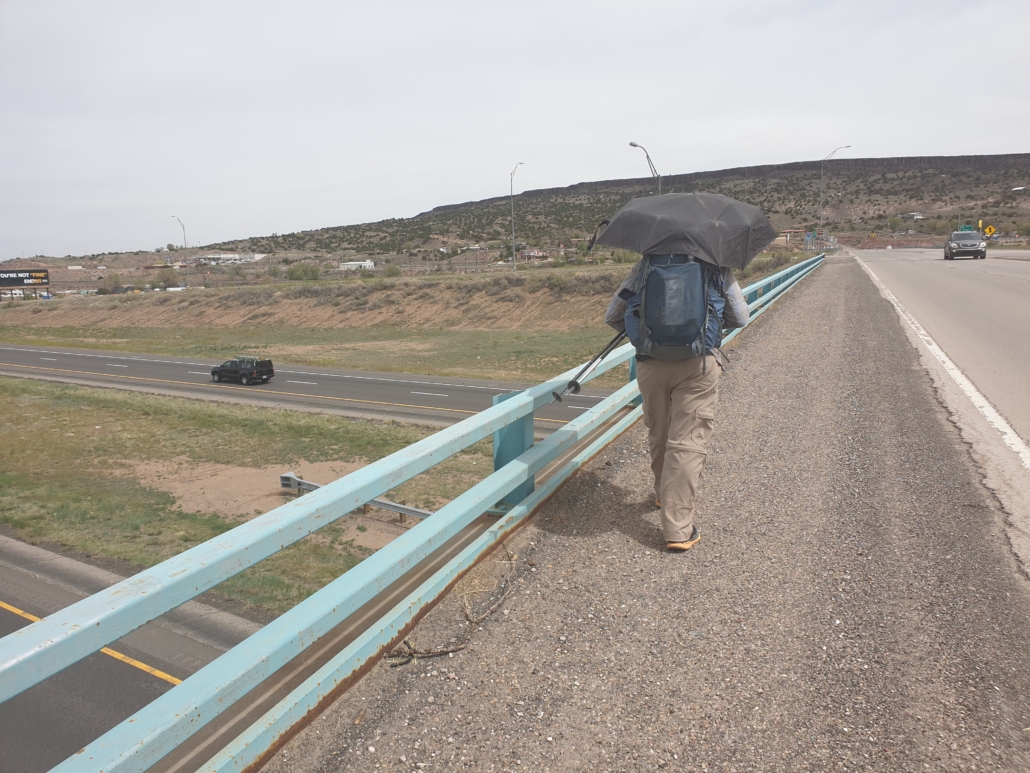 Ha! Speaking about the spirit that changes! But both Felix and I seem to need our dose of frenchfries first thing once we hit town.
We now have to walk through and along the whole city of Grants, for one thing because the trail goes through town, and also because we booked our hotel room at the end of it.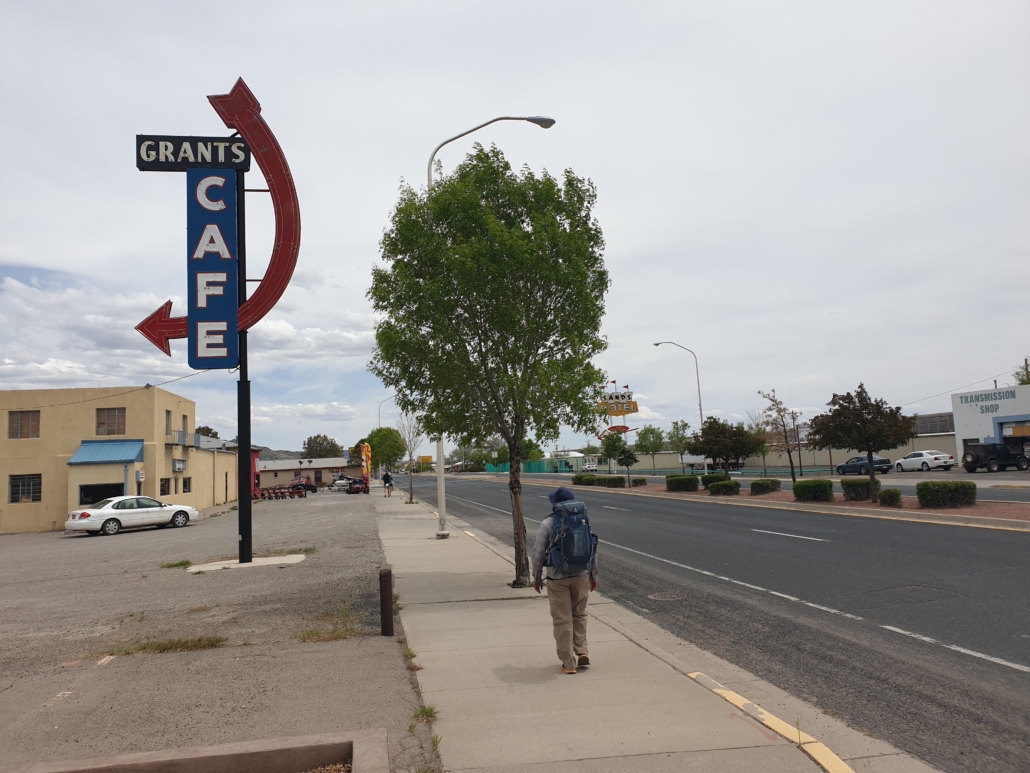 Grants sits on the (once very popular) Route 66. We can clearly see that the good times are long gone! Signs of economic decline are omnipresent. Motels are shut down, shops are shut down and seem to rot away.
We reach the hotel in which we booked our room in. It took us more than a bloody hour to get here! I am thinking that this is not a town which will ever appear in one of these fancy, glossy "go check out the USA" travel magazines.
Felix says that actually most towns in America are kind of like this one. Poor. Trash in the streets and backyards, houses in desperate need of some care and attention and perhaps also some love from their owners, streets and sidewalks with holes in them, homeless people on the streets, you name it.
For me it's educating to also get to see this side of America and perhaps learn to be more grateful and humble.
But anyway, we make it to the hotel, shower and do what we always do once we arrive in a hotel: we order pizza and eat it in bed!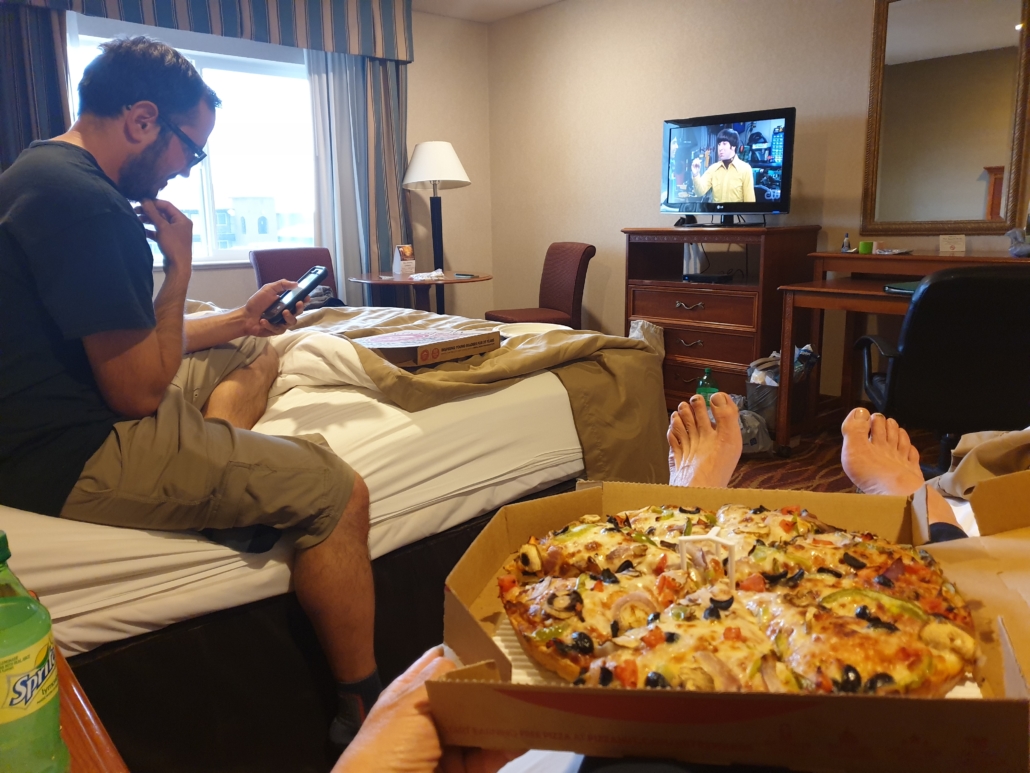 It's a great ritual we took over from the PCT.
We hang out, rest, watch some TV, and oh man, town time is over way too fast again, off we go, back to the trail.
The weather is apparently going to be shitty, but what can we do. Onwards we must go!
I carry out my leftover Pizza in a plastic bag and have an awesome trail lunch!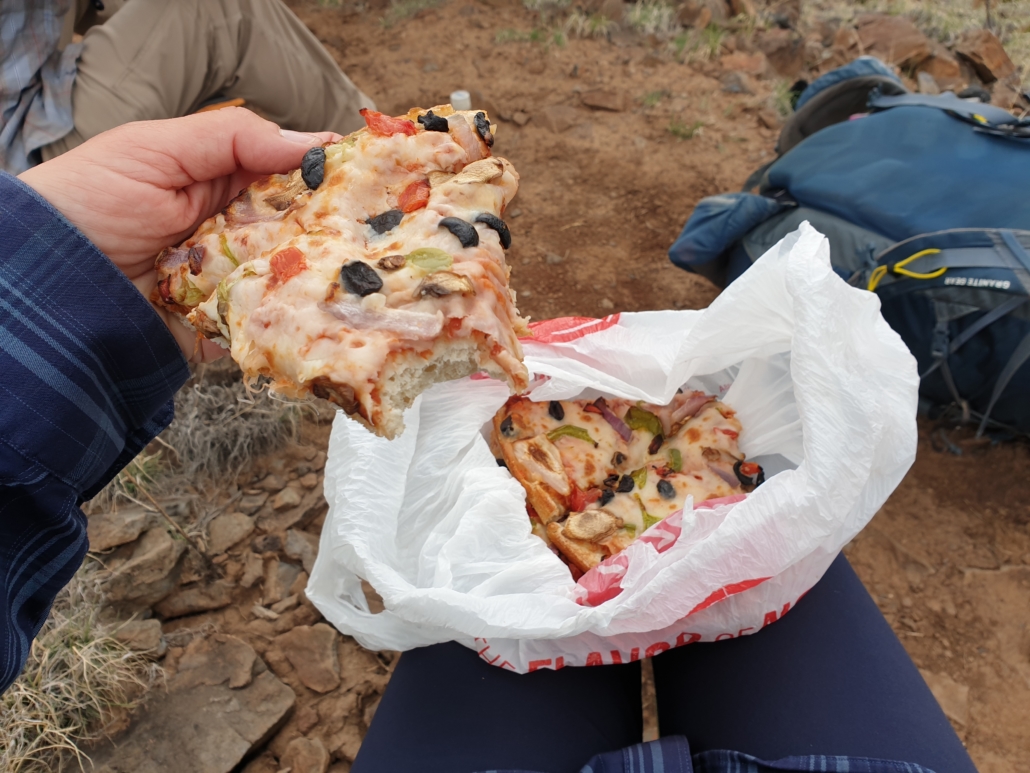 On our way we bump into "Happy". He sits right on the trail. He is a fun guy. It turns out he is 69 years old (!) had tried to hike the CDT before but could not make it all the way through to the Canadian border, so he tries all over again!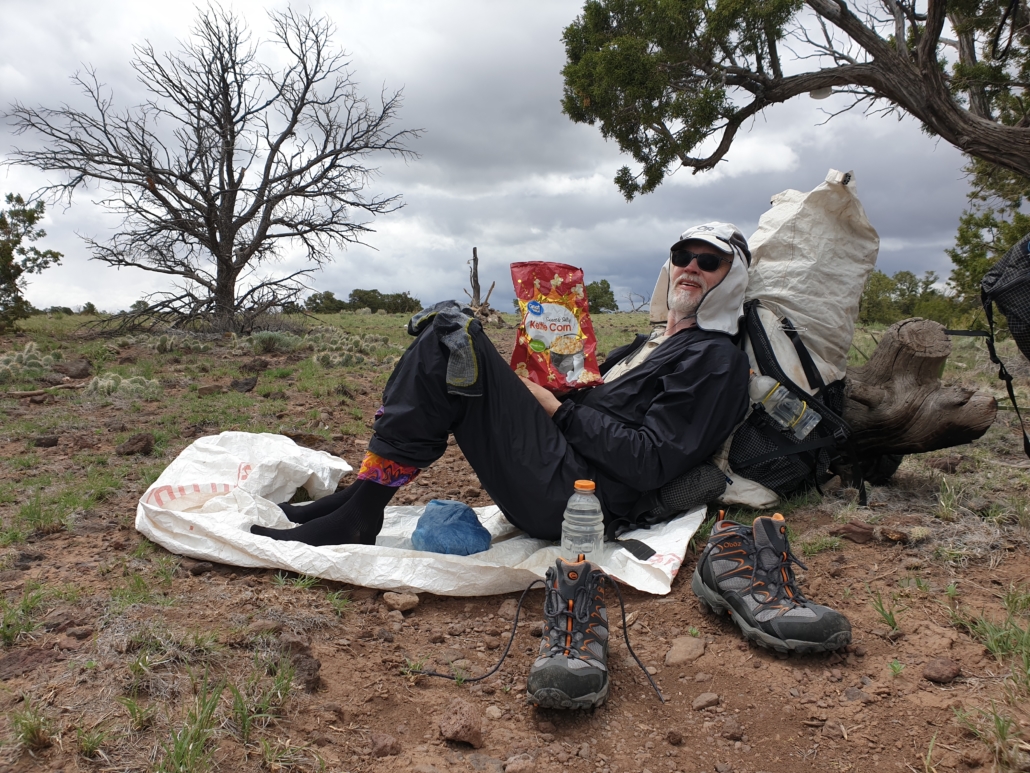 Holy shit! These people out here are persistent!!
We hike up towards Mt. Taylor.
We hear thunder.
"Oh no!"
It starts raining.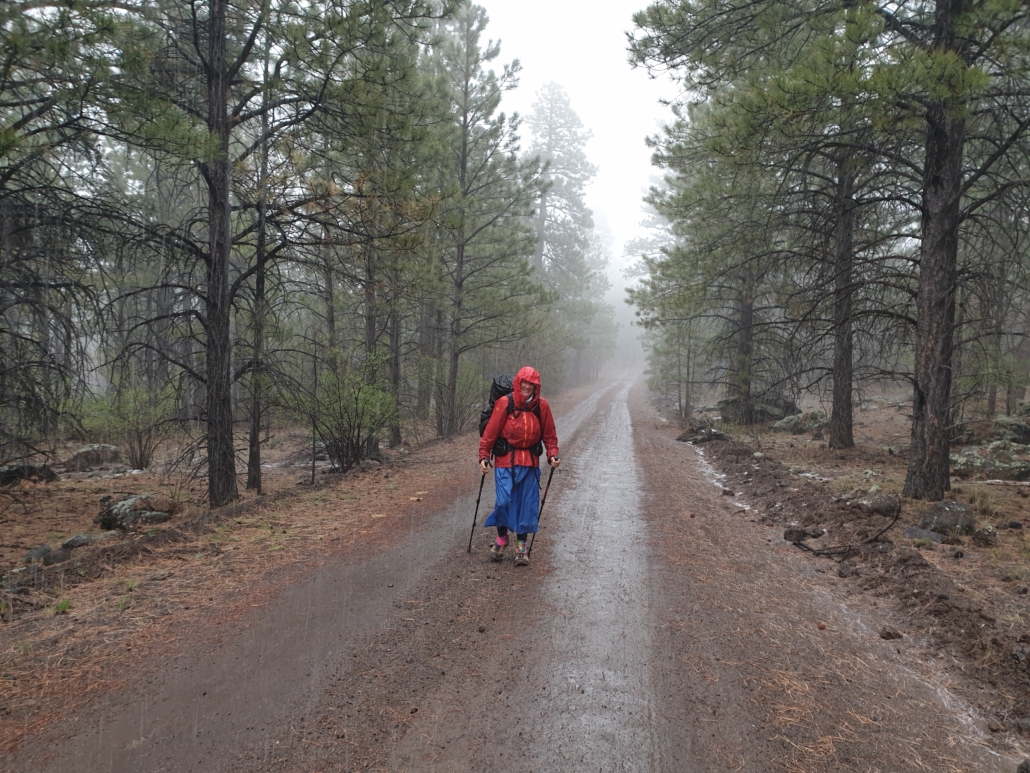 Actually, the rain turns into snow now!
"Brrr it's cold Felix!"
But oh man, how beautiful it is here in that snow! It's magic! I am having fun!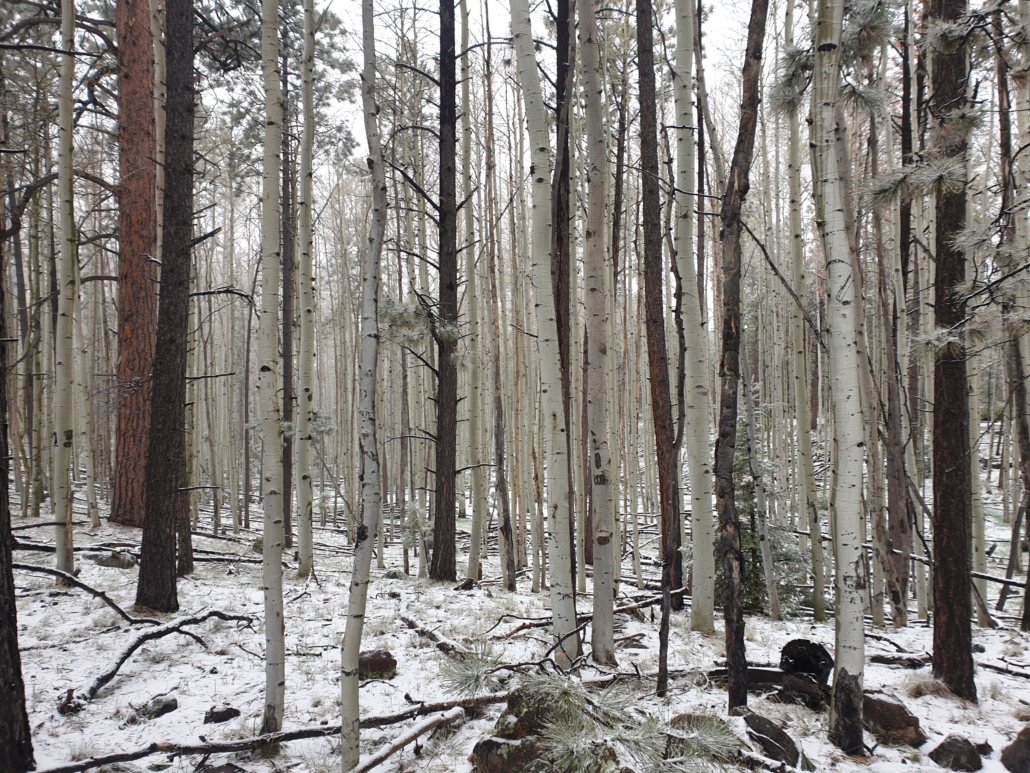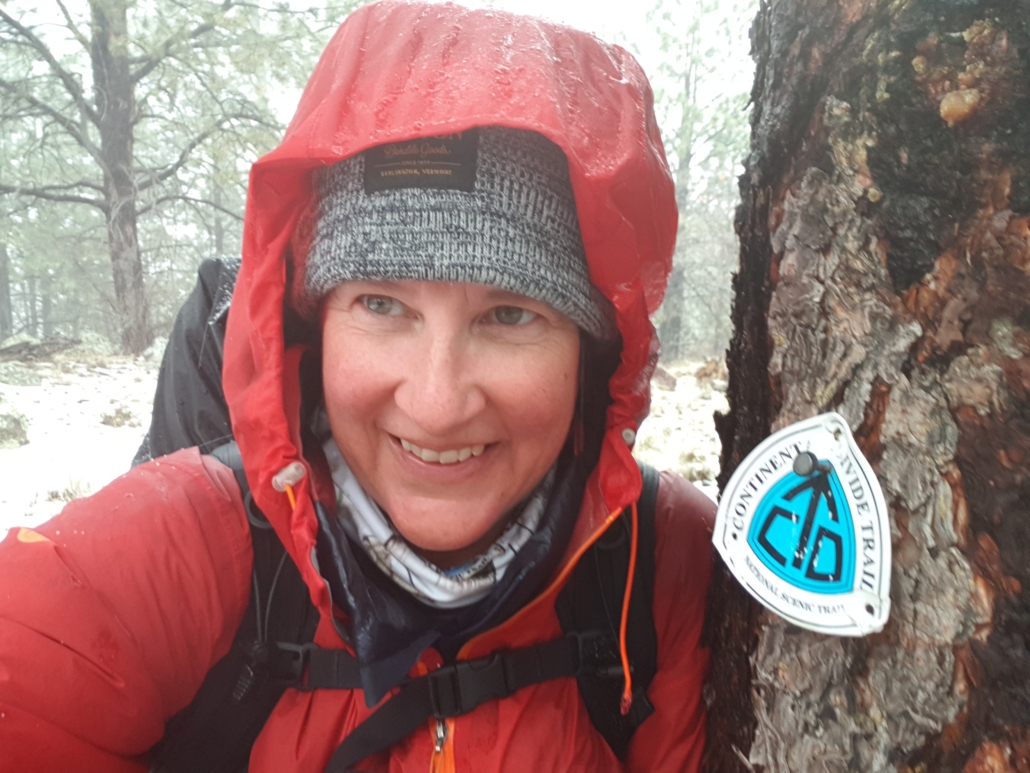 We smell smoke.
Ah, a thru hiker has made a fire to warm him up and it seems to draw in other hikers. There are "Nick", "Stick", "Trampy", "Mac", "Cheese" and two others who's name I don't know!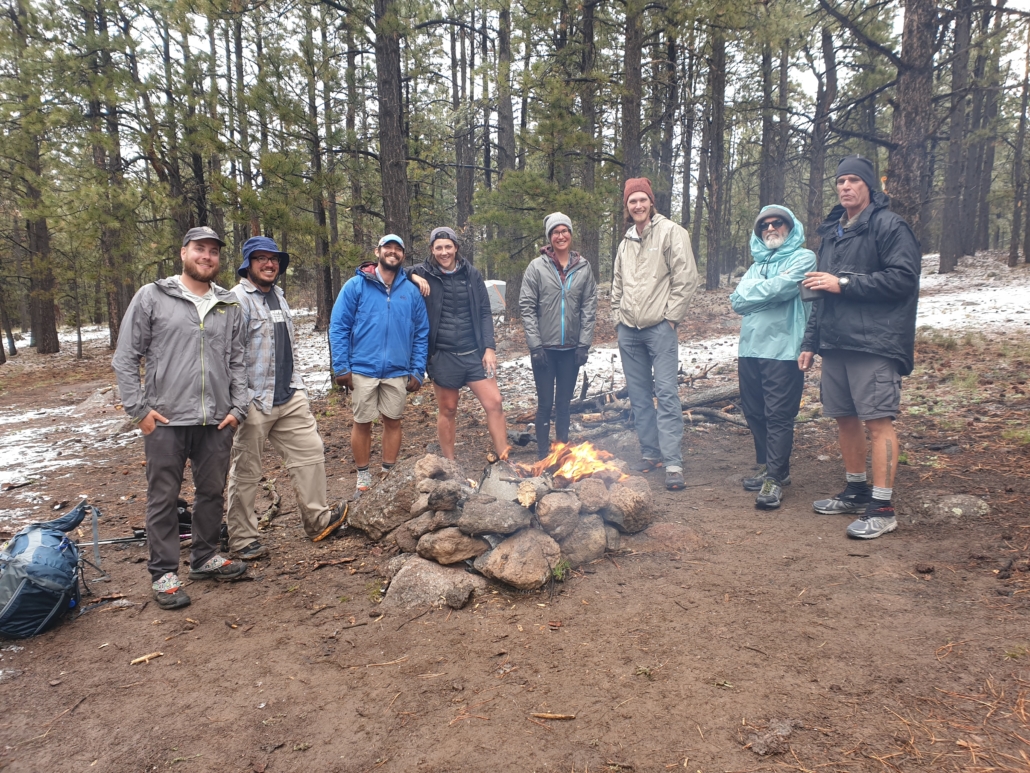 Felix and I resist the temptation of just calling it a day and hanging out by the fire and hike on after thawing our bodies for a few minutes.
On we hike, upwards, into the snow.
Alright, let's see how cold it gets tonight! We set up camp and both make some squats as we are so cold and need to warm up a bit.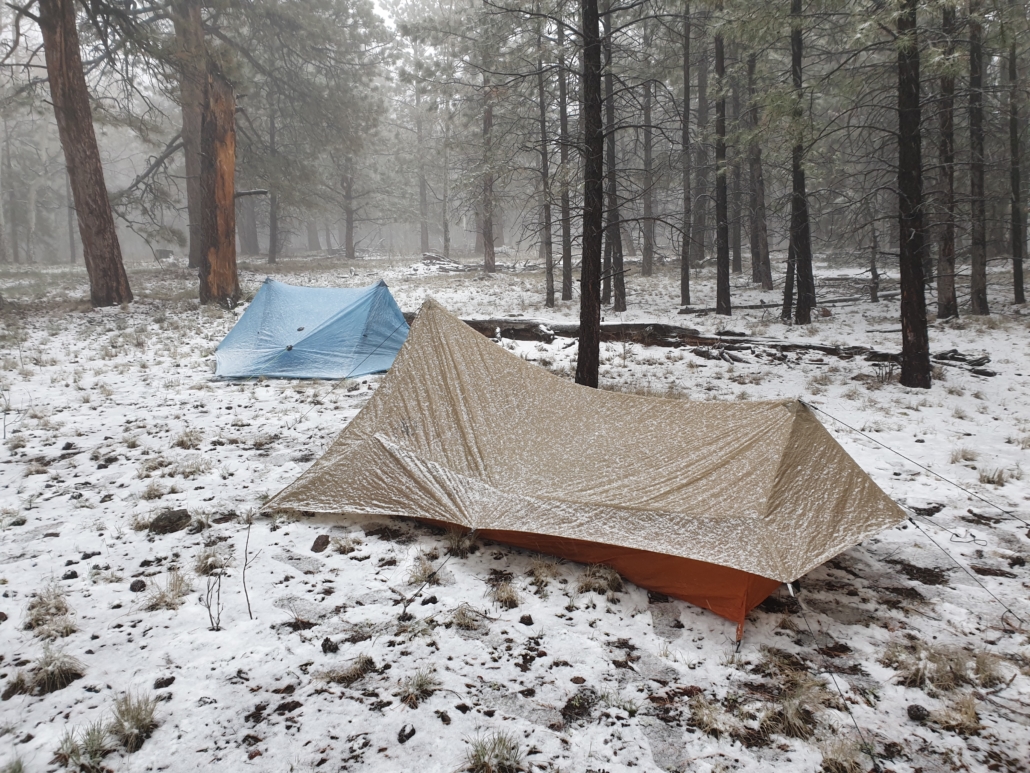 I am laying horizontal, wrapped up in Maggie with my usual four layers on and can't seem to get warm enough to actually fall asleep. I am thinking of renaming Maggie into "the fridge".
6 am. The protein bar I eat for breakfast while hiking is frozen.
As soon as we get some sun we dry our tents and sleeping bags.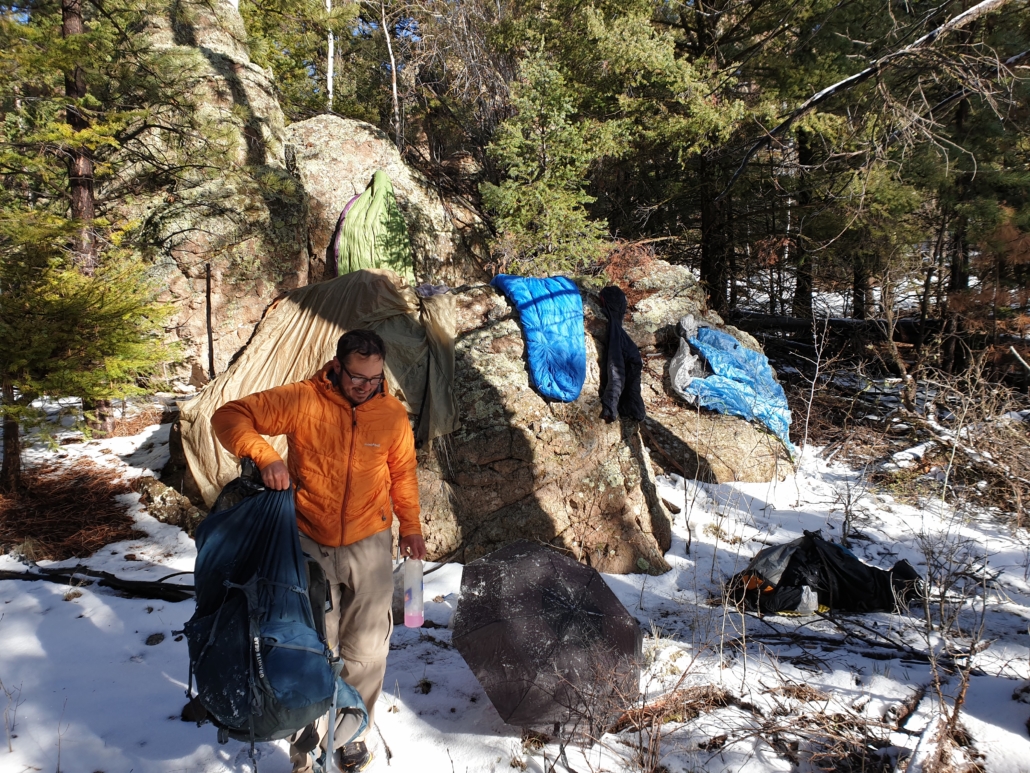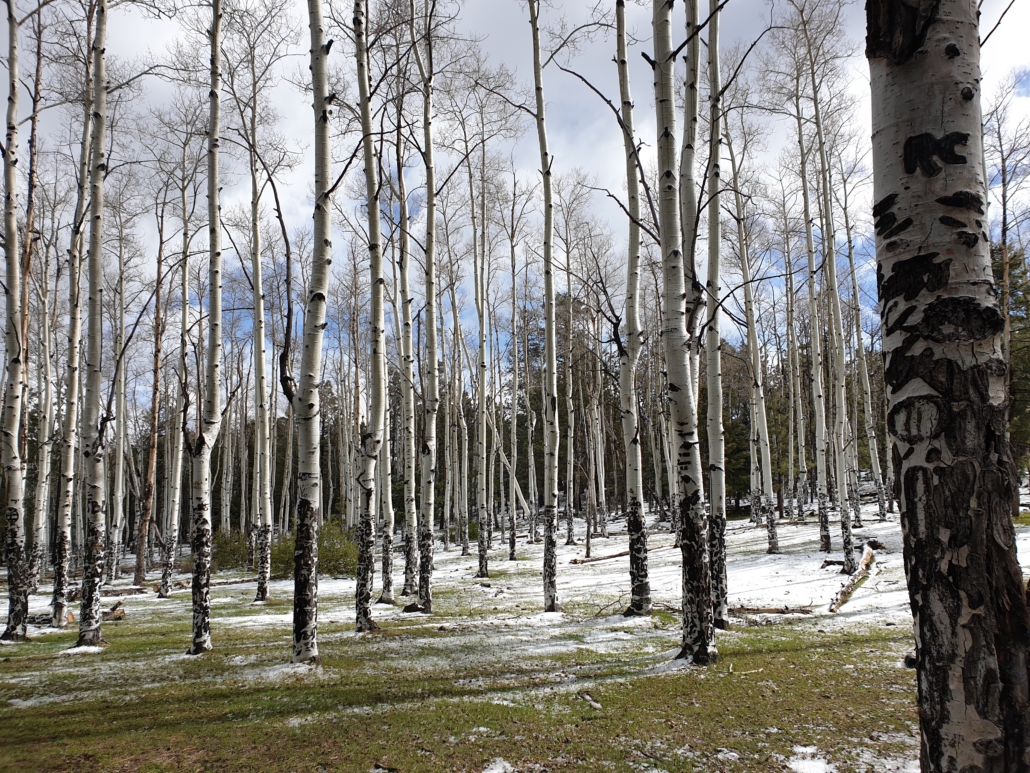 Today is very cold and windy, we hike our usual daily 20 miles (32 km) without stopping much and are trying to find a spot to camp where we are a little protected from the wind.
It rains a lot at night.
Everything is wet in the morning. Outside and inside Maggie aka the fridge. We pack up, step on the dirt road, and,
"what the fuck is this?!?"
The road has turned into a huge mess made out of super slippery and super sticky desert sand mud!!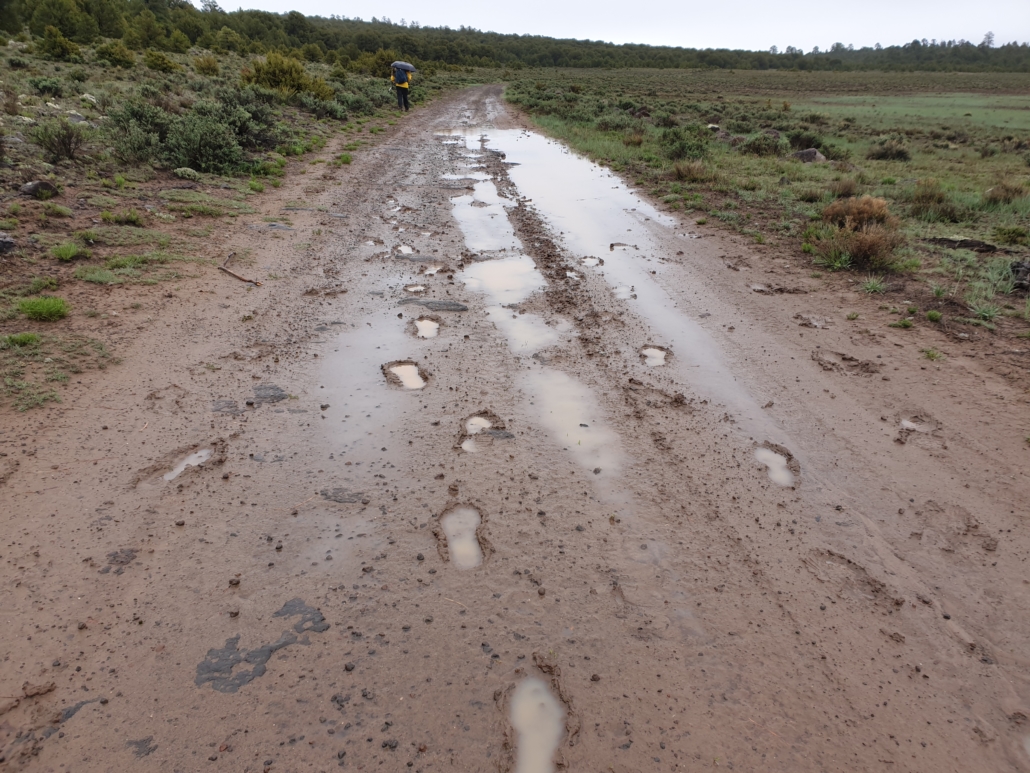 With every step we sink in, slide, accumulate mud on the buttom of our boots. The boots get so heavy with this wet desert material glued to them.
"This is going to be a very long and very hard day!"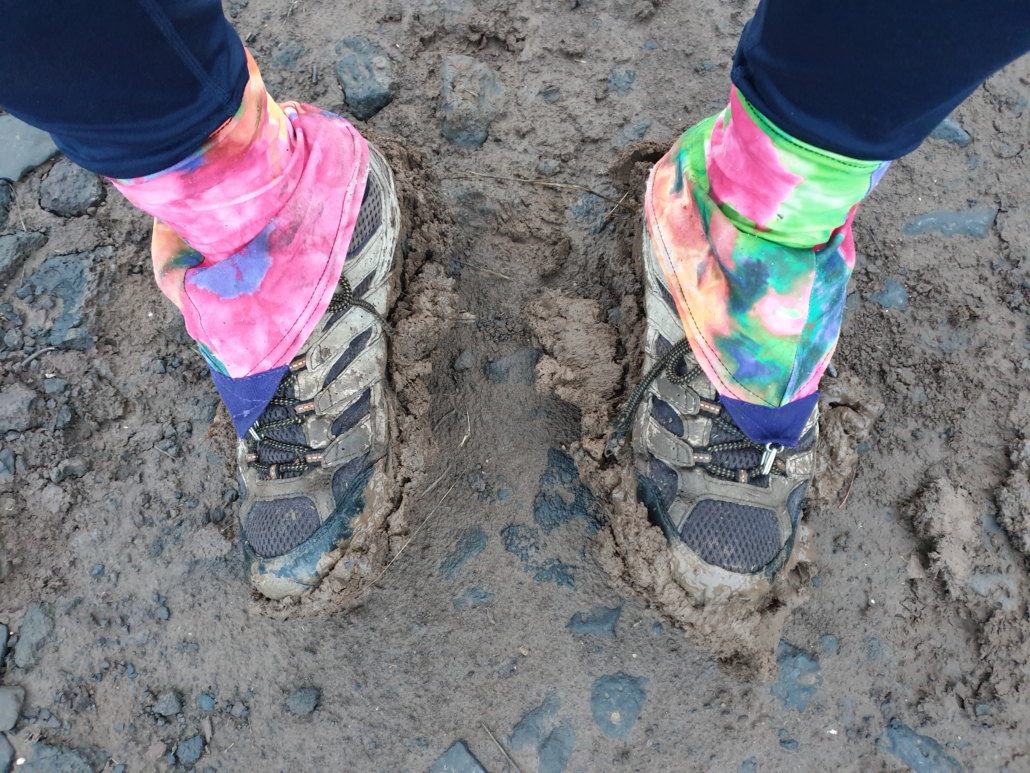 But we laugh! This is so freaking hilarious!
It starts snowing again, our feet get icy. But onwards we must go!
Felix calls it a "deathmarch".
We don't laugh anymore. The road is too slippery and muddy, it's impossible to walk on it, so we stay on the side of it, where the mud is currently frozen.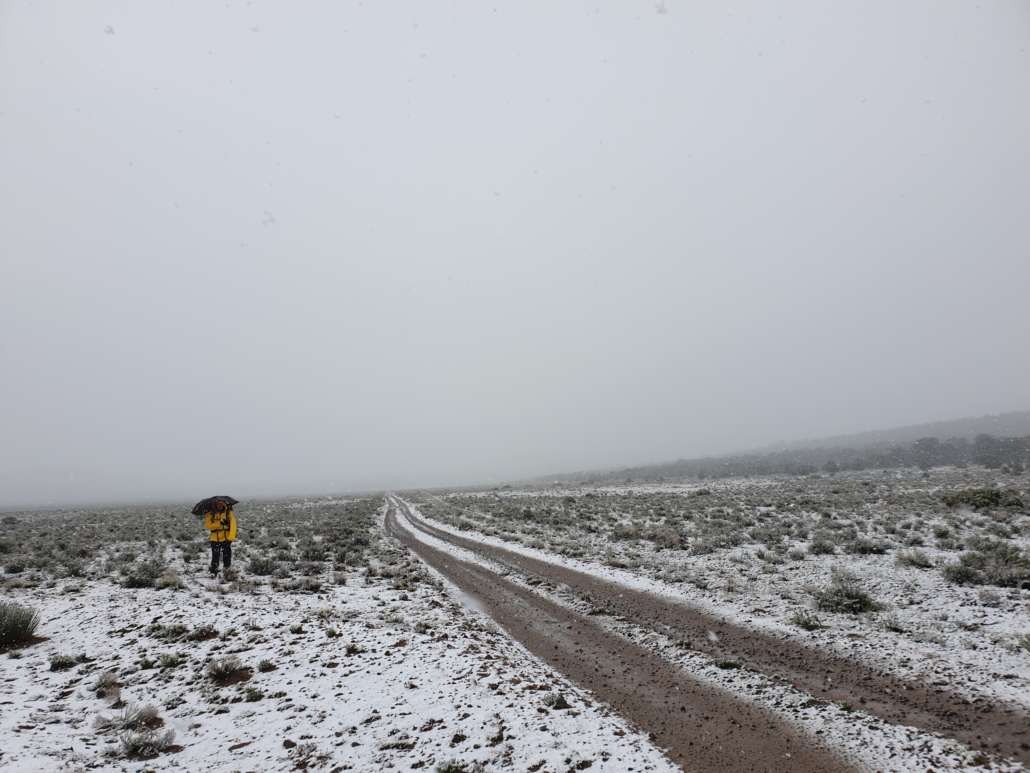 After almost 12 hours of "deathmarching" (without hardly any breaks because if we have a break we get way too cold) we reach the end of the this plateau thing we were on all day and decide to head down to lower elevation, even though we are both super tired. There is supposed to be water down there, also, we hope to get out of the shitty weather once we loose hight!
Now watch this!
The landscape down here is bloody epic!! It looks like the little sister of Monument Valley! Big smiles on our faces!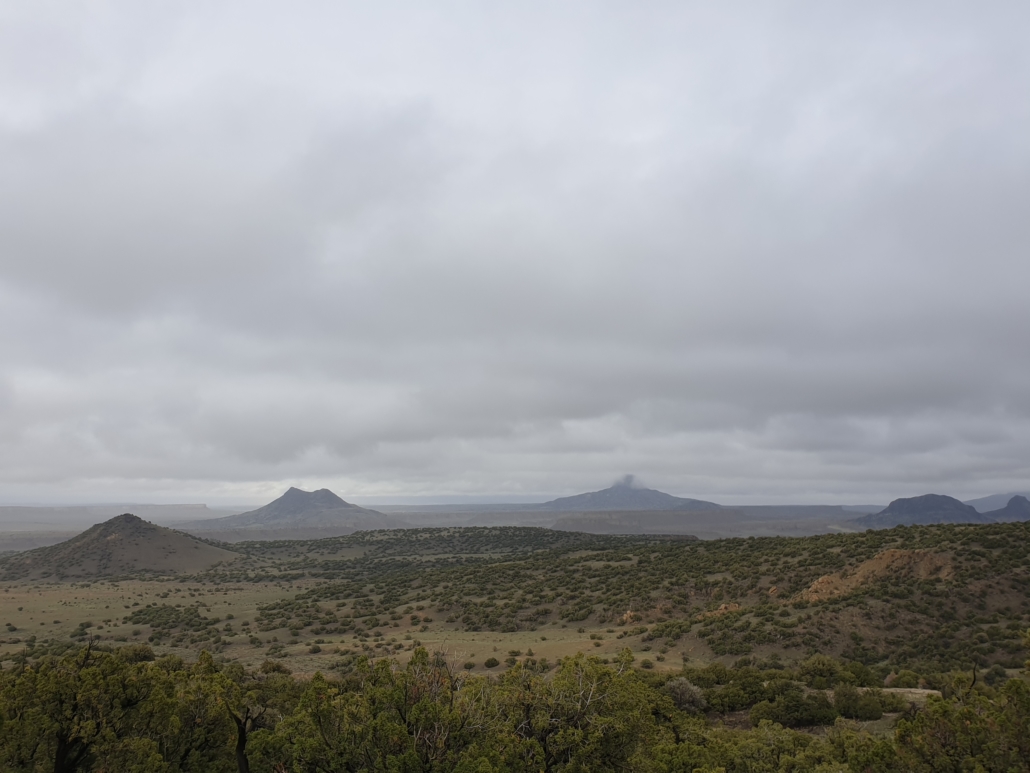 And we seem to be out of the cloud/rain/snow!
So glad to be down here!
Oh my that was a very hard day! We are both so ready to hit the hay.
Oh my! This is how I look this morning .. Yesterday was no joke and I did again not sleep too well.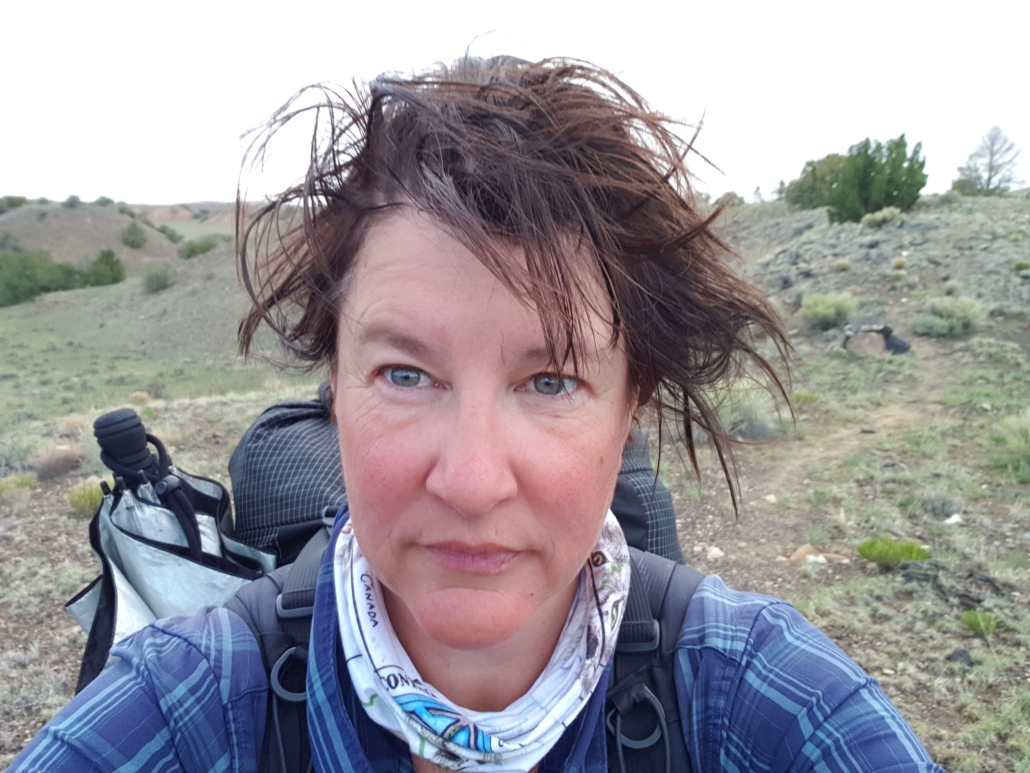 Anyway! Off we go, I am looking forward to check out the epic-ness down here!
Oh wow! This is awesome! We hike through this ancient landscape, where I can almost watch and feel how the Earth was (and still is) being formed. Soft layers of rock material underneath harder rock. Different layers of sea floors, pushed up, washed out, fallen down by gravity.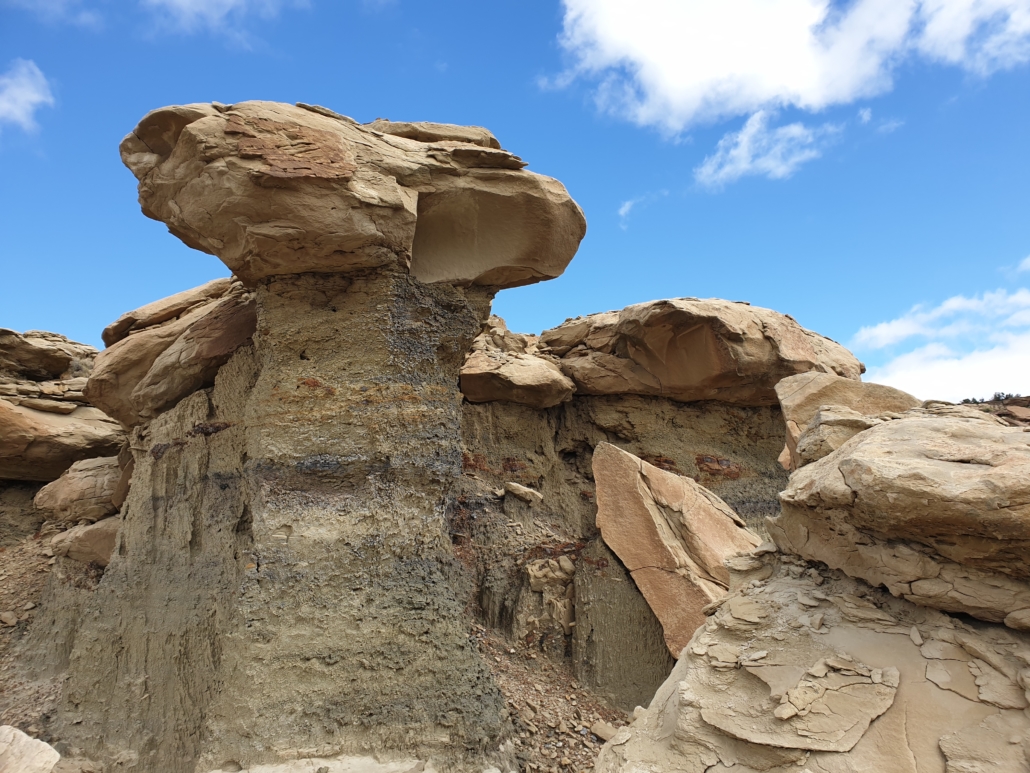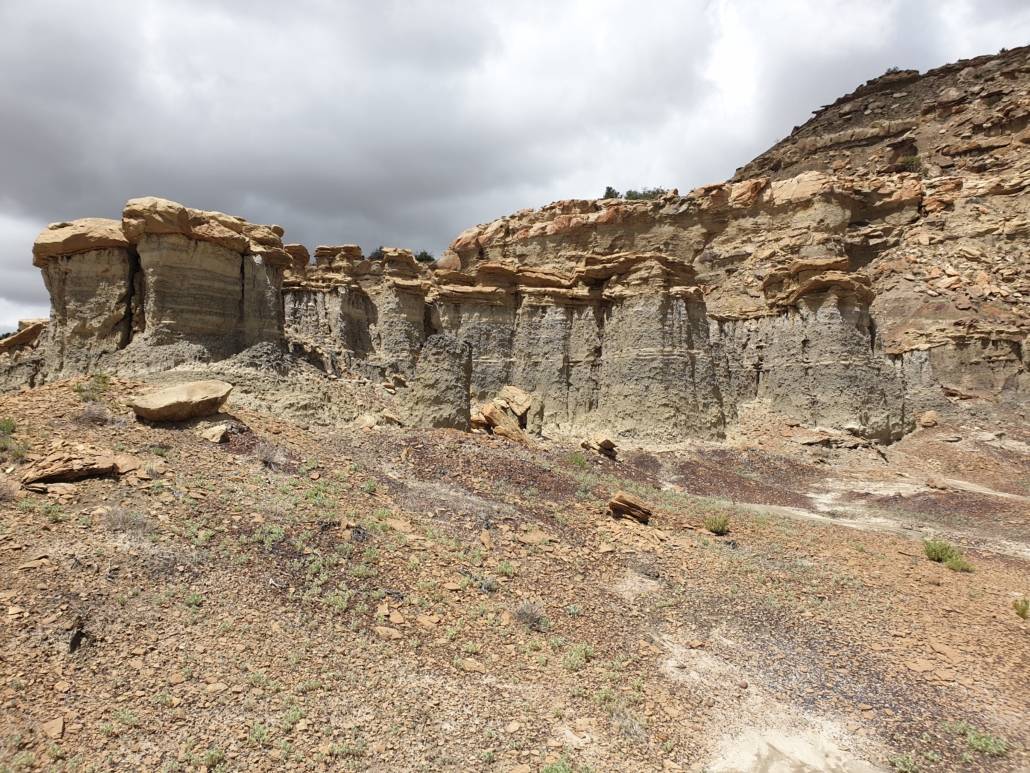 (Image by Felix)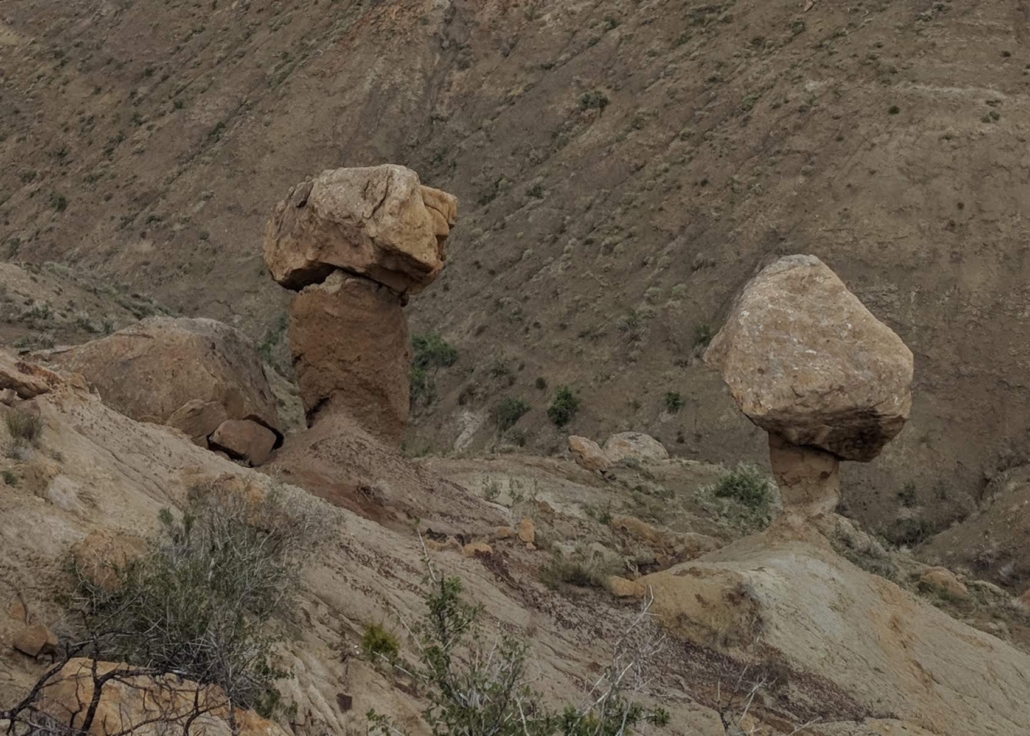 (Image by Felix)
It's wild! It's powerful! It's beautiful! This is an ancient landscape, left alone from the destruction by people.
I simply love it!
We take our time. Miles don't matter today!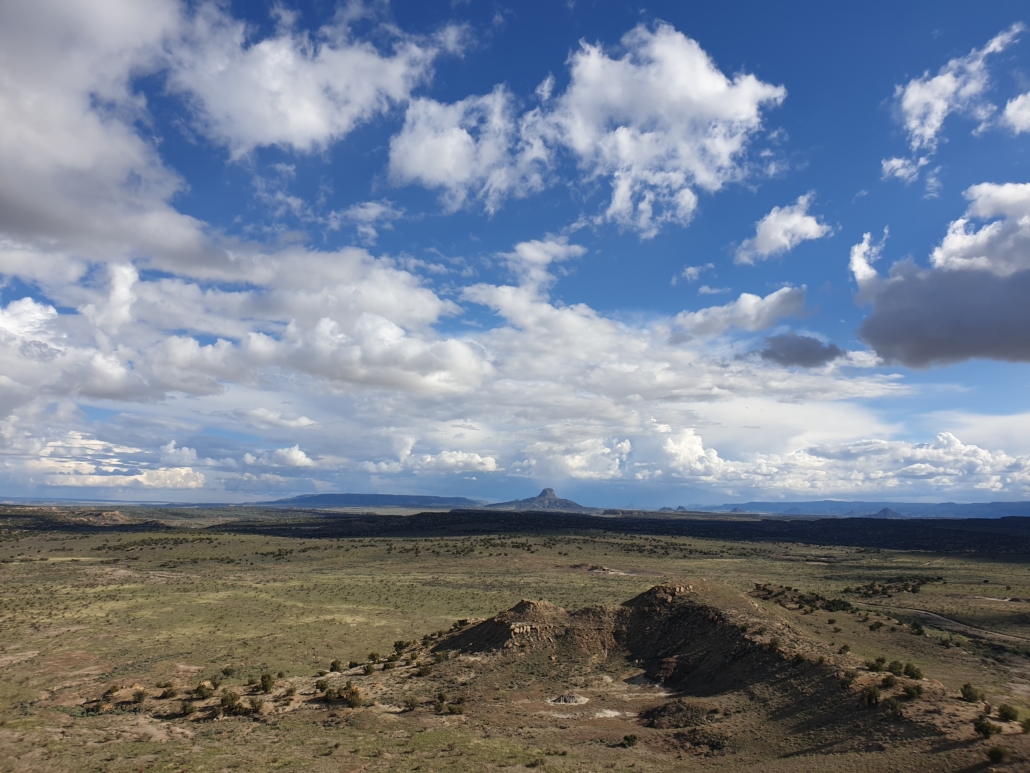 It's the desert, so water obviously still super rare. Felix does his usual awesome research thing and finds out that there is a water cache in between here and Cuba (our next resupply town).
Without this upcoming water cache we would have to carry somewhat 5 to 6 liters each, or just be thirsty. Both not really an option.
We reach the cache and are so so grateful for these amazing people who do this.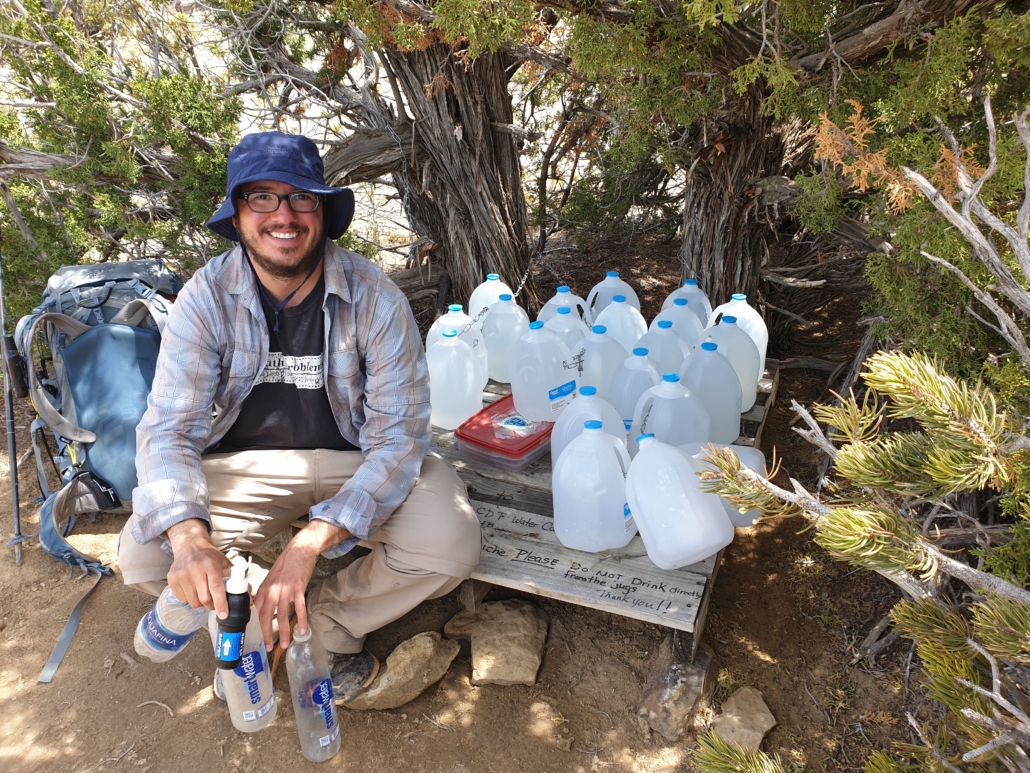 "Thank you amazing people!"
The last day into Cuba is rather super spectacular again!
I enjoy!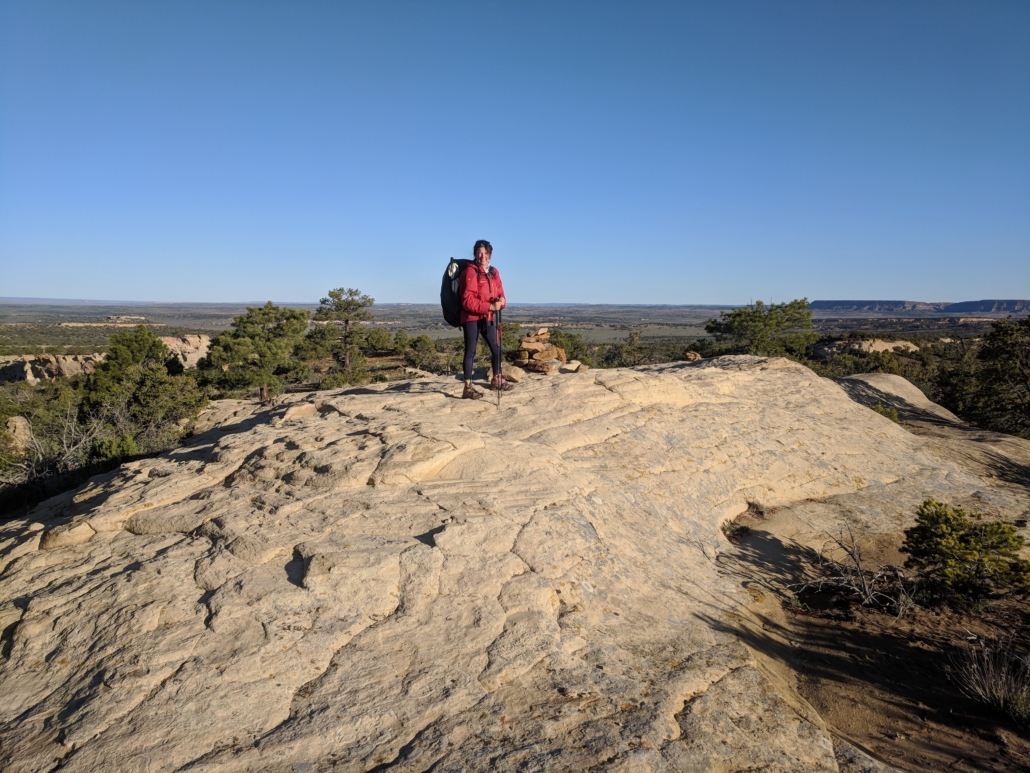 But I also have some of my fear moments with thunderstorms rolling around us and a super steep climb. But thunderstorms make for great light!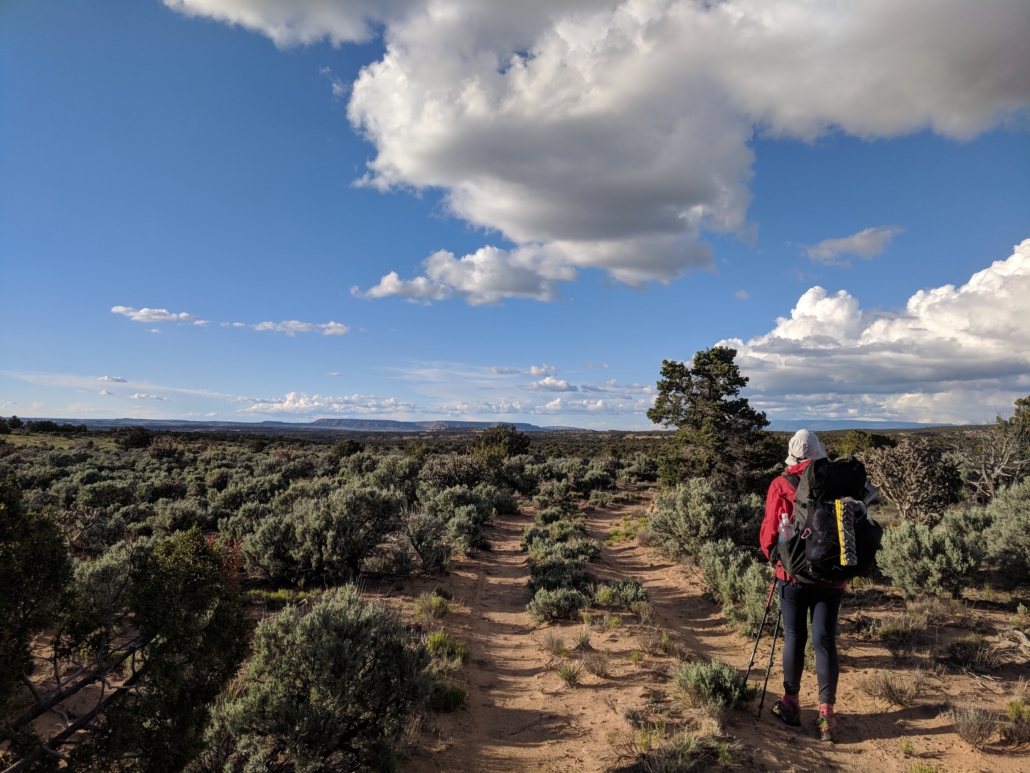 We make it into Cuba and book ourselves into one of the two motels here.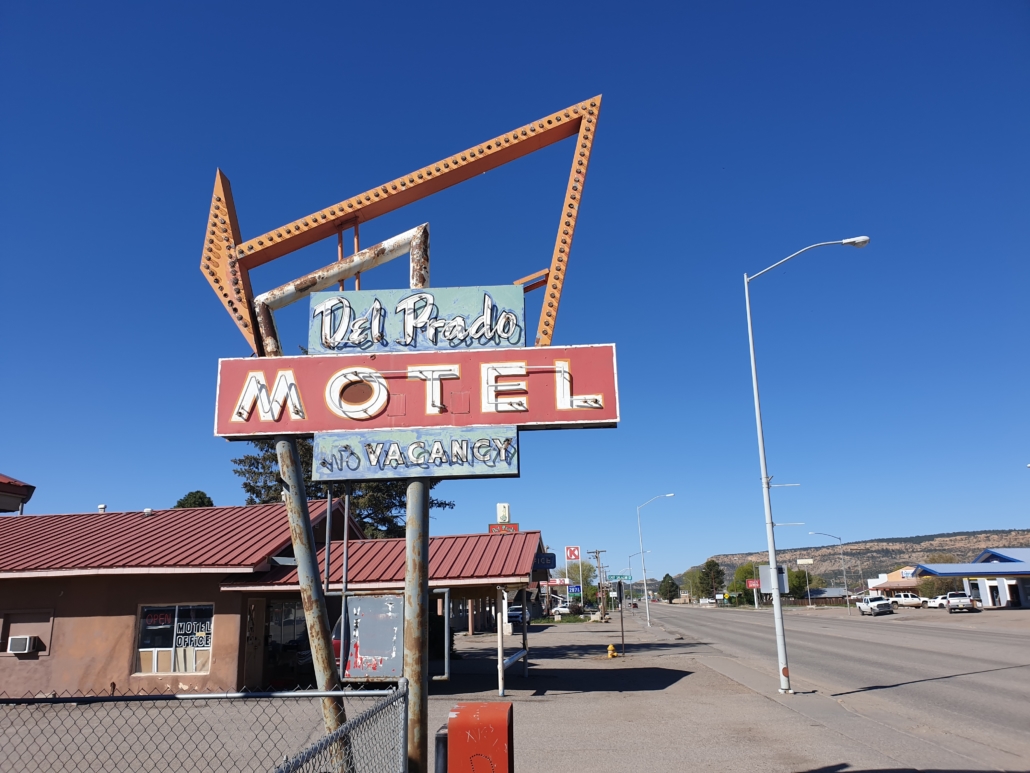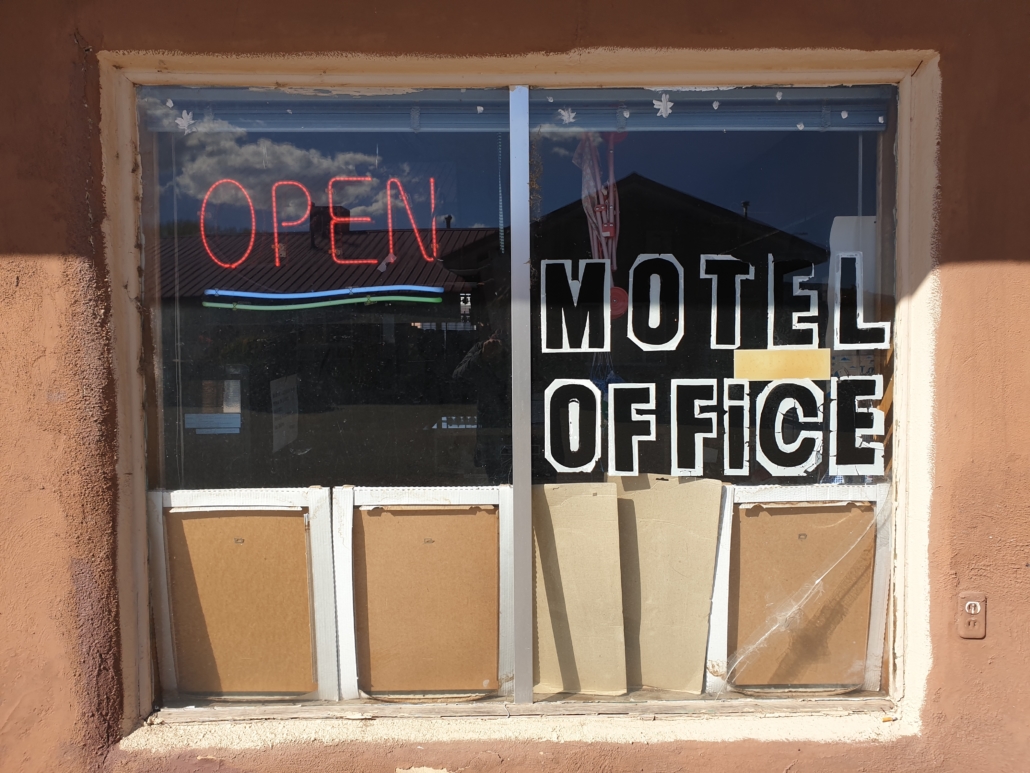 The motel has no guest laundry so we check out the local laundromat. I love these American laundromat! They are classic!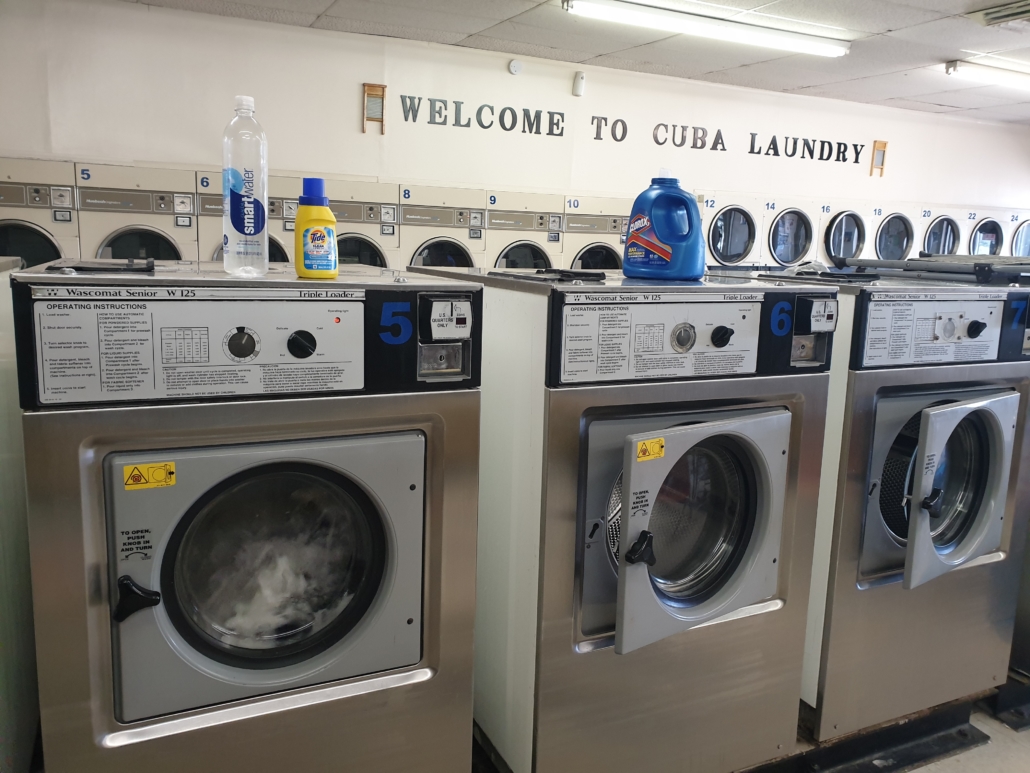 Felix has been suffering in the last few days. His feet are badly hurting. He needs new shoes! As soon as possible!
But there are no new shoes out here in Cuba!
Decision is made quickly: we will take a bus to Albuquerque and go gear shopping! I will grab the opportunity and will buy myself a warmer sleeping bag if I find one. My current one is just too used and worn out (perhaps one thruhike is enough for a sleeping bag! I should have bought a new one after hiking the PCT.)
We book an AirBB in the old, historic district of Albuquerque and off we go into the bus, towards the big city!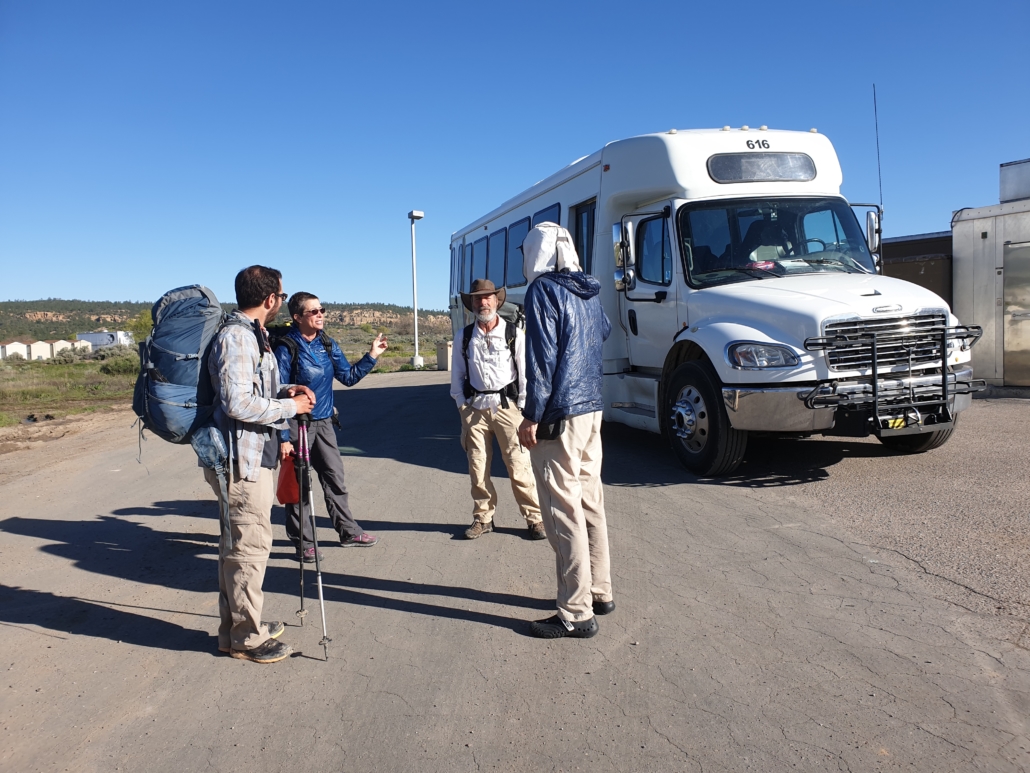 A break from the CDT!
http://www.earlymorning.ch/wp-content/uploads/2019/05/20190508_191213.jpg
3024
4032
Heidi
http://www.earlymorning.ch/wp-content/uploads/2016/12/Heidi_Bronnimann_logo.jpg
Heidi
2019-05-16 16:59:11
2019-05-16 17:50:26
Playing in Snow and Mud