We make it out to Highway 12 where Dale picks us up one last time. Everything going smooth, the van is right there! No "Dale" adventure this time!
The plan is to drive into the little town of Reserve, eat there, shower there, eat more there, and sleep there (in exactly this order!) and then drive right back here to continue North.
Reserve would be a difficult hitch as it is really in the middle of nowhere, so, oh man, we are so happy to still have magic Dale here to support us!
(Thank you again so much Dale, and sorry that we smell really bad!).
Felix had told the hikers "Josh" , "Spagetti & Meatballs", "Toke" and "Wing-it" earlier, that they can have a ride into town with us, if they make it to the road by 10 am. And here they are! So six very bad smelling hikers jam into our most favourite van and off we drive, 30 mins direction sweet temptations of a town.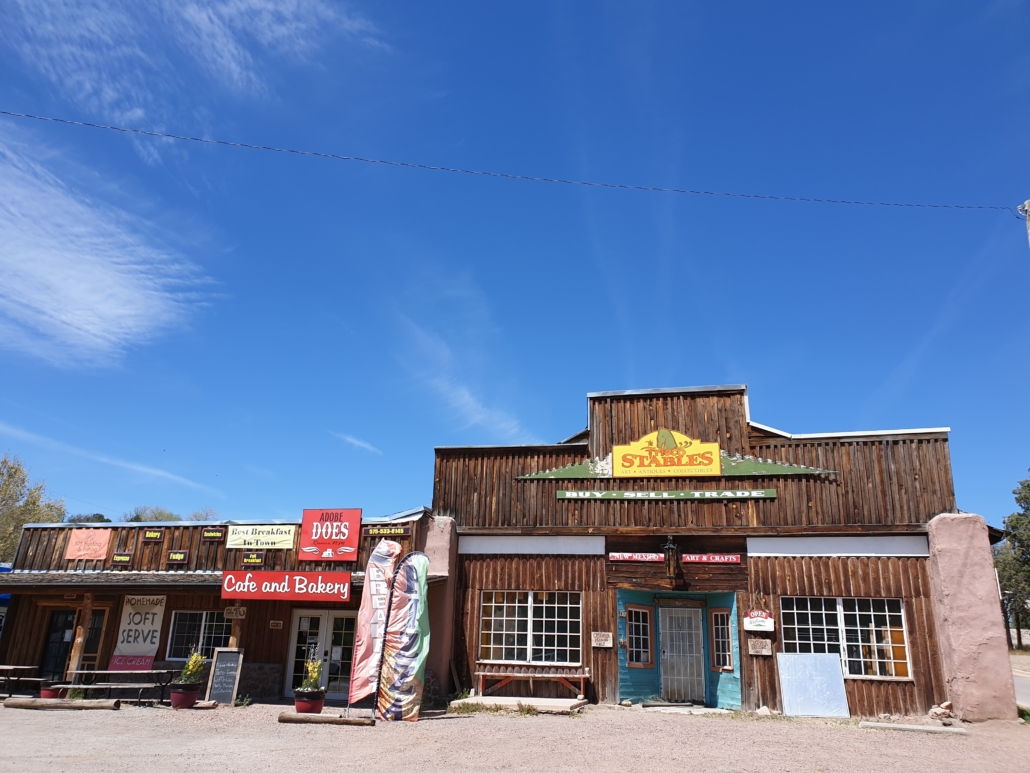 We treat ourselves to a zero here (hiker slang for a whole day sans hiking) and head off, after having had one last coffee!
It's time to say goodbye to Dale, who has been absolutely amazing and wonderful!!
Perhaps we see Dale later again, in June sometime, because there is a (rather familiar…! ) problem coming up: Just like when we did the PCT in 2017, the winter 2019 has been another exceptionally unusual high snow year.
(Oh no, not again!)
So even though we are still in the middle of New Mexico, we need to make "snow plans".
Seems we need to skip Colorado, get somehow to Wyoming, hike on to Canada and then come back in late Summer and do Colorado southbound, once the snow is more or less gone. (This methode is called "flipflopping" in hiker slang). We hear there is still "winter" up there in these mountains in Colorado so there is no way we can hike there anytime soon.
Well, we will see.
First things first.
Now we have to do some roadwalking. The coming section between Highway 12 and Grants is apparently rather infamous for its Roadwalking.
Off we go!
We walk on all sorts of different roads and watch the landscape go by.
We walk…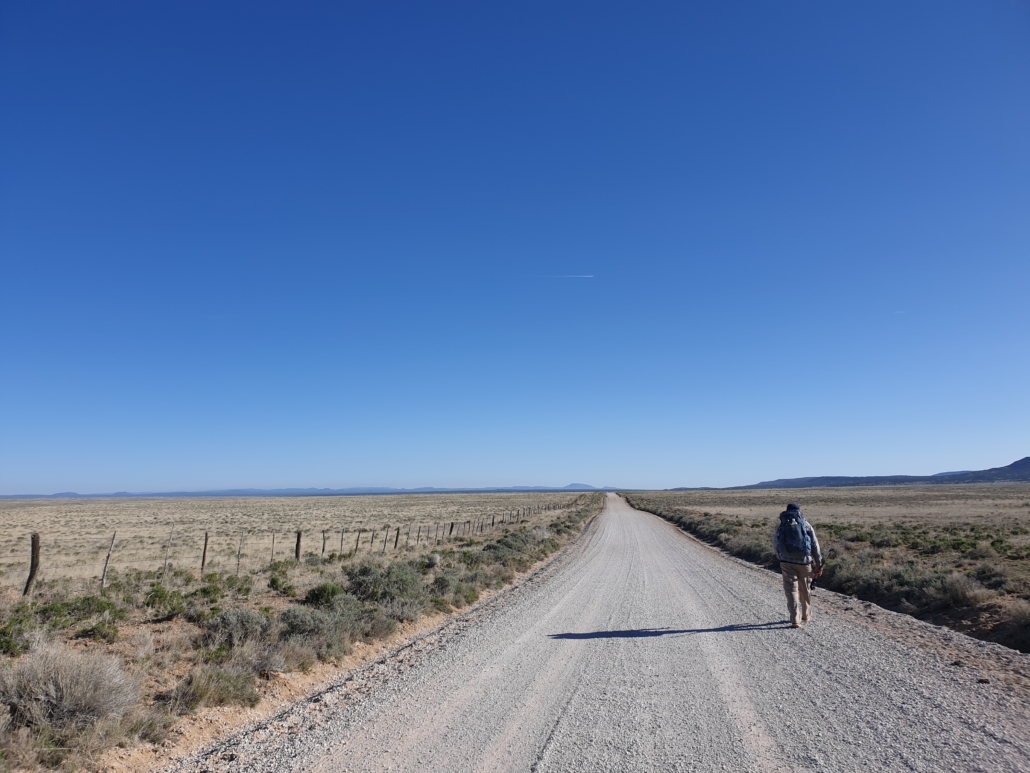 on roads…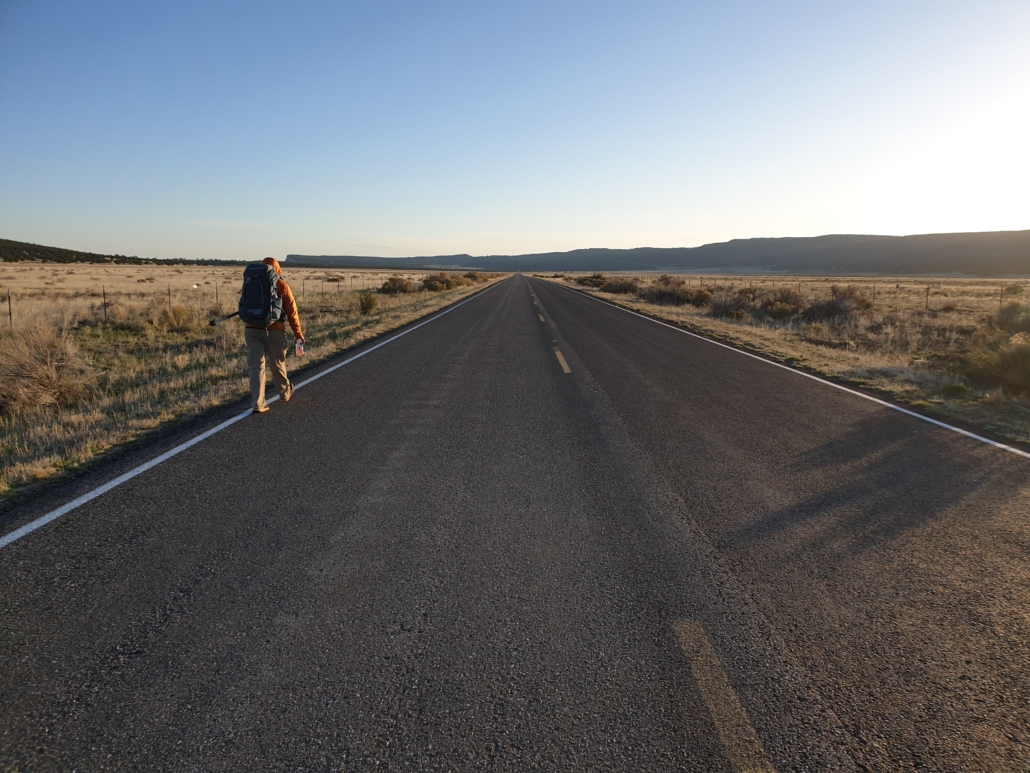 and walk…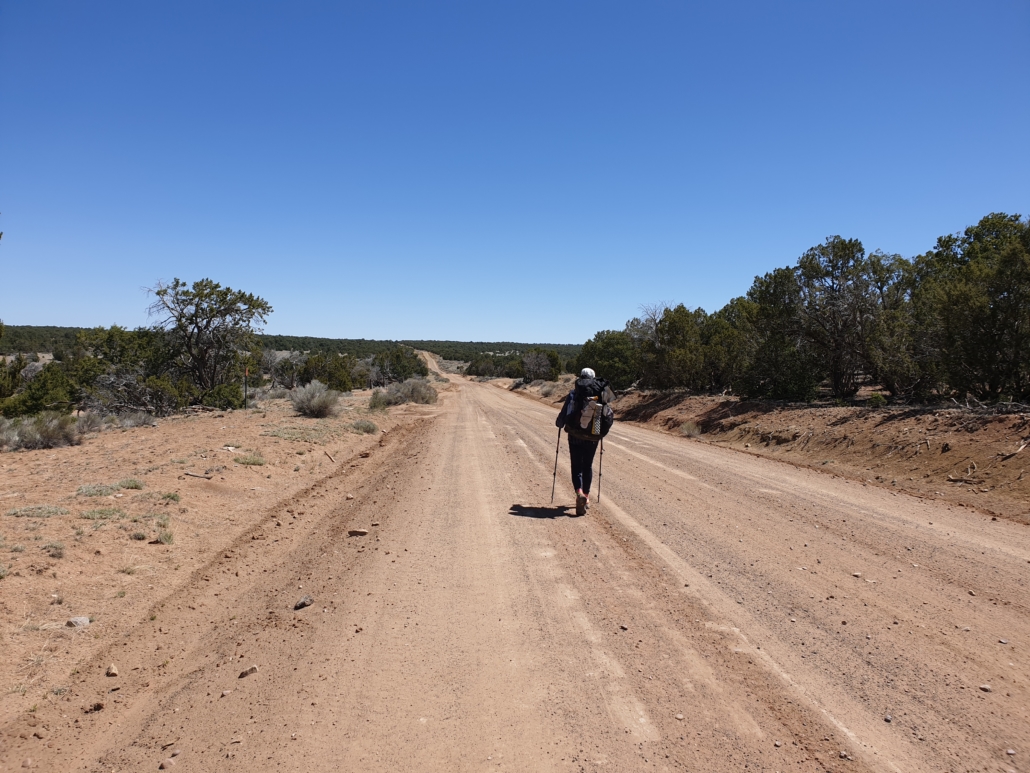 on roads…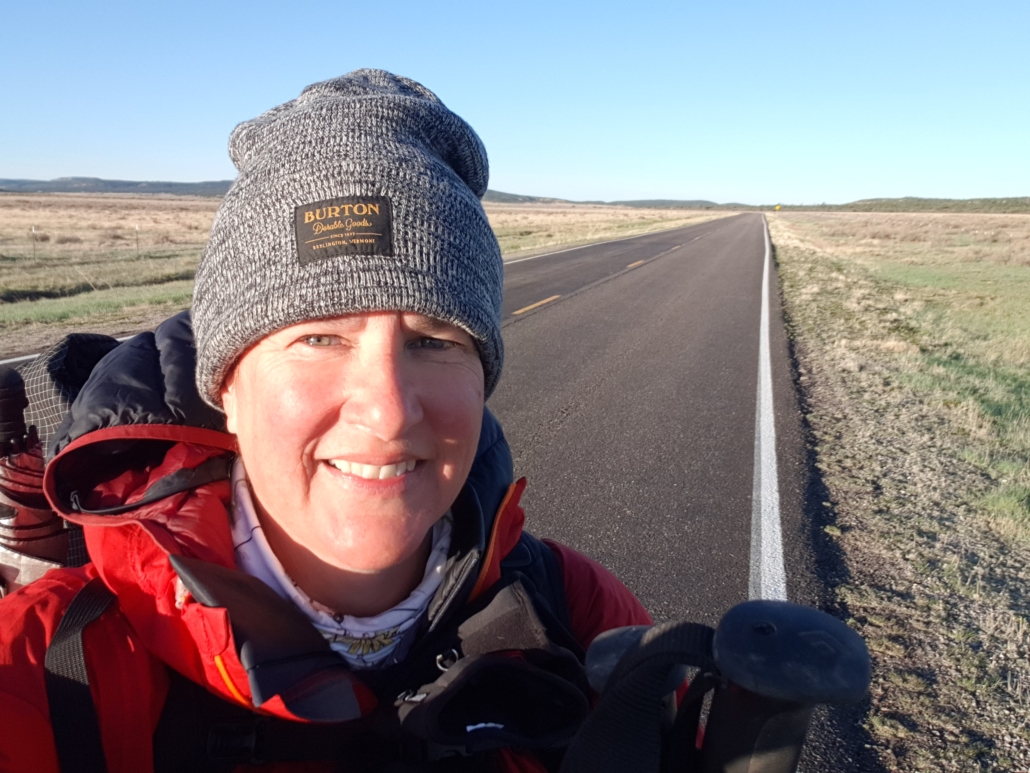 Sometimes these roads are even private property, so we have to trespass (feels a little awkward to me! This is gun country here…!!)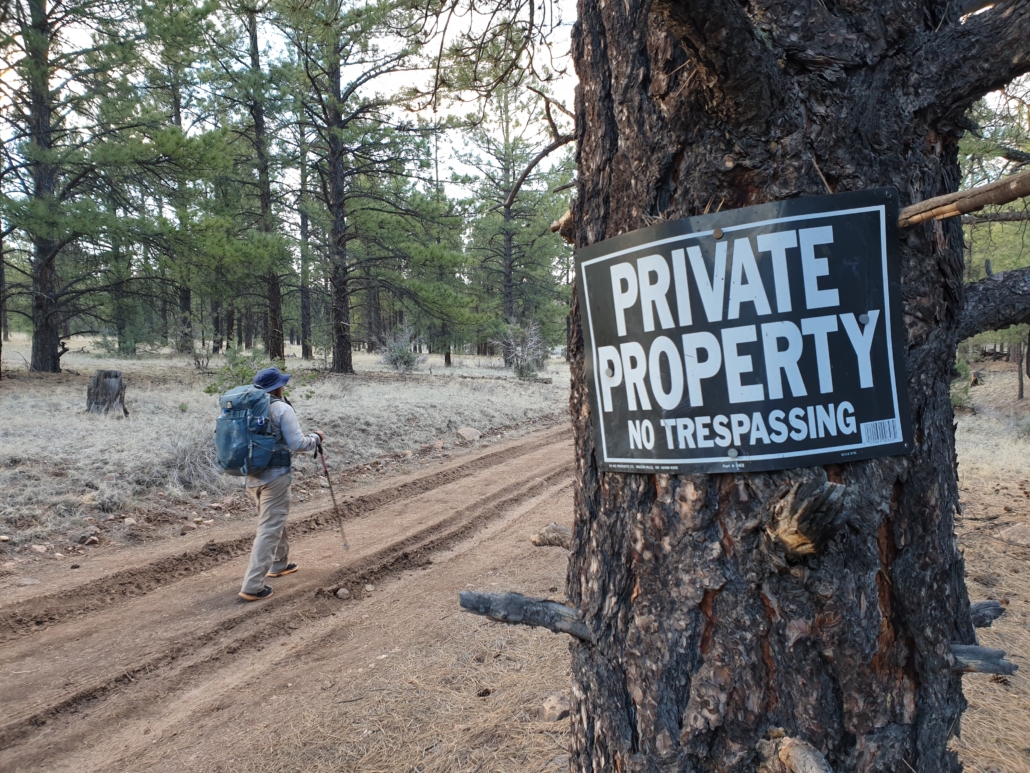 I enjoy these roadwalkings anyway, because most of the time the landscape is amazing! I am still jawdropped about how much space they have here in the US! I am enjoying just looking at and being in this space so very much!!
Also, it blows my mind how fast the landscape always changes, even though we are only doing 2 or 3 miles per hour!
As we can walk next to each other on these roads (unlike behind each other as we do on trails) we can talk sometime. Felix and I both are rather similar. We both like to talk a little sometime and then also just hike next to each other in total silence within our own thoughts.
I find this awesome!
We both often compare the CDT to the PCT: compared to the PCT, the CDT has way (!) less hikers, less defined paths, is much colder at night, has way more roadwalkings, the water quality we find is much worse, and even the type of hikers out here is different. The hikers we see are mostly the bad-ass type. The "keep going as fast as possible kind of hikers." Almost everybody out here has at least done another thru hike. The CDT is not really first-timer territory!
Anyway!
Our filters are constantly clogged! I mean, the frog-egg water was one thing, but now we deal with these cow ponds with actual cow poo in them,
so we try to take out water as far away from the poo as possible, counting on dilution…
And there are these windmills! Some have amazing water right out of the ground,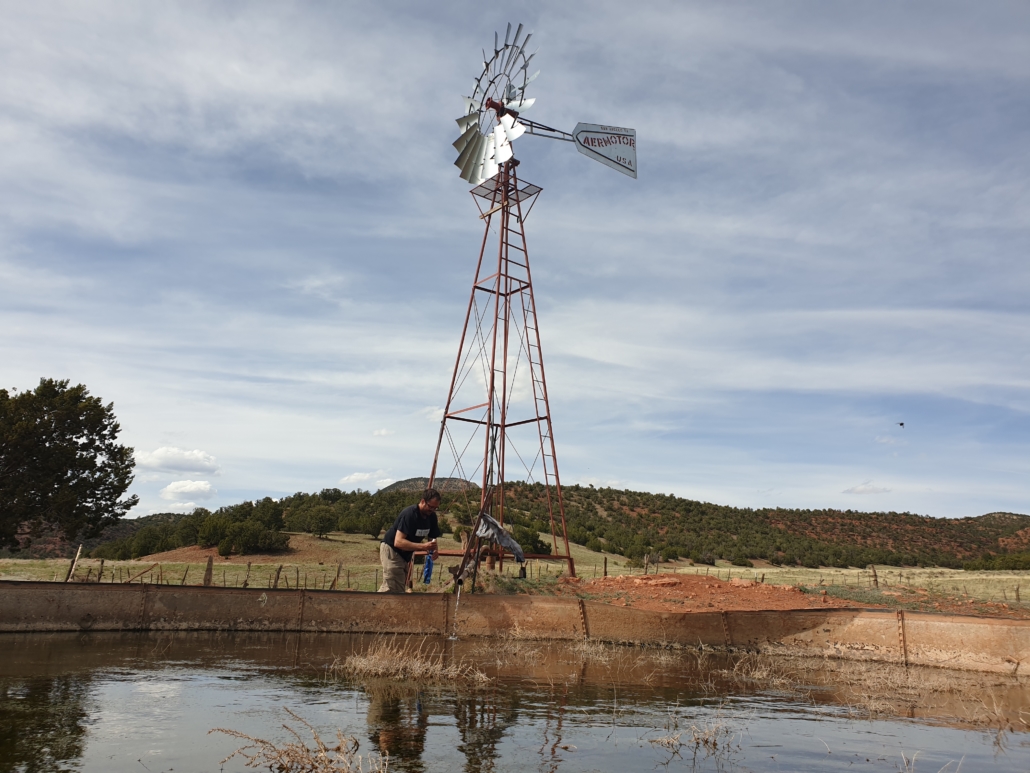 some have dodgy water,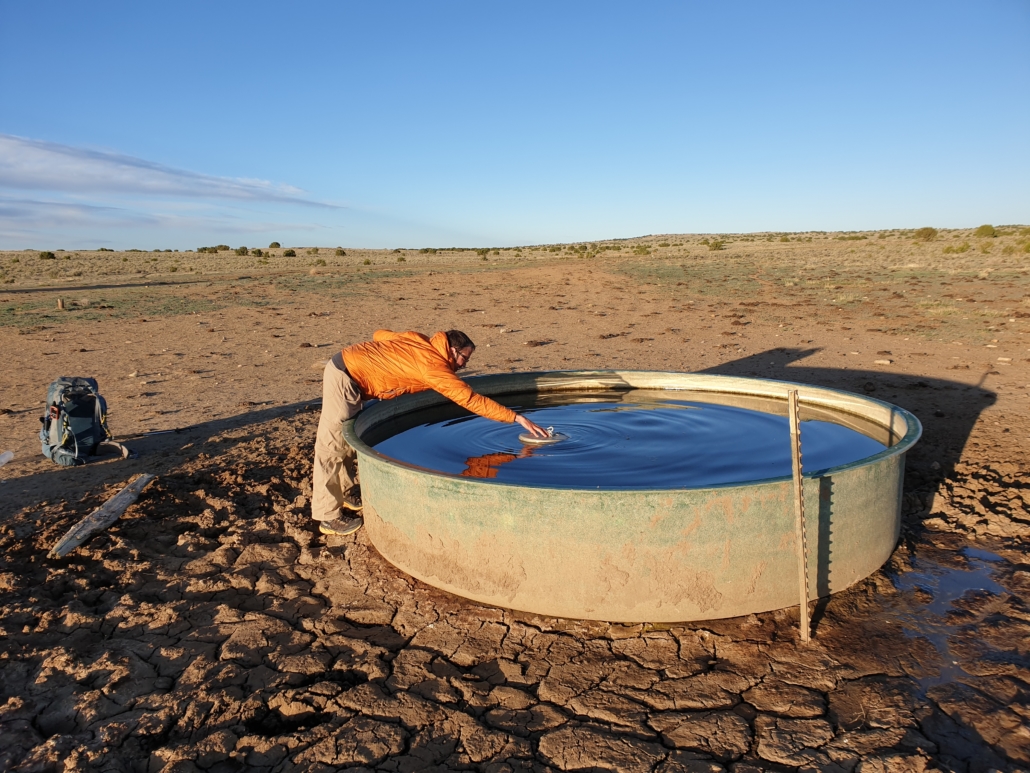 and some just have a green soup to offer (aka gross!)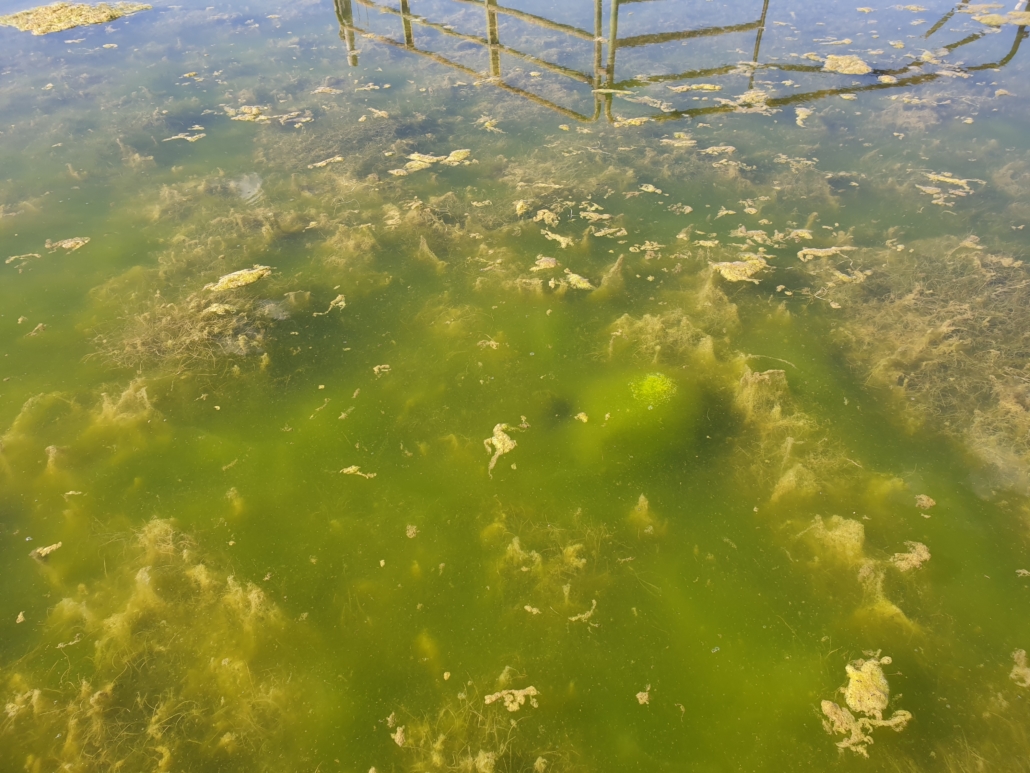 But anyway, I love these windmills! They are so simple and yet effective, and I am so grateful that they are here. Without them, I can not see how hiking the CDT in New Mexico would be possible!
To come off the road for a while, we decide to hike alongside the road on a little off trail on a plateau called "The Narrows". The plateau has a one way path on it, meaning there is no path down from it, you have to eventually somehow climb down back to the road. We know it's "doable", as previous CDT hikers have done this too.
(I loath the word "doable" when it comes up in the context of sections on the hike, as this means only one thing for me: "fear".)
So I have a sinking feeling while we are on this ridge.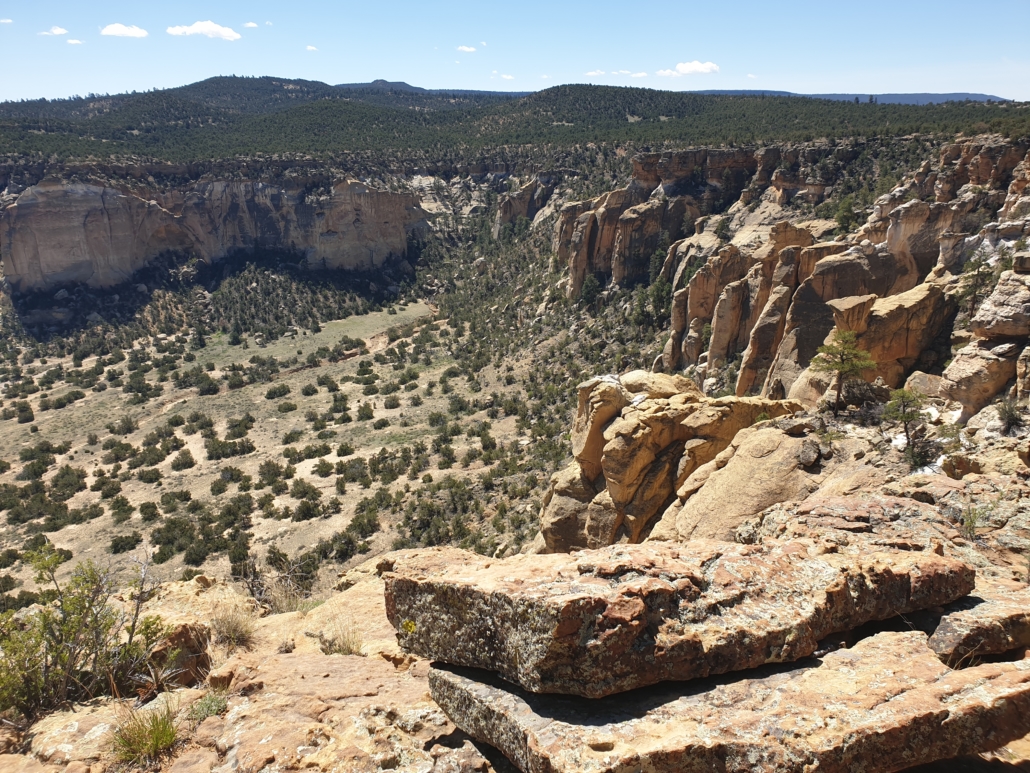 It's beautiful though and we can overlook the lava field we are going to cross later today.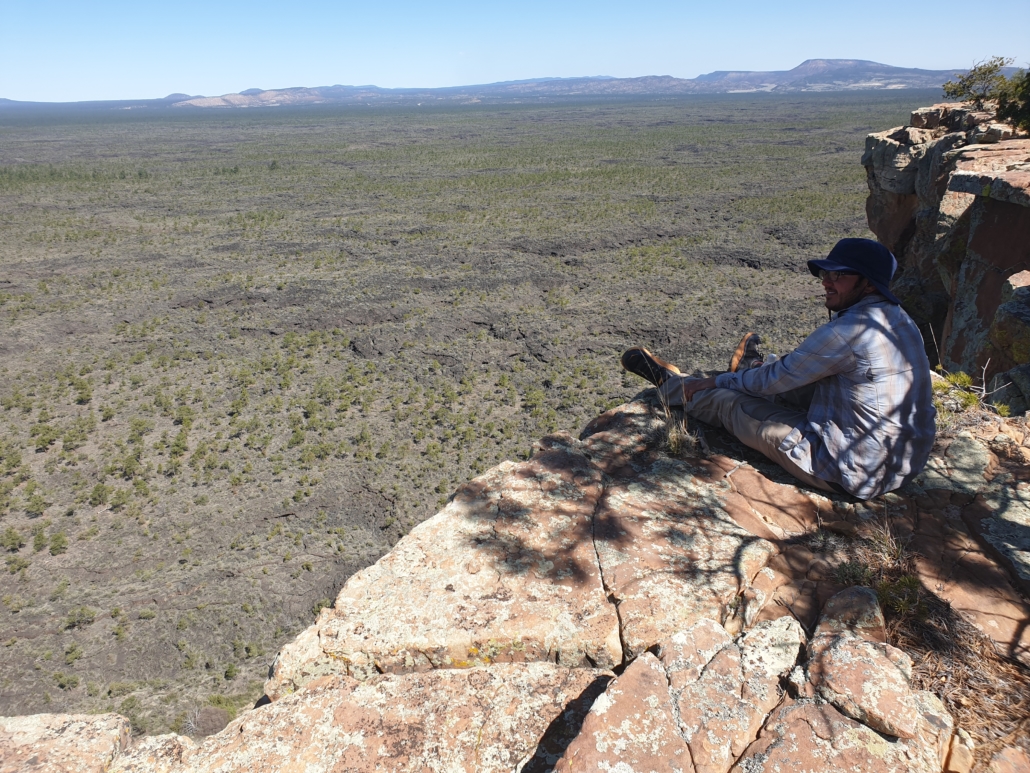 "Alright", says Felix, "here is a good place to go down".
"NO, I don't want to go down here".
I feel silly. But I can't help it at the moment. I have been worrying about this descent since we are on this ridge and now it's happening, we have to somehow scramble down here and my brain says to me:
"no Happy Heidi, you don't want to get down here."
We want to sit down, Felix almost steps on a huge snake and jumps out of his skin.
Great.
I start sobbing.
Mainly because I know that Felix would without any hesitation give it a try and now he can't go down here because I chickened out.
"Try not to feel bad about it", he says, "it's OK". "There is this dirt road about 2 miles from here, we can try to bushwack there and follow this road back down to the Highway."
I sob a little more but am also very grateful that I can hike with this wonderful compassionate guy.
So we bushwack and its hard. Lots of bushes and lots of little cacti to step on and climbing bits on the way. We hardly make progress, and it's very hot.
"Hmmm, another option would be that we just backtrack the last 8 miles and go down the way where we came from and keep hiking on the highway, Felix suggests."
We hum and haw.
"No, let's keep going and find this dirtroad".
It's a scramble and the landscape is rather confusing (to me…).
Hmmmmm, I feel a bit trapped to say the least. We are out here on this ridge, in this thick cacti-bush mixture, we have hardly any water left.
What is the best thing to do now?
"Well, the most important thing is to stay save", Felix says.
(I can not agree more!)
"There is a river bed we could follow down, it's just over there, we can try to climb it down and reach the Highway in no time."
"OK. Let's try this, maybe it's an easy way out. I owe you dinner Felix once you get me out of here!".
Felix leads the way. It gets steeper. And steeper. Now we have to climb down some boulders.
"Shall we keep going down this thing? Are you OK with it Heidi?"
"Yes! Let's push on".
The riverbed turns more and more into a tight, steep gorge. I have to get my pack off every now and again and reach it over to a bolder where Felix grabs it from below.
Now we are completely in this gorge, the sky is way out there somewhere. We keep scrambling down these huge boulders.
"That's it, says Felix". "We can't go further, there is a 20 feet (6 meter!) sheer drop here! We have to climb back up."
Oh my! All this work for nothing! And how on earth am I supposed to climb up these huge boulders? Down was one thing, but up?!
But we have to! Otherwise we are trapped!
I am amazed by myself how I can actually do this! If I absolutely have to, I apparently can!
The crazy thing about this whole situation is that this gorge here is probably way more difficult then the way down Felix had suggest in the first place! And it's all my fault that we did not get down there while we could!
OK! We are out of the gorge.
"Backtracking or finding the road", asks Felix.
"Let's go find the road."
Felix pulls out his phone and navigates us magically towards it.
The terrain gets easier, Felix navigates us through a very easy walkable wash.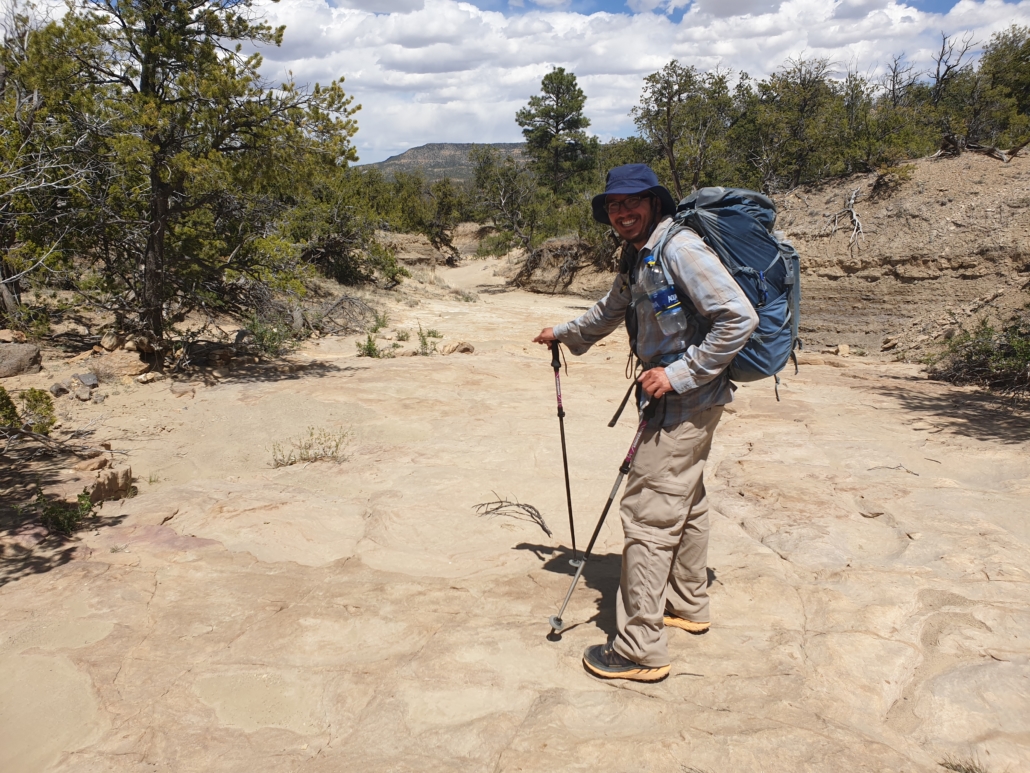 We reach the road!
We reach the highway!
"Oh my goodness! That was something!"
"Thank you so much Felix for being awesome and getting us out of here savely!"
We lost quite some time so we will camp here and tackle the four hour lava field stretch tomorrow first thing in the morning.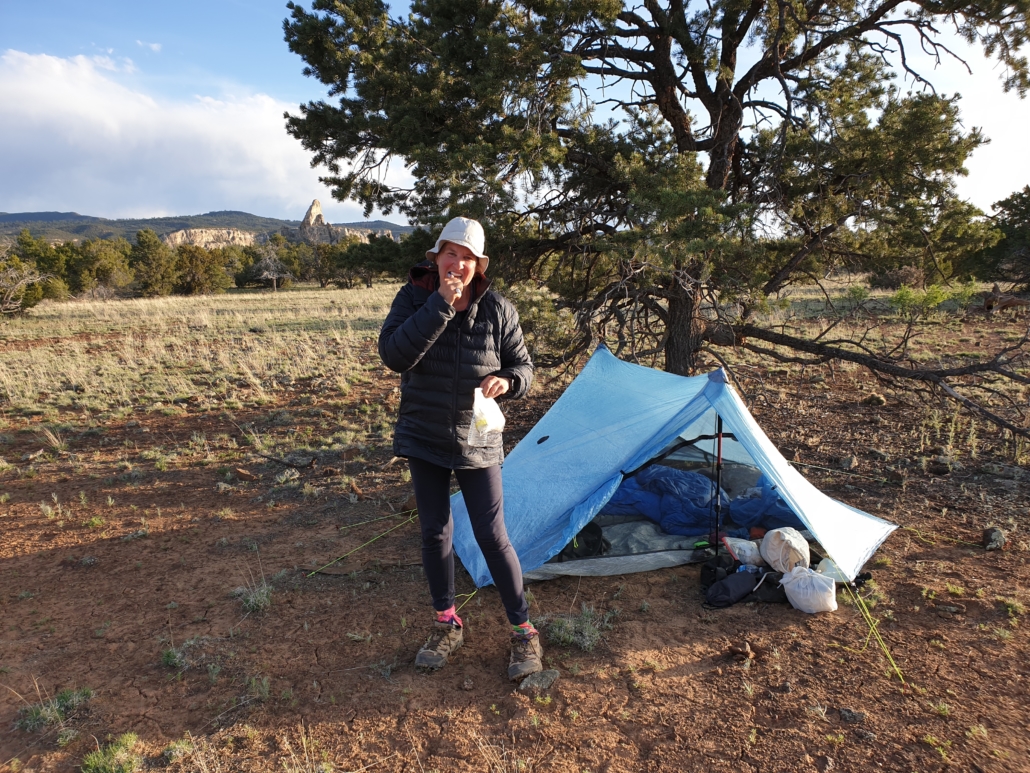 I am done. Brush my teeth and go to sleep!
5.15 am! Alarm clock goes off. Packing and off we go.
The lava field is gorgeous! Such a different world! All these formations and patterns out here!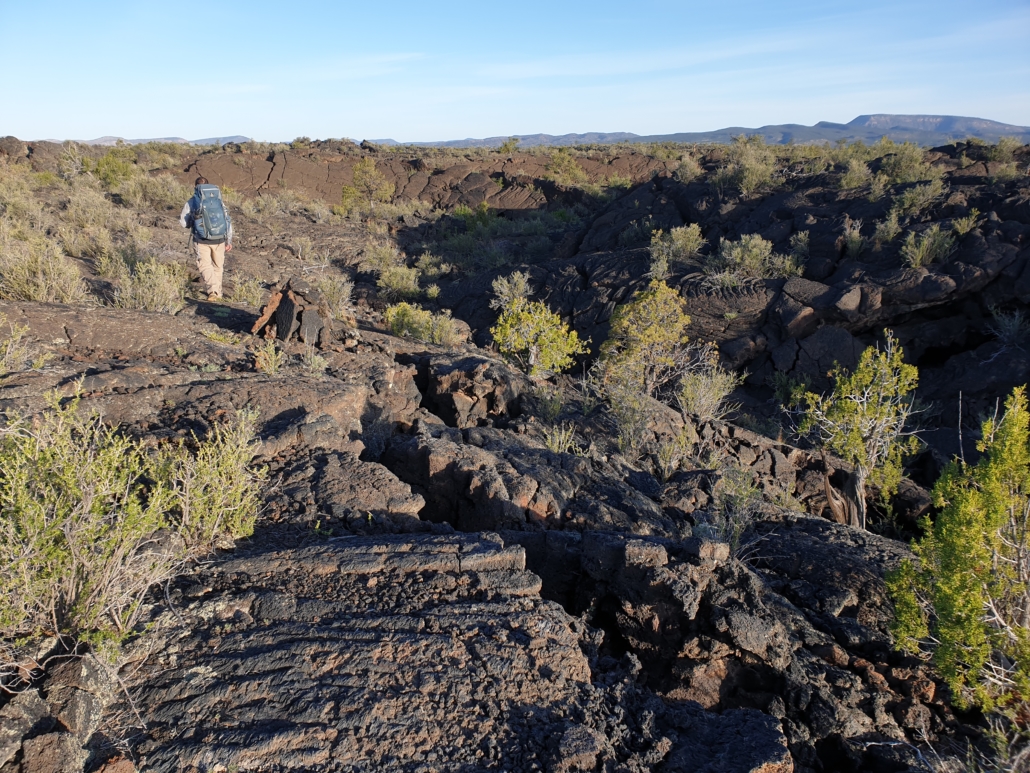 Felix jokes that we seem to hike on a gigantic cow pat.
Yup!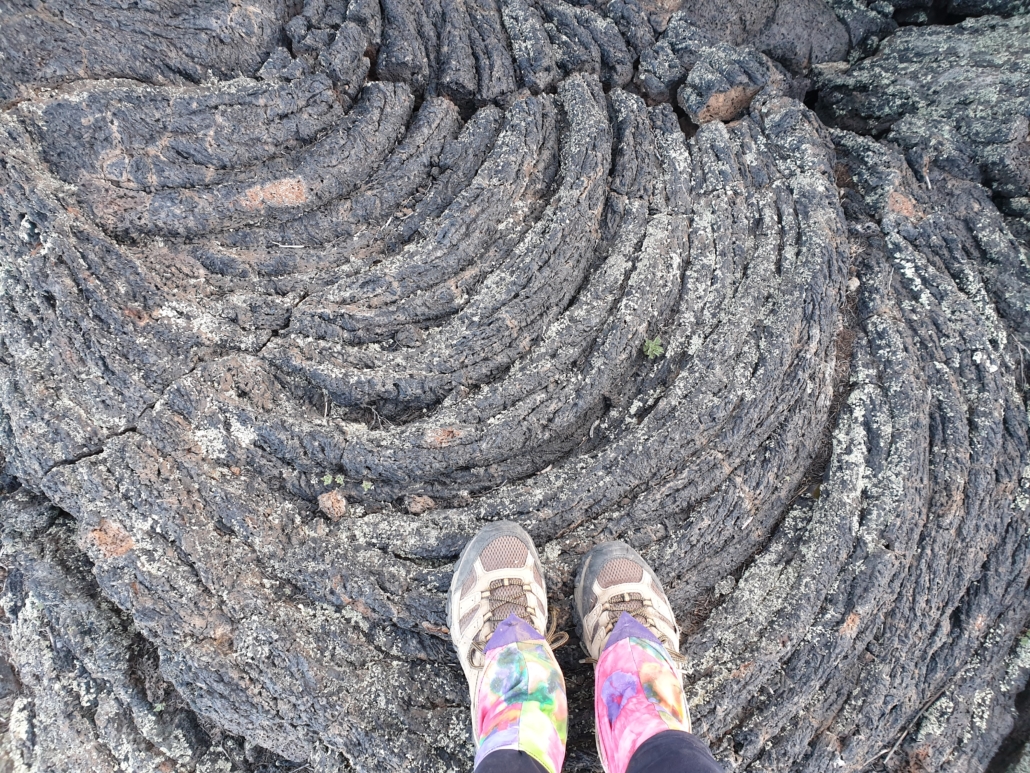 And the red flowers of the cacti look incredibly beautiful in this black and brown surrounding. I fall in love with them and take so many images!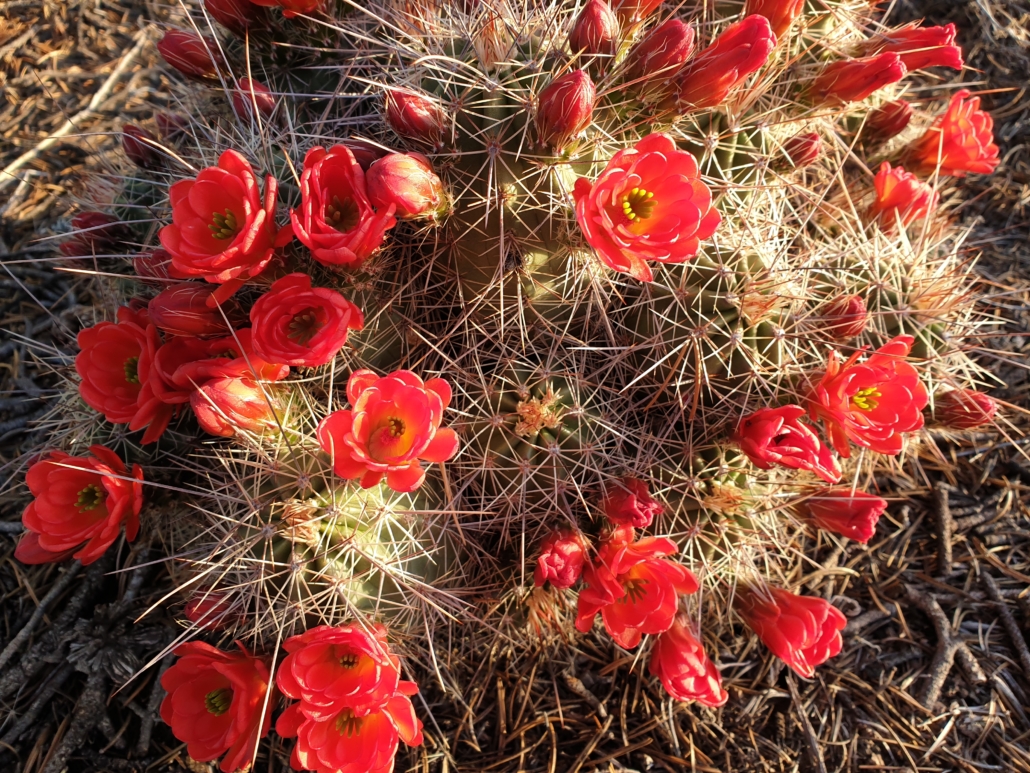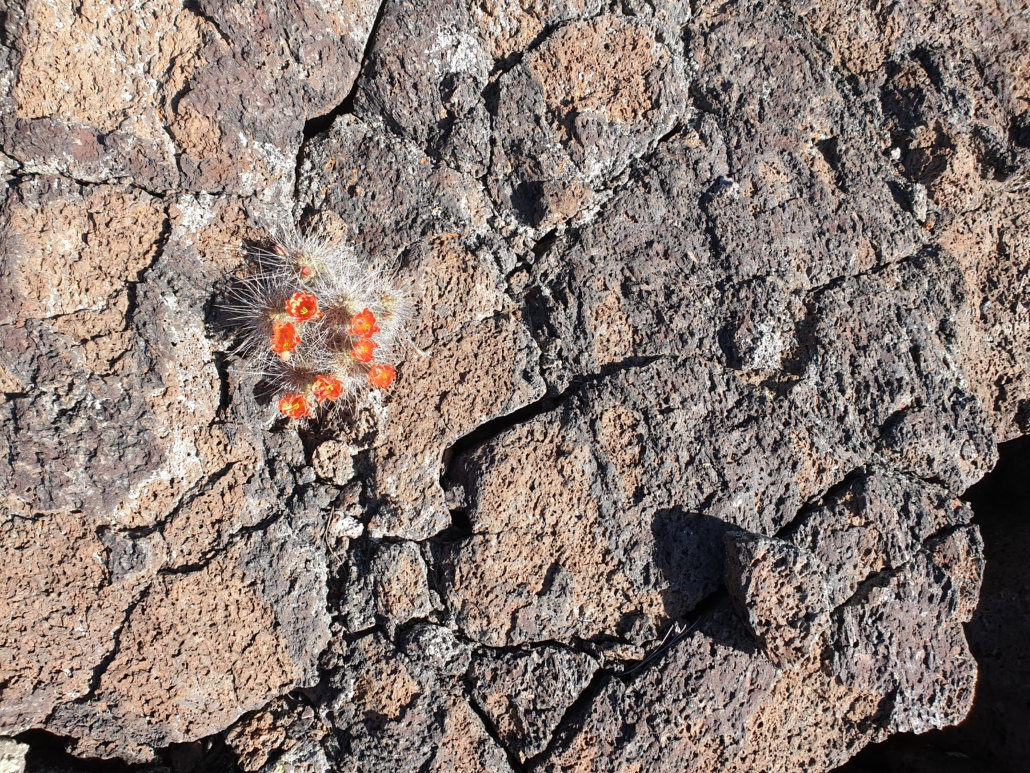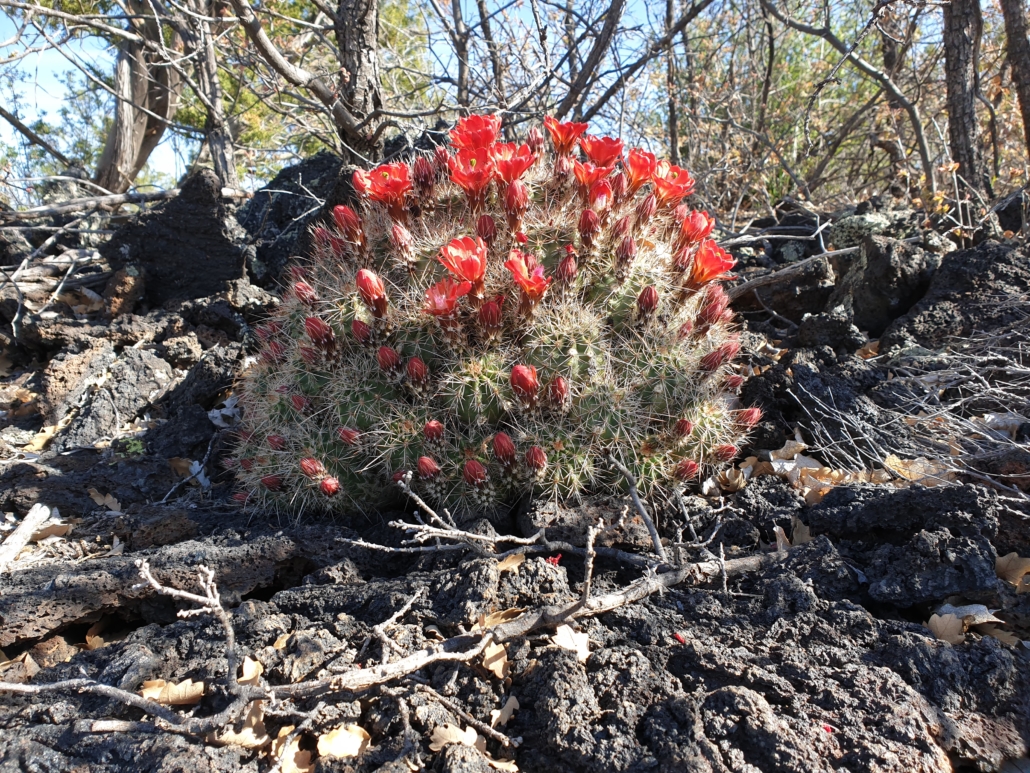 I am a very happy hiker again!
And look who we find along the way!
I call him "Mr. Greeny".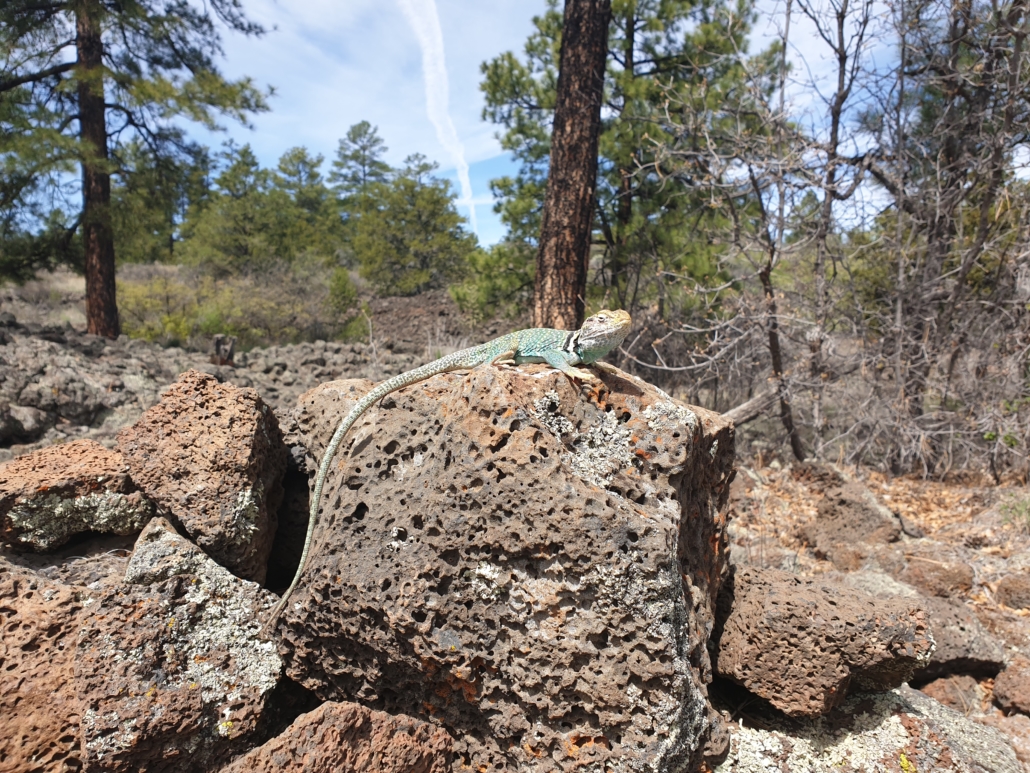 It's fantastic to be out here and get to see all this!
Yes, it's hard sometimes (speaking of freezing freezing cold nights in Maggie and scarry events, and pathfindings, but for nothing in the world I want to miss all this.)
But I could simply not do this without Felix!
"I am ever so grateful that you take me with you Felix on this epic adventure!"
So far so good (as we often seem to say), let's keep hiking and see what comes next around the corner!
http://www.earlymorning.ch/wp-content/uploads/2019/05/20190504_082105.jpg
3024
4032
Heidi
http://www.earlymorning.ch/wp-content/uploads/2016/12/Heidi_Bronnimann_logo.jpg
Heidi
2019-05-07 23:42:26
2019-05-07 23:42:26
Roadwalking and Tears