So I am having breakfast with Cowboy at the Fishlake Resort.
"I am going to get a ride up to Crater Lake", he says. "I have blisters and am done hiking for now".
Cowboy is a section hiker and only into his third week. Which means of course that he is still in his blister phase.
"No way Cowboy", I reply.
"A few blisters will certainly not keep you from hiking!"
"If you like, we can hike together to Crater Lake".
It takes Cowboy not more than two seconds to be convinced.
"OK! I am in!"
"Alright, cool, let's start tomorrow morning, after another breakfast". (PCT hikers don't let the opportunity for a real breakfast with real food pass by!)
We hitch a ride back to the trail head. Trail rumour has it, that the upcoming section is a) mosquito invested and b) not logged out yet, as the snow has only melted within somewhat the last two weeks. It turns out that both a) and b) are true!
I have to climb over a few hundred fallen tree logs which lay all over the trail.
So exhausting!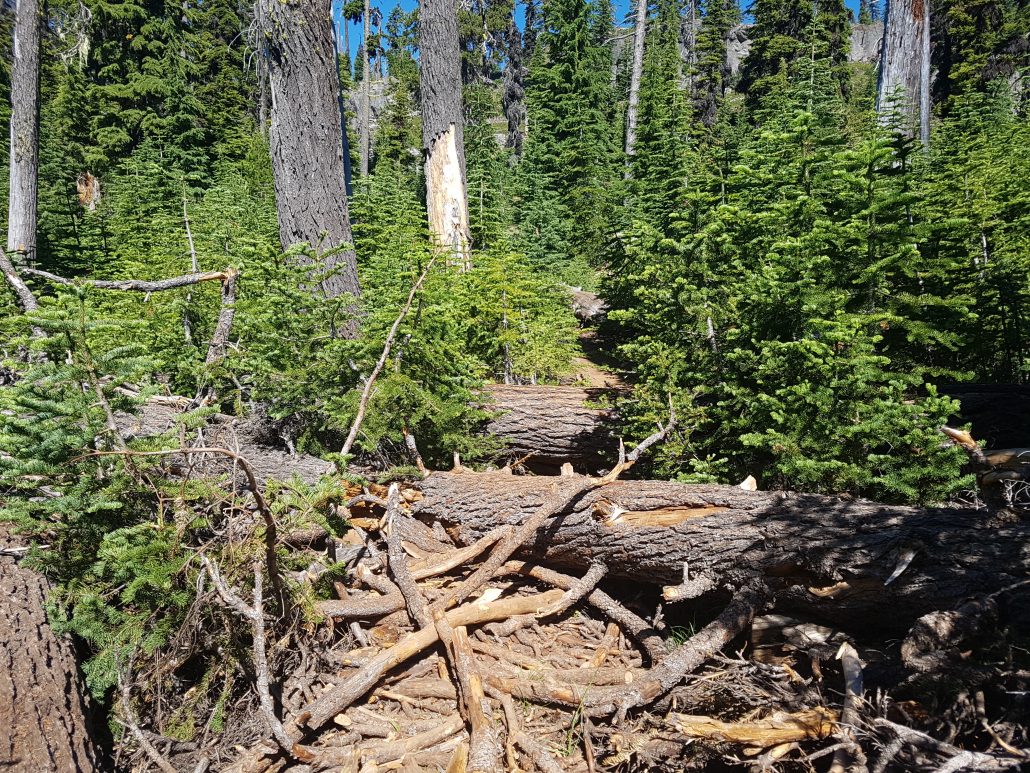 Sometimes the trees and branches get so bad that I have to do little detours and navigate back to the trail with my GPS.
But it's kinda fun. Well. Sort of.
Cowboy's pace is slower than mine, so I mostly hike on my own and just wait for him to catch up to eat something together.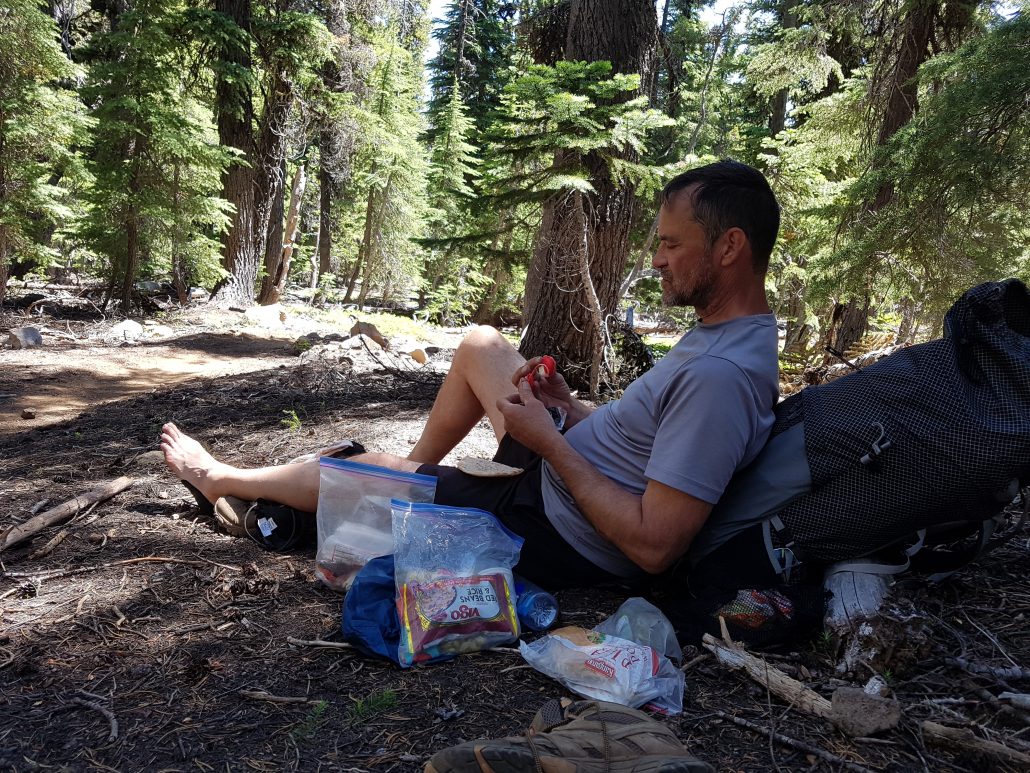 The waiting would not be a problem, if it weren't for the mosquitos! As soon as I stand still they are swarming around me.
I hit the tent rather early tonight, as I need to escape the little fuckers which drive me rather insane.
So much forest in this section again! I dare say it is almost perhaps a little boring. Nothing but forest. For days! Perhaps I am just spoiled with all this scenery I got to look at in the last few months!
But the path climbs up and I finally get a view again and can actually see where I am!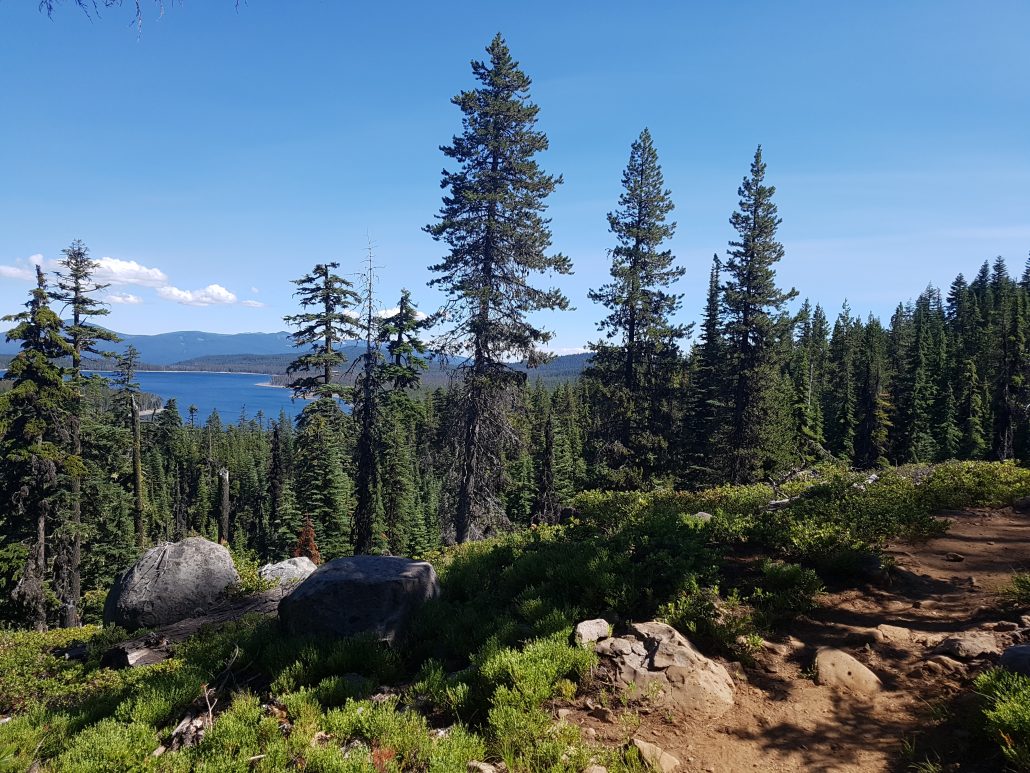 The forest is sometimes burned down again too.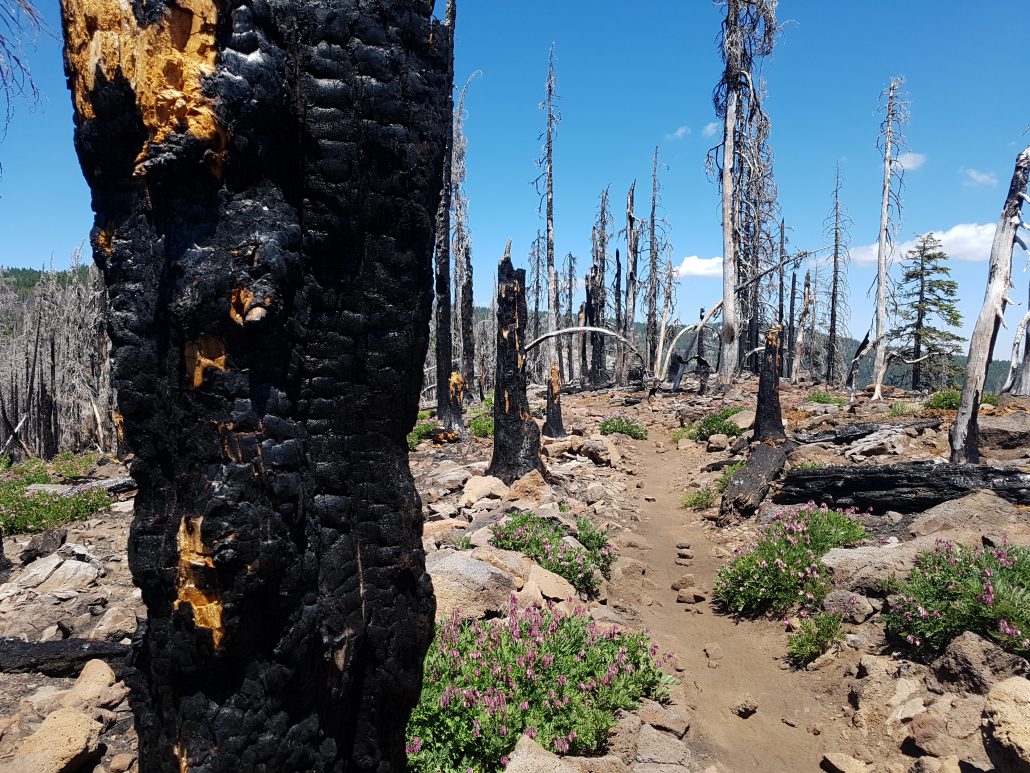 I know it is terrible to say, but at least I get a view when I hike through a burned section. This burned forest here is doing well though: The floor is covered with gorgeous little juicy young trees.
It's wonderful to see this, how nature finds her way back after a fire!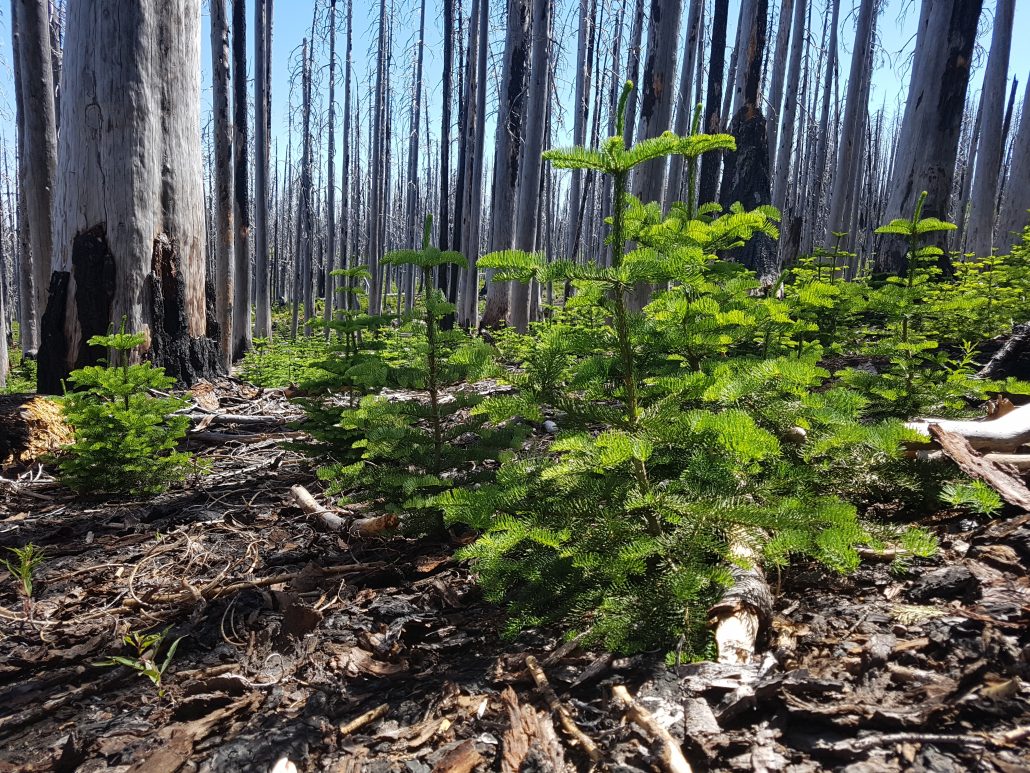 Crater Lake is now only 22.5 miles ahead and I suggest to Cowboy that we just go there today without further delay, aka camping.
He is not amused.
"They have beer there… ".
"OK".
Cowboy is a man of quick decisions.
After mile 16 Cowboy starts to hate me. At mile 20, when we encounter snow, he hates me even more.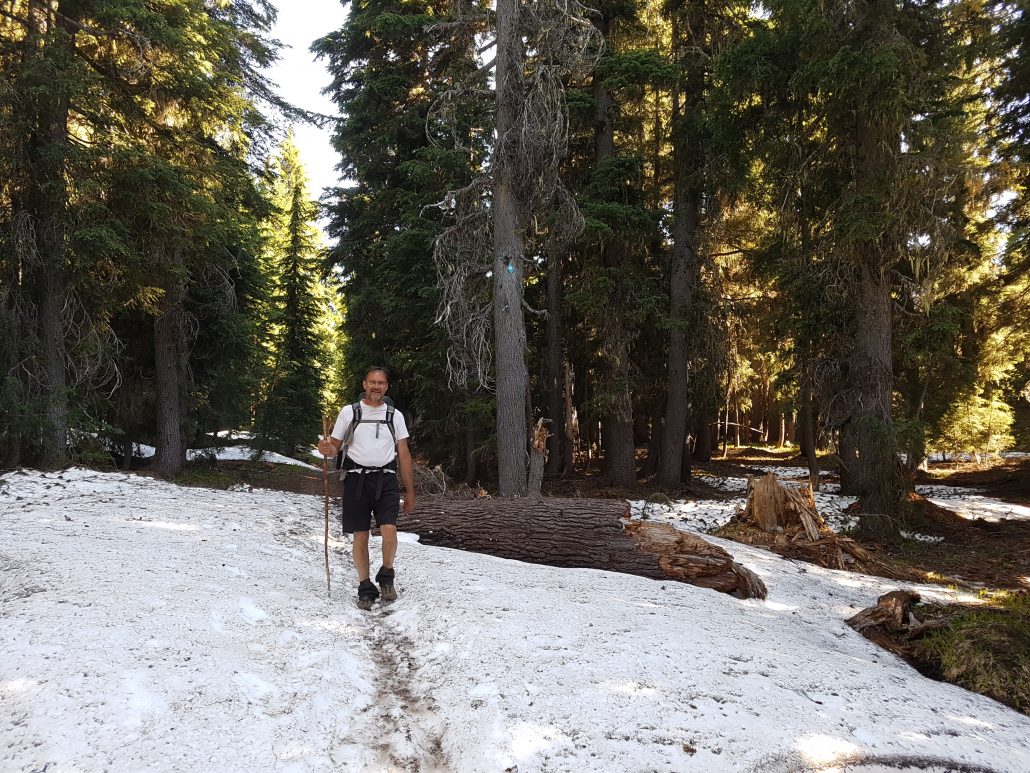 He wouldn't say out loud that he hates me, but I can tell. His blister must be really really painful!
"Only a few more miles! We are almost there!".
We make it to Crater Lake National Park Campground and storm into the restaurant.
Eat. Pitch tent. Sleep. (The showers are too far away so I can't be bothered tonight.)
Today we take a zero and wash clothes, shower, sleep, drink beer, and eat ice cream. That's it. That's all we do today.
I text with Felix, he will be here tomorrow evening!
Big smile on my face!
So, today is my second zero. I am ready to check out the tourist feature here: the Crater Lake!
The park features a funny trolley bus which must have escaped from Disney World. It drives us up there to the rim!
For free!
Awesome!
So I ride up with Cowboy. We have a quick look down at the lake but decide that we definitely need breakfast before we do anything else. There is this fancy Lodge up here (built 1915) where they make super awesome breakfast (you know, the egg, spinach, mushrooms, tomatoes kind of breakfast). It makes me full and happy.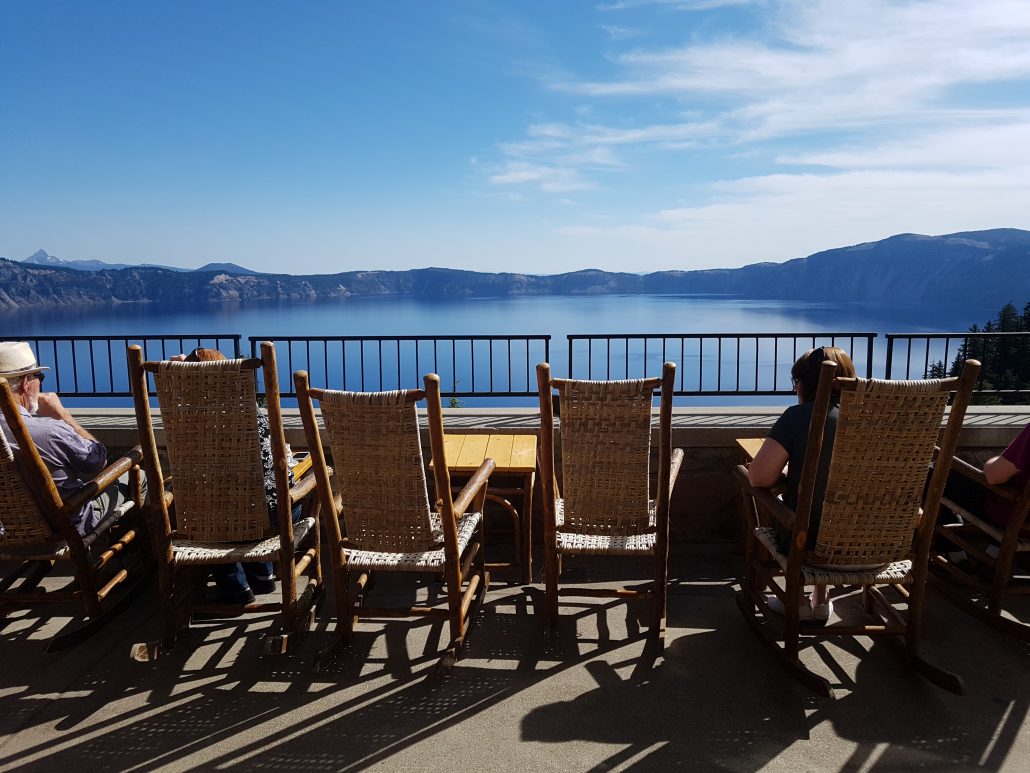 Then I check out the lake, and yes, it's pretty cool and beautiful.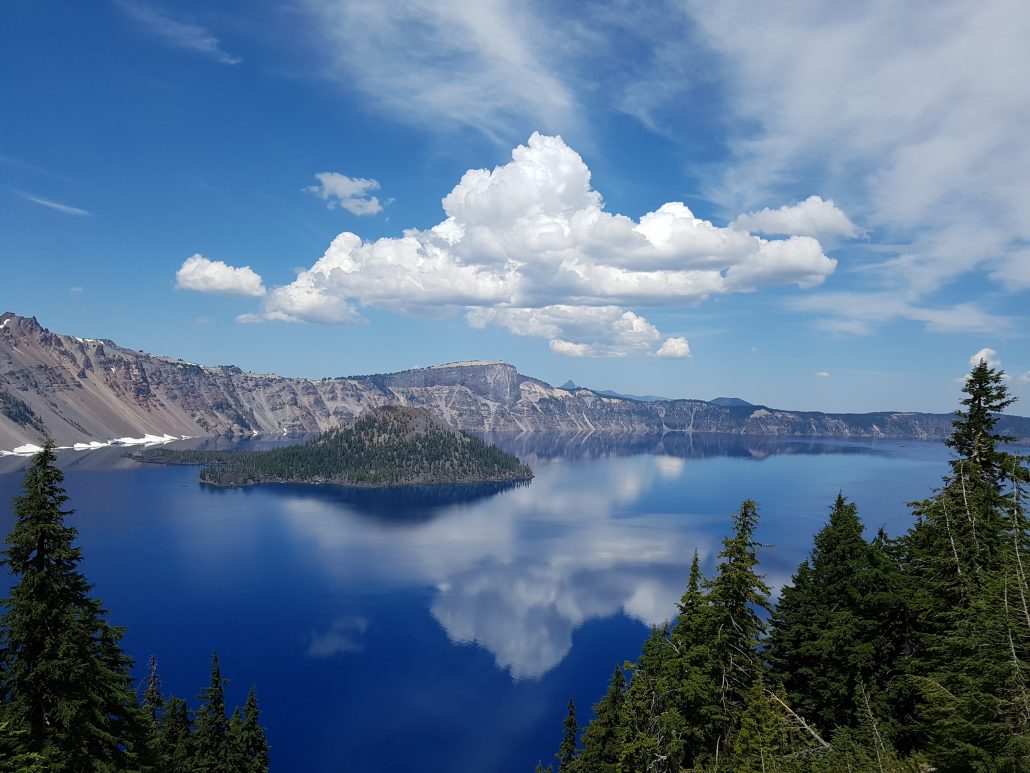 A huge gorgeous storm cloud is building up over the lake and changes the scenery dramatically.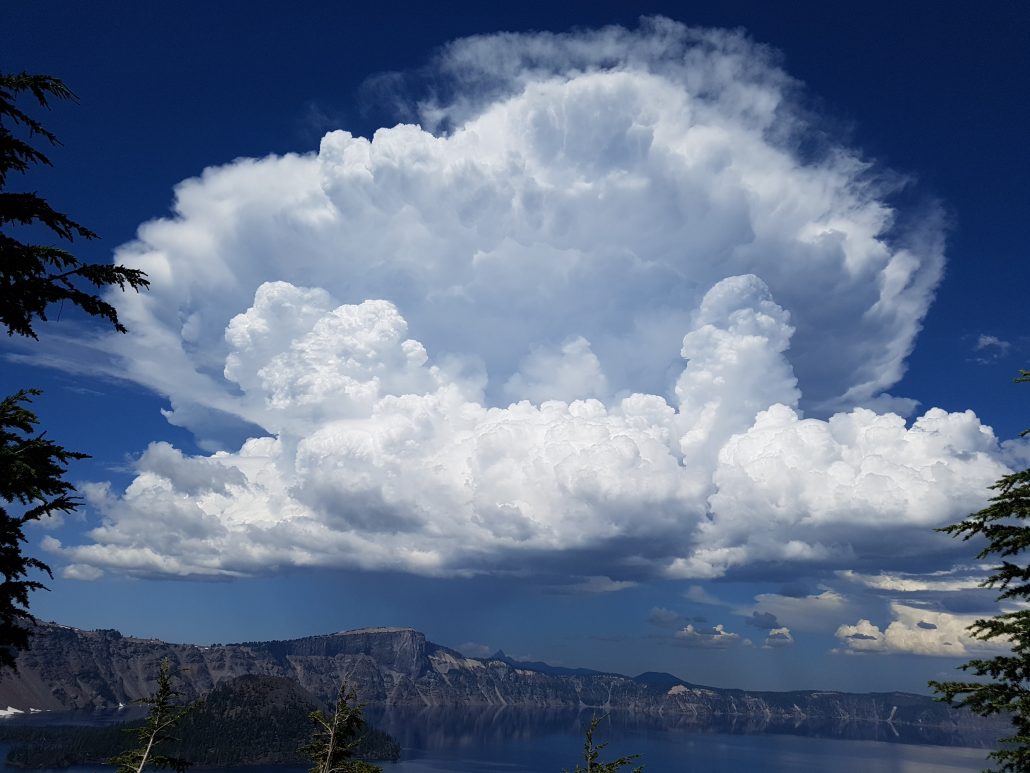 We go back to the camping place and I am eagerly waiting until it is 7pm, cause that's the time when Felix is supposed to arrive! He comes straight from the airport.
Right at 7 pm a massive storm breaks loose over Crater Lake and our campground. With hail and lots of heavy rain!
But there he is!!
"Welcome back Felix!"
Oh it is so wonderful to have you back!
I say goodbye to Cowboy who is now on his way home.
"Thanks Cowboy, it has been a blast to hike with you!".
Felix and I pack our stuff and take the trolley thing up to the rim to have breakfast in that fancy place again (I order the exact same thing as yesterday) and then we start hiking. The path takes us around the Crater Lake rim. We have awesome views at the lake for quite a while. It is still stormy in the atmosphere and I am a little scared. I hope we don't get hit by bloody lightning up here…!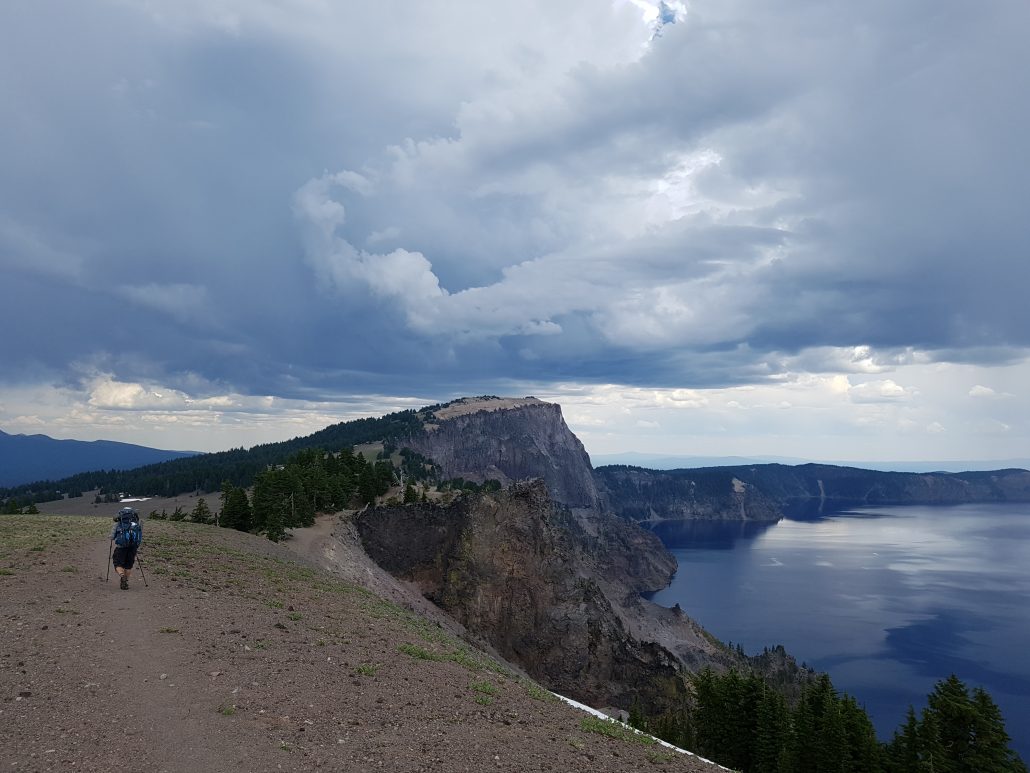 But oh man, I am so happy to have Felix back! The PCT feels right again.
And apparently Andy plans to come back too!! Now how great is that! Maybe we can all make it to Canada together!
So we hike along, conquer a steep snow section, and are soon back in Mosquito land. It gets pretty bad, we both wear our rain gear as a shield. (So hot with the rain gear though!)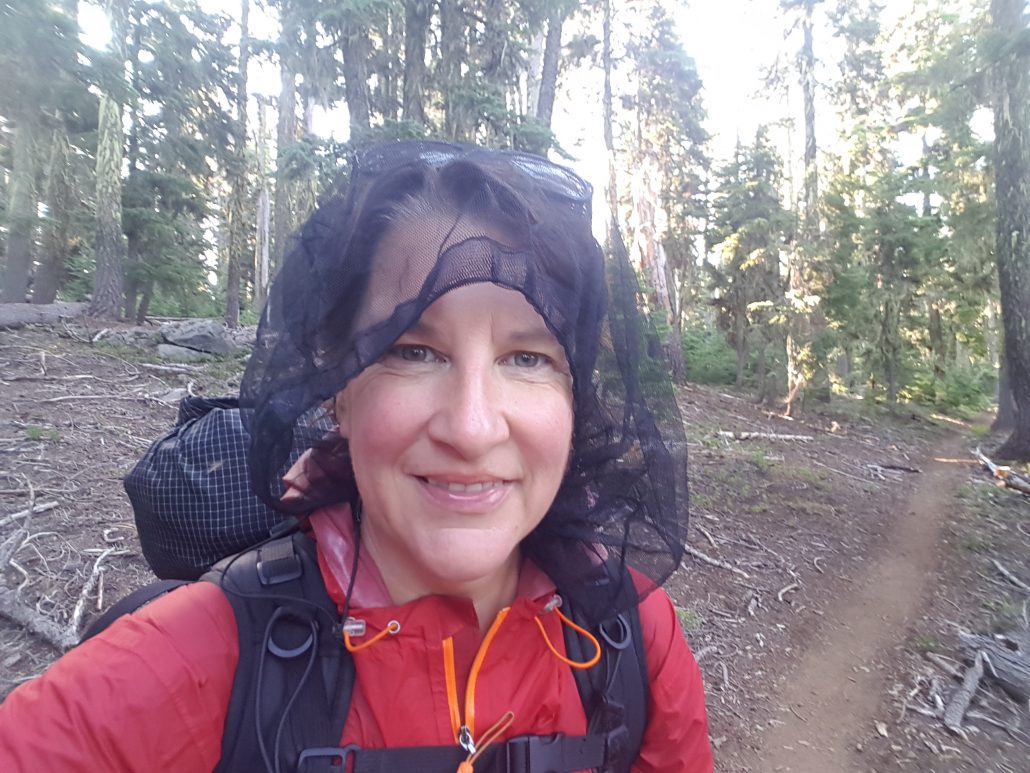 Plus, this section of Oregon is damn dry, so we have to carry a lot of water again!
Again!
I thought these days lay behind me in the Californian desert land! We hear that there should be some water caches out there though, but as always, there might be water, or there might not be water in them.
Ah! Here we go! There is plenty.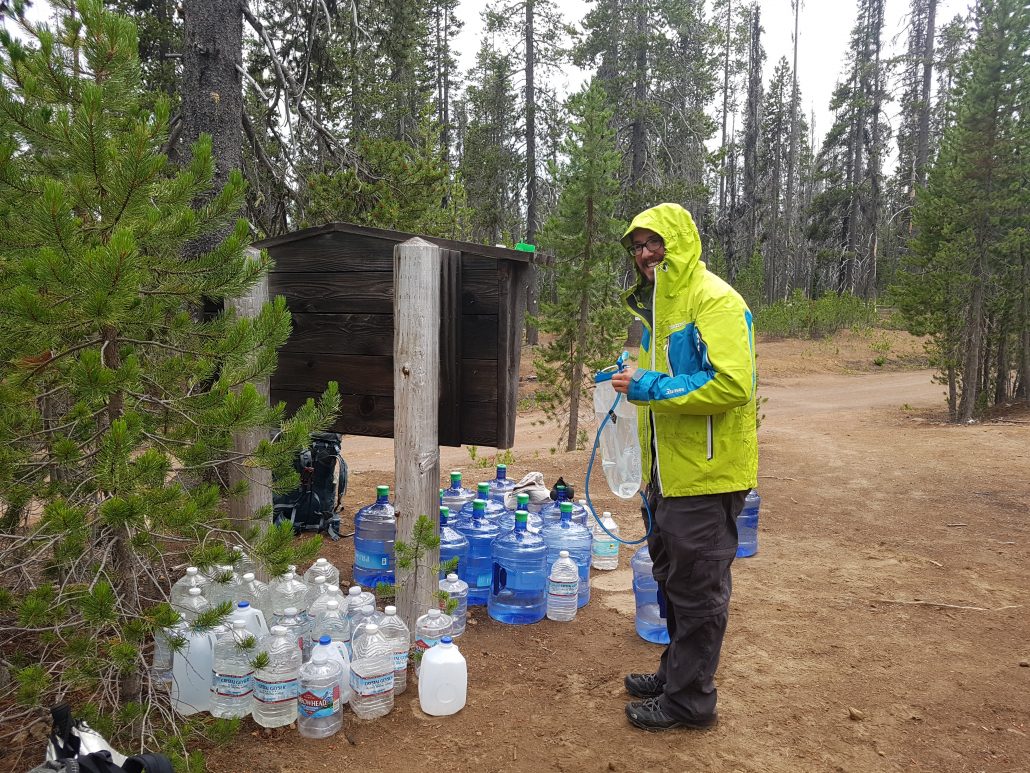 Hiking in Oregon so far has been so much easier than in California, but these bloody mosquitoes make it actually almost harder again.
But the trees have beards here! They look like thru hikers. That's pretty awesome!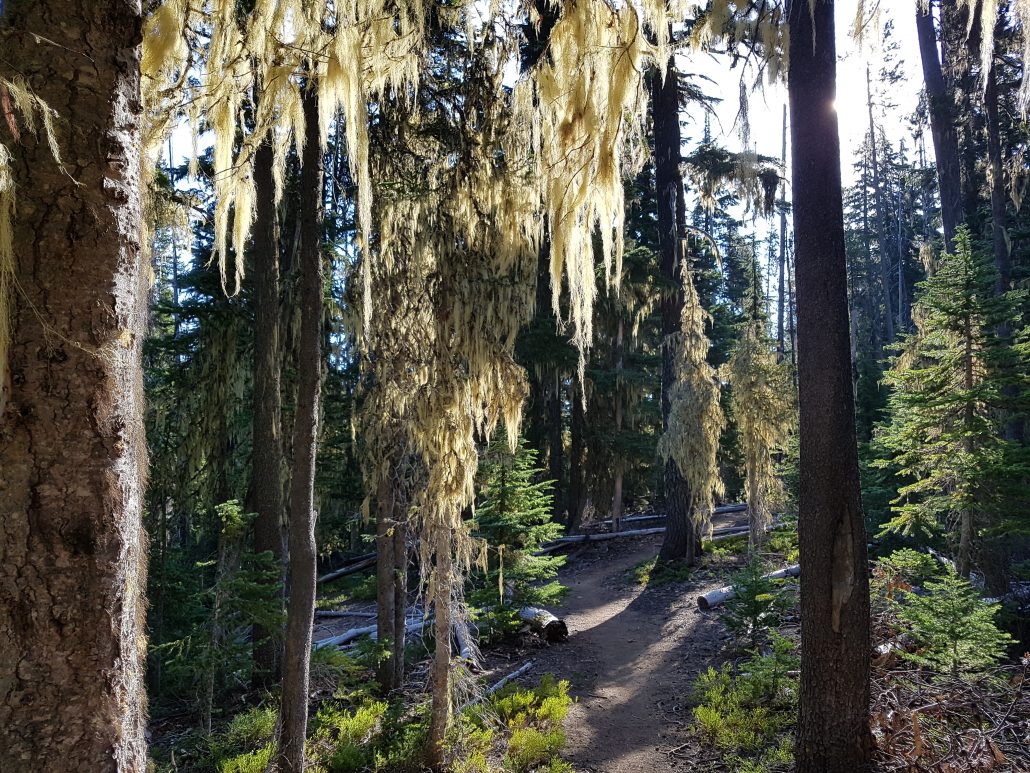 We camp at the Nip and Tuck Lakes tonight, and it is not exactly fun. There are so.many.mosquitos here! Pretty it is! No question! But soo many mosquitos!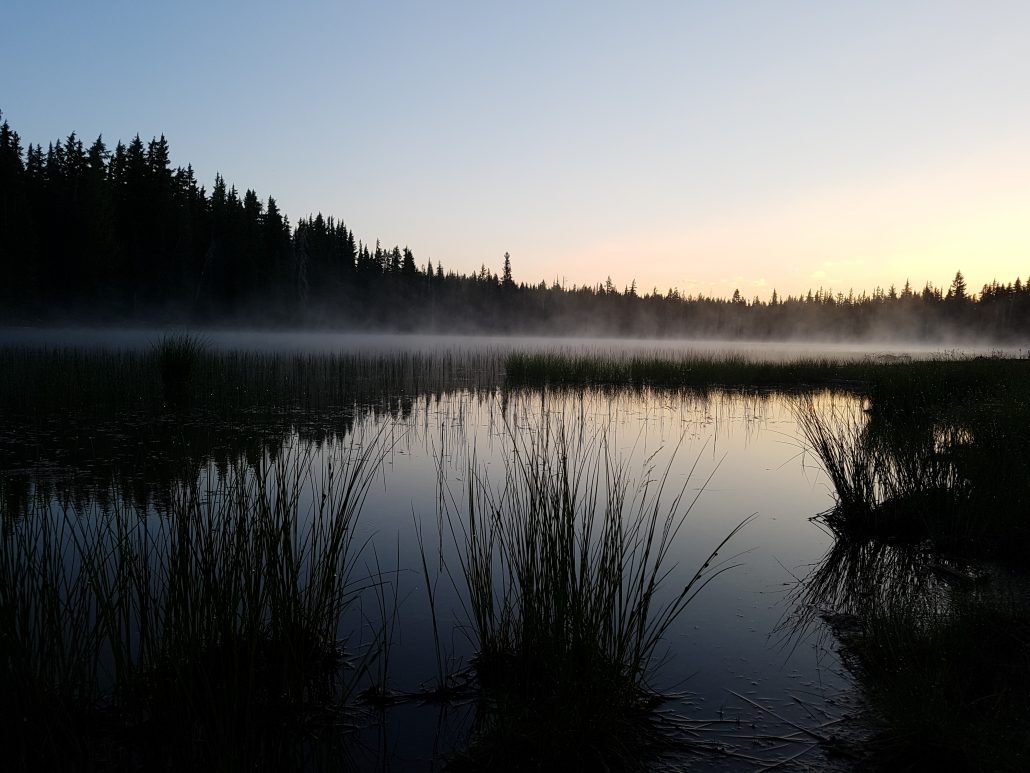 Plus, there are leeches (!) in the water, and the lakes are our only water source.
Oh well. I am sure the water is fine. But we don't feel like swimming in it…
We hit the trail early this morning, as we hope to beat the little fuckers in their morning routine. We are wrong. They are already awake and full of energy!
Oh my goodness the trail is dusty today. Hot, mosquito invested, quite boring and dusty. I can somehow imagine that some hikers give up at this point.
But not me! I am actually still super happy on the PCT. It is still just exactly my thing! Specially because Felix is back. Hiking and being out here with this profound and empathetic guy is a privilege.
And we get to see cool things other than forests too: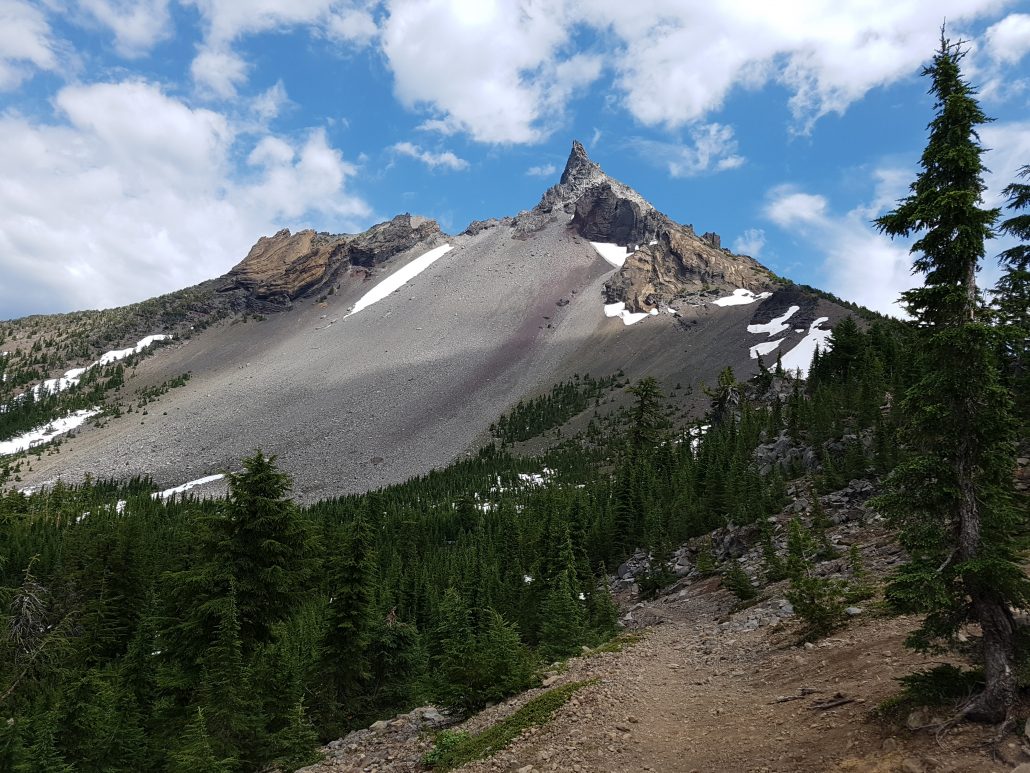 So we hike through more forest and mosquito land. But this time we brought DEED which we purchased at Shelter Cove.
Holy shit this stuff works! DEED makes the hiking so much easier! It's pure poison though! But I don't care.
The best about this section are the lakes! There are many many beautiful lakes out here in the woods. They are a welcome change to all these trees!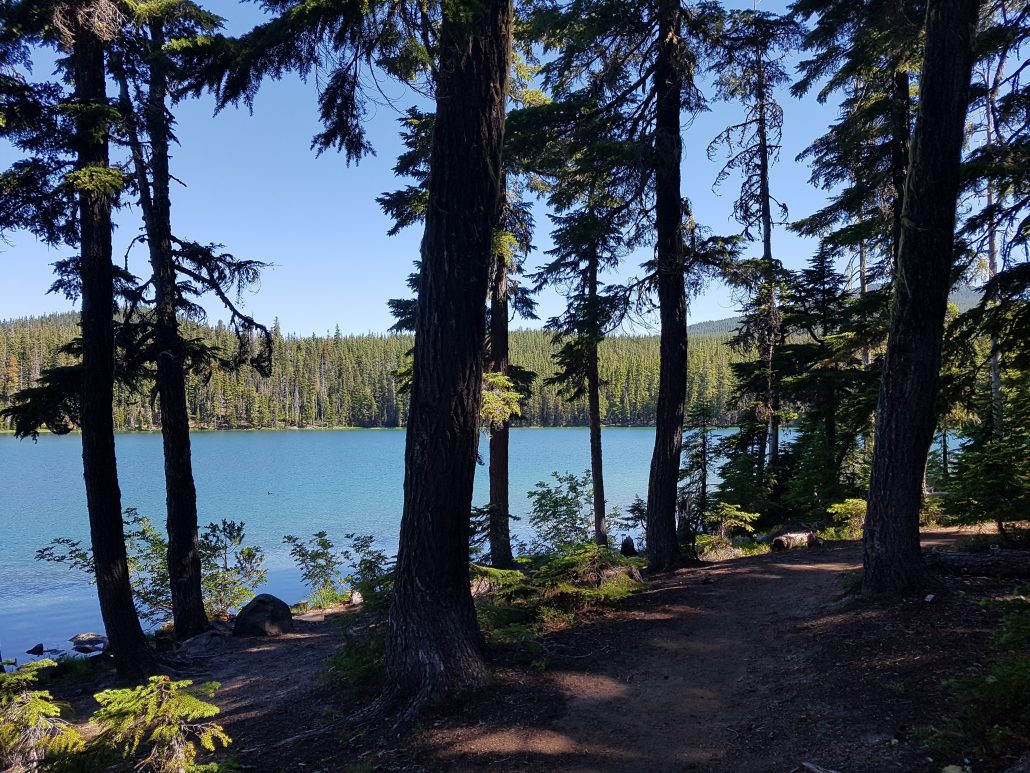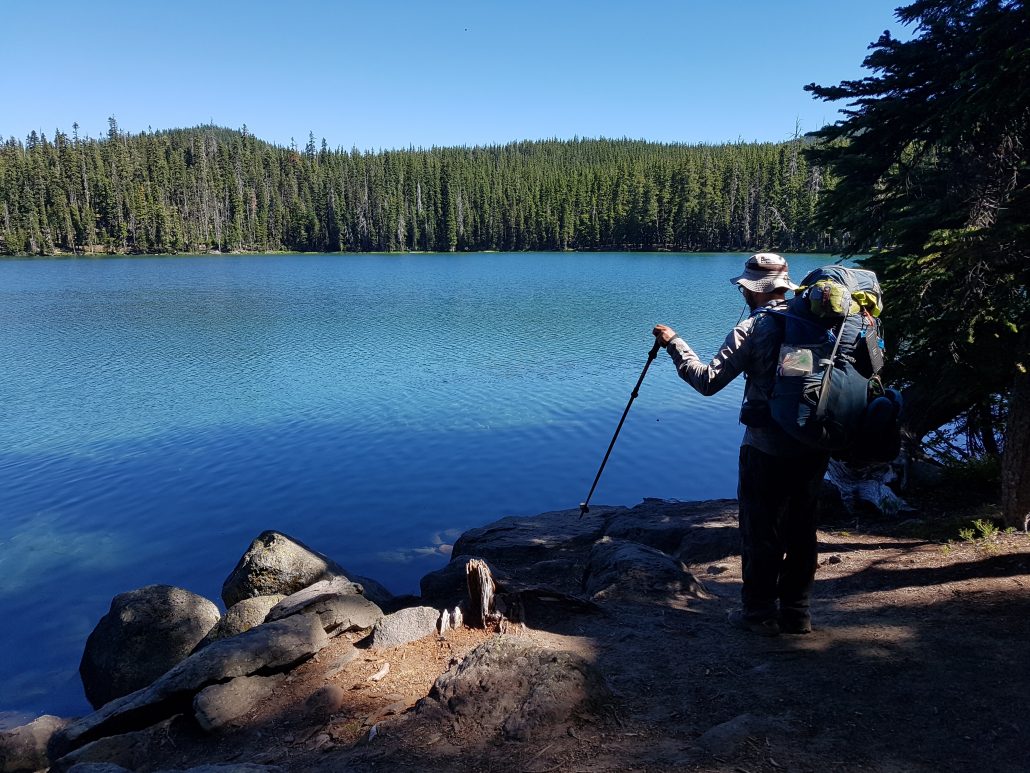 In fact, some of these lakes are awesome for swimming. So we jump in, again, with our clothes on, and cool off.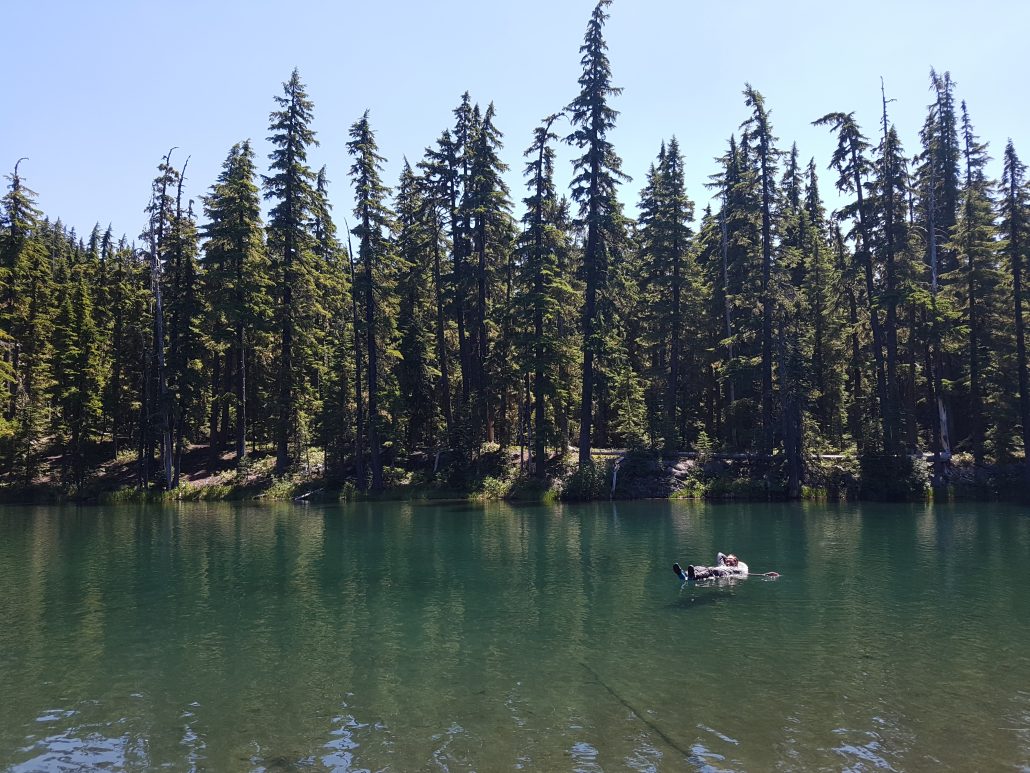 We camp at the lakes as they are just to wonderful to just swim and hike on.
Plus, we have great company here: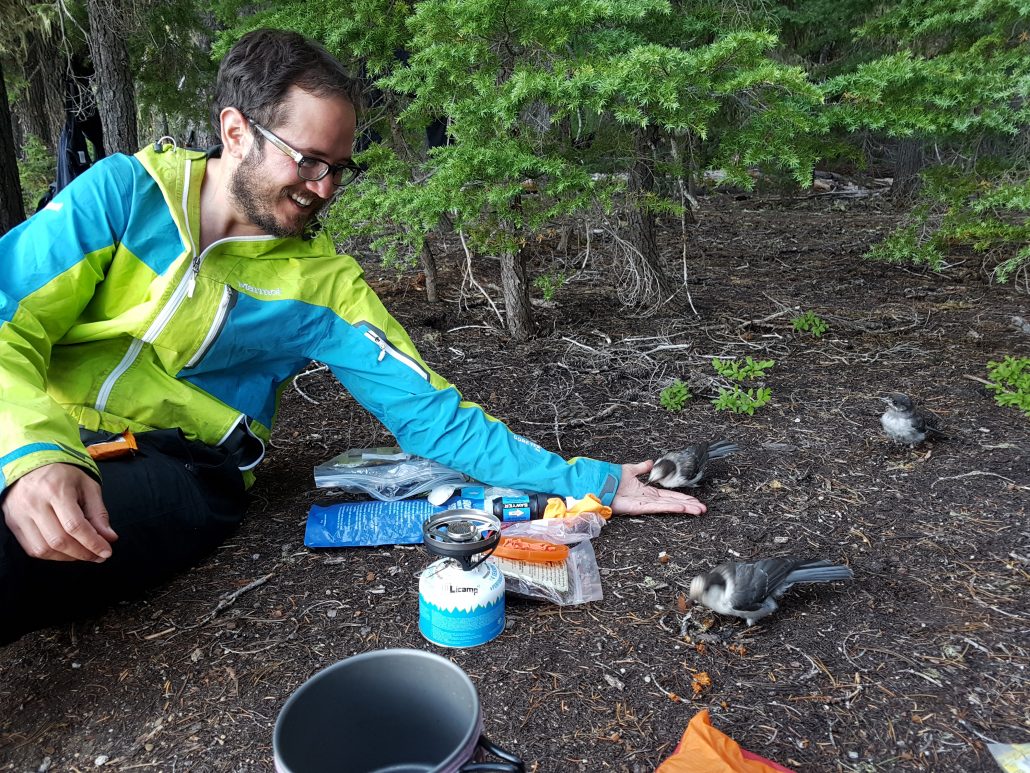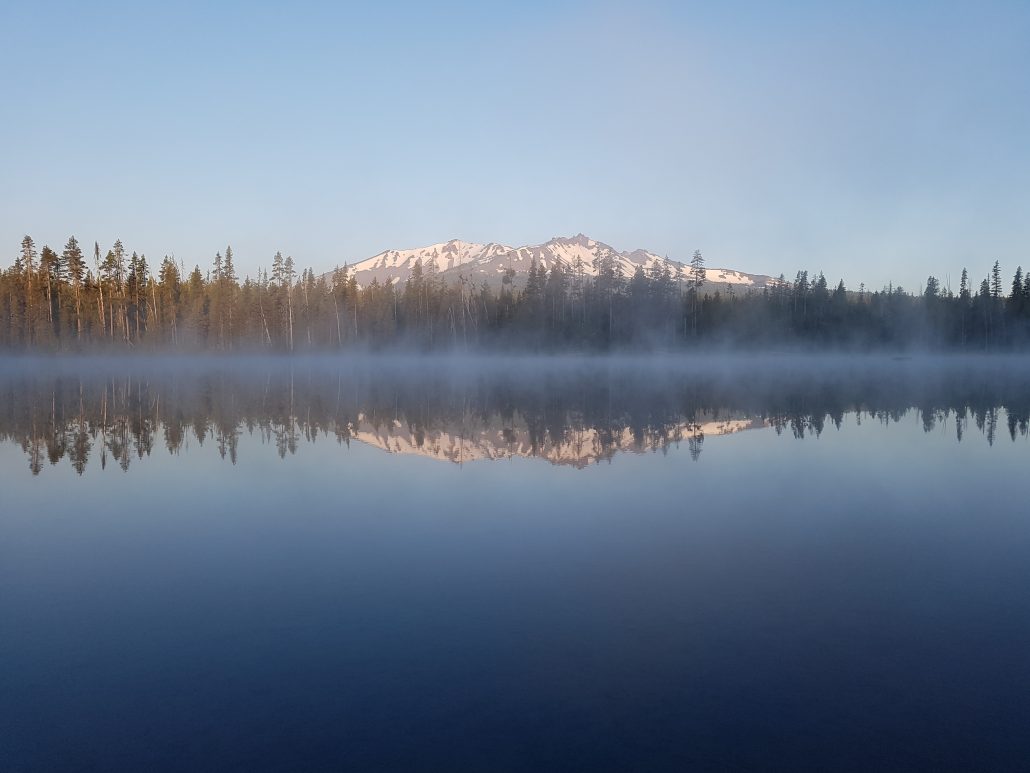 Today, the landscape changes dramatically. The three sisters are approaching.
Volcanos!

It gets overwhelmingly beautiful again!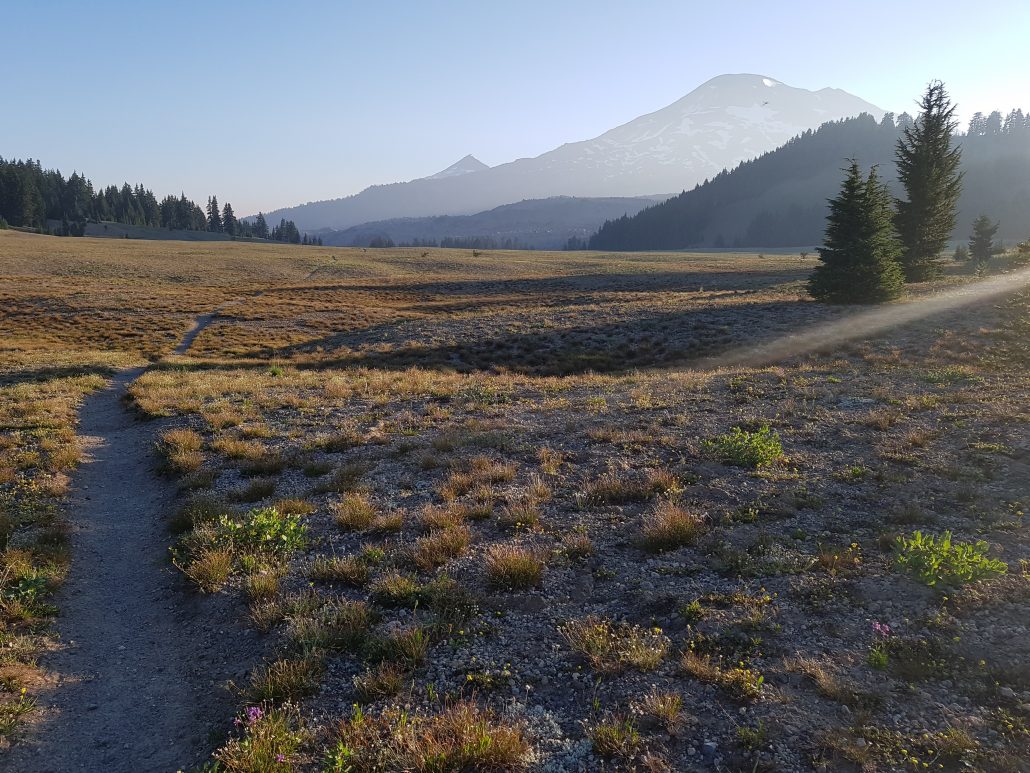 We get to hike through an Obsidian field and to a waterfall which flows over the shiny black Obsidian rock. We both of course can not resist and have a shower!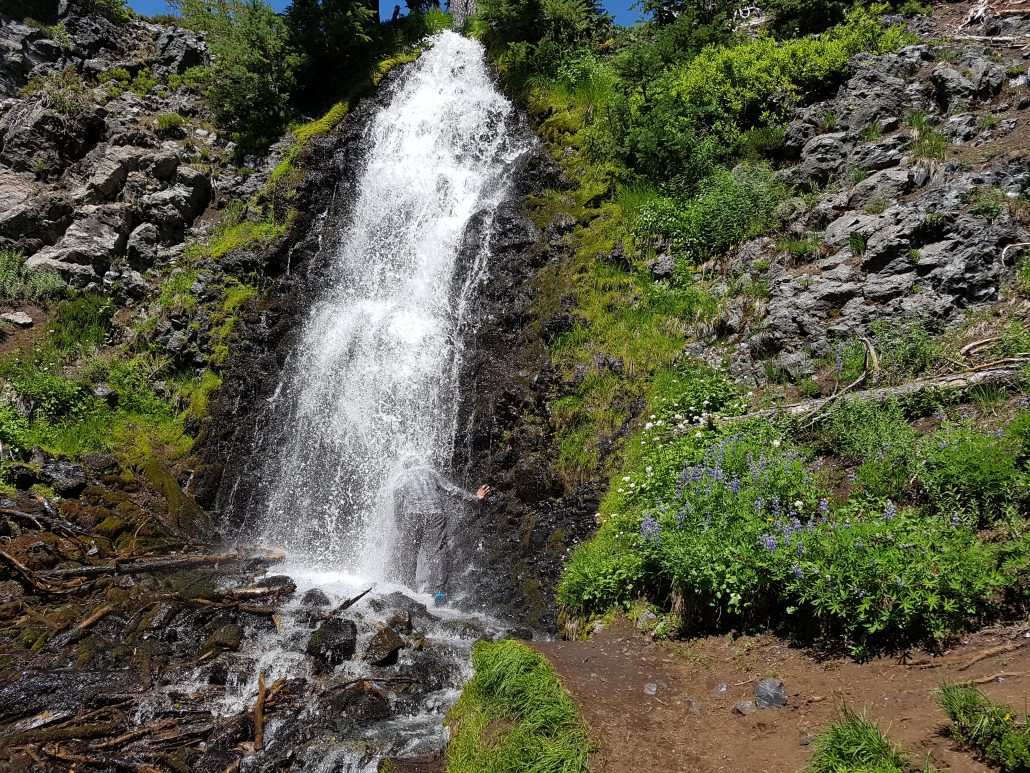 We walk along, up, closer to the Volcanos. The path leads us to and over an enormous black lava field.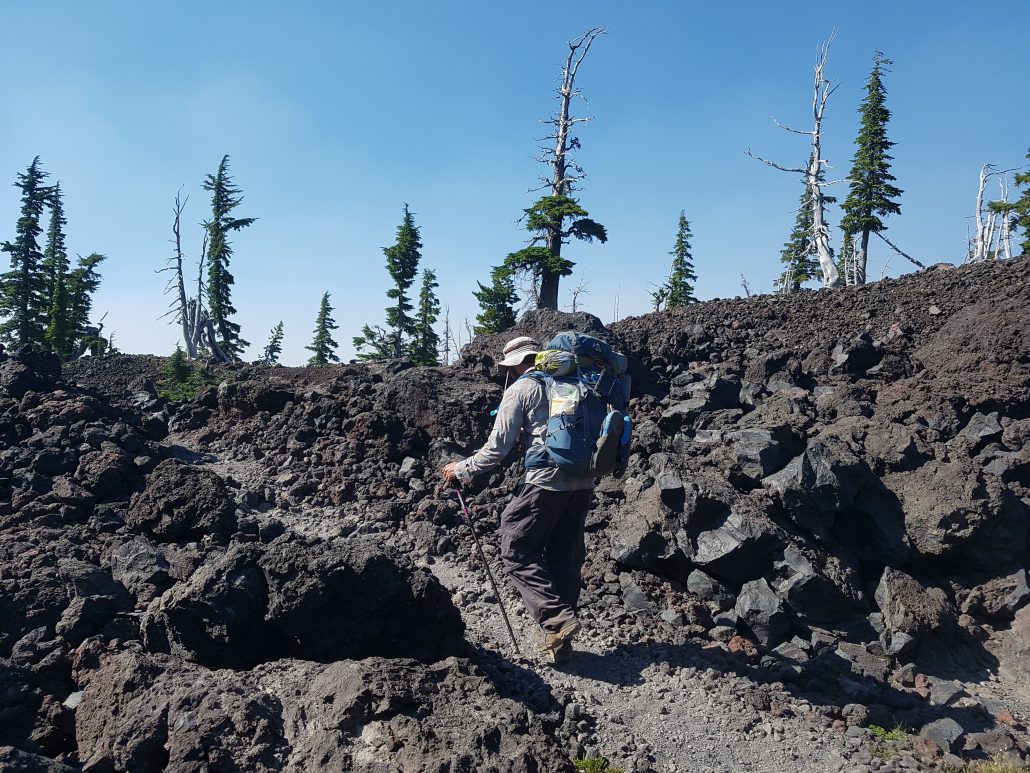 Felix has the amazing idea to dry camp up here, rather than going down to the next water source. It would just be so sad to just walk by and leave.
So we camp up here in the snow!
Epic!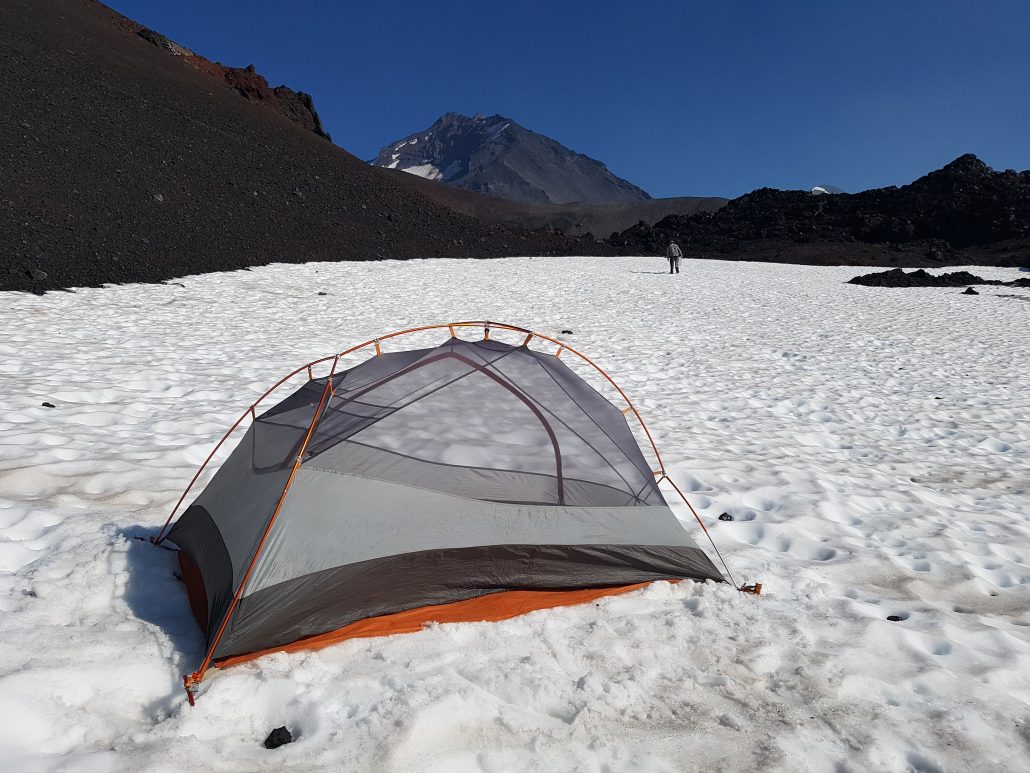 Felix explores the landscape and climbes around. He comes back after a while:
"Heidi, you have to come and see this!"
So we climb up a ridge and get to see …
OH MY!!
This!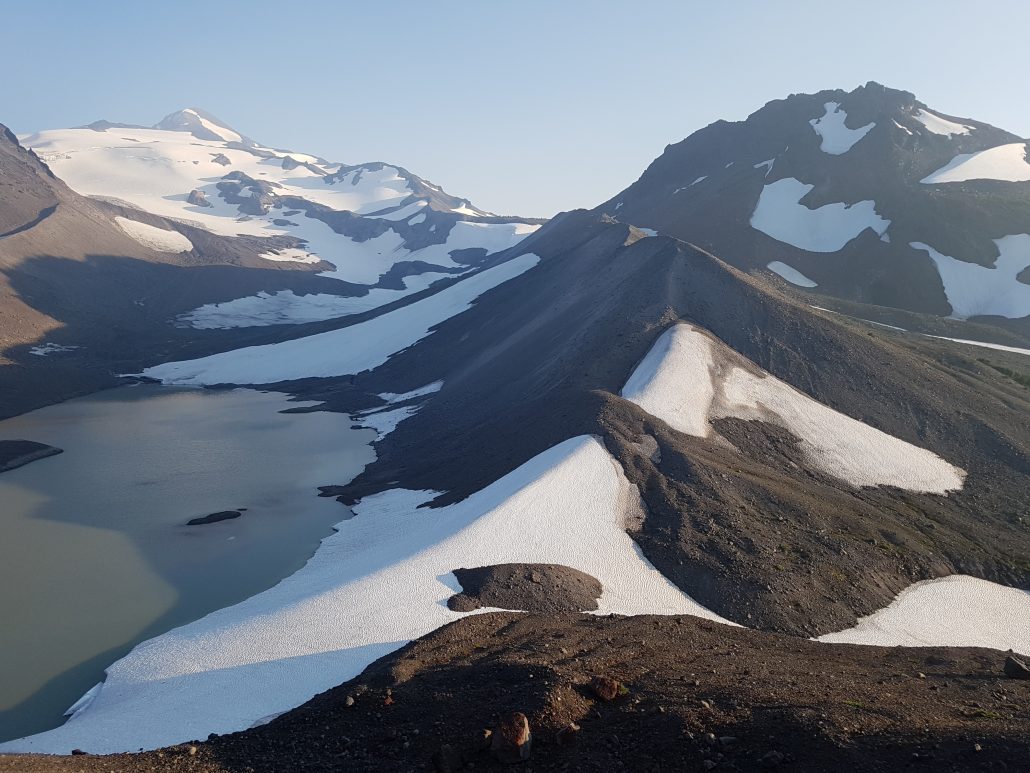 How absolutely gorgeous! And this is off trail! Not many PCT hikers get to see it!
"THANK YOU FELIX FOR BRINGING ME UP HERE!!"
We hang around until the sun goes down.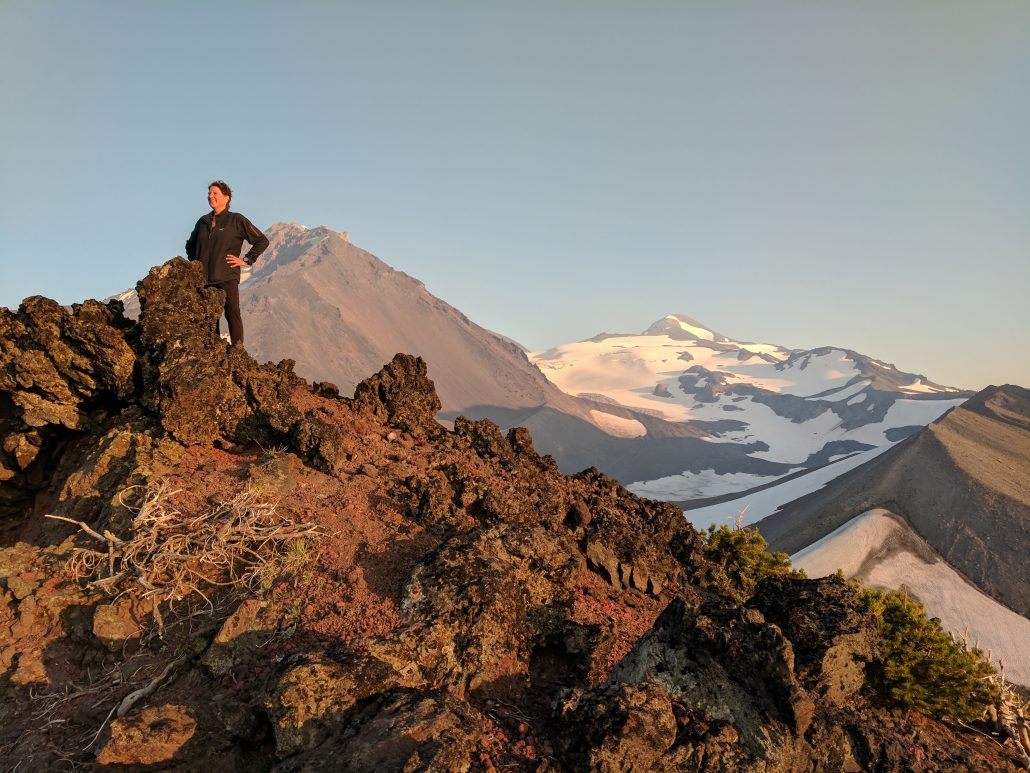 [Image taken by Felix]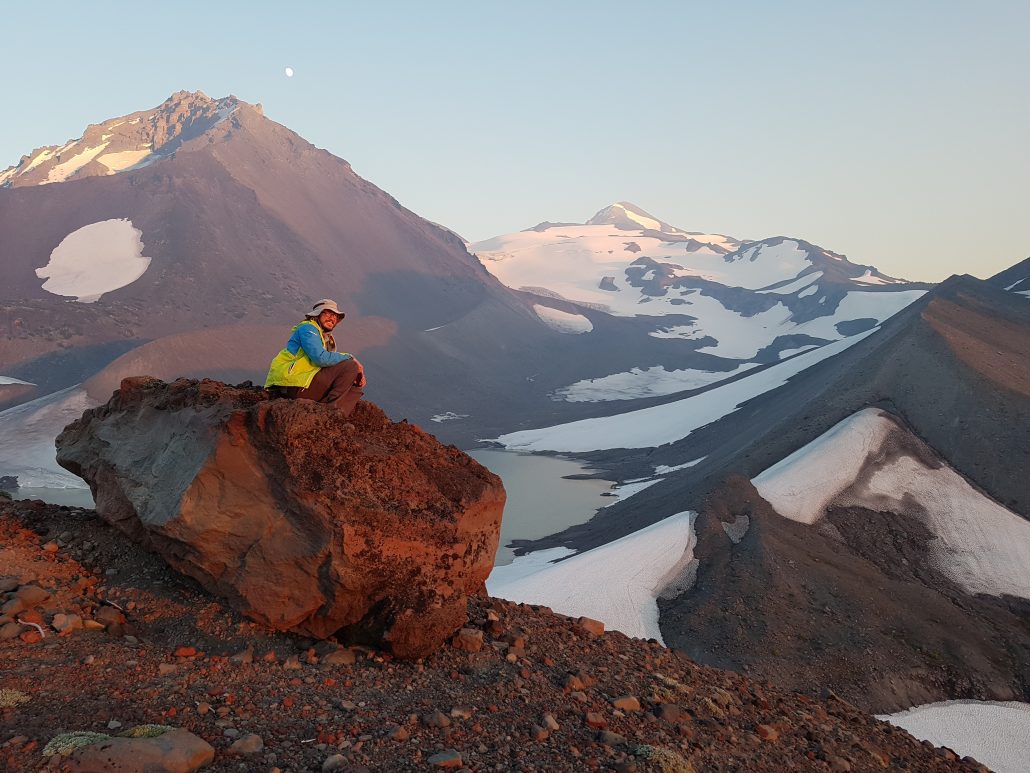 Today was an absolutely amazing hell of a day!!
In the morning (after a rather cold night on the snow) we head down direction Bend, where we are going to meet Andy!!
The PCT leads us over more huge gorgeous lava fields, until we hit the trail head and the end of this section.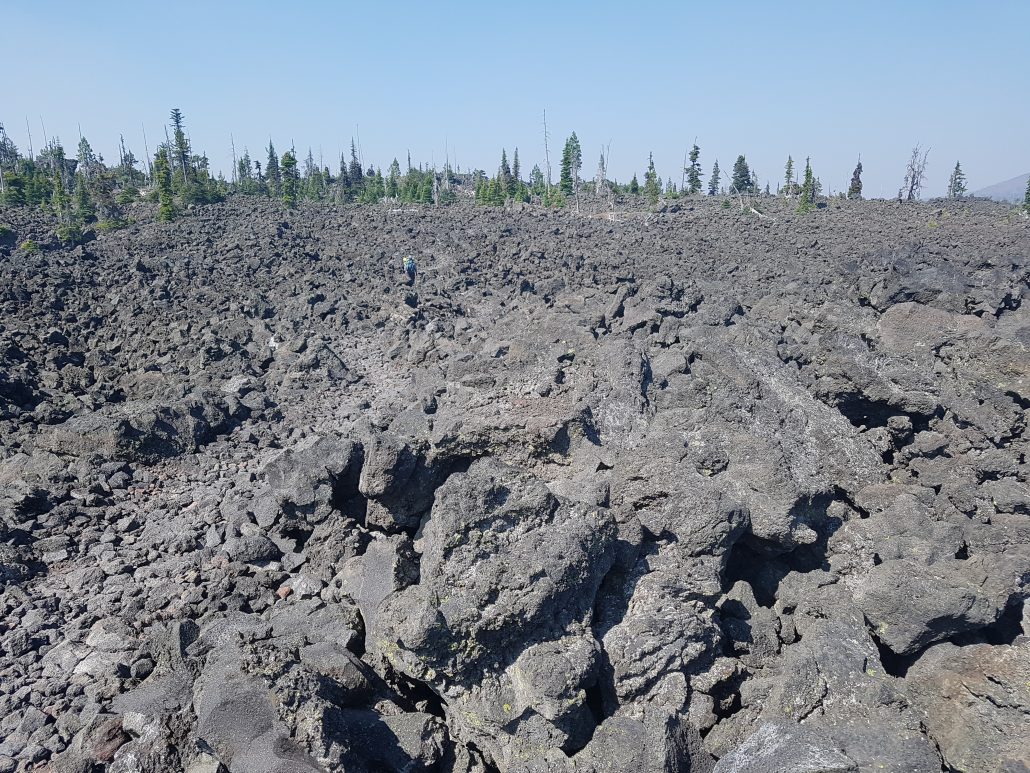 Felix: "Thank you so much for your great company in these last few days! It has again been awesome and such a privilege to hike with you!"
We hitch into Sisters and get a bus from there to Bend. (We wait in the cutest bus station ever!)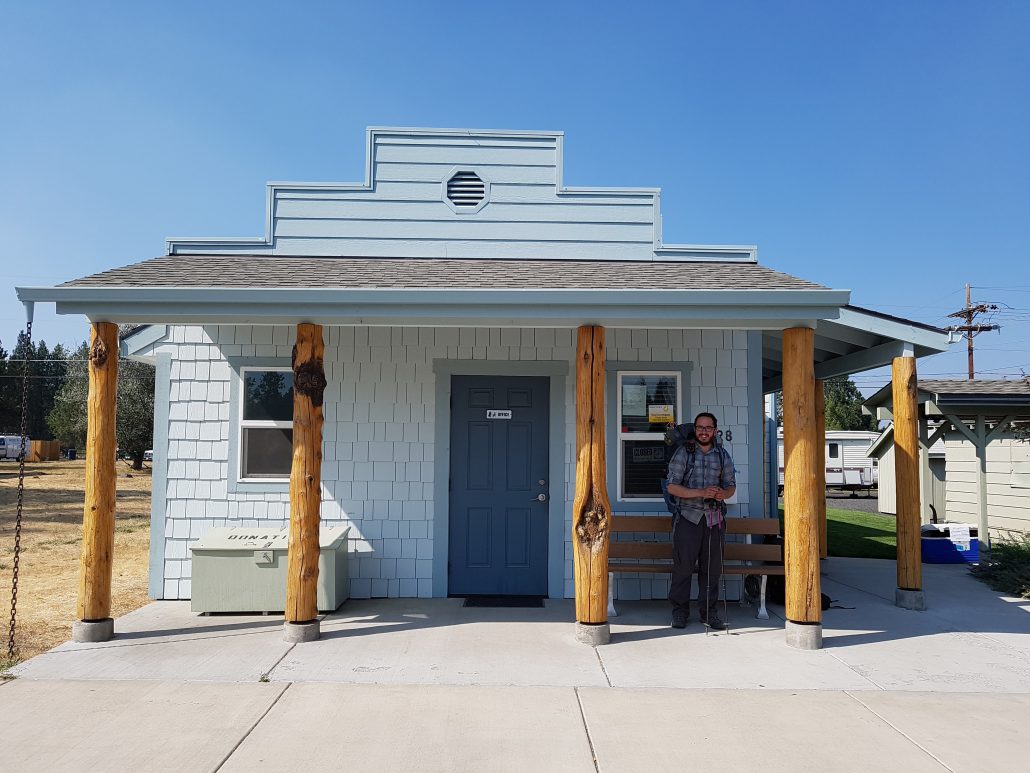 Mission: Organize another epic 5 week resupply (oh hell!), eat lots of fresh food and meet up with Andy!!
http://www.earlymorning.ch/wp-content/uploads/2017/08/20170804_074404.jpg
3024
4032
Heidi
http://www.earlymorning.ch/wp-content/uploads/2016/12/Heidi_Bronnimann_logo.jpg
Heidi
2017-08-06 00:51:54
2017-08-06 20:00:49
Where The Trees Have Beards