I need to get out!
Outdoors to be precise.
"Now!"
Otherwise I seem to get a little crazy…
I happened to quit my job at the university and am now officially on vacation.
Or unemployed.
Or self-employed.
Or fully freelance.
Many words for the same thing: "Too much time, a task list on my desk, no energy".
Yes, let's face it, I am a bit in the dumps. I should really get going, get things done. Work on my projects.
But I can't.
And I have a feeling I know why this is… I need to do something outdoorsy.
Now.
So I scratch my head, surf the web, and come up with the idea to hike a bit on the "Via Alpina". That thing is a massive hike stretching through Switzerland, over the Alps. It's a hell of a hike! 9 to 11 hour stretches per day,  with massive elevation gain and loss per day! Between 1'000 and 2'000 meter ascent/descent every day  (thats 3'200 – 6'500 feet) up and also down each day. Every day. Yes, the Alpes are high pointy things.
But I can do this, right? I have hiked little bits of it in the past. Day hikes. How about doing a proper through-hike? Even if in sections? But from the beginning to the end?
I will just start and see how it goes. For how long? I don't know, depends on the weather, depends on how I like it I guess.
I buy the train ticket to Sargans online. Departure: day after tomorrow.
Good thing is I have all my gear ready! Backpack, Mattress, Sleeping Bag, Jet boil, etc, you know the drill. You see, normal people (unlike me) who tackle this hike, will sleep in huts and hotels and farm-stays during this hike. But me (unlike normal people) want to sleep outdoors, aka Cowboy Camping. So I will bring my new bivy bag, so that I can sleep right under the stars. Yes I know, it is September, so it will be rather cold up there in the mountains…
You see, I could also bring a tent, but the thing is, wild camping is not exactly officially allowed in Switzerland. Certainly not on private land (and most of the land in Switzerland is private land…) and certainly not in wildlife protected areas. It is sort of "OK-ish" if you camp above the tree line, and probably, if nobody sees you. (Thank you Ruth for the informative link to the Swiss Alpen Club who talks about this issue). I am just very uncomfortable with the idea of pitching my tent in an awesome place and then have some guy passing bye "knocking on my door", telling me off.
Alright! Hiking app is downloaded! I am ready to go.
Here I am, in Sargans. Hmm, a confusing place. I seem to be walking in the wrong direction! For quite a while now in fact!
"Dammit."
(People who know me personally might laugh now, as they know I have the sense of directions of a two year old…).
Well I think I need to fire up my GPS, even though I am still in town…  and head up towards the wild.
Up it goes.
But oh it is green, cool and lush here! Finally! What a relieve!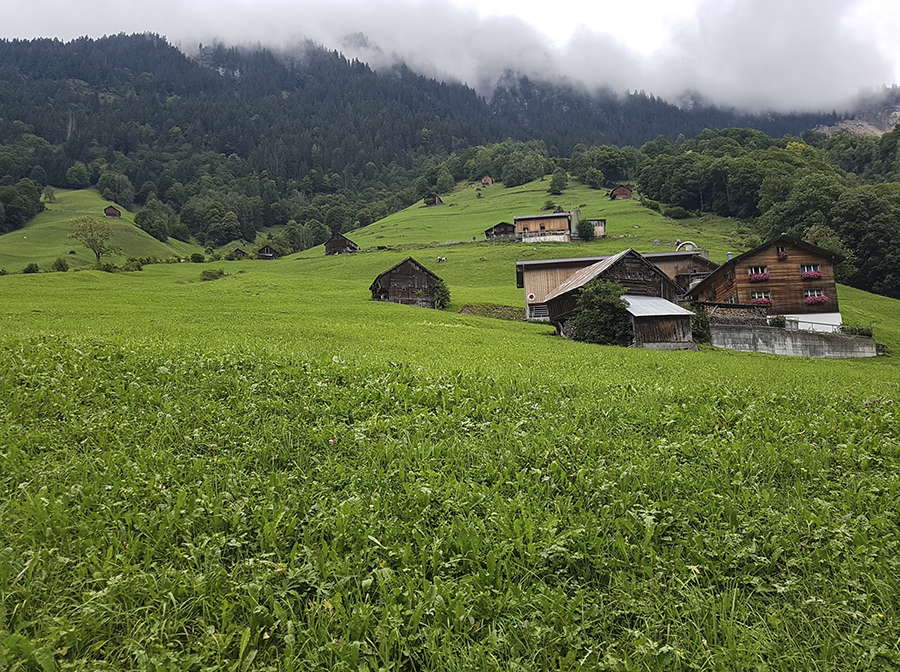 After having had an ugly monster heatwave summer, with the landscape and trees turning into dry hay and other brown things, this coolness here and green things are my personal heaven. Look at all this water and lush-ness all around!
I am having a great time and enjoying myself.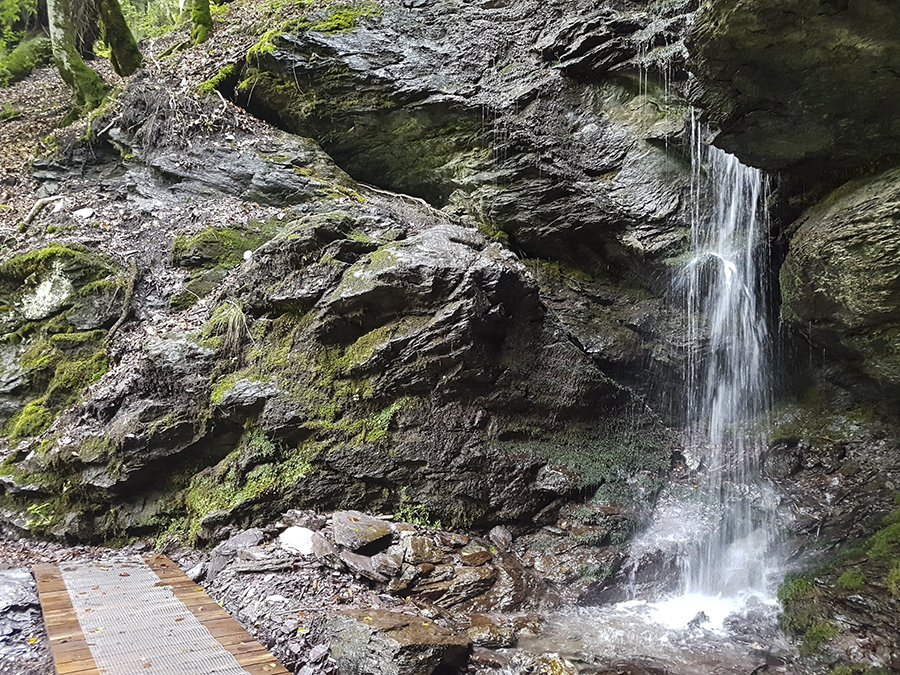 It is getting late, I better look out for a place for my bivy.
Hmmm, difficult. It is way too steep here in this valley in the forest. And whenever I walk past a flat bit, there is a farm or a house.
"Hmmm indeed". Perhaps I better call this hotel in Weisstannen and ask whether they have a free bed, I don't think the cowboy camping is going to happen tonight.
Excellent, they have a room! I hike up, find the hotel, and have a shower right away and jump onto the soft bed. (Yes, I can see clear advantages…).
I get up in the early morning (!) and start hiking right away. Oh boy, when they talk of "up" in Switzerland, they really mean serious "up"!
Up up up up up!
I see nobody on the path today (in fact I also saw nobody yesterday!)
There is a cow though right in front of me. Right on the path.
"Hello there cow – would you mind stepping aside perhaps?"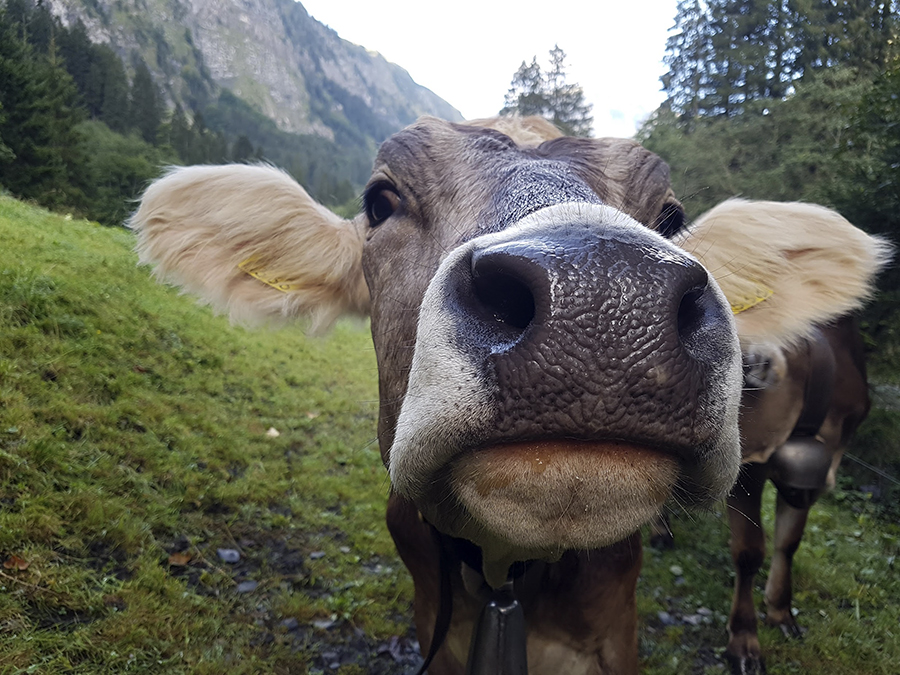 "Uhm, apparently not. Alright, I will hike around you."
I get higher (I mean the altitude) and it really gets awesome up here!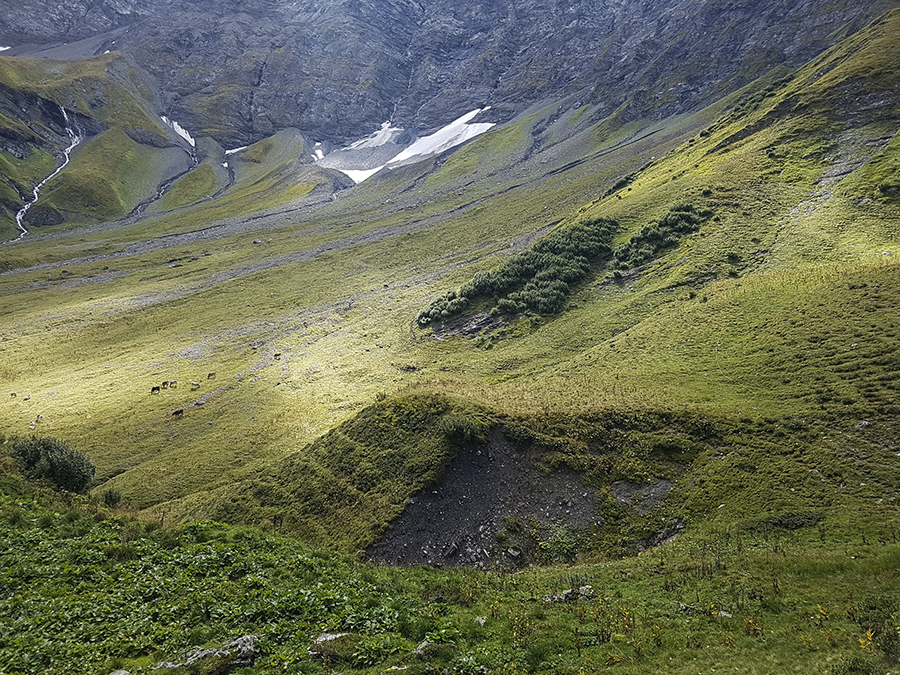 I love it! I see nobody, I am absolutely alone up here. Apart from the cows down there.
There is the pass. My first pass of many on the Via Alpina. Can't resist the urge of taking a selfy with a big happy smile on my face.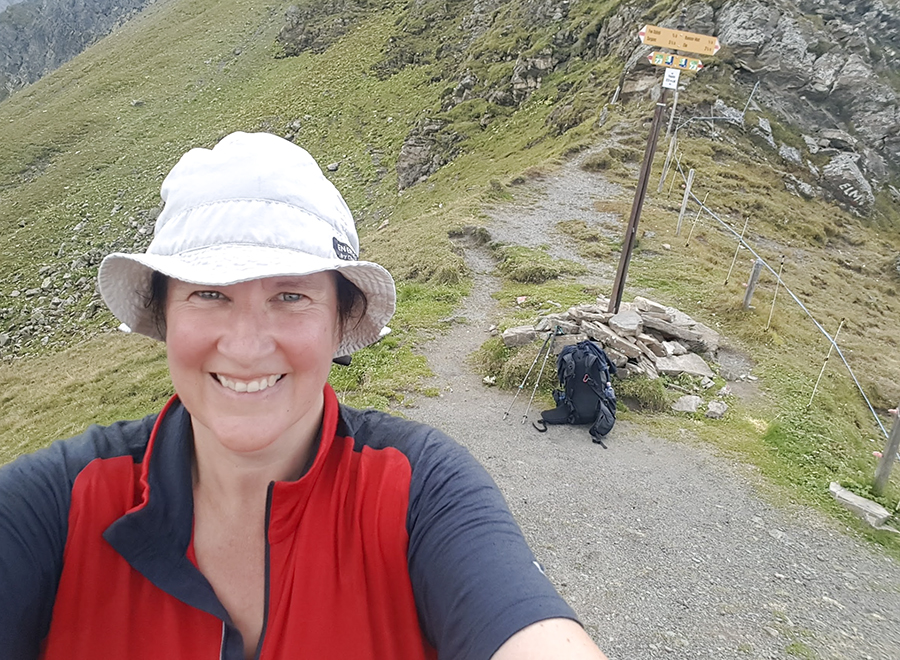 So that was a 1400m (4600ft) climb, up to an altitude of 2260m (7400ft).
Look what I see up there on the pass when I look at the other side: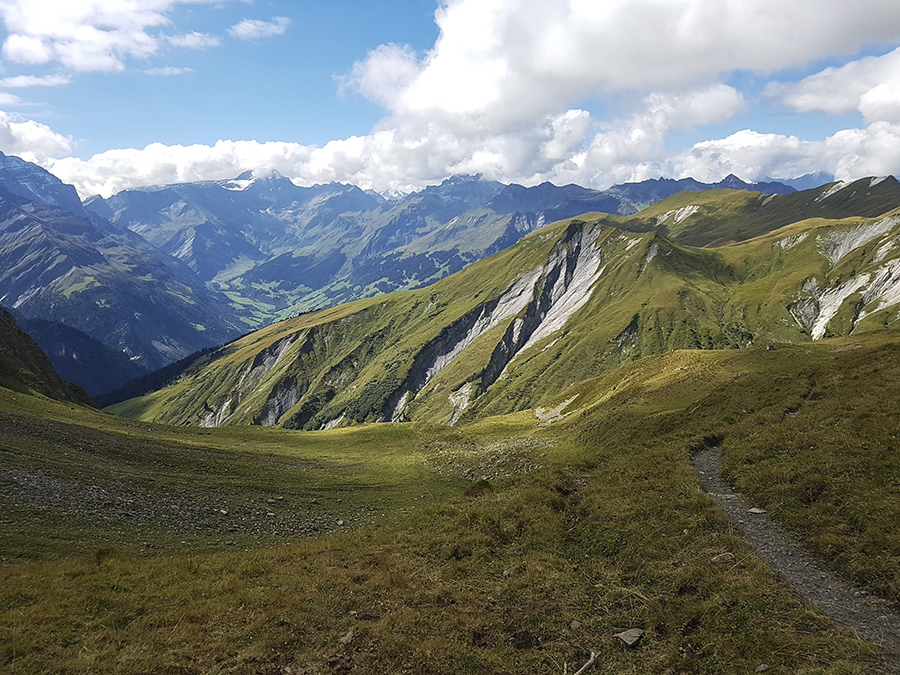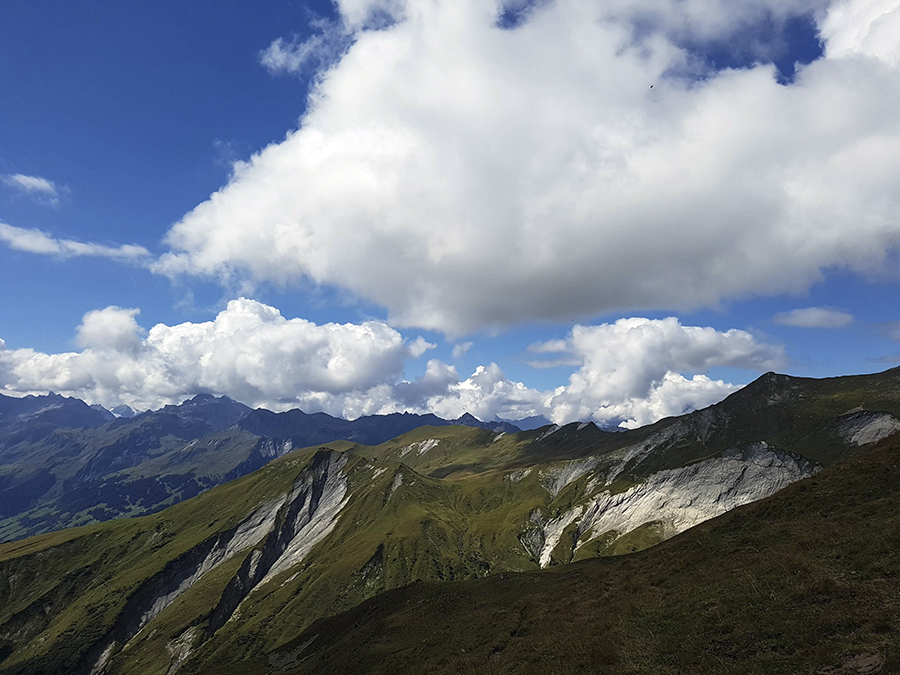 Perfection! Dare I say: "its epic!".
So all the way down, hopefully finding a flat spot to sleep. A space where I feel save from a) falling rocks and b) people, and where there is c) water.
I seem to have to climb down quite a bit until I find something! But I find something! Hurray, I can finally cowboy camp under the stars!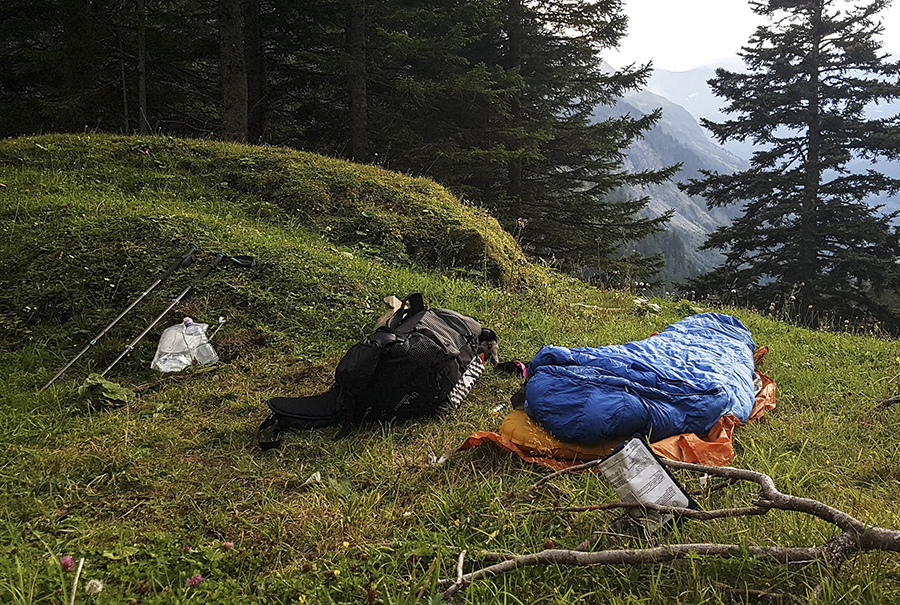 I sleep kind of almost well. Wake up a few times, it is rather cold. But the SKY and the STARS! Oh my, at this altitude and with this "after-rain-clean-atmosphere", I  can see the milky way and the stars are so enormously luminous tonight!!
Again, I have to say it: "epic!" I am utterly in awe, snuggled up into my sleeping bag, staring up into the big big space up there.
As I wake up in the morning, I pack up and hit the path right away, down to the village of Elm, and then up again, another solid 2'000m (6500ft) climb.
Oh dear, this is steep stuff. My pack is heavy with all this PCT gear in it. I feel it is an overkill to carry all this stuff up and down these mountains. This is not "normal" hiking, this is mainly UP and mainly DOWN. Steep! I brought too much food. Too much gear, too much of everything. It is insane to hike here in this terrain like this.
I see Henry, the other (very cute!) hiker who seems to currently hike the Via Alpina. I have already bumped into him yesterday. He has a tiny pack and sleeps in hotels/herberges. Has only food for two days maximum, and only has an emergency shelter (no cooker, no mattress, no sleeping bag), just a shelter, so that he can survive at night should he be caught up by something nasty. Plus, he pre-booked all his stays. So he knows exactly how far to hike per day and he knows exactly that he has shelter every night. No stress.
Hmmm..?!
He is clever and has thought this through much better then I have.
My stupid "I have hiked the PCT so I can surely do this too" attitude seems to hit back now. I am in pain in places where I have never had pain before. Chafing for one thing on several body parts. I had not a single chafing problem on the PCT – and here on the Via Alpina it gets so painful and ugly on day two already!!
Cute Henry can just happily hike to his next pre-booked hotel bed and perhaps even, heaven forbids, have a shower before going to bed!
Maybe it was a mistake to bring all my "outdoor" gear into this environment. This is not the PCT. This is not "camp where you like" territory.
Well, anyway, up I must go.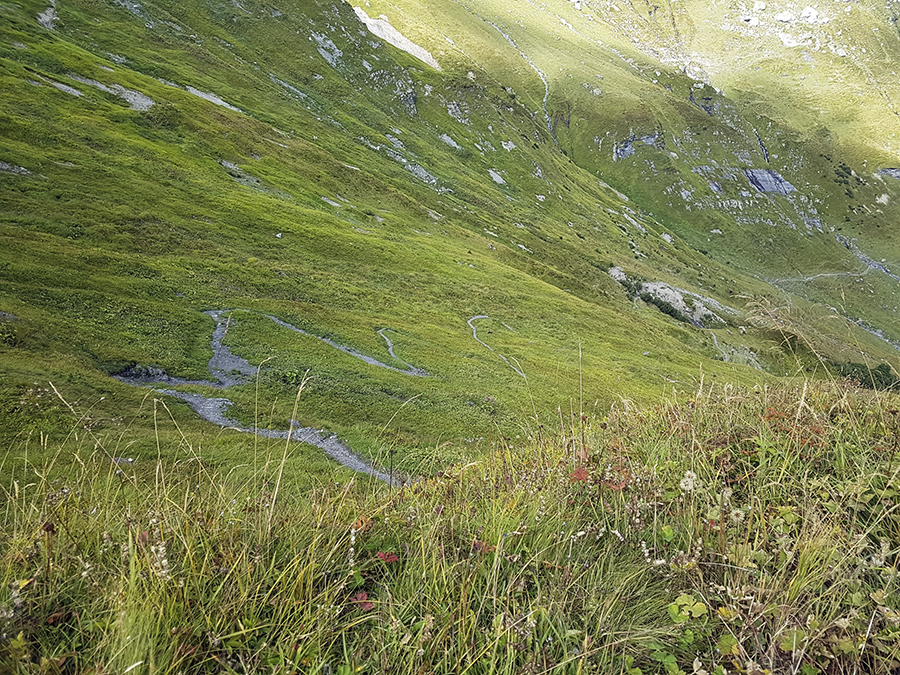 Beauty is worth the pain, huh!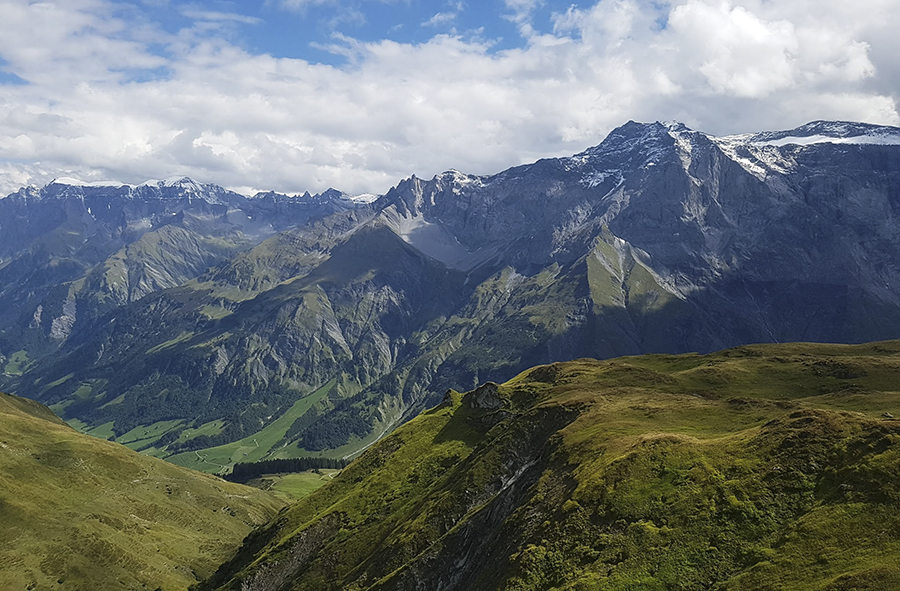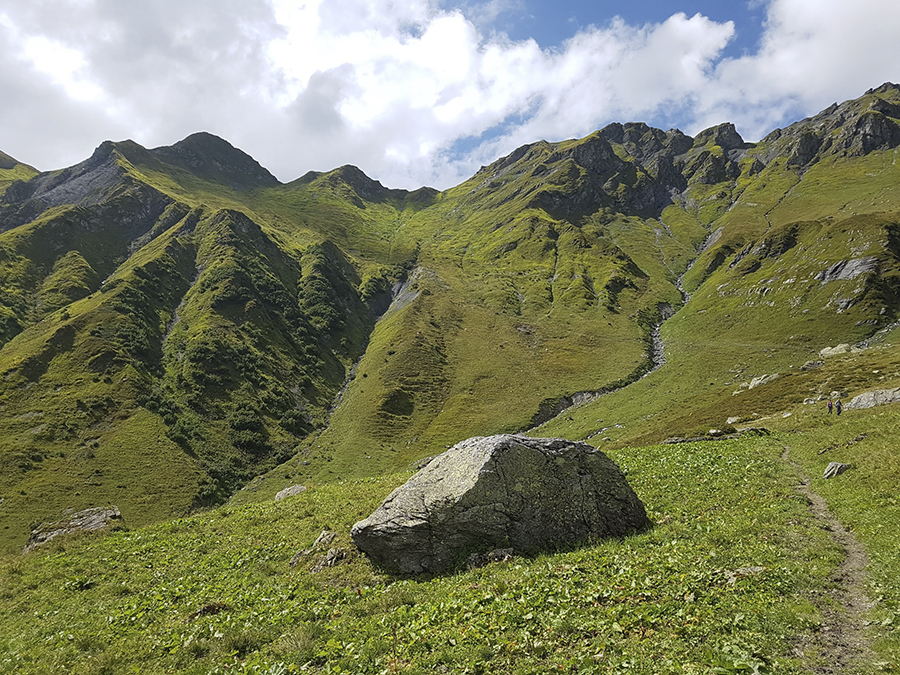 The path leads me to a high alp.
"Holy shit! O Man!!"
This is one of the most beautiful and remote places in Switzerland I have ever seen!!! (And of course private land! I don't dare to sleep here tonight…).
Do you see the curved pass thing there on the left hand corner? This is where I have to go next. I am curious already what's on the other side! But first I get to hike through this "awesomeness" up here! What a blessing!!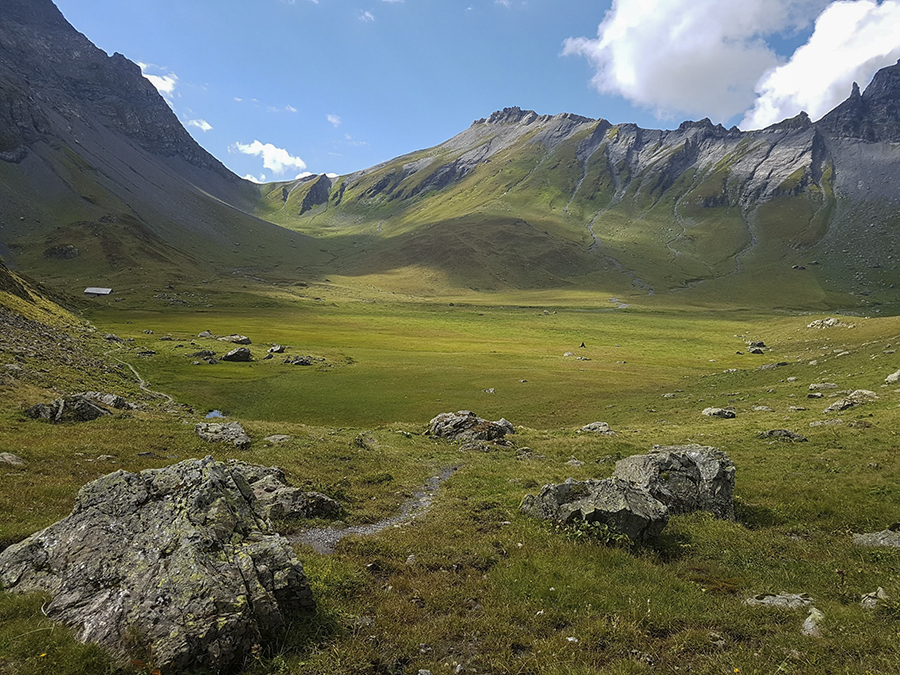 Holy holy shit.
Little did I know how jaw-dropping it is up here!
(The guy you see in the picture is a hunter – unfortunately, the hunting season has just started…. and yes, I did hear gun shots. Several in fact….)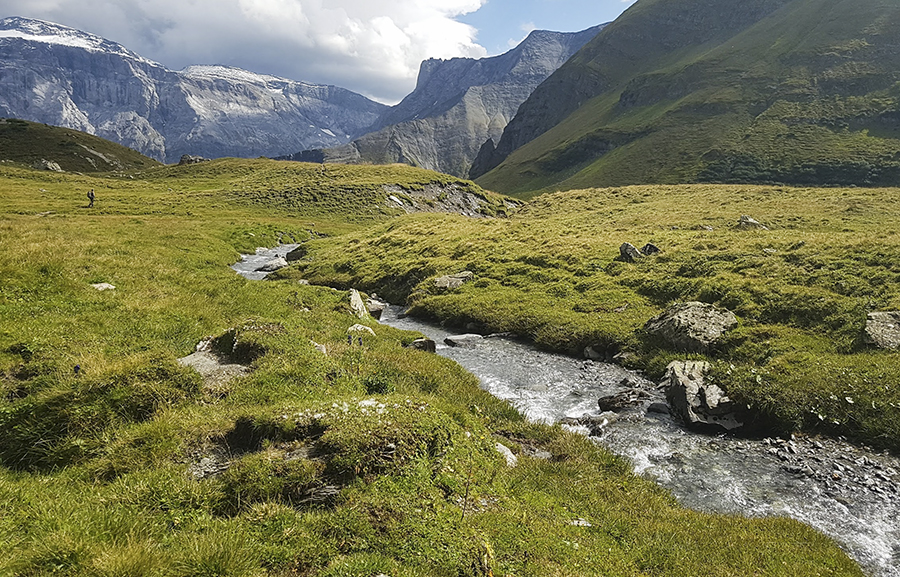 So I walk in awe over this flat alp thing onto the pass.
(You see where I just came from, the path in the slight top middle/left of the picture, over this other ridge).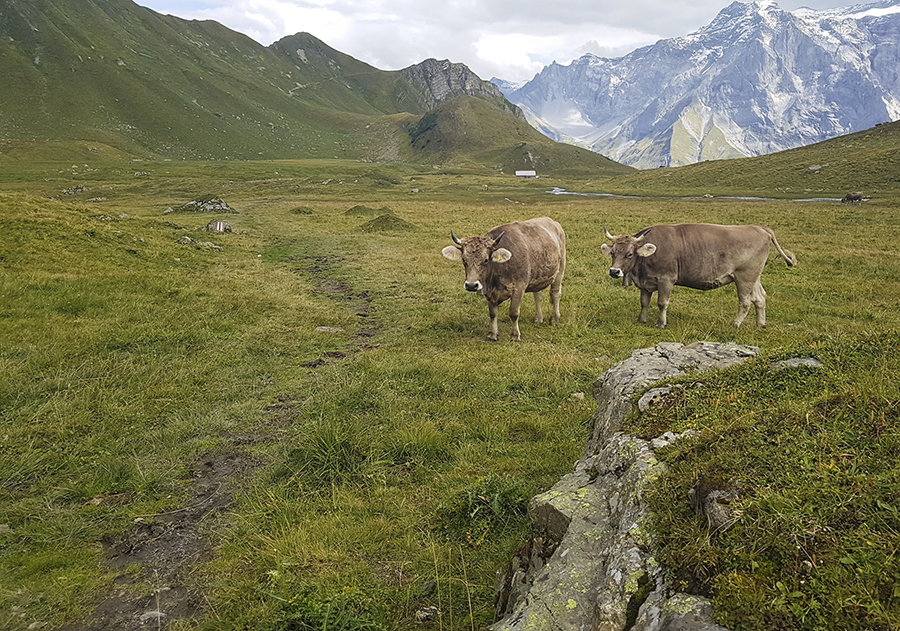 So I heave me and my too heavy pack and my chafing body up this last steep bit.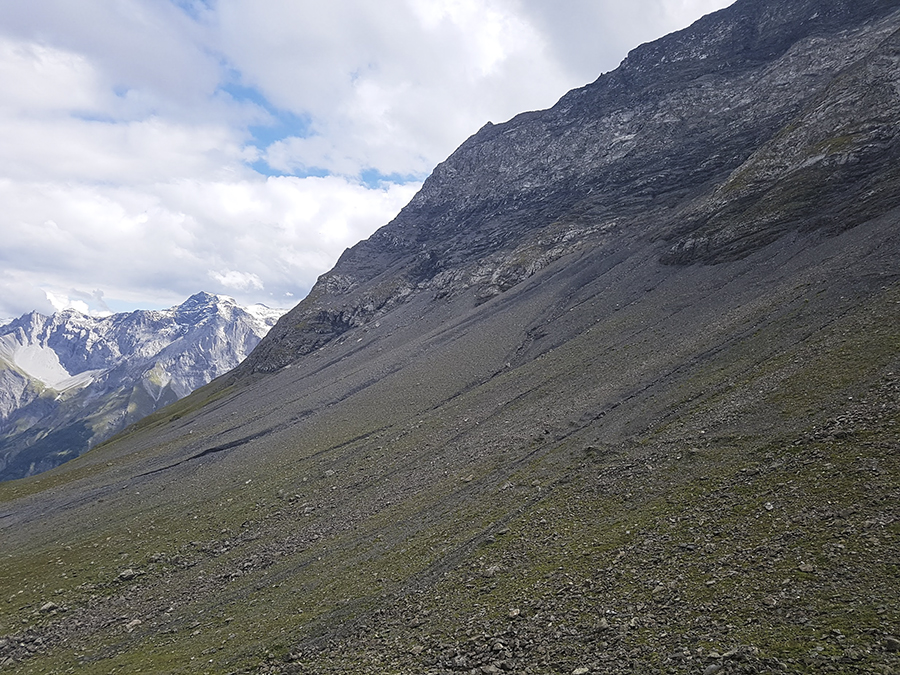 I have to scramble the last few meters.
I made it to the pass and look DOWN the other side.
OH hell. This is steep boy.
Are you kidding me?
This is like 1000m (3300ft) straight down!!!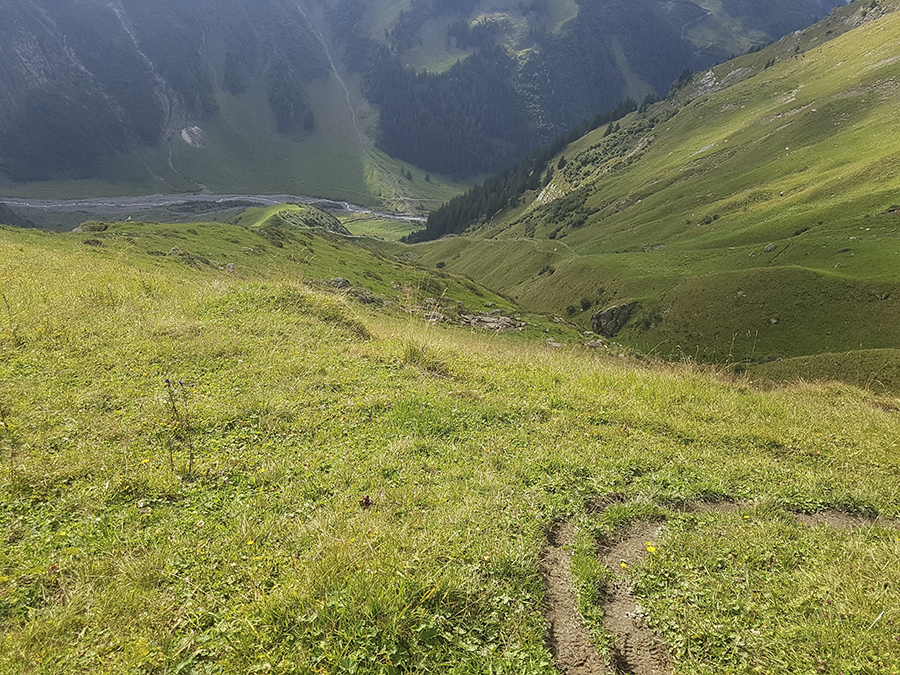 You see, the problem with me is the following: (And trust me, it is a big problem:)
I love hiking. I love the mountains. I love the outdoors. I love the remoteness and the rugged-ness of the Alps.
But I suffer from severe VERTIGO.
In fact, I am pretty brave I have to say, that I face myself climbing up these passes, without having an idea of how it is going to be like up there and how steep it is going to be. I can handle the pain and suffering of hiking up and down, with chafing and a too heavy pack, but I can almost not handle my fear of heights.
So this view down here is a bit of a personal nightmare for me.
It is now 3 pm, and I know it is another four hours down to the next village. A solid 2000m (6500ft) descent. Strait down.
If I slip, I will probably just take a super fast shortcut down to this river. (This reminds me of my Knives Edge VERTIGO nightmare). My way too heavy pack does not exactly improve my stability.
Shit shit shit.
Now I wish I were not alone all by myself but had somebody to share my fear with.
But it does not help. I have to get going.
Down.
Slowly and cautiously!
Oh shit, this is steeeep.
Nobody here!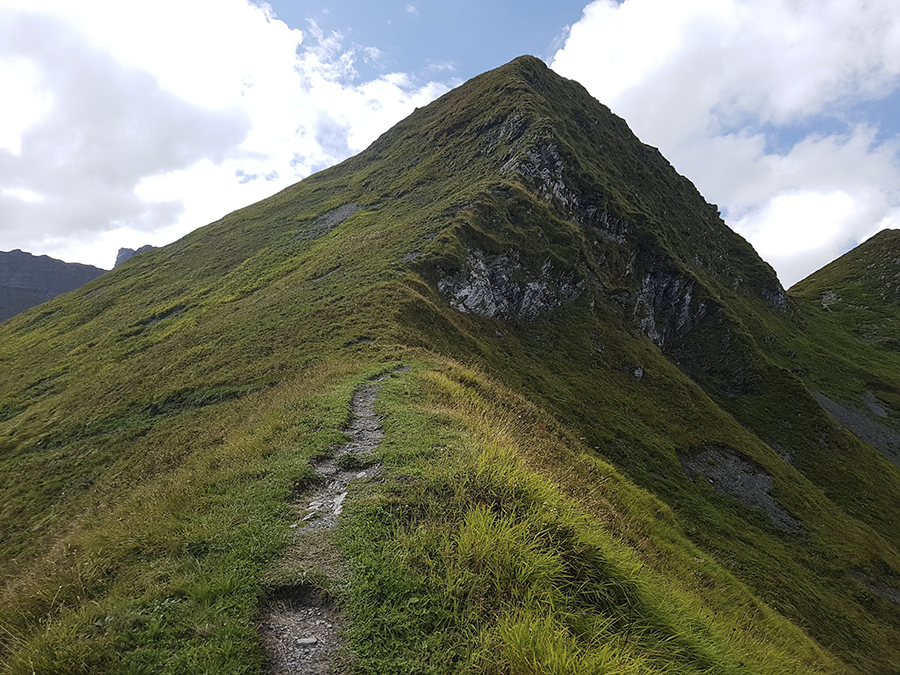 An hour down. Two hours down. Made it to the river!
Done! Survived!! Definitely "type two fun".
Hmmm….
"Felix, are you sure you want to take me with you on the CDT? You know, I am a tough girl, I do anything, but I am just really really bad with heights…. Will you be willing to "talk me through the scary bits?"
So now I am down by the river. Totally knackered and sore (but proud of myself that I made this!).
Nowhere to sleep here, too many rocks falling from all sides and too steep.
Maybe I find someplace further down. It is another two hours to the village of "Linthal".
Down down down so much more. No place to sleep. I don't stop anymore but just walk.
At 7pm I arrive in this tiny village.
I need a rest. I need to zero. I need to lick my wounds. I need to re-think my strategy on how to tackle this Via Alpina. I need to re-pack.
I can't do a few weeks like this.
"Nice try Heidi", but this clearly does not work.
I check my weather app. It is going to rain the next two days. Rain is no fun up here in September in these high mountains, let alone trying to cowboy camp….
There is a train station here. I could make it to Basel in three hours. I could be in my own bed by 12 pm tonight.
TEMPTING!!
Ha! Decision made. I book a train ticket, go home, rest, re-think, re-pack, re-plan, and come back here and keep hiking soon.
I will face my fear of heights soon again – because it is worth it. Because the Alps are soo beautiful and it is soo damn good out here and it makes me so happy to be out here and hike.
But not tomorrow.
Will keep you posted!
http://www.earlymorning.ch/wp-content/uploads/2018/09/ViaAlpina_Schweiz_Switzerland_133251.jpg
675
900
Heidi
http://www.earlymorning.ch/wp-content/uploads/2016/12/Heidi_Bronnimann_logo.jpg
Heidi
2018-09-06 14:21:12
2018-09-06 21:39:31
Via Alpina in Switzerland